How Superhuman helps leaders at Gem tackle email overload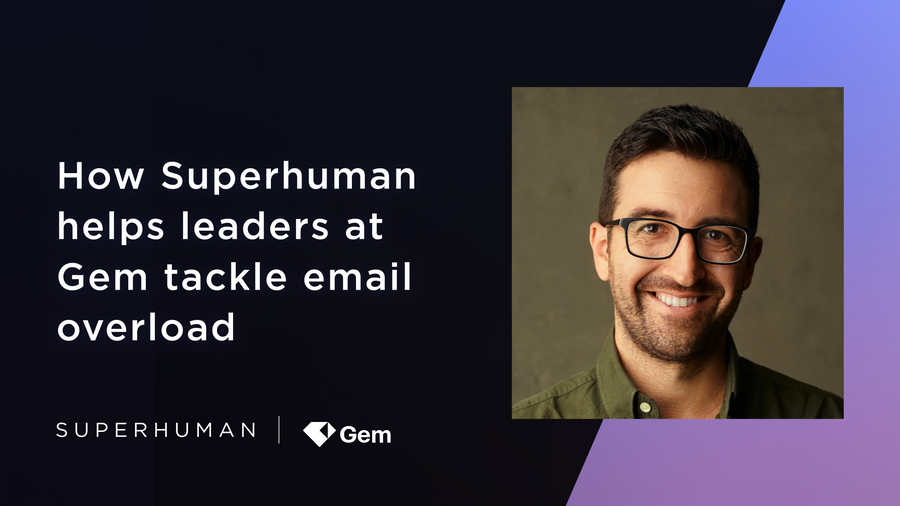 Time is a precious commodity that we all have in limited supply. For leaders, finding more time to focus on strategic tasks can be a challenge, especially with the never-ending barrage of emails that demand their attention. Jeff Beckham, Head of Product Marketing at Gem, understands the struggle all too well.
"Like most people, I dreaded checking my email. It was a pain to get through, and I was always looking for a better way to do my email, get through it faster, and actually enjoy it."
He found himself constantly bogged down by the daily influx of emails, which blocked him from focusing on the strategic aspects of his role, like mentoring his team and developing strategies that deliver meaningful results for the company.
That was until a colleague recommended Superhuman, the fastest email experience ever made. Jeff was immediately intrigued and decided to give it a try.
After just a few hours of using Superhuman, Jeff saw a significant improvement in speed. Superhuman's keyboard shortcuts quickly became part of his workflow, allowing him to navigate his inbox quickly, and complete a range of tasks — like archiving, snoozing, and unsubscribing — with just a few taps of his keyboard. He also loved that he didn't need to memorize the shortcuts, as every action could be quickly taken using the universal Cmd/Ctrl + K.
Jeff's experience with Superhuman is not unique. More than half of Superhuman's customers hit Inbox Zero within four hours of using it.
Using Calendar in Superhuman is another one of Jeff's favorite features. He no longer needs to switch between his email and calendar apps, which used to disrupt his focus and prevent him from staying in flow. Jeff can now easily access his calendar, check his team's availability, schedule events, and RSVP without ever leaving his inbox.

"It's a game-changer because I can see my schedule in real-time and know if I'm free... It saves me time and eliminates the frustration that comes with trying to find a time that works for everyone."
Superhuman didn't just give Jeff a productivity boost — it also provided peace of mind.
"Having Superhuman gives me peace of mind that a lot of the administrative stuff is taken care of and that it just takes me less time. It has been a really helpful thing for me to get my job done and stay organized," he says.
With Superhuman, leaders like Jeff can take back control of their inboxes and get more done in less time. Want to discover even more ways Superhuman can help you move faster and focus on your most important tasks? Sign up today.
Help your team stay focused
Superhuman helps teams manage, prioritize, and enjoy email — faster than ever before
TRY SUPERHUMAN FOR BUSINESS