How to split your inbox in Superhuman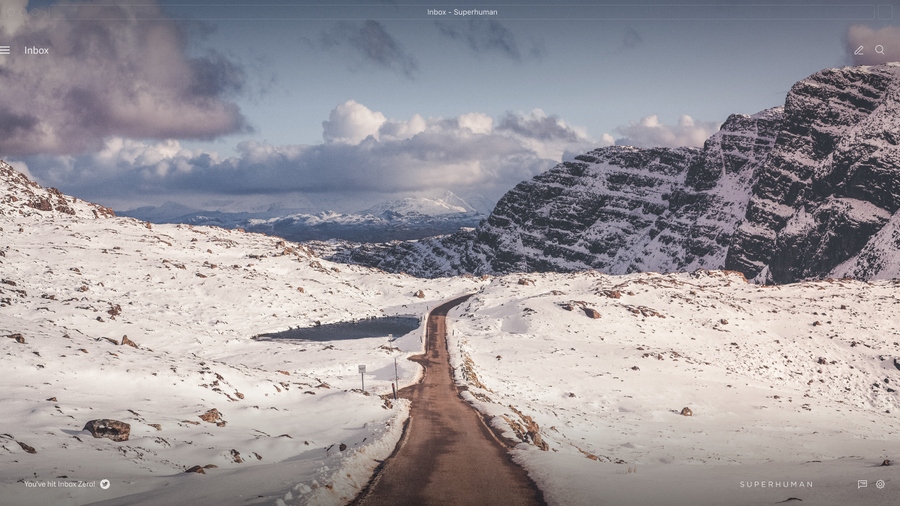 As an onboarding specialist at Superhuman, I've helped 2,905 customers (and counting) get through their inboxes twice as fast!
One of the ways we help our customers turn a flood of unread emails into a clean, efficient, and streamlined workflow is Split Inbox — one of Superhuman's most powerful features.

What is Split Inbox?
Viewing all your emails in one single list is overwhelming. If you reply to messages in the order they appear in your inbox, your brain is constantly forced to switch gears. Plus, it's harder to Inbox Zero.
That's where Split Inbox comes in! As the name suggests, splitting your inbox allows you to divide your inbox into different areas of focus — based on the types of email you receive most often.
Many email apps can group email by basic type. But in Superhuman, you can design your own categories: like "VIP", "Notifications", "Calendar", or "Team".
Now, you can choose a workstream and process those messages together. This minimizes task-switching, which costs you valuable time.
Get started with Superhuman
The benefits of Split Inbox are immediate: you'll get through email faster, and focus better than before. You can even experience the joy of hitting Inbox Zero in different splits! But there are countless ways to do it — and while everyone's email workflow is unique, there are common themes.
Here's how people in 3 different roles set up their inboxes to work more effectively: founders, product managers, and customer success managers.
How founders and CEOs split their inbox in Superhuman
Most founders place a premium on being responsive and attentive to their key stakeholders.
When onboarding a founder or CEO to Superhuman, we typically start by turning on Important • Other — one of Superhuman's default splits.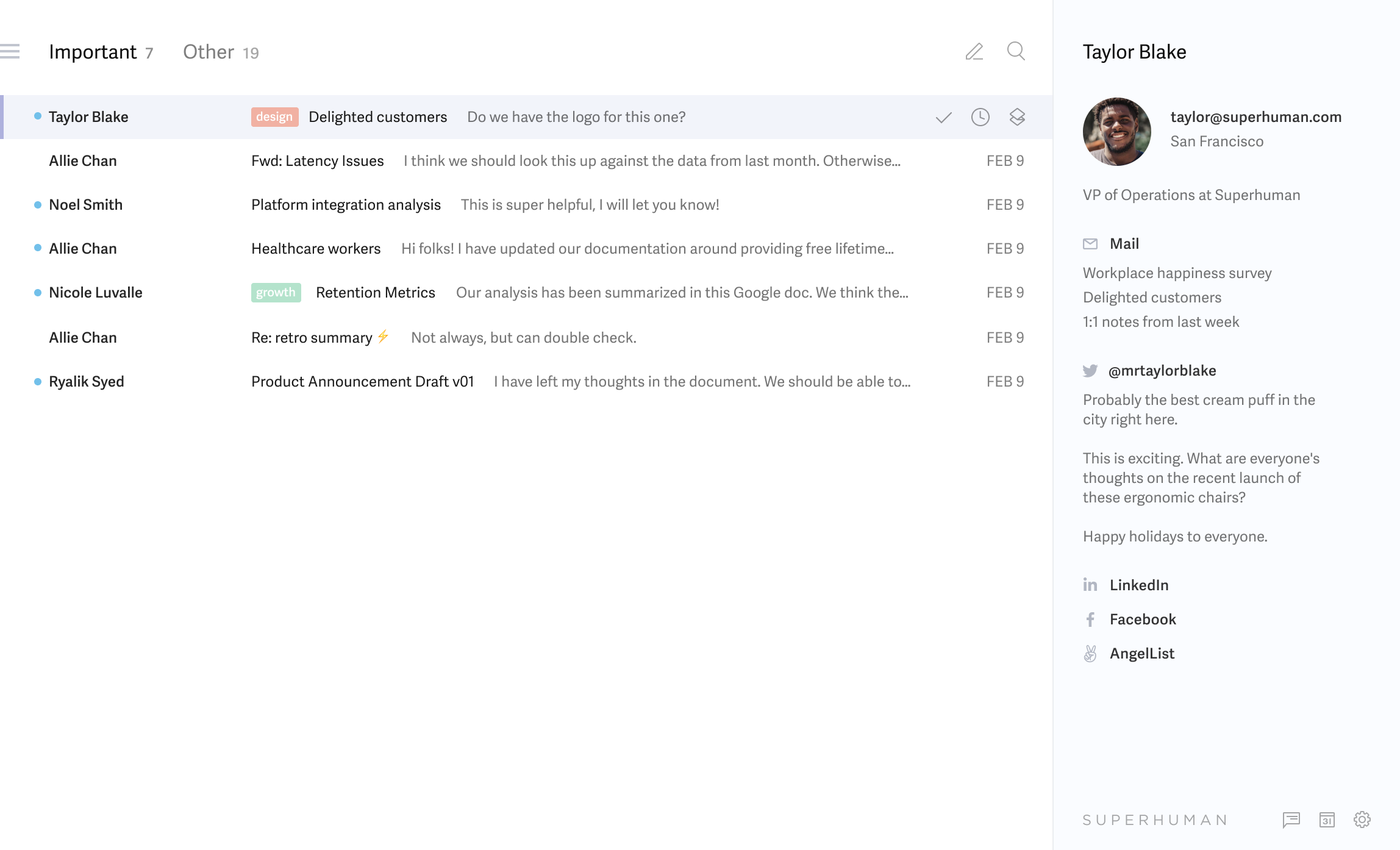 This sorts the inbox into 2 streams: Important collects emails coming directly from actual humans, while Other receives all automated emails.
Founders and CEOs have specific people they'd like to be most responsive to: investors, board, and their direct reports. We set up a VIP split for those specific senders.
That way, when you only have a few minutes to check email, you can go straight to your VIP split and make sure those folks are prioritized!
Bonus tip: on Superhuman's iPhone app, we can even enable custom push notifications only for VIPs. This is a great way to avoid the distraction of getting notifications for every new email, while still staying on top of your most urgent conversations.
How product managers split their inbox in Superhuman
Product managers typically juggle many different workstreams: conversations about product thinking, reviewing design prototypes, offering input on in-flight engineering work, and much more! This can turn your inbox into a confusing jumble of different notifications.
To create more focus, we can set up splits for:
Google Docs — to discuss product specifications.


Figma — to give input to designers.


JIRA — to stay on top of project tracking.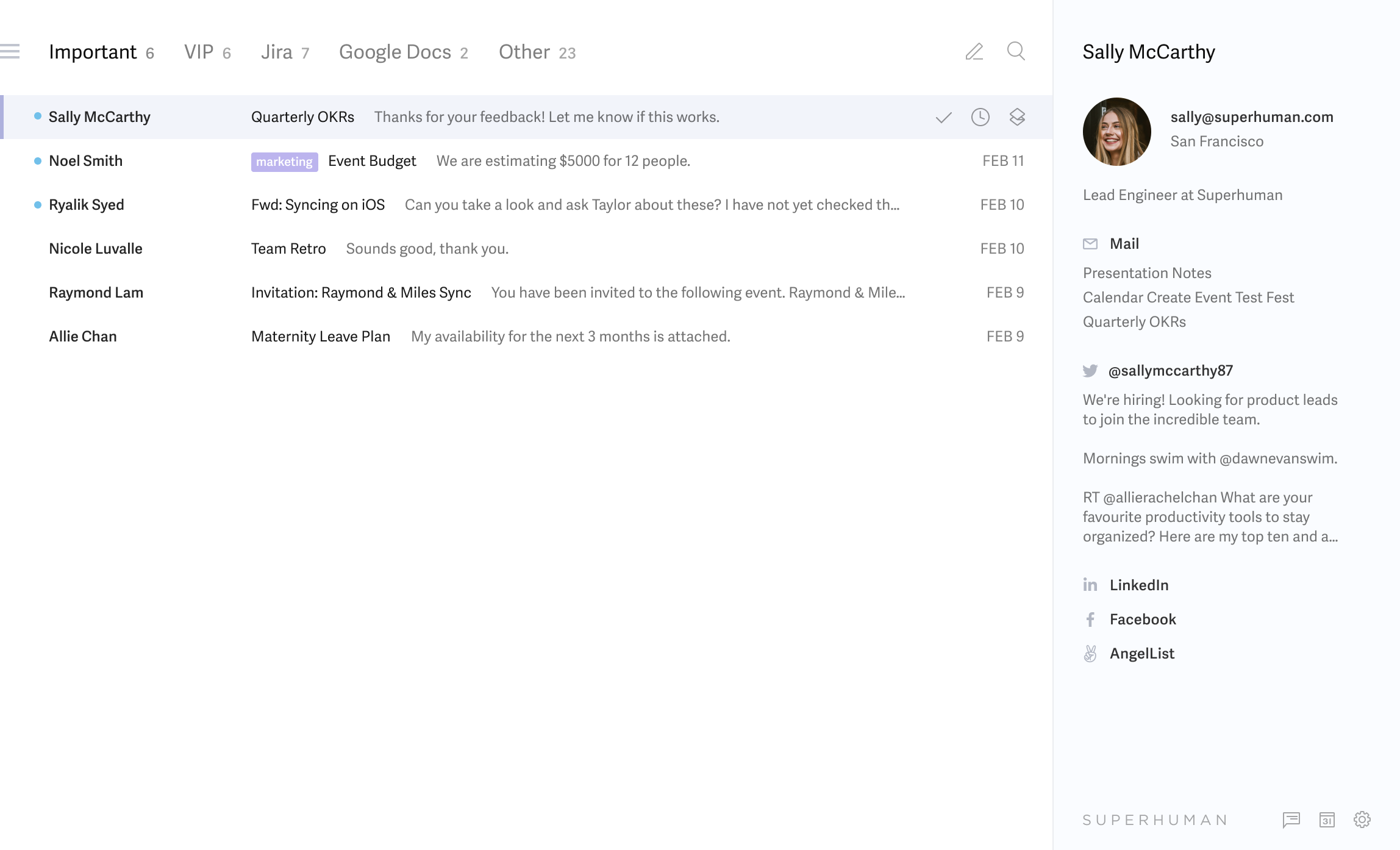 Splits are very customizable, so we can tailor this to whatever tools you use in your role: Asana, GitHub, Notion, and more! You can even create a custom splits for short-term projects that you intend to keep for just a week or 2, and delete the split once the project is complete.
By separating these workstreams, product managers can be more intentional. Rather than being distracted by whichever email has arrived most recently, you can do focus work in each of your areas of responsibility.
Get started with Superhuman
Bonus tip: a notifications split can quickly get crowded when multiple people are commenting or tagging you, and many of those emails may no longer require an action once a project is completed. To quickly clear out your backlog, hit Cmd+A to Select All From Here, then hit E to mark the selected emails as done!

How customer success managers split their inbox in Superhuman
Customer success managers spend a good portion of the day in meetings. So the first thing we do is set up a Calendar split to collect all your invitations.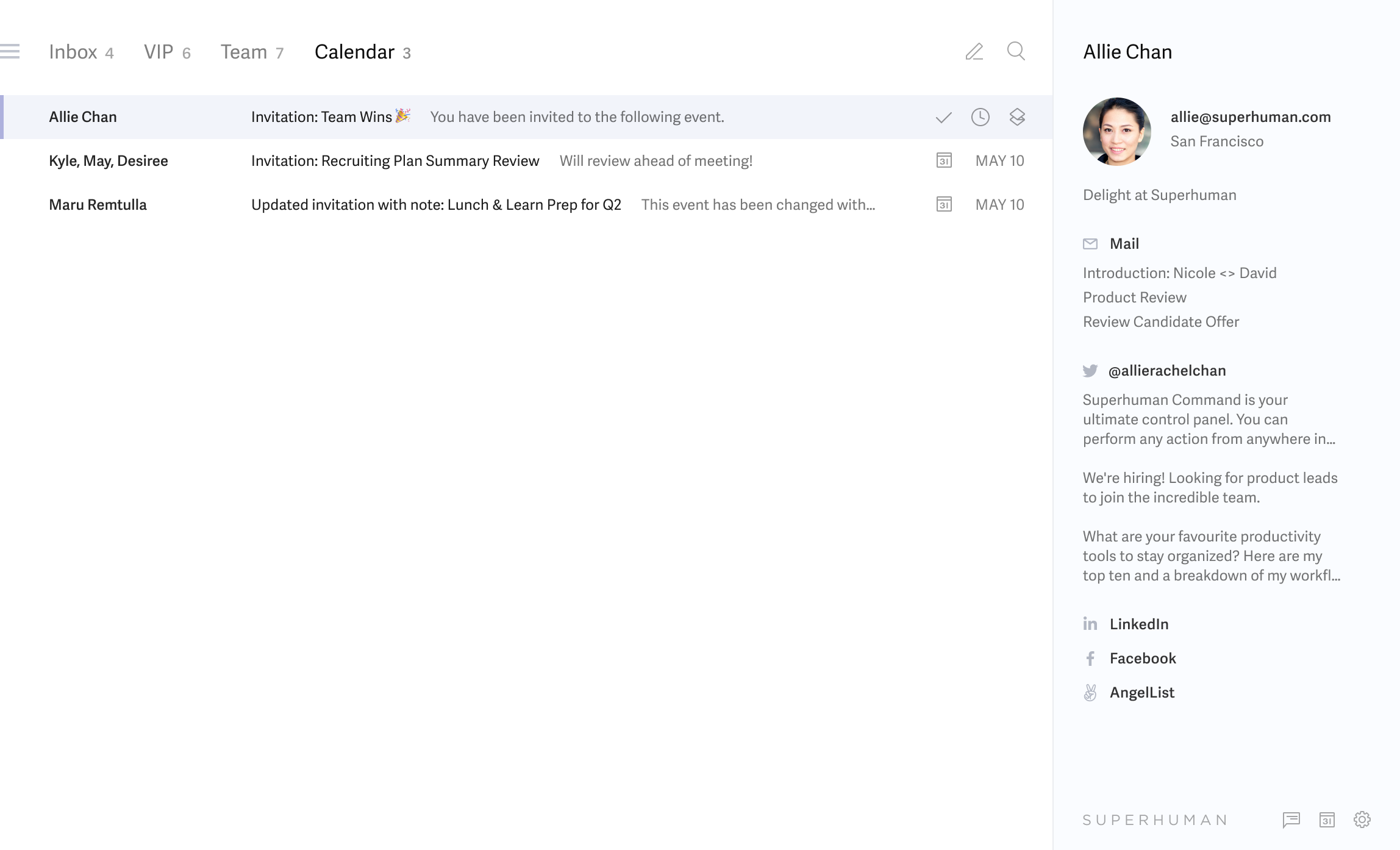 If you use a scheduling tool like Calendly, we can customize the split to include those notifications as well — so you have everything calendar-related in one place!
Customer success managers often send out a high volume of email. To stay on top of customer responses, we set up a split to capture all emails with a specific subject line: for example, "Welcome to Superhuman!"
This is a great way for CSMs to stay in flow by responding to their customers all in one batch, rather than context-switching between different workstreams… and getting distracted along the way!
Bonus tip: use Superhuman's Snippets to save email responses that you send often — this will allow you to quickly compose emails without typing or even copy/pasting!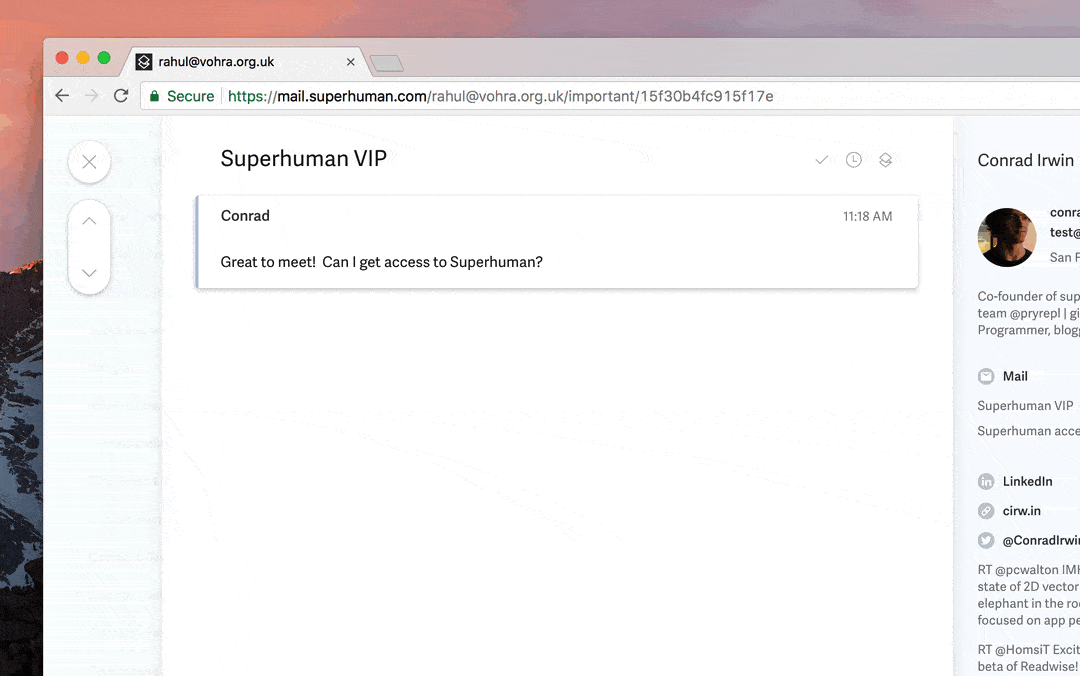 Saving time and reducing stress with Split Inbox
We've just scratched the surface of how Split Inbox can create a more calm and focused email experience. I've helped customers organize their inbox to keep track of newsletters, invoices, school updates, and much more!
Here are just some of the creative ways customers are using Split Inbox:
Create a split for your starred items so you don't lose sight of them:
Split out your favorite newsletters so you can peruse them whenever you want:
Or label your splits with emoji, just for fun: