The fastest way to Inbox Zero? A single coaching session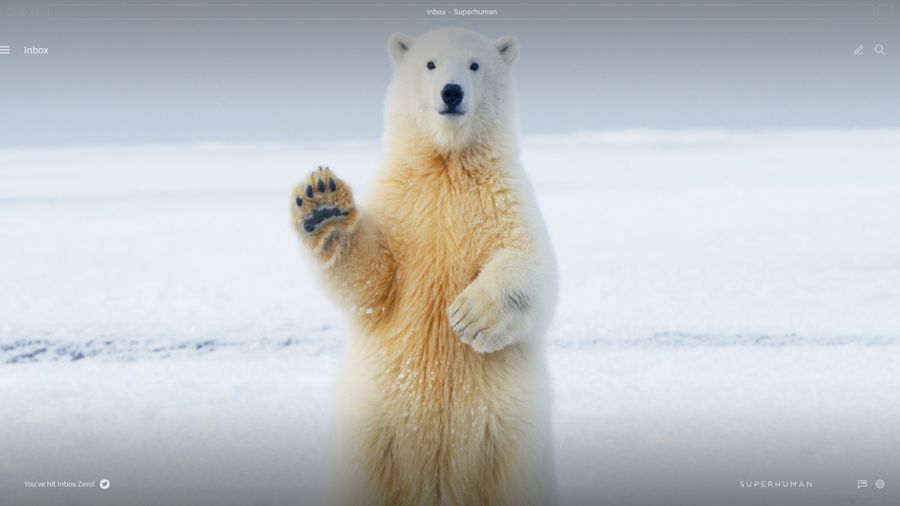 Unread emails. Disorganized folders. And endless notifications — pouring into your inbox faster than you can possibly process them.
Your inbox can be a stressful place. But it could be the opposite: streamlined, orderly, and totally free from clutter. All you need is a personal trainer for your inbox!  
That's why we onboard customers individually to Superhuman — the fastest email experience ever made. Our email experts give you the perfect setup, and teach you how to get through your inbox twice as fast.
Here's how we run onboardings at Superhuman, and how we transform email stress into Inbox Zero in just 30 minutes…
Building your brain for better email habits
From the moment we first open a laptop, we build bad habits — especially around email.
We let unruly inboxes overflow with notifications and newsletters, burying our most urgent messages.
We mark emails as unread, burdening ourselves with to-do lists that need constant maintenance.
We manually drag emails into folders, which takes longer than simply searching.
When our brains go on autopilot, bad habits get deeply embedded — thanks to the basal ganglia, which automates many of our day-to-day habits.
Building new neural pathways for better habits is hard, but it starts with a supportive environment. That's why joining Superhuman begins with booking an onboarding session: we introduce you to tools that make it easy to get through your email faster than ever — cheering you on the whole way!
Meet your productivity coach
The last thing you need is another meeting in your calendar, right? But like a personal training session, your Superhuman onboarding is an investment. These 30 minutes will save you hours every week.
Each session is tailored by our Onboarding Specialists: workflow coaches who live and breathe email productivity.
We set up your email to be perfect for you. We show you faster workflows to get to Inbox Zero. And we teach you powerful keyboard shortcuts, so you can unlock extreme speed (more on that later)!
Find out how Superhuman can help you get through your inbox twice as fast.
Customizing your inbox to your unique workflow
The first thing we do is listen. Do you want to get through your inbox faster, be more responsive to emails that matter, and safeguard against important messages slipping through the cracks? We can help with that!
If you don't have specific goals, we start with pain points. What do you find most challenging about getting through your email? What are the daily stresses that fly into your inbox?
Then, we build a plan — helping you learn techniques to get you through your inbox twice as fast, and supporting you every step of the way.
It might feel daunting to share your screen. But onboarding calls are fully encrypted, and you're in the driver's seat: you navigate Superhuman while we show you how to save time.
If you have multiple work streams, you'll want to split your inbox (we'll do that for you on the call). This allows you to focus on your most urgent email, and process the rest later.
If you spend hours pitching or delegating — and then following up — Remind Me will be your new best friend. Simply set reminders when you send emails, and we'll remind you if you don't hear back.
If you send out hundreds of emails each day, your Onboarding Specialist will be excited to talk about Snippets. You can create a template once, then use it hundreds, or even thousands, of times. Snippets can even include attachments and add people to CC!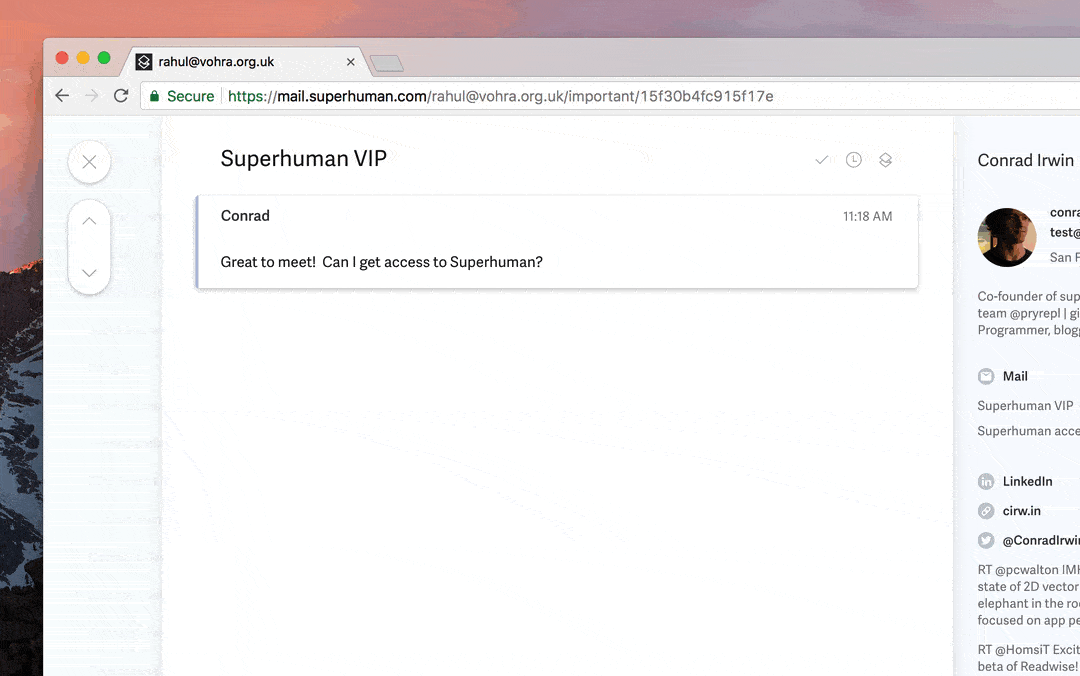 The power of keyboard shortcuts
Now, for the really fun part…
On the call, we set you a challenge: "Don't touch your mouse." That's because this is key to getting through your inbox twice as fast.
If you're used to dragging a mouse around, keyboard shortcuts might feel strange. But your onboarding session will make it easy. The most effective way to build better behavior is through habit monitoring; we remind you to leave your mouse alone as you run through shortcuts to compose, set reminders, and use snippets.
Each time you use a keyboard shortcut, you save time and strengthen your flow — the miraculous state of concentration that turns work into play.
Turn learning into a game
The most important keyboard shortcut? Cmd+K.
This brings up Superhuman Command — from here, you can do anything!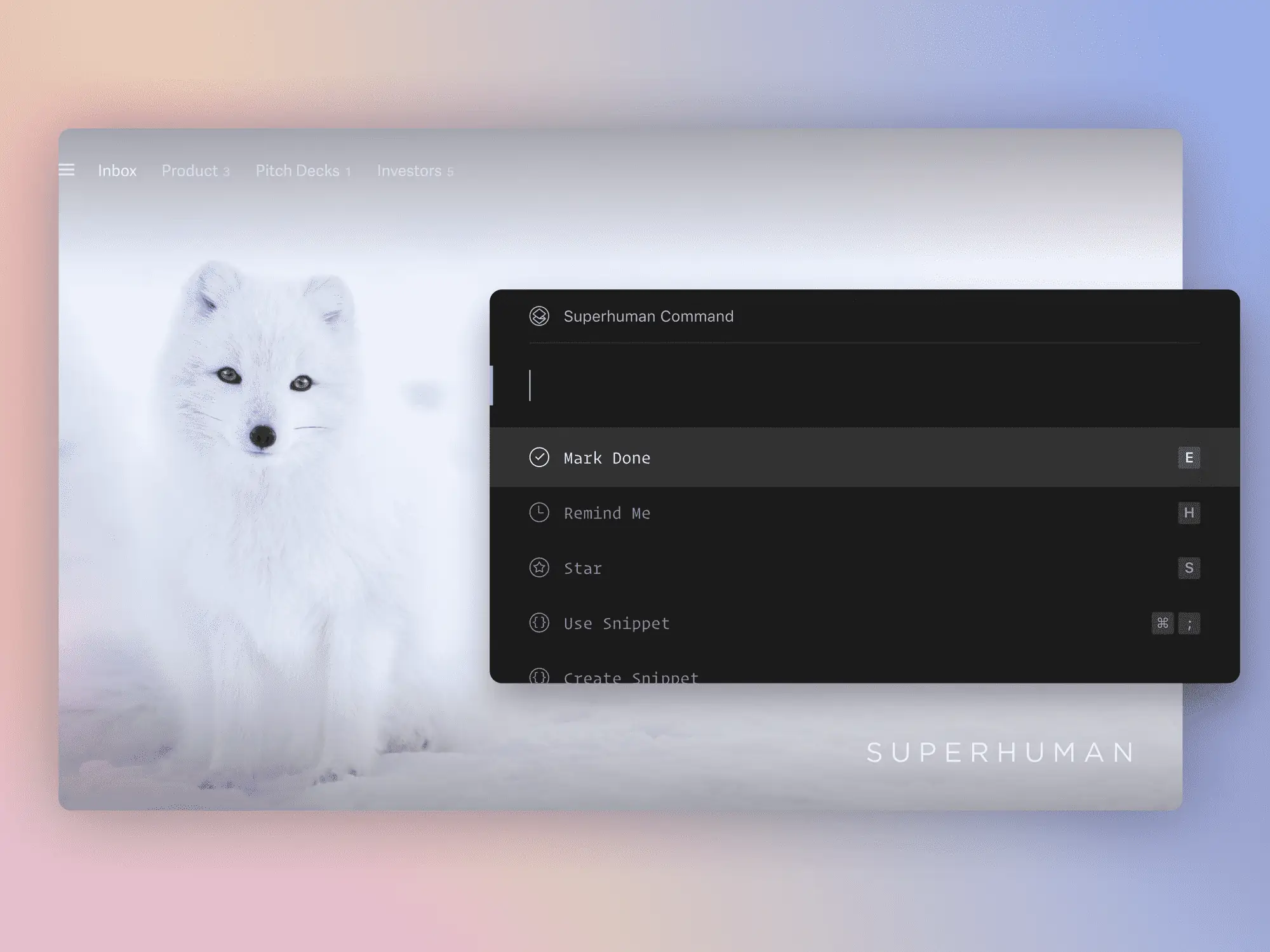 If you want to do something, such as use a snippet or set a reminder, just hit Cmd+K and type it in.  Superhuman will do it for you, and teach you the keyboard shortcut... making you even faster next time.
This way, shortcuts become a game of discovery. The more you discover, the faster you go — and the faster you go, the more you discover! We also have a literal game to help you learn.
Almost everyone we bring onboard Superhuman thinks their inbox is the most chaotic we've ever seen. And they're almost always delighted when they see how quickly they can get to Inbox Zero.
By the way, the bar is pretty high: we recently helped a Superhuman customer archive 2,264,203 conversations in a single step!

Leveling up your email productivity
So your onboarding has finished. How do you stick to your new, faster workflow — without slipping into old habits?
There's a sure-fire way of making positive change last: an accountability buddy. The personal relationship you build in your onboarding session doesn't end when your 30 minutes are up. We'll follow up to see how you're doing — and you can reach out to us any time for tips and tricks.
What to Expect in your Superhuman Onboarding
Your onboarding session is a 1:1 call with an expert on email and productivity. It's 30 minutes long, and it will cut the time you spend on email by 50%.
Reserve a video call — at a time that suits you.
Share your goals and pain points — we'll create the perfect setup for you.
Learn to use Superhuman — we'll quickly show you how to transform your workflow.
Practice using Superhuman — learn tips and tricks to go even faster.
Keep improving after the call — our white-glove service continues long after your onboarding!