New in Superhuman AI: Auto Summarize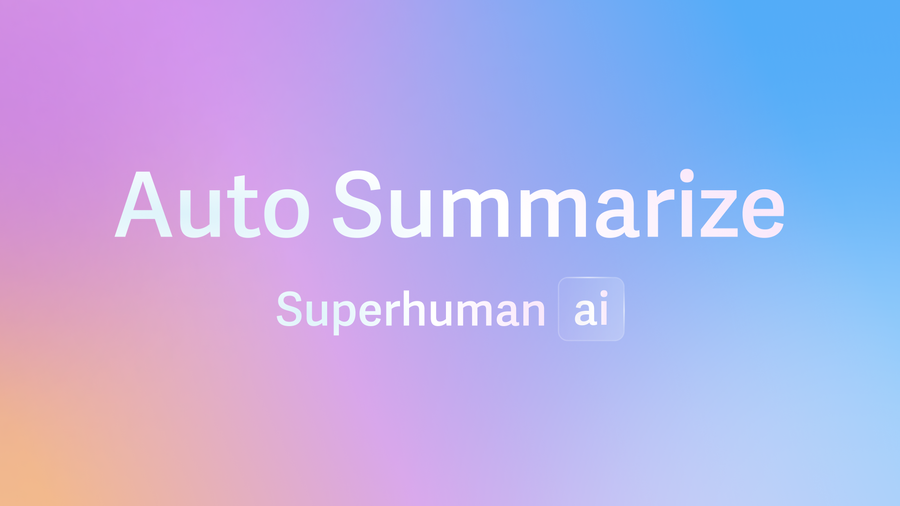 Earlier this year, we launched Superhuman AI — a suite of new AI features that help you save time, do more, and hit Inbox Zero faster than ever before. With Superhuman AI, you can write messages effortlessly, reply instantly, translate languages, improve your writing, and more — all in your own voice and tone.
Superhuman AI has already changed lives. In fact, our average customer uses it 25 times every week, up 55% since launch! But even so, you still had to remember to use it.
That changes today. I am thrilled to announce our latest AI feature: Auto Summarize!
Auto Summarize is our first AI feature that you don't have to remember to use. It's there when you want it, and out of the way when you don't.
With Auto Summarize, you will see a 1-line summary above every conversation. As new emails arrive, it updates instantly. If you want to see more detail, just hit M.
We've been using Auto Summarize for a while, and it's changed how we work. We always read the 1-line summary first, and sometimes we don't even read the email. As a result, we're moving faster than ever before!
The auto-summary function on @Superhuman is one of best productivity features I've seen in almost any consumer facing app so far.

— 🇮🇱 WhiskyTitan 🇮🇱 (@web4O) November 13, 2023
I've only had access to @Superhuman AI: Auto Summarize for a few minutes, and my life has already changed in the best way possible. Wow! 😍

— Tim Ryan (@ryantnt) November 13, 2023
Again @Superhuman nails it!

Auto Summarize is a no-brainer!

Thank you, guys!

You just don't make me much more productive. You make me happier!

🔝🙌

— Paco Cantero (@PacocanteroW) November 8, 2023
Use @Superhuman man, they just released an AI summarize email features which makes your subject irrelevant and gives you content of the email chain in bullet points at the top. 🌝

— Simon Paquin (@seempaq) November 12, 2023
Ready to go?
To get going, reload Superhuman, open any conversation, and just hit M. Other conversations will then be summarized automatically.
If you're not yet using Superhuman, sign up today.
The way we work is rapidly transforming. We see a world where AI helps us read and write every message — accelerating everything we do — so we ourselves can be much more creative, strategic, and impactful.
Auto Summarize is our next step towards this world, and we have plenty yet to come. Stay tuned for more!
Onwards,
Rahul