The complete guide on how to follow up on emails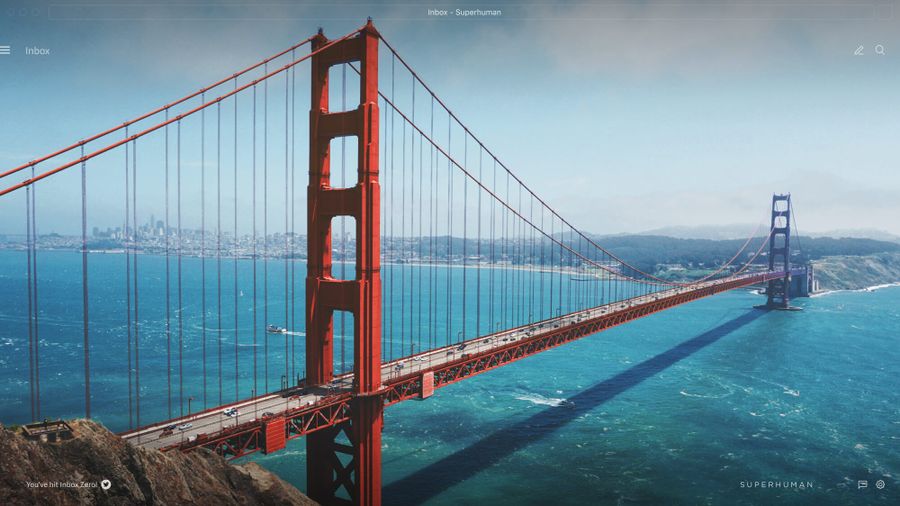 Hey! Just circling back here. Can we touch base per my last email? Just wanted to check in…
And with that opening line, your eyes glaze over.
There's a reason the common follow-up email formula doesn't work: you (probably) aren't "just checking in". You want your recipient's attention! The two of you stand to get something done together. But time is precious, and your message is a flimsy needle in a busy inbox's haystack… if you don't make it stand out.
A follow up signals that your email recipient's response is valuable to you. If that's the case, you need to ensure you're showing value to them, too — as we're all quick to prioritize important messages and save the leftovers for later (which often turns into never).
So let's talk about how to follow up on emails. Read along for tips, tricks, and best practices to get more out of each subsequent reminder message — so that all your persistence pays off without ever getting overbearing.
Why follow up?
You may be wary of re-emailing a contact if they ignore you. If they want to respond, won't they get around to it the first time?
Not necessarily! Since we all get so many emails, we need ways to process our inboxes quickly. According to research, this often means deferring messages — which 16% of us do once a day — that warrant careful replies and thoughtful reading. You can bet your contact saw that email. But they may not have opened it, and their lack of a reply doesn't always mean a lack of interest. They could just use a gentle nudge.
Because the more you follow up, the likelier you are to get a response. According to data from 500,000 sales emails, you have a 21% chance of getting a reply from your first follow-up email, and a 25% chance of getting one after subsequent follow ups.
When should you send a follow-up email?
As shown, following up is well worth it under the right circumstances. Here are some examples of when to send that extra email.
Closing a sale
While the sales data above shows that follow ups get replies, it also found that 70% of unanswered email threads stopped after the first message. Think about all those missed opportunities. If you don't follow up with sales leads, you're (quite literally!) leaving money on the table.
Think of it from the potential client's perspective: they aren't always looking to buy from you immediately. According to some data, 60% of customers say no four times before saying yes — even though half of sales reps never bother following up. By periodically reminding leads of your business, you can close sales later on.
Fastest email for teams
After a job interview or networking event
Everyone appreciates a thank you note. If you've interviewed for a job, a gracious follow-up email generates goodwill and makes employers more likely to remember you. While you want to keep things brief, it's always worth referencing one or two specific things you discussed in the interview while reiterating your interest in the position.
Following up is also worthwhile after an informal networking chat. It keeps you top of mind with people who become valuable contacts down the road. It also lets you piggyback off topics you touched on in your earlier conversation.
Collaborating with colleagues
Follow-up emails are a great way to interact with team members to ensure important communication never slips through the cracks, especially if you're working in different places. You can send follow ups to colleagues to:
Notify them of upcoming meetings


Schedule and reschedule meetings


Get updates and additional information on important projects


Remind them that they haven't responded to a previous email


Put a verbal conversation in writing for future reference
After pitching a project
If you're a freelancer pitching a project, it's easy to feel disillusioned after not hearing back from a contact. But your recipient is likely fielding countless other pitches (amid countless other never-ending responsibilities). There's a chance they'd love your idea if it didn't get lost in the shuffle.
You'd want to follow up sparsely here. But it's worth waiting a moment to see if your contact gets back to you, then dropping another line to see if they're interested.
How long should you wait to follow up?
As a general rule of thumb, it's never too early to email a "thank you" follow-up message after a meeting or casual conversation.
Otherwise, unless it's urgent, following up in less than a couple days is overkill. But if you wait more than a couple weeks, you run the risk of being totally forgotten.
So you shouldn't wait too long. It's worth noting that about 90% of people both open and reply to an email the day they get it. So if you don't get a same-day response, there's a good chance you'll never get one.
But you still want to give your recipient a courtesy cushion. It's best to wait at least two or three days to send that first follow up, and then hold off a little longer after each subsequent reminder email if you get no response.
Above all else, minding your target audience is key here, as well as taking stock of the type of email you're sending. If you're pitching a freelance project to someone you haven't worked with before, you may want to wait at least a week, as following up in two days can come off as pushy. It also may not be enough time for a recipient to fully consider your idea. But if you're nudging a colleague about an encroaching deadline, the sooner you follow up, the better.
How many follow ups should you send?
Again, mind the context here. For sales follow-up emails, it helps to gauge your leads. Some sales professionals recommend maxing out on six follow ups for prospective clients you're cold-emailing. But if you're dealing with leads you have a prior relationship with, you have more leeway.
In the example follow-up sequence below, you'd send six follow ups over the course of a month, gradually increasing the amount of time in between messages to let your inquiries breathe.
There's no hard and fast rule here. And while it's often worth being this persistent for sales, you shouldn't rely on that same email sequence if you're checking in on a pending job application.
4 steps to crafting the perfect email follow up
Quantity of reminders aside, the quality of your email will determine whether your recipient gets back to you. Here's how you string together a successful follow-up email.
Step 1: Determine the objective
Before you write the email, you need to know why you're sending it. That may sound obvious, but ineffectual follow ups often bury the objective deep in the body of the email, underneath a bunch of filler the recipient may not read past.
Before composing your message, ask yourself: what's my end goal here? It could be to get more information, request and schedule a meeting, or say thank you. No matter the reason, tangible objectives help you include a strong call-to-action (or CTA) in your follow-up email.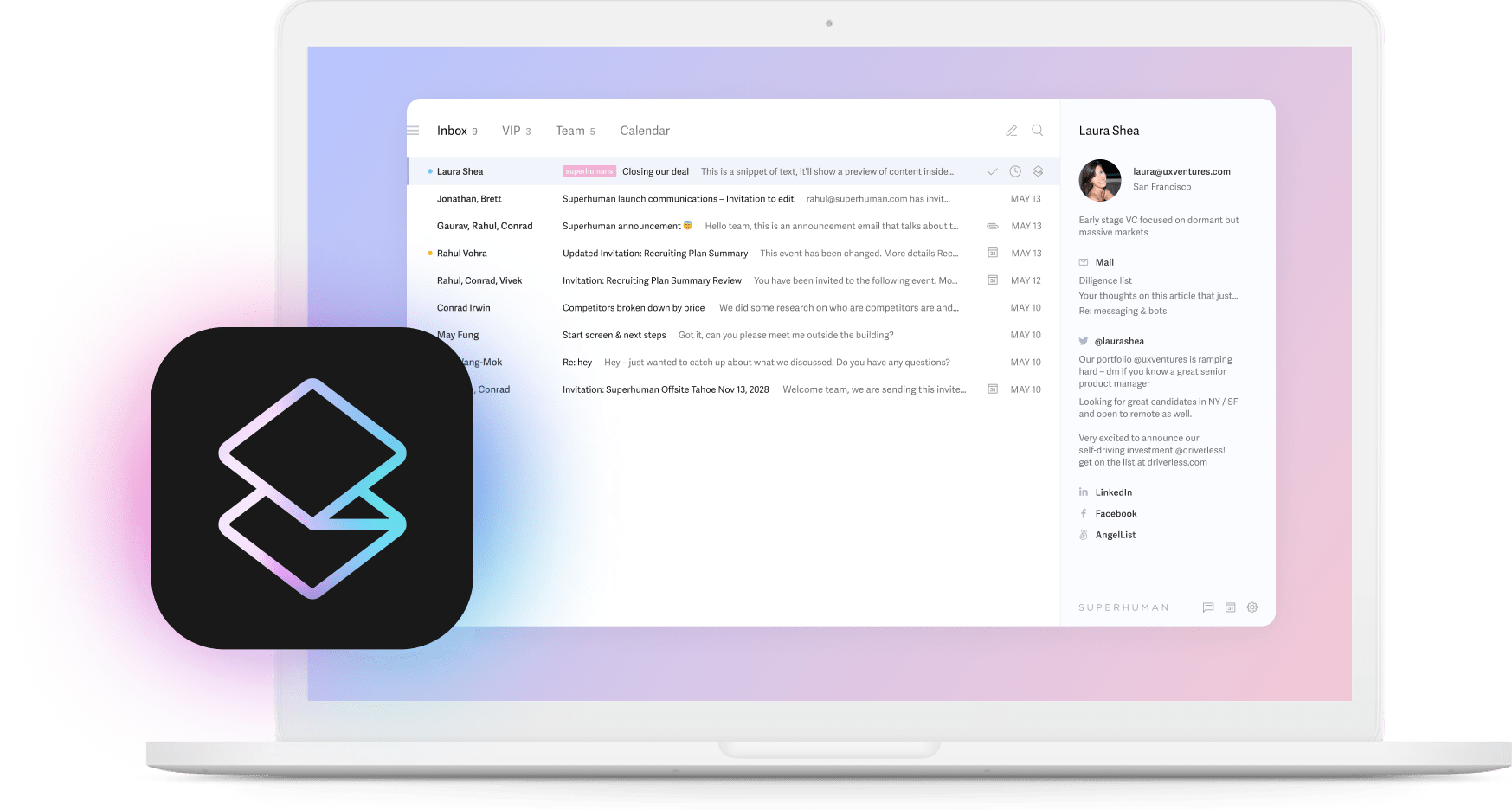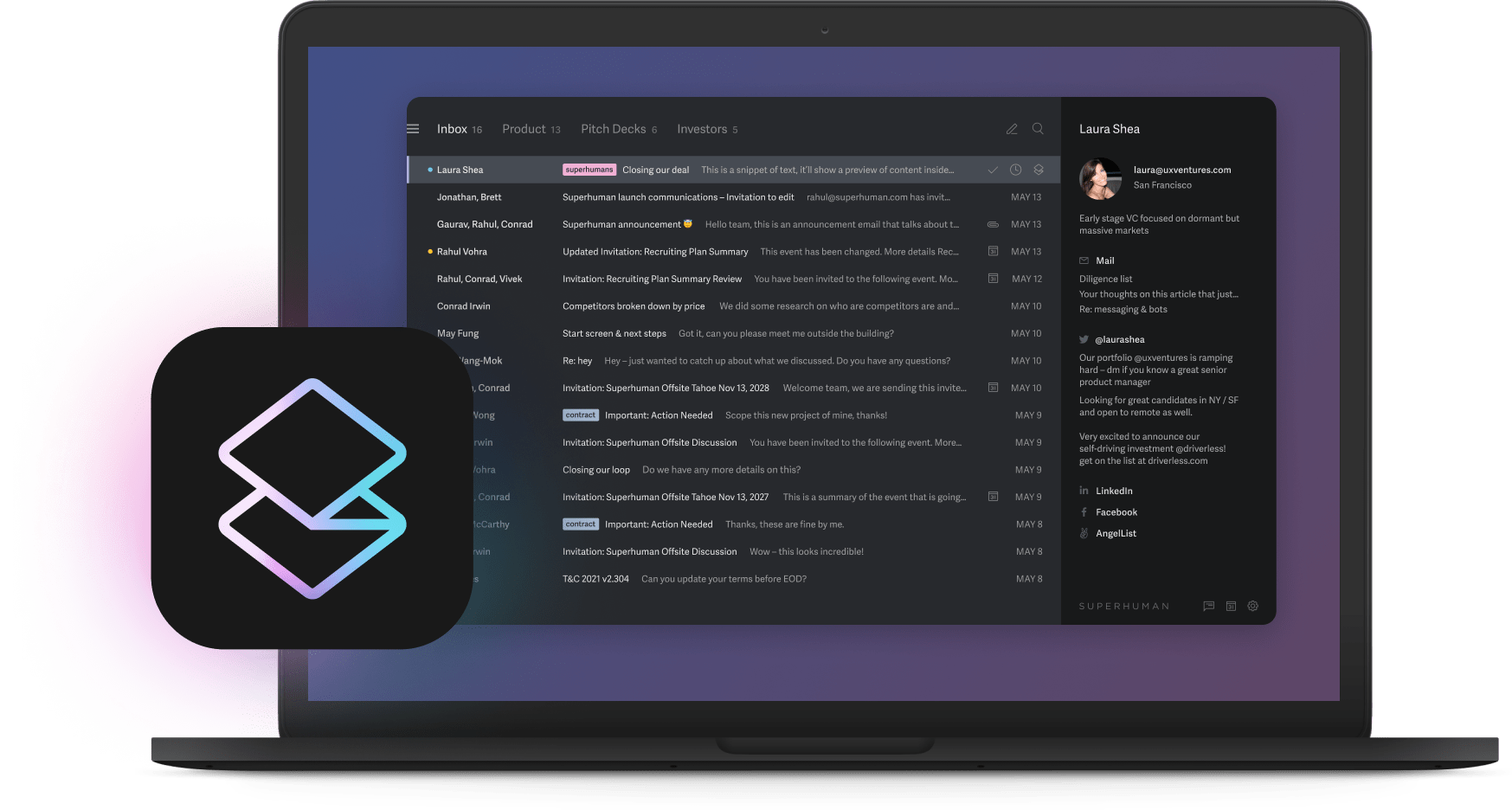 Step 2: Start with context
We all get tons of emails, and can spend up to a third of our workweek in our inbox. If you don't open your message by trying to foster some sort of personal connection, your recipient may cast it aside.
Whether jogging the contact's memory of how they know you, sharing a common interest, or dropping the name of the person who referred you, anything you can do to help the recipient view you as a human in their orbit in lieu of an email address on a computer screen can help focus their attention. Take our follow-up email example below:
Optional Reading: Email format: How to format an email (+ 5 examples).
Step 3: State a purpose
Your contextual opening should be short and sweet, so that you can immediately follow with the brass tacks of the email: a concise explanation for why you're writing.
While you want to keep this brief, you don't want to be vague. Your recipient will have an easier time fielding your ask if they know exactly what you're asking. For instance, "I'd love to pick your brain," is a lot murkier than "I'd love to get your advice on how I can transition from working within a large agency to running my own, smaller outfit."
The more upfront you are about your intentions, the likelier your recipient is to get back to you with a candid response.
Step 4: Decide when you should send
Proofread your email. Once you've caught any typos and double-checked that it has a congenial opening, clearly-stated purpose, and firm objective, it's time to send it. But probably not at 8 PM on a Friday...
Before clicking send, think about when your recipient is likeliest to open the message, taking into account which time zone they're in. You want it to be among the first emails they see when they queue up their inbox, as this will boost your open rates.
When exactly is that? While people often process emails at the beginning and end of the workday, the best time to send depends on your recipient's unique tendencies.
That's why it helps to schedule emails ahead of time. If you use a powerful email management tool like Superhuman, you can pick a time, say 8:30 AM on a Tuesday, when you know one of your leads usually processes emails, so that your message lands straight at the top of someone's inbox, no matter when you compose it.
Superhuman also allows you to use read statuses. If you turn this optional feature on, you'll know exactly when the recipient opens your email. This way, if they don't get back to you, you can schedule a follow-up message (using the schedule send feature) to hit their inbox at a similar time three days later — when they're likely back on their email processing their messages.
Learn more about Superhuman for Business
The dos and don'ts of following up
Following up can deliver valuable results for senders and recipients alike. But the last thing you want to do is spam inboxes with unwelcome fluff. Here's what you should and shouldn't do to ensure you're providing, not pestering.
Do: Add value
If you want a response to your email, you're asking for conversation. And good conversations are all about give and take. If you want something of value from the recipient, you should convey equal value from your end every time you get in touch.
Think about your recipient. Is there a relevant case study you can share? A recap of an event they missed? A proposed solution you had in mind for their job's biggest pain points? Anything you can relay that makes their life easier, more interesting, or more exciting speaks wonders.
Don't: Start with "just following up"
You know what doesn't add value? All those filler phrases that stall getting to the point of a follow-up email.
If all you're writing is "just following up", or some variation of it, your recipient will be fuzzy on what exactly you want from them.
In general, any filler words — like "just", "you know", "literally" — add little to the exchange and can therefore be cut. It helps to keep your tone conversational, but you also want to be professional. Focus on how you can help your recipient instead of bloating your email's word count.
Do: Include a call to action (CTA)
What do you want your recipient to do after reading your email? Respond with availability for a video conference? Read a link you sent? Discuss price points? Make it easy for them to understand what your ask is, and make the CTA itself easy for them to fulfill.
No matter your intention, keep in mind that politeness, grace, and courtesy all go a long way here. You want your recipient to feel guided into action, not pestered.
Don't: Wait too long
A polite, gentle follow up to your original email is better sent sooner than later. If you wait too long, you run the risk of your objective growing stale (say, trying to land accounting help at the tail-end of tax season). What's more, your recipient may even forget you exist!
But as we've established, well-crafted follow-up emails take time. It's difficult to get good ones out quickly. If you want to ensure you're not sacrificing quality for speed, Superhuman has a handy tool called Snippets. This lets you quickly compose emails you send often — say, a follow-up template to a warm sales lead — without retyping, copying, or pasting.
You can use keyboard shortcuts to incorporate these pre-written email templates straight into the body of a message, and employ commands to ensure you never accidentally use the wrong recipient's name. This way, you're following up with value without losing valuable time.
Do: Put yourself in the recipient's shoes
There's a person behind that inbox you're pinging. How can your email soothe instead of startle?
Emails don't have body language, voice inflections, or eye contact that help speakers convey tone: which is partially why recipients misperceive work messages as negative. So we recommend striving to make every follow-up friendly, easy to answer, and recipient-focused.
We all get busy, and work can get overwhelming. When following up, you have the chance to be a balm instead of a burden. How can you be warm, while still trying to accomplish your objective?
Don't: Be vague
Some emailers like to skip the details of their specific objective in a follow-up message. Writing takes time; they'd rather rush into a phone call to elaborate.
But recipients don't like getting surprised. When writing your email, you should plainly (but politely!) state what you want from them.
Additional tips for following up
How else can you master the art of the follow up? Here are a few more pointers:
Punch up your subject line
You always have the option to follow up within your initial email's thread, which means the subject line stays the same. But if you want to stand out, it's worth considering starting a new chain with an updated, more attention-grabbing subject line. For instance, according to HubSpot, in order to boost your response rate, you can:
Use specific numbers
Example: "Want to save $5,000 in fees?"


Use "tomorrow" to drum up urgency
Example: "Free for a coffee at 11 AM tomorrow?


Get rid of the email subject line entirely so that your message pops.
Another tip: write the subject line after you write the email. This way, you have a strong sense of your email's ingredients and can dream up the most eye-catching way to pitch the recipe.
Use a trigger event
What's been going on in the life of your recipient lately? If they've been in the press, won an award, or successfully fundraised a million dollars, it could be worth opening with that context. The congratulatory tone personalizes the email, which could make recipients more likely to respond.
Include a pain point
This is an example of seeing issues from your recipient's perspective. Are they having a hard time retaining talent? If your software eases their burden, tell them!
Share social proof
If you're in sales and have past clients that can attest to your business solution, explain how they benefited in your follow-up email. Because while discussing your value can get a recipient's attention, actually proving it may drive them to action.
Even outside of sales, it helps to share past successes. For instance, if you're a graphic designer pitching a new project and have published work with a big brand, shoot them the link!
Nailing your email follow ups with Superhuman
Be kind, add value, and email follow ups can help you prosper.
But if you're sending them all out of a conventional inbox, your messages can get cluttered. And important exchanges can slip through the cracks.
Or you can try Superhuman, which guarantees a faster, smarter, and better follow-up strategy.
For one, you don't need to worry about forgetting to follow up. When sending an important email, you can choose a time (say, two days from now, or the 15th at 4 PM) and it'll remind you that it's time to check back in.
No matter how many follow-up emails you want to send, crafting them is a cinch with the snippets feature, which lets you program in the perfect, pre-written responses.
But you never have to worry about them coming off as stale or impersonal. Because Superhuman also incorporates social insights into your contact list. This way, you can customize your follow ups by adding information from your recipients' LinkedIn and other social media accounts — guaranteeing you're greeting them with the proper context and fostering a personal connection.
Learn more about Superhuman for Business
With Superhuman, you're never "just following up". You're making your recipient feel appreciated and paving the way for a mutually valuable conversation.
But don't just take our word for it. Sign up for Superhuman today to see how our email solution helps you boost reply rates and follow up with confident ease.