How to introduce yourself in an email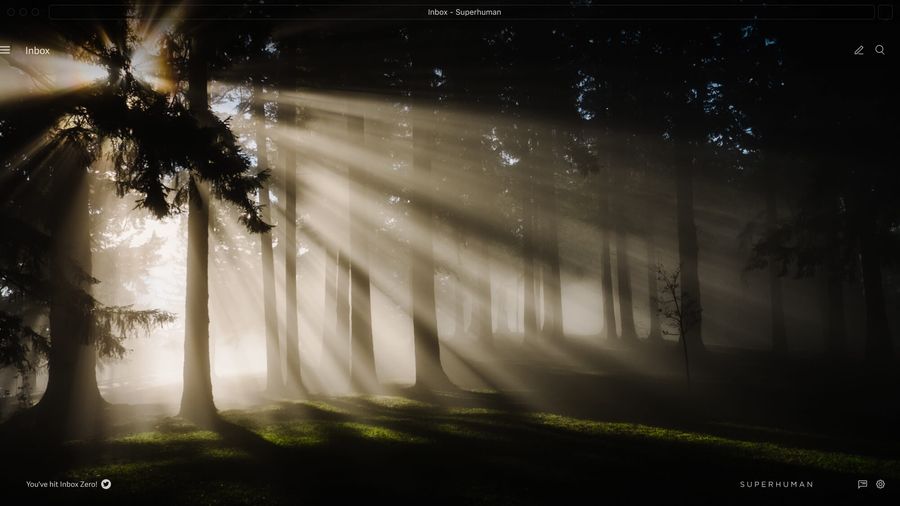 Research shows that you only have 27 seconds to make a good first impression when meeting someone new. An intro email is like a first impression in a digital space, so knowing how to introduce yourself in an email is a crucial skill for growing your professional network online.
But those 27 seconds you have to make a good impression? That research only considered face-to-face introductions. Marketing research shows that you only have about three seconds to grab someone's attention in an email before they click away — or worse, send your message to the trash folder.
Nailing a first impression is even harder in an email than it is in person. People don't want to open more email (the average person already receives 126 emails every day). Being in someone's inbox is a privilege that it's important to honor with thoughtful, purposeful introductions.
Before you send your next intro email, read this guide. Below, we'll cover everything you need to know about how to introduce yourself in an email, from the subject line to the signature (and everything in between).
What to include in an introductory email
An introduction email needs to include certain necessary pieces (which we'll dissect in greater detail in the sections below). They are:
The subject line
A salutation
The opening line
Body text
Your signature
The first time you reach out to a new contact, it's important to send a short, purposeful, and professional introduction email — while also hitting on all five important pieces. Below, we'll get into more detail about each of the pieces, and then apply them to some examples of self-introduction emails.
How to write a great subject line for an introduction email
The subject line might be the most important part of your introductory message, since it will be the first thing the recipient sees (and may be your only chance to grab their attention).
The subject line should be short enough that it doesn't get cut off, even if the recipient is checking their email on a mobile device. In fact, some experts recommend that the best email subject lines should never be more than 100 characters long. But at the same time, they should be detailed and descriptive. The subject line should tell the recipient exactly why you're reaching out, whether it's to ask for their time and expertise, inquire about a new job, or get to know a potential client.
Here are a few examples:
Introduction from <Your Name> at <Company>
Interview request for <Publication>
<Job title> inquiry
<Mutual Contact> recommended I reach out to you
How to greet the recipient of your introductory email
How you greet the recipient of your email helps set the tone for the entire message.
There's some debate about whether an introductory email should be more formal or casual. An intro message sometimes has no purpose other than to say hello, which feels like a great chance for a more casual email.
But it really depends on a lot of factors: who the recipient is, the industry you're in, the reason for introducing yourself, and more.
There are scenarios when a casual tone is right for an introductory email — especially in the age of remote and hybrid work. If you think a casual tone will be welcomed, use it; but if there's any doubt in your mind, err on the side of a more formal email, just to be sure your message will be received as polite and respectful. That means avoiding things like "Hey" or "Hi" as a salutation. In many cases, it's best to stick with the classic, "Dear <Recipient's name>".
How to craft the opening line of an introduction email
If the subject line got the recipient to open your email, you're past the first hurdle — but your time is still limited to make the right first impression!
Your email opening is the next opportunity to catch their eye and get them to keep reading, so it's nearly as important as the subject line.
The opening line should tell them why you're writing the message. It should be short — just a sentence or two — but detailed about why they're receiving your message.
Here are some examples:
I recently joined <Company> and wanted to introduce myself.
Our mutual contact <Name> thought we should meet, so I'm writing to introduce myself.
What to include in your introduction email body
What you include in the body of your email should be unique, depending on why you're reaching out, who the recipient is, etc. But there are still some best practices to ensure your introductory email makes the best first impression possible:
Be clear about why you're writing
Be grateful
Be courteous
Keep your message brief — no more than 2-3 short paragraphs
How to sign off an introductory email
At the end of your message, include a professional closing that thanks the recipient for their time.
While most of your introductory email so far has been focused on the recipient, your signature is your last chance to include any important information about yourself. You should include all of your contact information in your email signature, including your full name, job title, company name, and phone number or social media links, especially LinkedIn, when appropriate. You may also consider including your pronouns, as this promotes inclusivity and warmth.
Here are some examples:
Thank you for taking the time to read this message. I look forward to talking in the future.
Sincerely,
John Adams
Administrative Assistant
Y Company
(800) 867-5309
I appreciate your time today, and hope we can connect again soon!
Best regards,
Jane Jordan (she/her/hers)
Co-founder @ Automate It
(Company Facebook page link) (LinkedIn link)
Optional Reading:
Putting it all into practice: introducing yourself in an email
Now, let's put all these pieces together...
You can use this email example as a template, but be sure to personalize it first to include the recipient's name and any details that are relevant to your intro message. With Superhuman, you can save your introduction email template as a Snippet, insert it into messages with a keyboard shortcut, and then personalize it for your recipient.
Regain your focus and win back time with Superhuman Mail
Keyboard shortcuts, AI triage, Reminders, Scheduled sends, Beautiful design
Get Superhuman for Email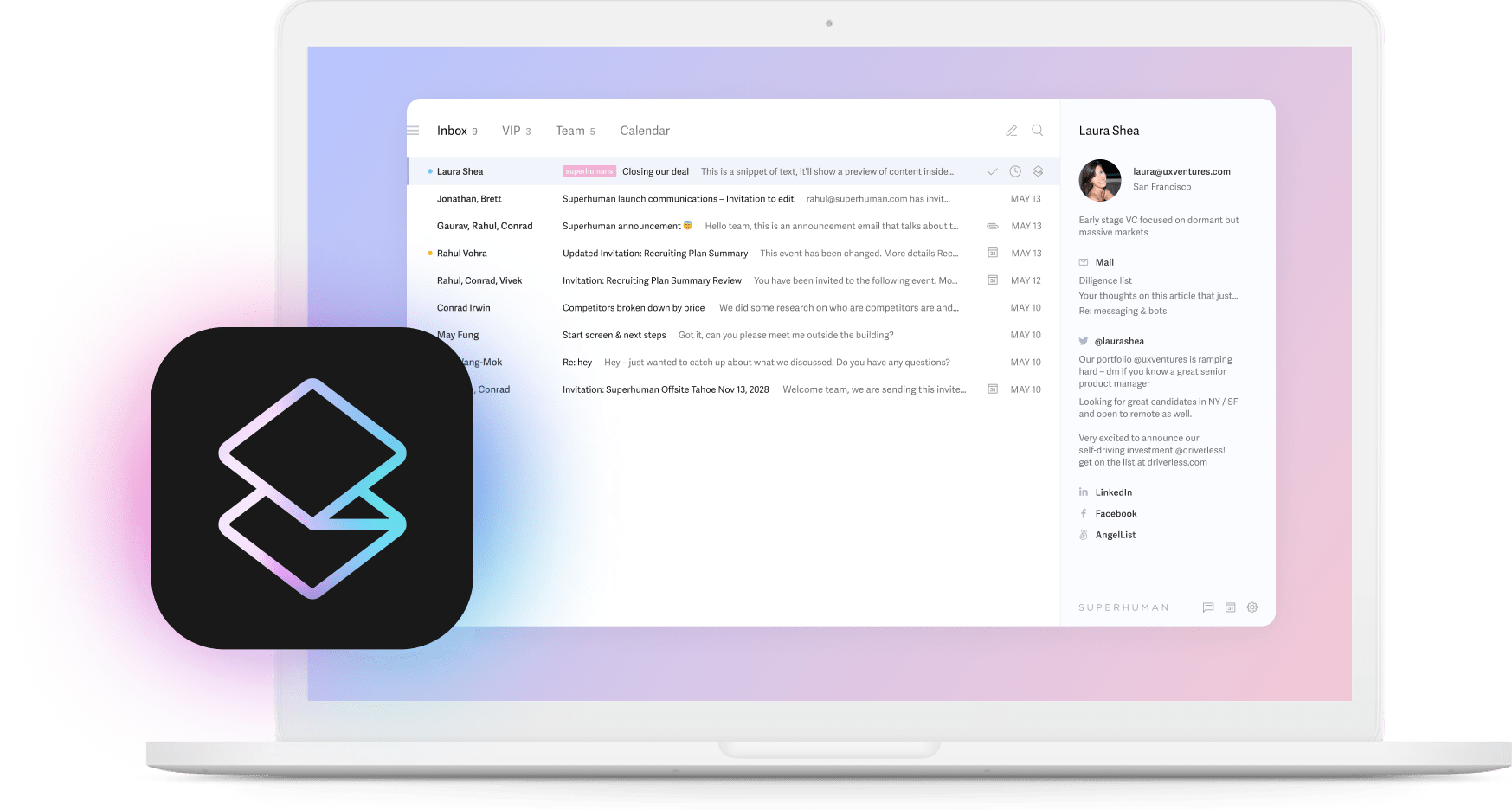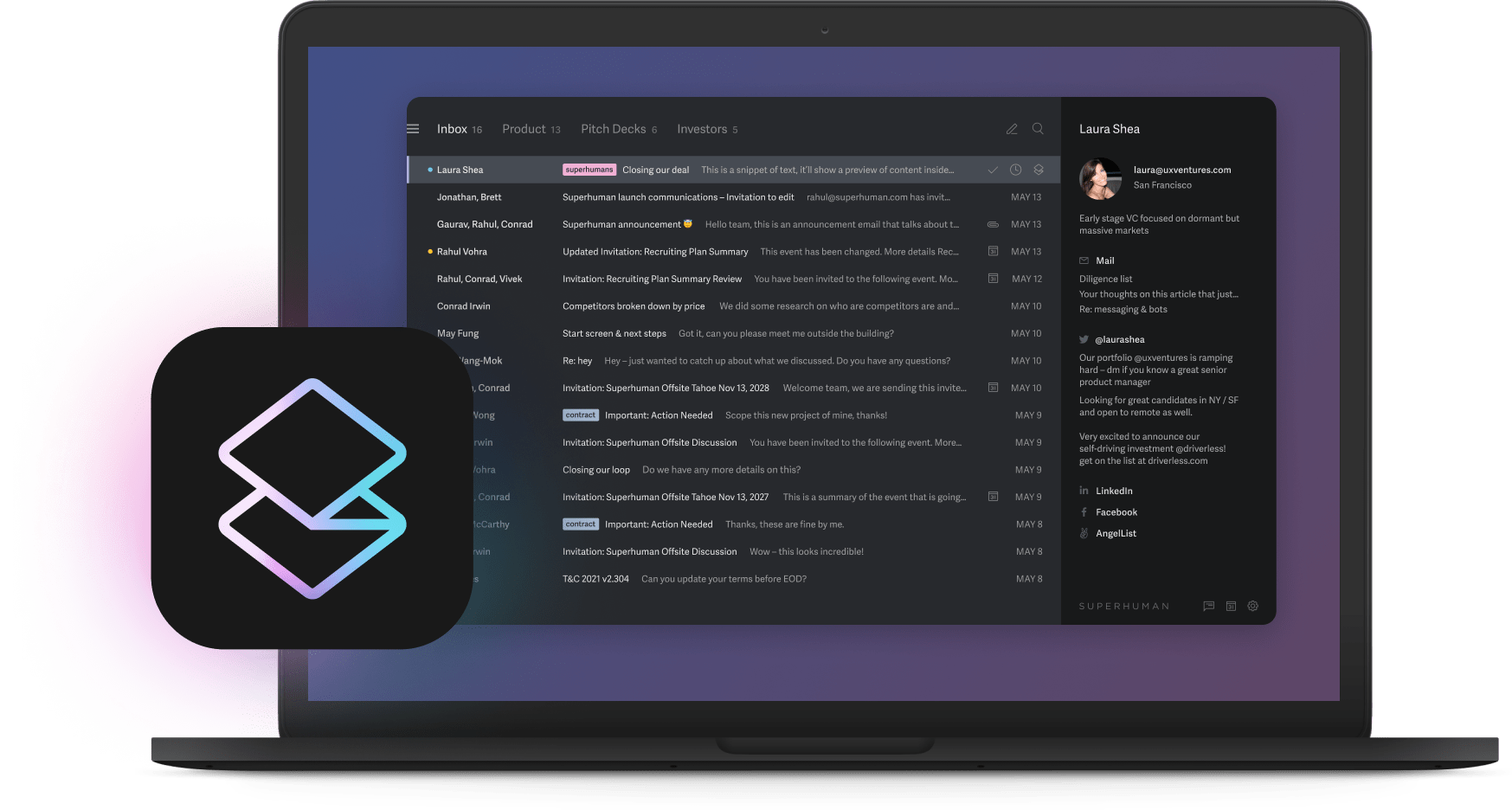 Subject line: Quick Introduction from <Your Name> at <Company>

Dear <Recipient's name>,

I recently joined <Company> and wanted to introduce myself.

Multiple colleagues have told me that you'd be a great contact for me in this role, and that your institutional knowledge could help me as I learn the ropes of this new position. I would also love to share my ideas for the department and find the best ways for my plans to support your projects and priorities. Would you be willing to meet for coffee sometime this month so we can become better acquainted?

Thank you for your time, and I hope we can talk more soon.

Yours Sincerely,

<Your Name>

<Your signature>
7 other tips for how to introduce yourself in an email
While nailing all five parts of a good introductory email will get you most of the way, there are also some other, general best practices to keep in mind when sending any type of professional message (but especially one where you're trying to nail a first impression!)
Address your message to a person
There should be no "To Whom It May Concern" in your intro email. Always try to find and use the recipient's name, in addition to personalizing your message in other ways by researching the recipient. Superhuman makes this faster and easier with Social Insights that allow you to get to know the people in your inbox — without ever leaving your inbox.
Use mutual connections to facilitate intros
People are much more likely to open and read a cold email if it comes as a referral from someone they know and trust. Whenever possible, enlist the help of a mutual contact when introducing yourself to someone new (and use Instant Intros to make a connection quickly).
Don't make demands
Demanding that your message's recipient do something for you is just bad email etiquette.
Don't make any demands — remember that the recipient is taking time out of their day to read a message from a stranger!
In some cases, you can include a CTA in your message, but keep it polite and grateful. For example, "I would be so appreciative if we could meet so I can learn more about <XYZ company, role, or subject>. Would you be willing to do that?"
Be clear and upfront about why you're introducing yourself
Don't beat around the bush! Remember that your email recipient's time is valuable, so you should be clear, direct, and upfront in your message.
If you're just writing to introduce yourself and start building a relationship, say that clearly. If you'd like their help with something, be direct about asking for it. In all likelihood, they'll appreciate you getting right to the point.
Keep your message short and sweet
While your introductory message should be detailed enough for the recipient to know exactly why you're reaching out, it should also be as brief as possible. Try to limit yourself to 2-3 paragraphs and 3-5 sentences. Remember the point of this email is to establish a connection that you'll continue to nurture and grow later.
Proofread before hitting "send"
When you're trying to make a good first impression, there's nothing worse than sending your message and realizing just after the fact that you made an embarrassing spelling error.
Be sure to use spell check, carefully proofread your message, and double-check things like name spellings to ensure they're correct before hitting send. And if you do send a message before realizing you made a mistake, Superhuman allows you to Undo Send so you can fix it before the recipient sees.
Optional Reading: How to unsend an email on Gmail, Outlook, etc.
Save intro emails as Snippets you can send quickly and easily
Our last tip: write one great introduction email template and then use it over and over again by saving it as a Snippet.
With Superhuman, you can insert Snippets into your messages with just a quick keyboard shortcut. Then, personalize your message for your recipient and hit send! It's that easy to send an unforgettable intro email that helps you build new connections.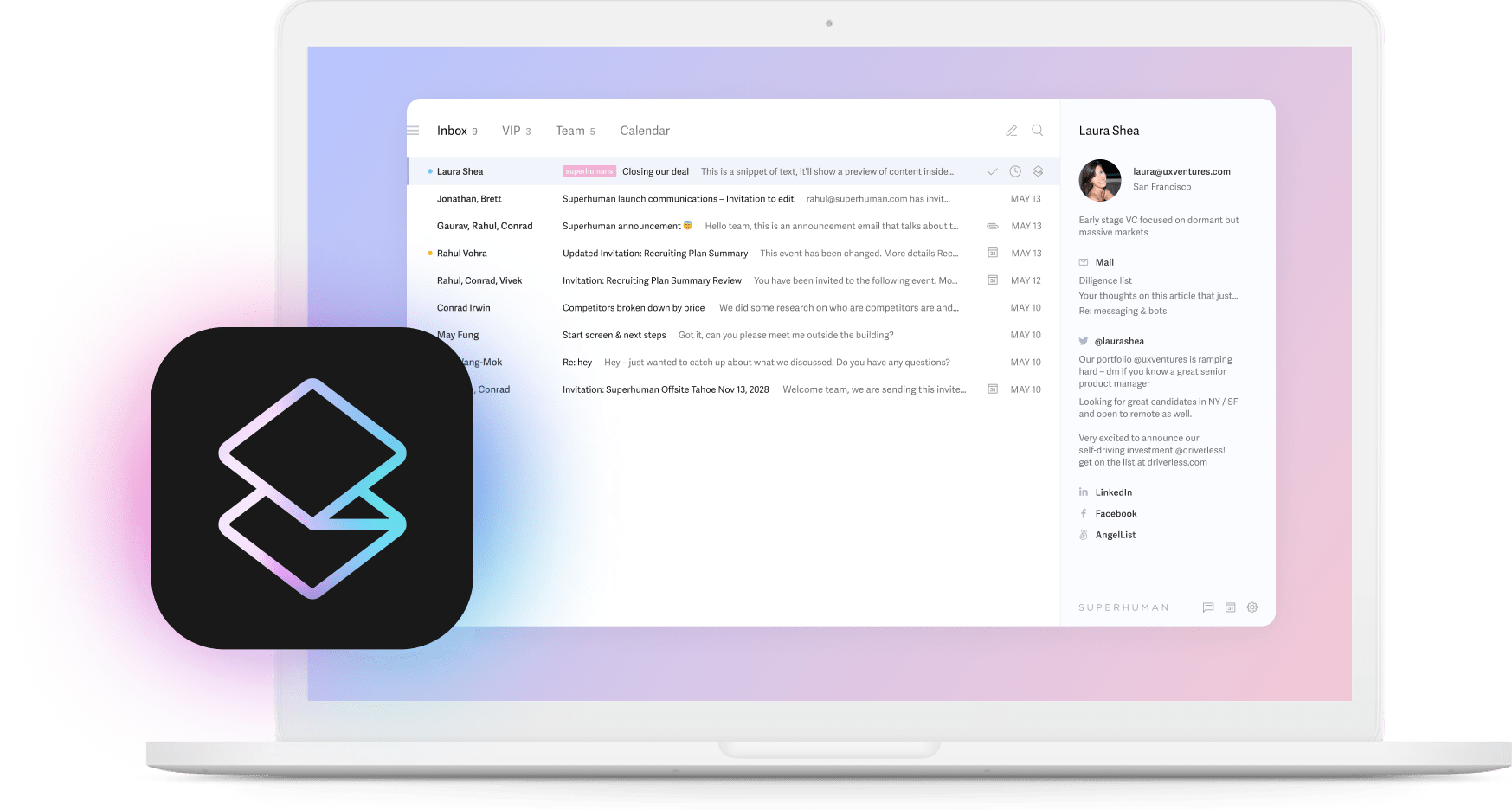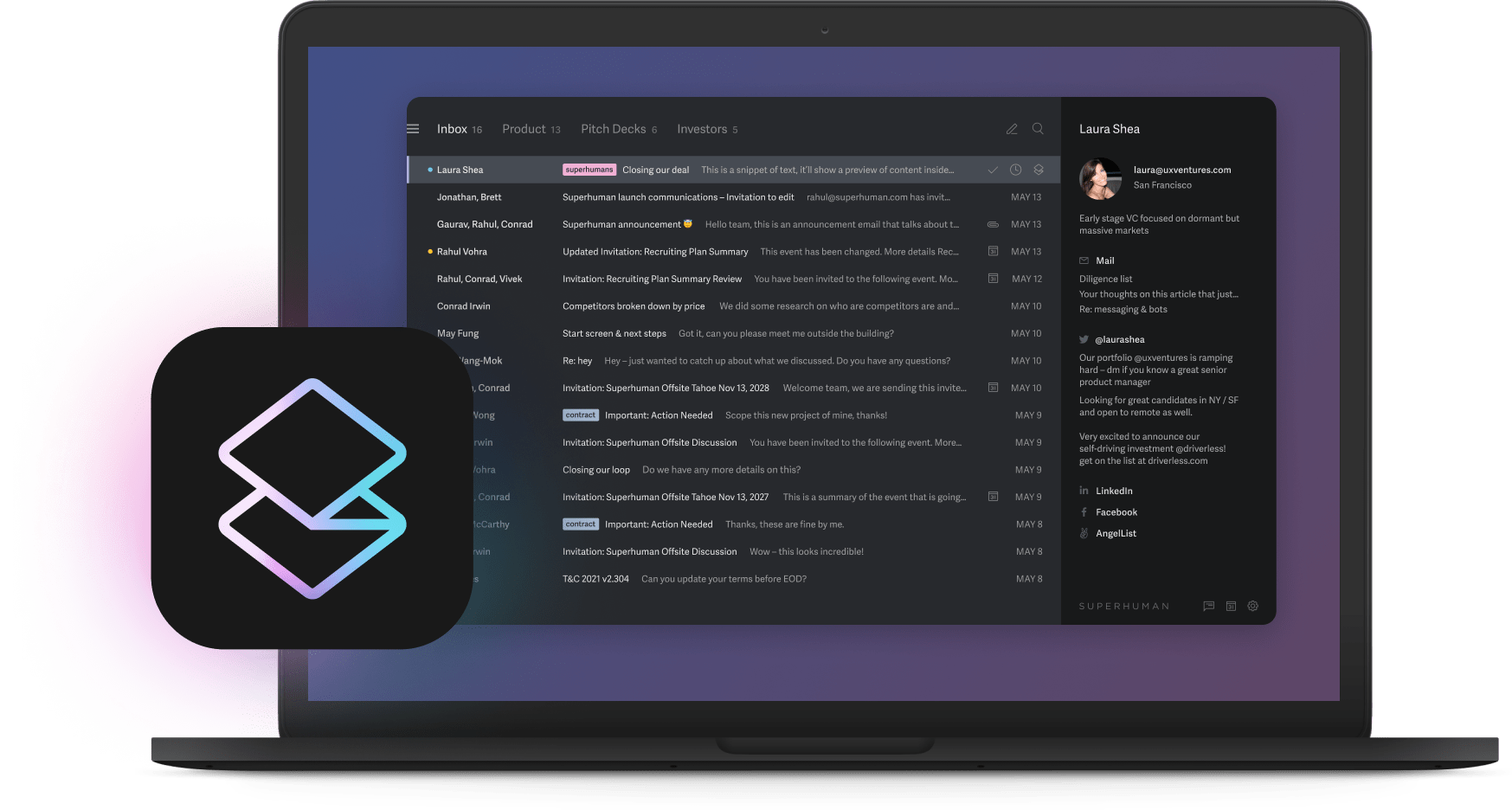 Make yourself unforgettable with an email intro that stands out
Writing a clear, direct, and professional email introduction can help grow your professional network. An email intro is just one way to make a good first impression, but as the world continues to embrace remote and hybrid work, it's never been more important.