Maximizing team productivity at Coda using Superhuman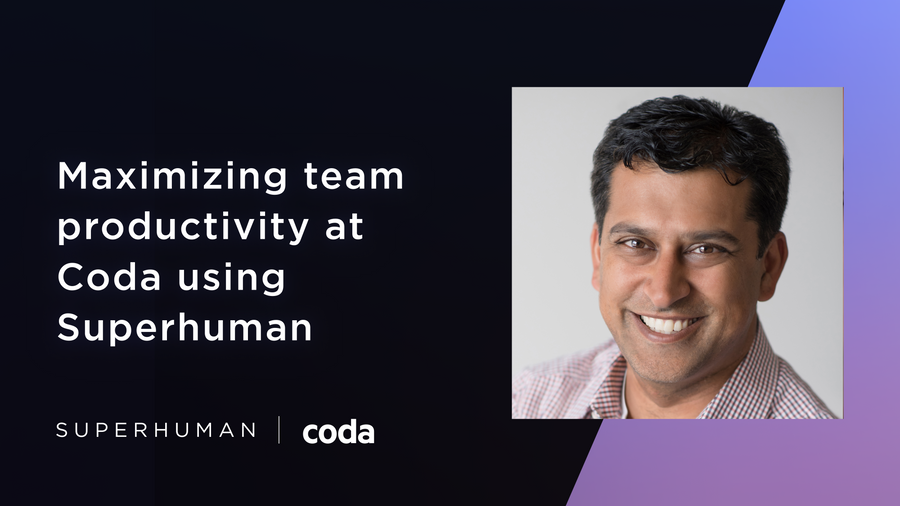 In a fast-paced startup environment, good email habits can help accelerate teams and unlock opportunities. But with the constant influx of messages, it's easy to feel overwhelmed and even miss important communication — and today's increasingly bloated email applications do far little to help.
Shishir Mehrotra, CEO and co-founder of Coda, experienced this firsthand. "Like many others, I was on Gmail, and the workflows I had to create for reducing multitasking, grouping things together, and so on, were really complicated," he says.
This meant that emails were getting lost in the shuffle, resulting in delayed responses and decisions on important projects. Shishir knew there had to be a better way — a way for him to communicate with his team faster and more efficiently so they could keep up with the demands of their workday.
This led Shishir to Superhuman, the fastest email experience ever made. With Superhuman, the team at Coda has been able to streamline the way they use email, and free up more time for collaboration and meaningful work.
"The benefits that accrue to the team are compounding," Shishir explains. "It's one thing for me to be better with my email, but if my whole team is better, then we tend to make decisions faster, respond faster, and give higher quality responses to everyone — to our teammates, customers, and everyone we interact with."
One of the key features that sold Shishir on Superhuman is Split Inbox, which helps automate the categorization of emails, making it easier to identify messages that are urgent and require action. Speaking about the feature, he says, "It really matches how I operate and how I think most people should operate. It allows me to process messages without multitasking, and group things together."

When Shishir comes across a message that requires action, he can draft a response faster with the help of Snippets in Superhuman. By quickly pasting in pre-written templates for common messages, Shishir can save time and energy for the tasks that matter most. "I can quickly templatize things that I do over and over again, saving not only time but also the thinking that goes into it," Shishir explains.
After six years of using Superhuman, Shishir is thrilled with how the product has evolved and has high hopes for its future. "I love Superhuman. I'm looking forward to many of the things that the team is working on, and in particular, things that allow us to operate even better as a team."
By using tools like Superhuman and taking the time to establish efficient email management practices, teams like Coda can spend more time collaborating and making decisions, which leads to more effective teamwork, better productivity, and ultimately, greater success for everyone.
If you're ready to unblock your time and empower your team to do their best work, see how the fastest email experience on Earth can help you — sign up today.
Help your team stay focused
Superhuman helps teams manage, prioritize, and enjoy email — faster than ever before
TRY SUPERHUMAN FOR BUSINESS