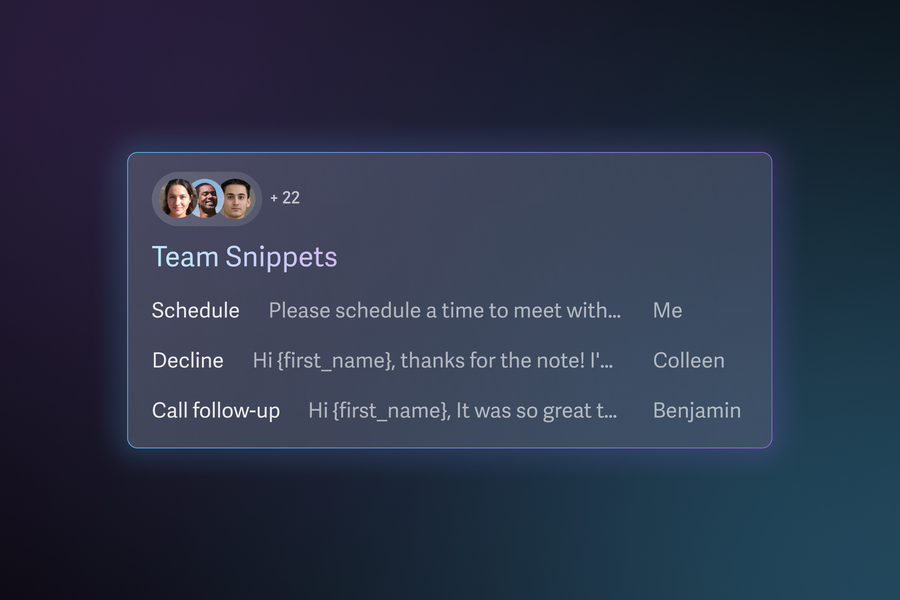 Historically, email has been single player. But we all go faster when we pull together!
That is why I am thrilled to announce Superhuman for Teams...
We are starting with 4 features that will help your team move faster, respond sooner, and get more done:
Team Snippets: Snippets can now be shared across your team, so you can all work faster with current and consistent messaging.
Team Read Statuses: Read statuses are now shared across your team, so anybody can follow up with full context.
Team Reply Indicators: See when your team is replying, so you can avoid double work and embarrassing collisions.
Team Scheduling: See when your team is free, so you can schedule at the speed of thought.
Accelerate your team with Team Snippets
No matter how fast we are, we all hit the same limit: the sheer time it takes to type.
With Snippets, you can automate typing and push past this limit. Insert phrases, paragraphs, or whole emails. You can even add people to CC or BCC internal systems.
And with Team Snippets — one of our most requested features — you can now share these templates with your entire team.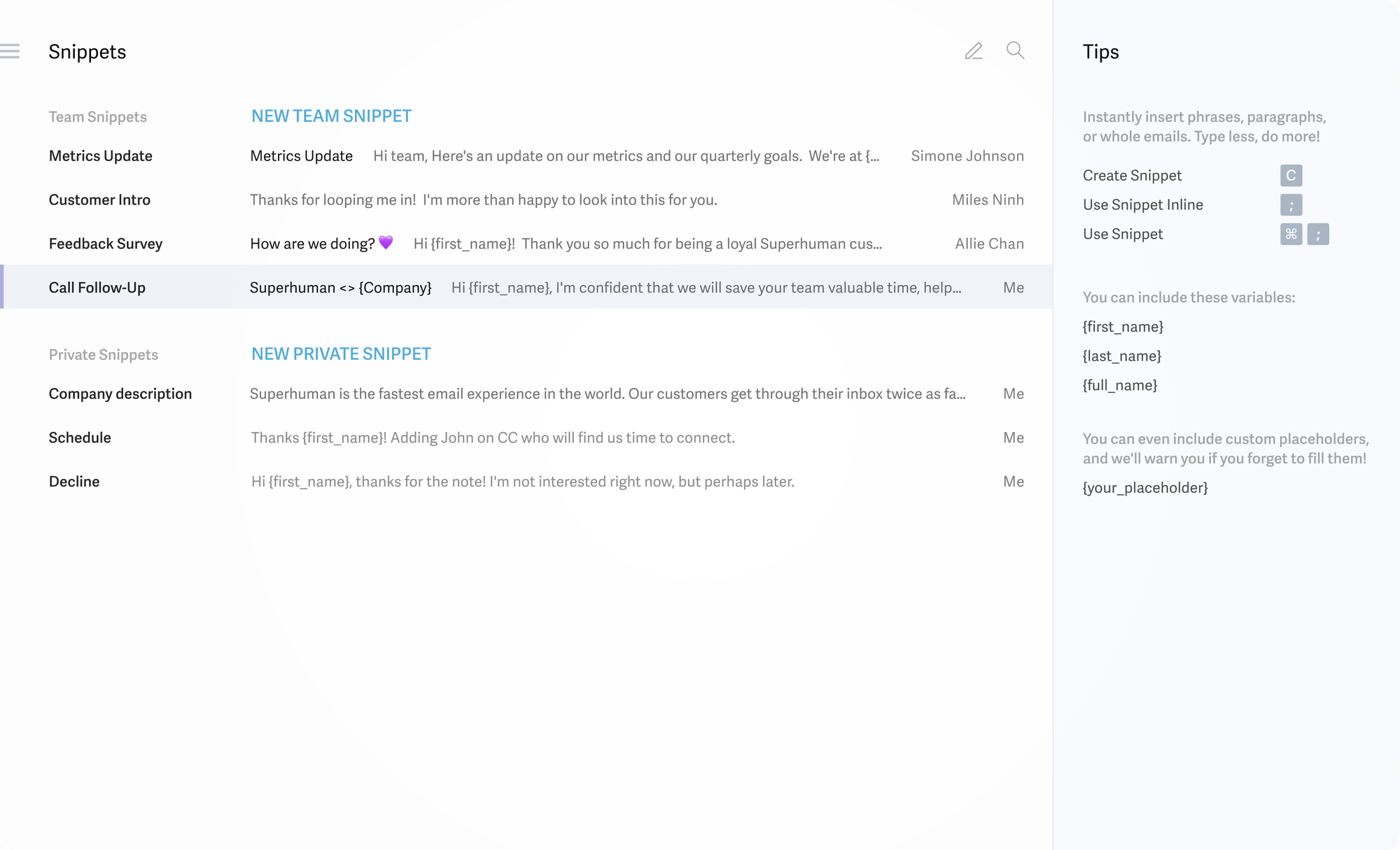 Use Team Snippets to share rapid customer responses, recurring internal emails, and the most effective outreach messages. Help your team work faster with consistent, up-to-date, and high-performing messaging. Even as new team members join, you can ensure a high bar for message quality and efficacy across your organization.
Collaborate seamlessly with Team Read Statuses
In Superhuman, you can see when people read your email and on which device.
If someone doesn't reply, read statuses can show why. Maybe they never opened your email. Or perhaps they did, but on their phone.
With Team Read Statuses, read statuses are now shared across your team.
Let's say a teammate sends an email to a lead and CCs you. Even though you did not send the email, you can still see when the lead has read that email — including how many times, and whether it was on their laptop or their phone. Now you have more context, and can follow up with just the right message.
Use Team Read Statuses to close high-value deals, hire elusive candidates, and work more effectively with your team.
Please note that this is only available for Gmail users. To enable read statuses, hit Cmd+K (Mac) or Ctrl+K (Windows) → Enable Read Statuses.
Eliminate embarrassing collisions with Team Reply Indicators
Imagine the scene: you and your team get an urgent email, so you rapidly reply. But just after you hit send, your team replies as well. In the best case, you look disorganized. In the worst case, you contradict each other.
With Team Reply Indicators, you can see exactly when your team is replying.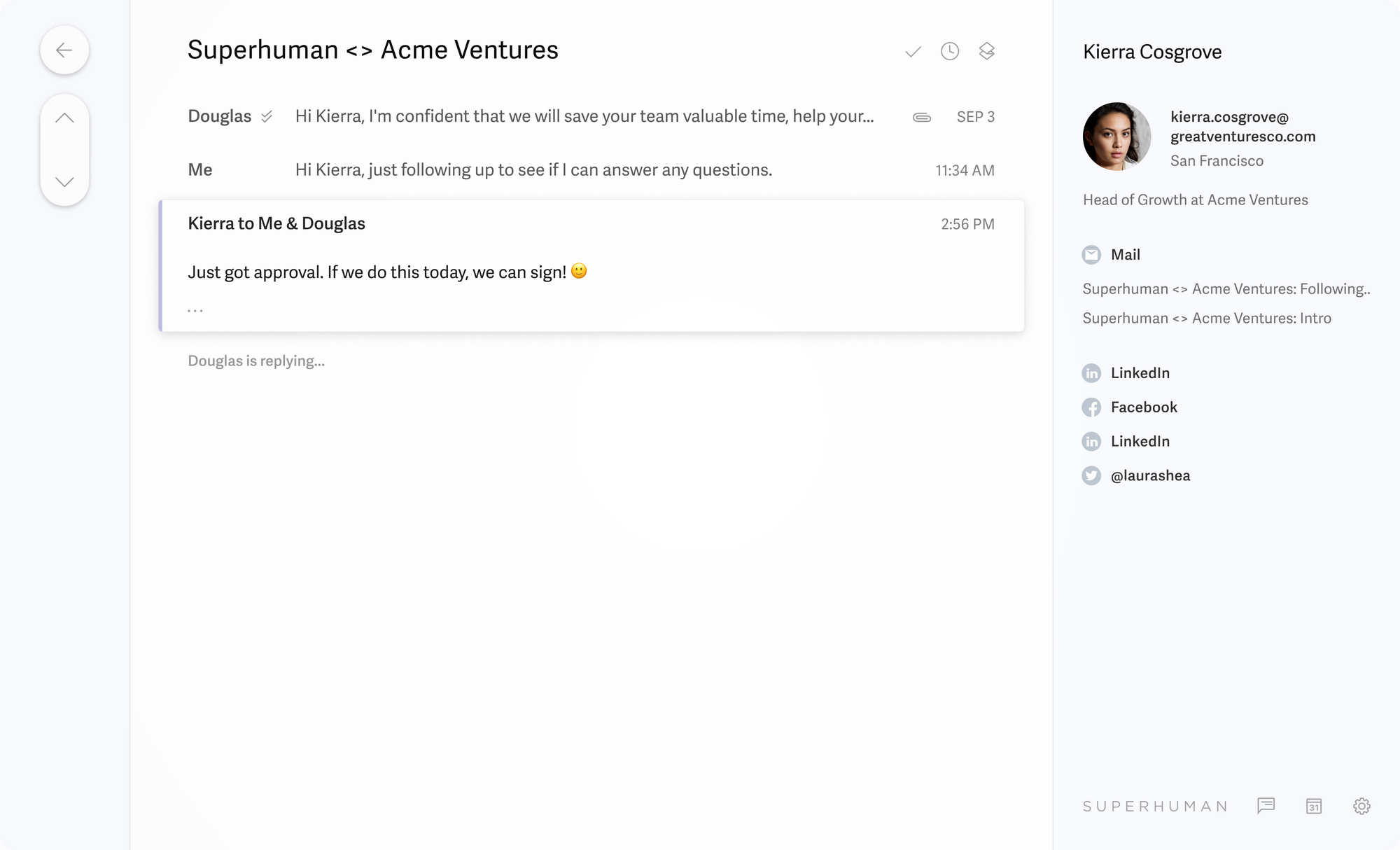 Use Team Reply Indicators to know when your team is on it, avoid double work, and eliminate embarrassing collisions.
Schedule team meetings right from Superhuman
"What time is everybody free?"
No need for time zone math or back-and-forth threads. You can now instantly see when your team is free, and schedule meetings right from Superhuman.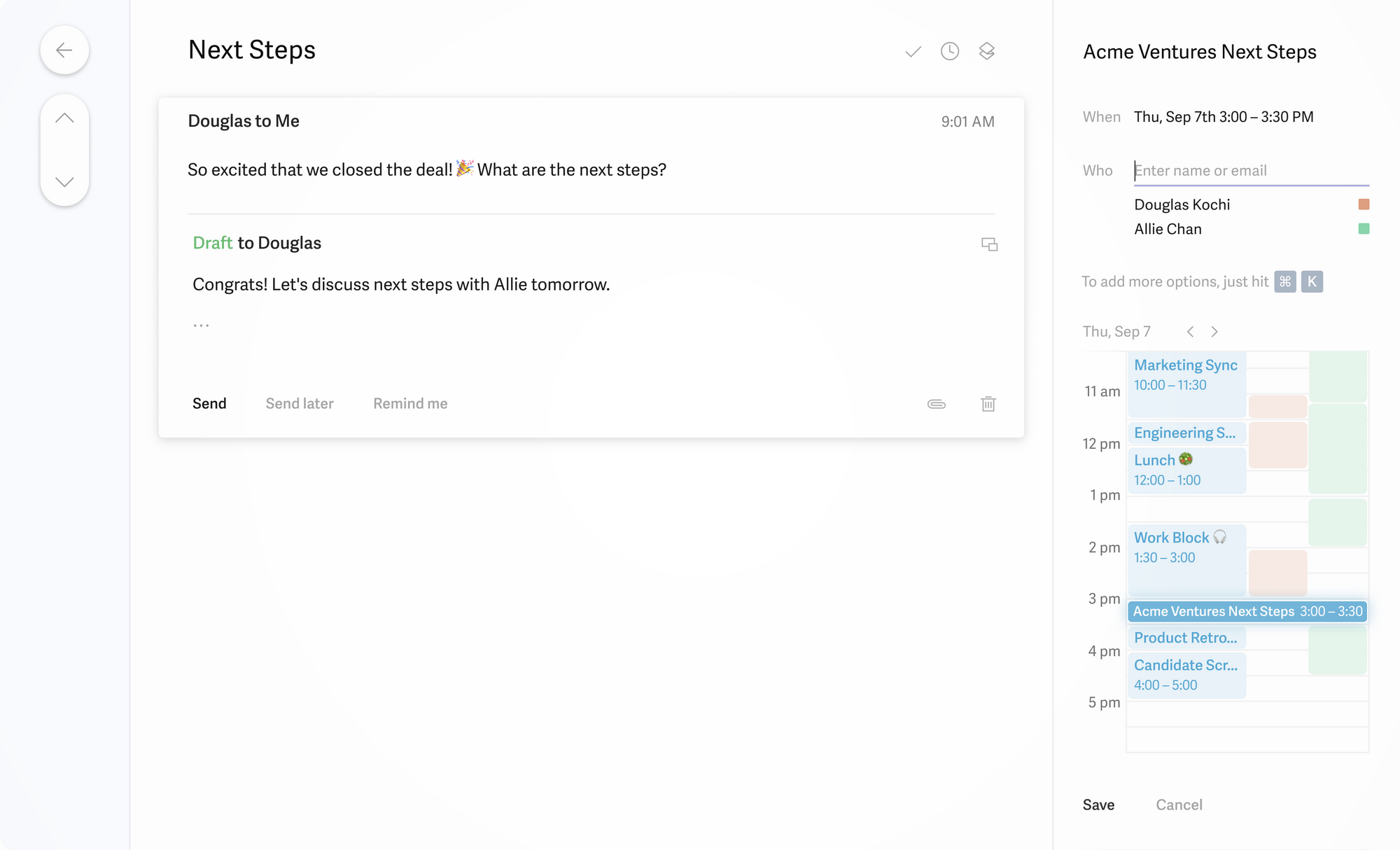 We designed the experience to be keyboard-driven, blazingly fast, and surprisingly fun. Now you can stay in flow, and schedule at the speed of thought.
Ready to go?
Over the last 2 years, the number of teams using Superhuman has grown 8x. Many of the fastest growing and most successful companies use Superhuman, including Brex, Notion, Uber, and Deel. On average, these teams are responding to 2x as many messages and are responding 2 days faster. In fact, Superhuman now saves teams over 10 million hours every single year!
With Superhuman, we're able to respond to three times as many customer emails as before — which means my team is more efficient, more responsive, and ultimately, delivering more value to each and every one of Brex's customers.
- Ben Terrill, Senior Director of Customer Success, Brex
Superhuman is a key tool in our tech stack that everyone gets onboarded to when they join the team. With the peace of mind an organized inbox brings, they can focus on doing what matters most to the business.
- Meltem Kuran, Head of Growth, Deel
The benefits that accrue to the team are compounding. It's one thing for me to be better with my email, but if my whole team is better, then we tend to make decisions faster, respond faster, and give higher quality responses to everyone we interact with.
- Shishir Mehrotra, CEO, Coda
We've also built even stronger team security and privacy. Superhuman now works with Google Advanced Protection, and is compliant with SOC 2 and CCPA.
This is just the start of our teams roadmap. We are reimagining email for all teams, including shared threads, reactions, and comments. We are increasing our enterprise readiness, including MDM and DLP. And we are building special editions for specific teams — starting with Superhuman for Sales — including world-class integrations with Salesforce and soon, HubSpot.
If there's something you'd like to see, please let us know!
Not yet on a Superhuman team? Just hit Cmd+K (Mac) or Ctrl+K (Windows) → Add to Team. Or if you'd like to talk to sales and learn more, just drop us a line.
Onwards 🚀
Rahul