Team meetings: which do you actually need?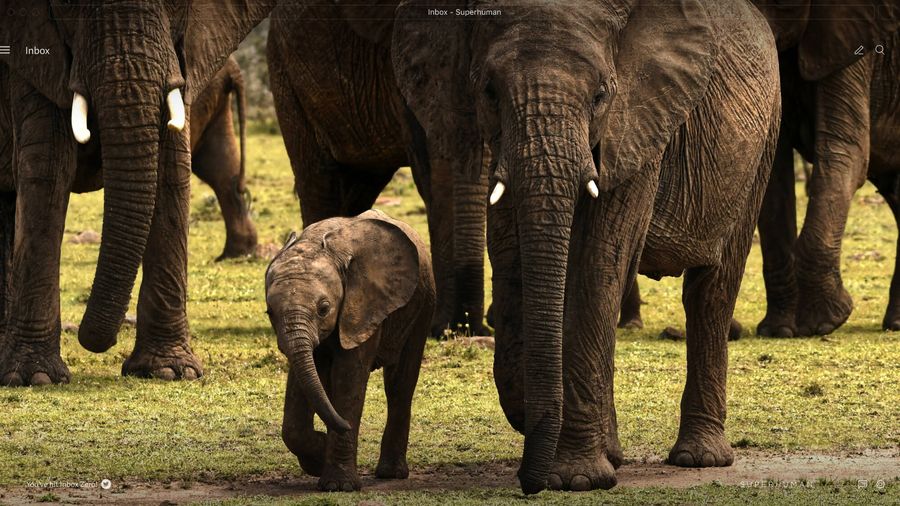 Most people spend 31 hours on unproductive meetings every month.
While meetings can inspire collaboration, get projects on track, and keep teams aligned, having too many can hinder productivity. Sure, not every meeting will be exciting and awe-inspiring, but no meeting should be a time-suck.
For example, have you ever left a long meeting wishing you could recover that time? Maybe a simple email thread could have easily replaced the discussion. But instead, the unnecessary meeting disrupted your flow and took you away from meaningful work.
Your team likely feels the same way.
In this article, we'll discuss why and how meetings can become productivity stealers, and how to know which should be emails instead. We'll also talk about how to conduct engaging and productive meetings for your team, so each one fulfills its intended purpose.
Why and when team meetings become a time sink
Done well, meetings can build strong working relationships and accelerate your team's progress. They bring people together to share, motivate, create, and help team members form bonds with each other and the organization. These are just some meeting dynamics that could never be replaced by email or text!
But we can all recall attending meetings where we felt lost, less than motivated, and wished we were somewhere else. Meetings, though highly valuable when they're organized and focused, can also be unproductive and waste company time.
Unnecessary meetings can have the following effect on attendees:
Decrease productivity: Switching focus constantly during the workday due to excessive meetings can rob productivity. When you get distracted and switch from task to task, it's called context switching. 45% of people say that context switching makes them less productive, according to a report by Qatalog and Cornell University's Idea Lab. And 43% say it's just plain tiring.


Stifle creativity: Unnecessary meetings can be especially challenging for creatives and developers who require large blocks of time to focus on their work without distraction. Constant interruptions can hinder their creative flow.


Build tension: Employees might feel frustrated attending meetings they deem unnecessary because it's pulling them away from more meaningful work.
So when is it productive to meet? It's not always clear which meetings to skip and which ones to keep. It will depend on the unique style of your team. Next, we'll discuss how to assess which meetings are necessary and which ones are best left to email or chat.
Help your team stay focused
Superhuman helps teams manage, prioritize, and enjoy email — faster than ever before
TRY SUPERHUMAN FOR BUSINESS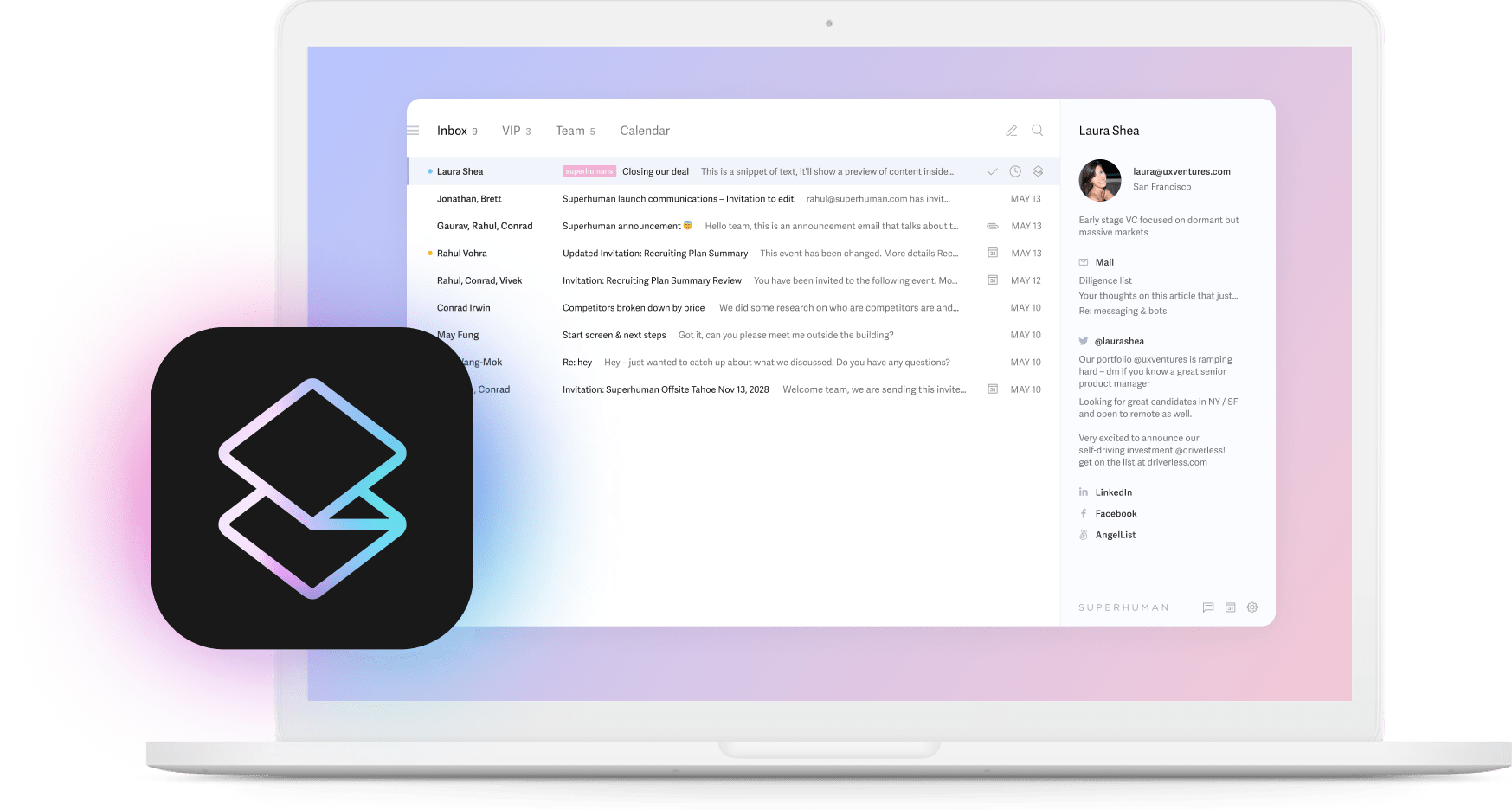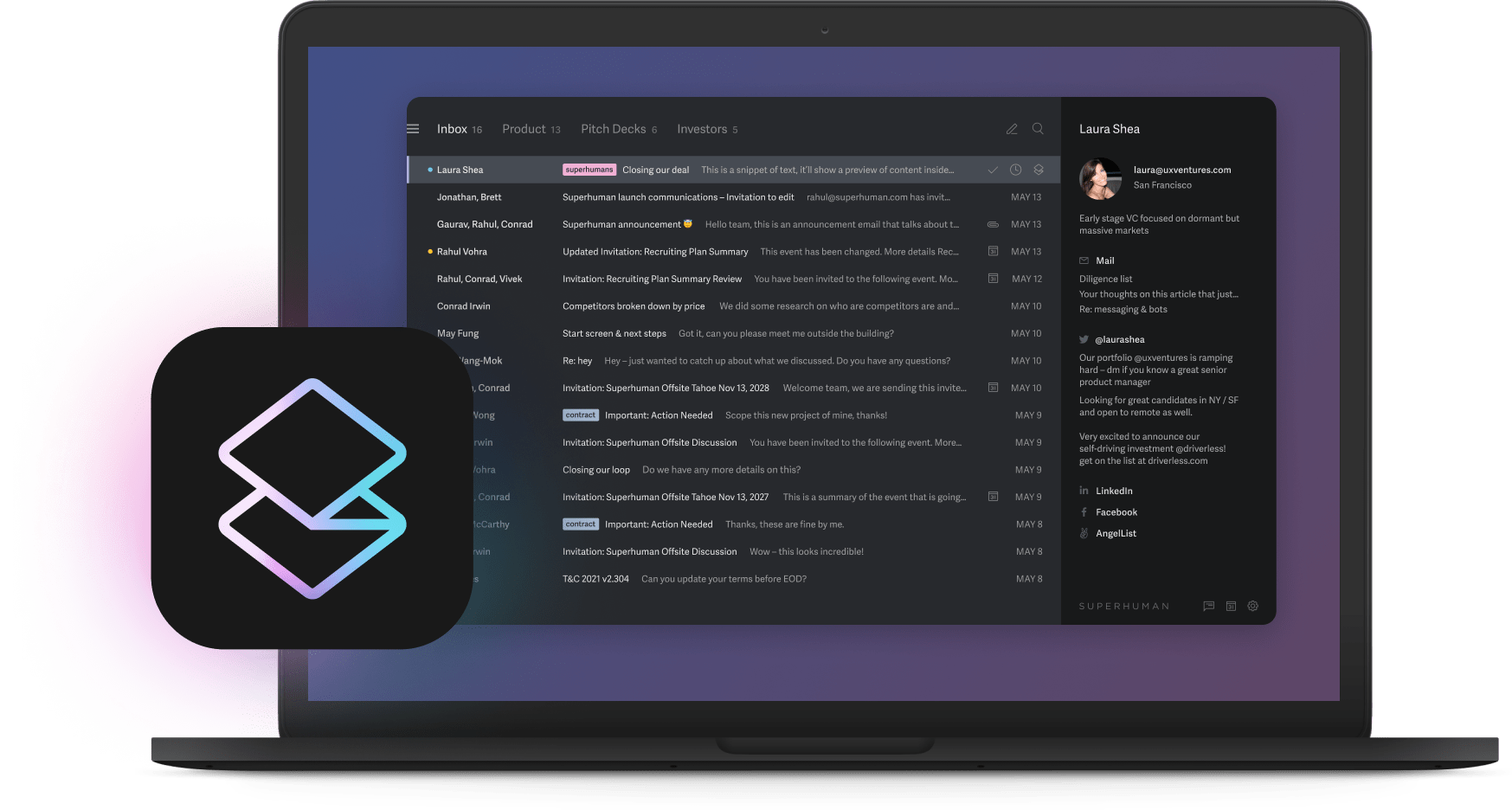 4 team meetings that should be emails instead
Sometimes we schedule meetings because we're used to bringing people together whenever there's a team topic to discuss. But if you have the meeting via email or chat instead, you'll save time on meeting prep and the actual meeting, and still keep projects moving along. Simple updates, syncs, or reviews can be just as effective via email. In fact, having a "paper trail" will give the team a written record of the "meeting" notes to refer back to if necessary.
What type of team touchpoints can occur via email or chat?
Daily status updates/standups: Instead of a live meeting, set up a team-wide daily Slack thread at the beginning of the day so your team can post updates and whether they're experiencing any blockers.


Meetings without an agenda: Never come to a meeting without an agenda or a topic to discuss. Some exceptions are if the meeting is for brainstorming, but even, in this case, a light agenda keeps the communication structured and flowing.


Light reviews, input, or feedback: If you need a document or website reviewed, instead of reviewing it line by line in a meeting, let employees review them offline and bring their feedback to one location digitally. A face-to-face meeting might be a good next step if more discussion is warranted.


Regular project syncs: Just because a weekly team meeting is on the calendar doesn't mean it needs to stay there. Let's say you have a weekly project sync, but nothing was resolved from the previous week because employees required more time to complete action items. You can cancel that meeting, gather feedback, answer questions via email, and bring all resolutions to the following discussion. If you notice you're regularly canceling syncs, revisit the meeting cadence and revise, if necessary.

5 team meetings that are more effective in person or via video
Some meetings are most successful when attendees have face-to-face contact (in-person or video conferencing) or by phone, if face-to-face communication isn't possible. Replacing these meetings with emails or chat threads might stifle creativity or hinder project progress.
Which meetings are best conducted in person?
Creative brainstorming
Brainstorming with a team is successful when members can play off each other's ideas in real time. For some, this is more challenging with email as creative inspiration often sparks from real-time conversation where each team member feeds off each other's ideas.
This doesn't mean you should never solicit ideas via email. For example, if you want input and new ideas on the name of a new customer loyalty program, open a new email thread and get suggestions digitally. But if you were brainstorming how to market that loyalty program or what it should include, real-time discussion might be best since it will require a deeper conversation.
Read more: the most productive ways to brainstorm
Also, be mindful that some people like to brainstorm alone, and feel creatively stunted in large groups! Invite them to prepare before the meeting or conduct 10 minutes of silent brainstorming during the meeting with a virtual whiteboard tool, followed by a synchronous discussion.
Team-building and social engagement
Meetings bring people together and encourage teamwork, which is vital for trust and team building. Face-to-face interaction — even remotely or hybrid — will make employees feel more engaged and a part of the organization.
New project kickoff
Project kickoffs require complete focus and attention, which is only possible with a face-to-face meeting. When communicating the project's long-term goals and expectations, and defining team members' roles, there's no substitute for an in-person gathering to establish buy-in and keep teams engaged.
Project feedback
Let's say you launched a new product two weeks ago and requested feedback on the status. A quick email thread might not suffice as your team will need to discuss what succeeded and what went wrong, and how to overcome any challenges before the next launch.
Finances and budgets
Quick financial discussions can happen via email, but most financial topics are generally best discussed in person. Talking about money isn't always pleasant, and financial details can easily get lost inside an email thread. Topics such as funding for an extensive marketing campaign or budget cuts for new product improvements might require brainstorming and deeper discussion about tradeoffs and priorities, which is best conducted live. Sensitive financial topics are also best discussed behind closed doors.
How to decide between a meeting or an email thread
Maybe your meeting wasn't on our list, or you're wondering how to determine if your team should have a meeting, or communicate via email. We've got a few tips to help you decide! Ask yourself the following questions:
Are you discussing problems or challenges? If you need to discuss company or project challenges or obstacles, an in-person or phone meeting is best, rather than email. Your entire team needs the opportunity to openly communicate the issues they're facing and get real-time feedback.


Is the topic sensitive or personal? Emails can feel impersonal, so whenever the recipient can easily misinterpret tone and inflection, opt for a face-to-face or voice meeting instead. Some examples include giving an employee a promotion (or their notice), onboarding a new team member, or discussing a work conflict.


Are you setting expectations? Generally, voice or face-to-face meetings are ideal whenever you're setting goals or expectations for a project or initiative and want team buy-in (e.g. new product launches, campaign kickoffs).
Read more: our guide to writing effective emails that inspire action
How to make team meetings more productive, engaging, and inspired
71% of senior managers said that meetings are unproductive and inefficient, according to a University of North Carolina survey, as reported by the Harvard Business Review. And 65% said meetings keep them from completing their own work, 64% said meetings come at the expense of deep thinking, and 62% said meetings miss opportunities to bring the team closer together.
Let's face it, no matter how important the topics, meetings can sometimes be uninspiring and distract us from our work. But they're necessary for any growing organization to keep teams aligned and the company moving forward. So how can we make meetings more productive and engaging for all attendees? Next are some tips on how to conduct effective team meetings.
Select meeting participants
Inviting team members without a stake in the project can create tension and frustration. However, not inviting the right people can delay a project's progress.
Think about the meeting topic and outcomes and every person who has a stake in it. Who will find the meeting valuable? Who will contribute to the subject? Who has a stake in the outcome?
If you aren't ready to create an attendee list, move on to creating the meeting agenda first and revisit the invitations after you've developed more details on the outcomes and purpose of the meeting. Knowing what you want to discuss can help you envision the right attendees. Also, get input from your team, if needed.
Gather team input
Encourage team participation in the meeting preparation stages. You'll get more buy-in from your team and keep them engaged and fully prepared for the meeting. Before you send those invites, get answers to the following questions:
What is the least disruptive meeting time?


What items are essential to add to the agenda?


Who will fill the meeting roles (team leader, recorder of minutes, timekeeper, action items, etc.)?


Where will the meeting be held? Will it be in person, a hybrid, or a remote meeting?


Who else should you invite?

Create the team meeting agenda
A meeting without an agenda is essentially a hangout. Nothing wrong with that, especially if there's coffee and donuts, but it isn't always the best use of time! Even if you take some time at the beginning of the meeting to explain the agenda, it doesn't give attendees any time to prepare. When employees don't have anything to bring to the table, these "non" meetings can become total time-wasters.
Here are some items to add to the meeting agenda:
Purpose: Why are you meeting? What is the purpose? Be as detailed as possible so attendees can prepare.


Schedule: If possible, break up the meeting into proposed topics during specified periods. For example, for an hour-long sync at a news outlet, dedicate the first 10 minutes to the "what" (the news), the next 30 minutes to the "how" (discussing the reporting and assigning roles and deadlines), and the last 20 minutes for everything else (feedback, questions, and overflow). This way, the timekeeper can follow along and steer the meeting in the right direction should it derail.


Objective /takeaways: What do you hope to get out of the meeting? List the meeting objectives and what you would like to take away from it. Stating the meeting goal will keep you focused on the topic.


Attendees/roles: Who will attend the meeting, and what are their roles? List the attendees, and who will fill specific roles (leader, timekeeper, note-taker).


Location/time: Where will the meeting take place and when? Will it be in person, remote, or hybrid? If remote team members join, include the meeting link (Zoom, Google Meet) in the invite. Don't forget about time zones!
Read more: 13 tips for scheduling meetings in different time zones
Also, consider supporting documents to help attendees understand and engage with the topic. For example, if you're discussing the impact of a recent marketing campaign, send campaign results and customer feedback along with the meeting notes so attendees can prepare with questions and feedback. Send creative briefs, calendars, reports, and other pertinent information at least 24 hours before the meeting.
Lead a productive and efficient meeting
It's meeting time! Here are our tips on how to lead productive team meetings.
Allow each attendee the time to speak (but keep it controlled)
Most meetings have a variety of attendees, from outspoken to introverted (and everything in between).
Outspoken attendees are probably more comfortable speaking up, and they might not realize when they're taking control of the conversation (and possibly the meeting!).
Setting scheduled times in the agenda for each meeting segment will make it easier to segue from excessive chatter back to the schedule. Also, while compiling the agenda, ask attendees if they have something to present so you can allocate time for it beforehand.
To coax the quieter people in the room with important content to share, considering directly asking them for feedback in the meeting — to hold a space for them to speak. Or direct attendees to send follow-up emails after the meeting with any more detailed thoughts. Encourage discussion, but don't pressure those who are uncomfortable sharing information and speaking in public. Leave room for email feedback after the meeting.
Allocate time for questions
Allocate at least 10 minutes toward the end of the meeting for answering questions and garnering feedback. Questions will naturally come up during the meeting, but if some are too long to answer on the spot, you can direct the attendees to ask questions during the designated time.
Provide ongoing updates and reiterate action items
As the meeting progresses, let the attendees know where you are and briefly summarize the highlights of each agenda item. For example, if you just finished a talking point, let the team know you're finished with that section and reiterate each attendee's action items along with a brief summary. You can also ask if anyone has questions on those specific talking points. The repetition will solidify the topics in the attendees' minds and keep them engaged as they follow the agenda with you.
It might sound something like this:
"So to summarize, we discussed having the event at the local brewery or the coffee house on Main St. Sally, you said you're going to verify each location can hold the number of guests we have and get price quotes. And, Robert, you're going to get a final head count from the team, right? Does anyone have any questions or other feedback about this?"
If any items require more discussion, or you don't have time to discuss details without derailing the meeting, make a note to circle back to them in the next meeting or via email after the call.
Focus on ideas over outcomes
Keep the focus on ideas, not outcomes, especially during brainstorming meetings, so attendees feel free to share and provide input without hindrance.
Strict agendas can sometimes stifle creative flow. Notice when a brainstorming session becomes a flow of ideas that get better as time goes on. Be prepared to change the schedule on the spot to allow the communication to continue, if necessary.
Stay focused on the time
If you've ever been in a topic-heavy meeting, you'll know that it's easy for it to slip right through your fingers. Those Monday meetings are always jam-packed with discussions of weekend plans and funny pet stories that make us smile, but they can derail things pretty quickly!
Without squashing the much-needed Monday morning banter, stay focused and watch the clock. Better yet, assign an attendee the role of timekeeper to record meeting minutes and call out when segments go over time. Plus, get our tips on how to make your meetings twice as fast without sacrificing fun or banter!
Action items
Put a system in place to keep attendees accountable for completing action items.
After the meeting, provide a meeting summary of the talking points, including a list of the action items.


Add action item assignments in your project management system if attendees have difficulty completing them on time or forget their due dates.


Let attendees know they should mention action item roadblocks they encounter as soon as possible so it doesn't hinder progress.
Keep improving
Start a continuous feedback loop on meeting feedback and tweak your agenda over time. Let your attendees know you are open to suggestions and feedback on what they felt worked and didn't. Ask whether the agenda is helpful and how you can make the meeting more productive and efficient.
Anxiety-free email experiences start with Superhuman
Email is one of the best ways to gather quick feedback, provide updates, and collaborate with your team. And email can replace unnecessary team meetings making your day more productive and focused.
But email can also be overwhelming. Email anxiety is real, and we've all experienced it. That sinking feeling when you forgot to respond to a critical message because the email got buried somewhere in the chaos. Or the worry and remorse you feel for holding up your team because your inbox keeps you from being as responsive as you'd like.
Yet, with Superhuman, you can:
Fly through your inbox twice as fast as before


Find and reply to critical messages faster


Save three hours or more a week


Banish email stress and anxiety


Experience striking, refined design


Get more productive and focused on meaningful work

And the best part? No need to learn new strategies or spend days onboarding a new program. More than half of Superhuman's customers hit Inbox Zero within four hours of starting.
Sign up with Superhuman today and enjoy the fastest email experience ever made. Work with our onboarding specialists who can help you customize Superhuman to your unique workflow. Or get started right away on your own. We'll see you on the other side!