What are the best Gmail add-ons — and are they worth the money?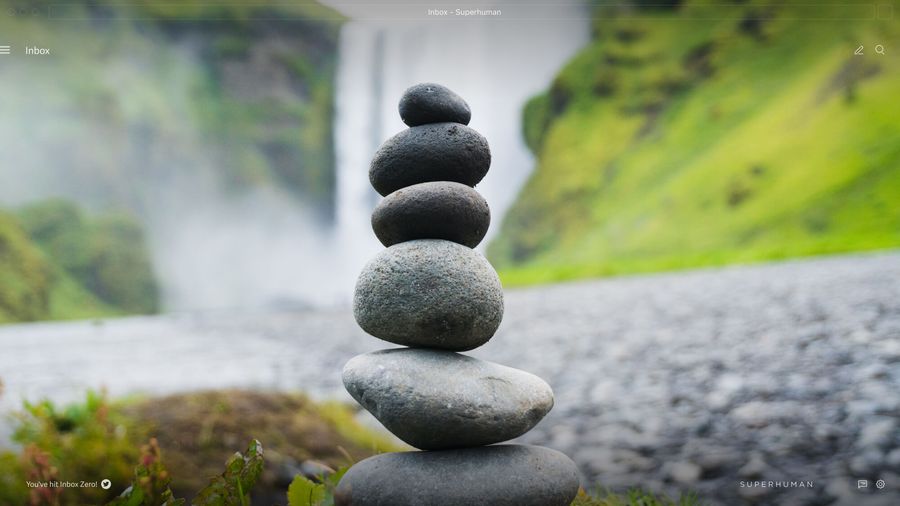 It only takes a quick glance at the Google Workplace marketplace or the Chrome Web Store to see that you have a seemingly infinite array of Gmail add-ons to choose from.
While this enables you to customize your Gmail experience, adding handy features, automations, and integrations that can make you more efficient and productive, it can also present some challenges.
For one, using multiple addons at once can cause issues if they don't play nicely with one another. And then there's the ROI — since many of the best Gmail add-ons come with a cost, does it make sense to stack multiple paid add-ons to get the features you need, or look for an all-in-one solution?
If you've ever asked yourself these types of questions, you've come to the right place. Customizing your Gmail setup with add-ons can certainly improve your experience, but only if it's done intentionally to maximize benefit without sacrificing performance. Here's everything you need to know…
Gmail add-ons vs. Chrome extensions
First things first: let's discuss the different ways you can expand Gmail functionality, and how they differ from one another.
You have two options:
Google Workspace Marketplace (formerly G Suite Marketplace), which offers add-ons that integrate directly into your Google Workspace apps.
Chrome Web Store, where you can find Chrome extensions, many of which add new functionality to Gmail when you use the Google Chrome browser.
(Or you can look for an alternative to Gmail instead).
These are both different from Gmail clients, which are apps you use to access your Gmail account, not add-ons or extensions that add features on top of it.
Optional Reading: 7 Best Gmail Alternatives (Free & Paid)
How to use Gmail add-ons from the Google Workspace Marketplace
To install an add-on, go to the Google Workspace Marketplace, find the add-on you want, and click "install". Then, all you have to do is verify your Gmail account credentials (which may require you to re-enter your password or go through two-step authentication). Accept the add-ons permissions and it should be ready to use!
To remove an add-on, go to Google Workspace Marketplace, click "manage apps", and find the Gmail app or add-on you want to remove. Then, click "uninstall". It only takes a single click to remove these add-ons — there are no hoops to jump through if you decide to stop using one.
How to use Gmail extensions from the Chrome Web Store
To add a Gmail extension, go to the Chrome Web Store (from a Chrome browser), find the extension you want, and click "Add to Chrome". Then click the "Add extension" button when prompted. You should then be able to see the extension in your toolbar, but you may need to toggle it on before you can use it.
To remove a Gmail extension, type chrome://extensions/ into the URL bar to access the extensions dashboard. Click "More tools", then "Extensions". Find the extension you want to remove and click "Remove".
9 top Gmail add-ons and extensions
If the question is, "How do I maximize features and integrations for my Gmail inbox?", then this list is the answer! These add-ons and extensions can help you boost your productivity, integrate your inbox with other tools you likely use, and get more out of your overall Gmail experience.
But if 9 add-ons and extensions sounds like a lot, you're right — we'll also show you how to replicate the experience of having multiple Gmail add-ons (and then some!) with just one tool.
Turn your inbox into your most effective productivity tool
Keyboard shortcuts, AI triage, automated follow ups, scheduled sends
Get Started with Superhuman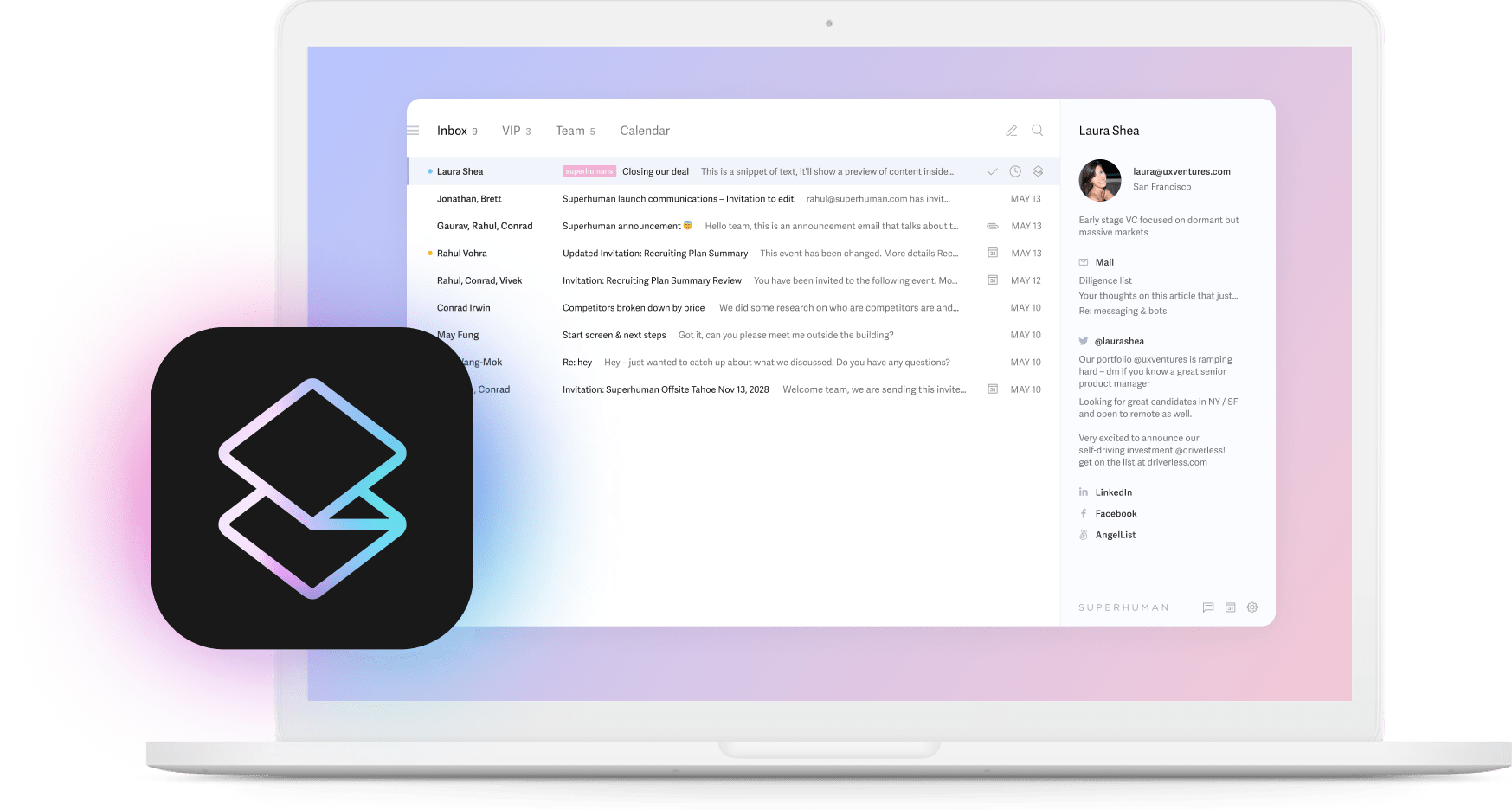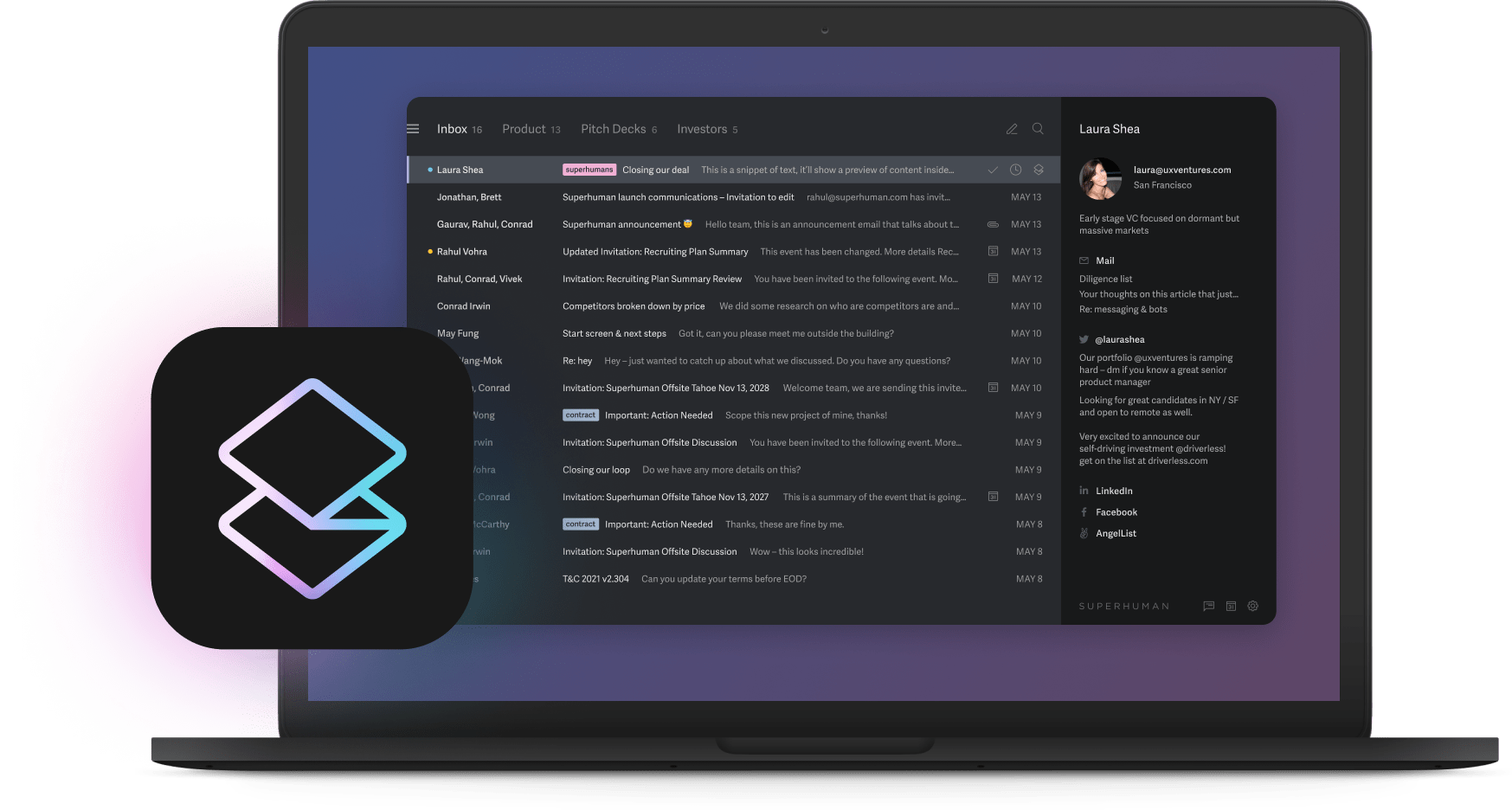 Gmail add-ons for collaborating with your team
Zoom for Gmail
With Zoom for Gmail, you can integrate your inbox with one of the most popular and widely used video conferencing platforms available. This add-on allows you to start calls from inside your inbox, see your upcoming meeting schedule, and email participants a meeting summary once you're finished, including the meeting ID, date, and participant information.
Zoom for Gmail allows you to take topics that might have taken a long thread of email back-and-forth to discuss, and instead send everyone in the thread a meeting invitation, either for right away or for sometime in the future. The best part is it doesn't cost any more than what you pay for your existing Zoom account.
Slack for Gmail
Does your workspace communicate on both Slack and email, leaving you feeling stuck in between two popular communication tools? If so, you can try Slack for Gmail. It integrates Slack with your Gmail inbox, which allows you to use certain Slack features without having to switch apps.
One of the most useful things you can do with this add-on is send emails to Slack, choosing which channel or private message thread they get posted to. This can include attachments, which will be included with your Slack message when it's posted.
Slack for Gmail is free.
Dropbox for Gmail
A huge challenge for anyone who needs to transfer large files is doing so efficiently. And let's face it — downloading a file from cloud storage just to attach it to an email and send it to someone else is a process with several more steps than there should be.
That's where Dropbox for Gmail comes in. This add-on allows you to send files (or even entire folders) stored in the cloud via Dropbox by attaching them directly to emails. This not only saves time, but helps ensure files stay secure and organized.
Dropbox for Gmail is free.
Docusign for Gmail
If you work in a field that requires you to send and receive signed documents, you know how much time it takes to wait for someone to print something out, sign it, scan it, and return it. Luckily, there's Docusign for Gmail, which helps you spend less time handling documents the old fashioned way, and instead send signable documents right from your inbox.
Docusign for Gmail also comes with document templates, reminders, and other handy features for anyone who deals with a lot of paperwork. The add-on itself is free to use, but does require a Docusign account, which starts at $10 per month.
Gmail add-ons for project management and to-do lists
Todoist for Gmail
If you're one of the millions of people who already use Todoist, imagine all its task management features — right inside your inbox. Todoist for Gmail works as a handy pop-up that sits in your inbox, right next to new email drafts. From it, you can convert to-do lists to emails so you handle all your tasks from your inbox. You can also tag important emails and add prioritization, progress tracking, due dates, and reminders as needed.
Todoist for Gmail is free to download and use with your existing Todoist account, which ranges from a free plan up to $8 per month.
Evernote for Gmail
Similar to Todoist, Evernote for Gmail adds useful task management features right to your inbox, allowing you to update and manage your to-do lists without switching between apps or windows.
Evernote's Gmail add-on makes email a part of your to-do list and note-taking system. You can turn emails into to-do lists, or, with just a click, save full or partial messages from your inbox to Evernote.
Evernote for Gmail is free to download and use, but the add-on is missing some of the functionality of the desktop app (most notably, the ability to drag-and-drop list items). For these, you'll need to use the add-on with an upgraded Evernote account.
Trello for Gmail and Asana for Gmail
Since they're so similar, we're tackling these two add-ons together: Trello for Gmail and Asana for Gmail. Both add-ons have extremely similar features, and which one you'll find most useful just depends on whether you already use Trello or Asana for your task management needs.
Both add-ons allow you to save individual messages or entire email threads as cards on your Asana or Trello boards. You can create new cards from within your email inbox, so you no longer need to switch between apps or windows. And message information is automatically imported into cards when they're created.
Both Asana and Trello for Gmail help you integrate email messages into tasks and workflows, with attached due dates, reminders, and prioritization.
Both add-ons are free to use with your existing Trello or Asana account — both project management tools offer free and paid plans.
Sortd
Sortd for Gmail is similar to the other task managers we've already mentioned on this list, but with a few other features that users might find appealing. First, Sortd allows you to turn your inbox into a kanban board, which is great if you're someone who treats email as a to-do list.
Second, it comes with drag-and-drop organization right within your inbox, something that's notably missing from Gmail add-ons like Evernote.
That's in addition to all its other task management features, like adding notes and reminders to email messages, flagging emails for follow-ups, renaming subject lines, and turning emails into tasks on a to-do list.
Sortd for Gmail works with your existing Sortd account. There is a free plan, though it comes with some limitations.
Gmail add-ons for fun
Giphy for Gmail
Ever proofread an email and just felt like it was missing something?
Giphy for Gmail puts the world's largest GIF library right in every email draft, so you can search for and insert whatever GIF your message needs. Plus it's free! Enough said.
The best solution for getting the most out of your Gmail inbox
Superhuman
But if you want a single solution, rather than a host of different Gmail add-ons, it should be Superhuman.
Superhuman is much more than just another email client, extension, or add-on. It rebuilds Gmail from the ground up to be much faster, much more beautiful, and packed with added features to make your inbox a productive, efficient space.
AI message triaging, Undo Send, scheduled messages, Read Statuses, follow-up reminders, insights from social media, and more — all features meant to help you find and respond to the most important messages in your inbox, while cutting out clutter and noise. Plus, it's available from Gmail in a web browser, as a desktop app, or as a mobile app on iOS, so you can use Superhuman wherever you access Gmail.
Regain your focus and win back time with Superhuman Mail
Keyboard shortcuts, AI triage, Reminders, Scheduled sends, Beautiful design
Get Superhuman for Email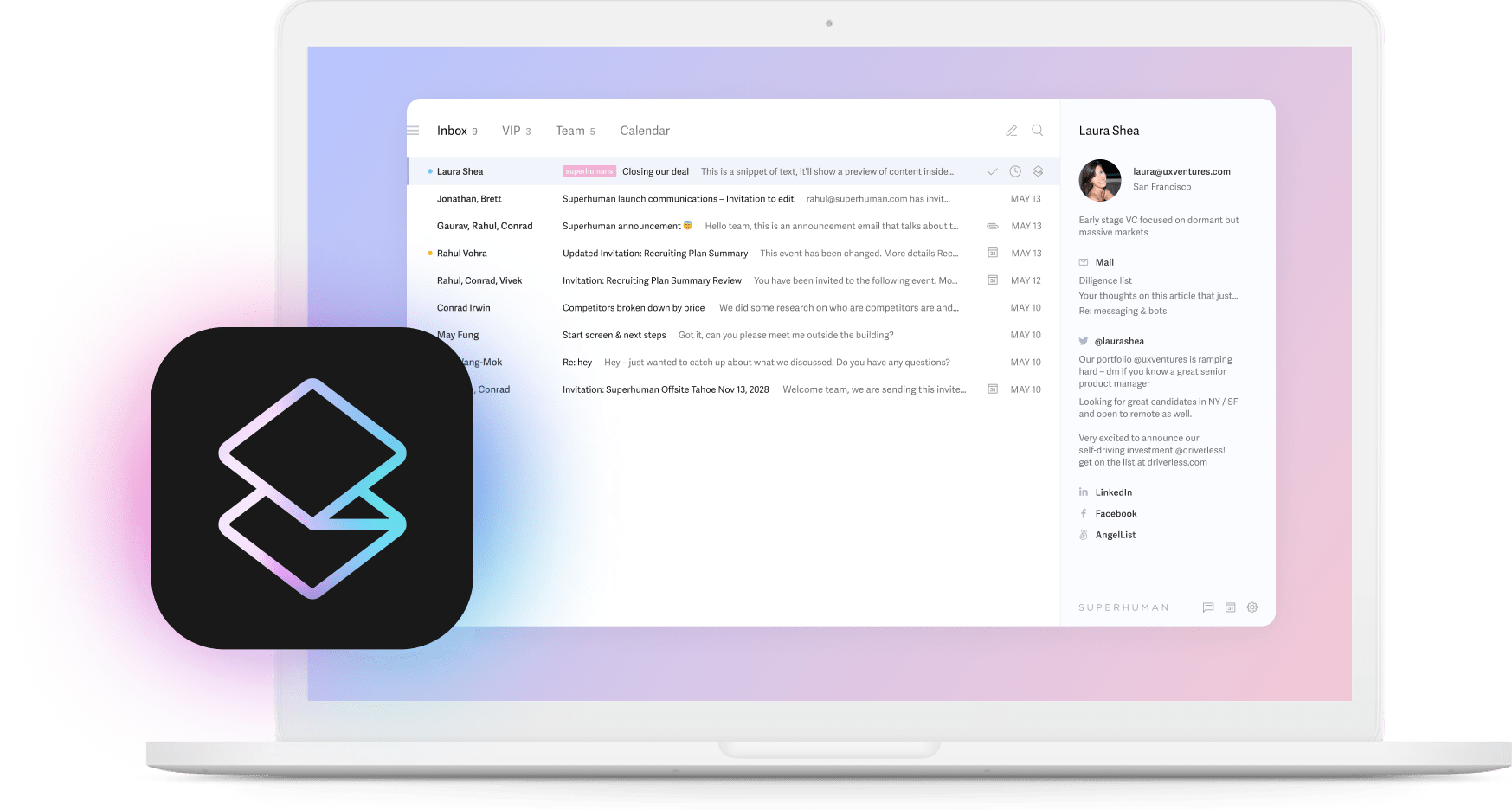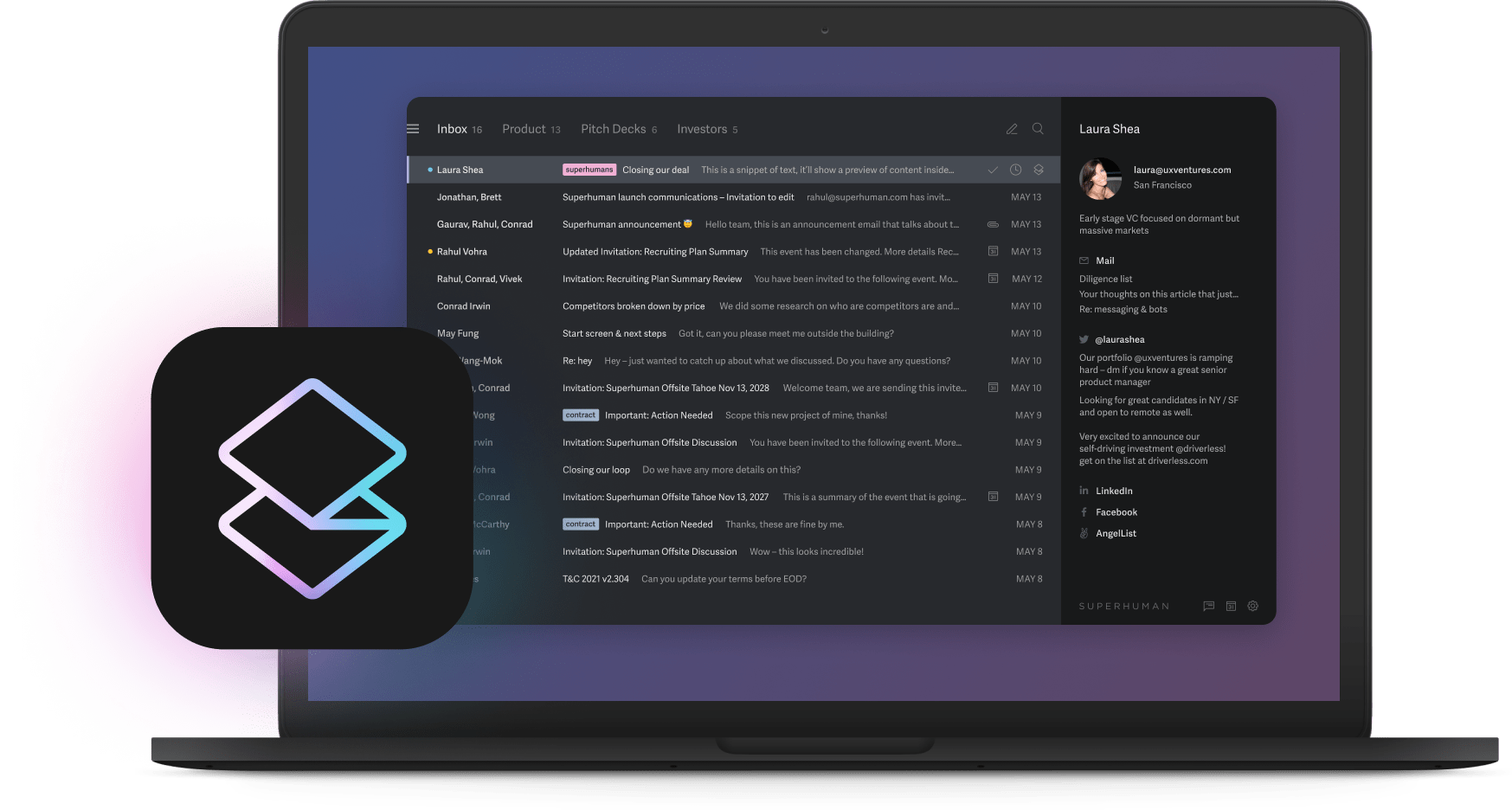 Superhuman costs $30 per month.
Can you recreate Superhuman with Gmail add-ons?
Given the wide variety of Gmail add-ons that are available (and at widely varying price points!) you might wonder: would it be possible to recreate an all-in-one, powerful solution like Superhuman for cheap?
Add-on
Relevant features
Superhuman features
Cost
Gmelius

Email templates
Email tracking
Automation
Shared inboxes

Snippets
Read Statuses
Automation

$9 per month
Right Inbox

Reply reminders
Schedule emails
Automated follow-ups
Save and paste multiple signatures

Follow-up Reminders
Scheduled Sends
Snippets

$7 per month
Boomerang

Email templates
AI email writing

$5 per month
Mailstrom

Select All
Select All From Here

$9 per month
Inbox When Ready

Locks down your inbox during specific times so you aren't distracted by notifications

Customizable notification management

$4 per month
Checker Plus

Real-time monitoring of multiple inboxes
Mass unsubscribe

Keyboard shortcut to unsubscribe
Block specific senders, and even entire domains

Free, but requires a donation to the developer to unlock all features
Clearbit Connect

Social searches for contacts

Free for up to 100 searches per month
Total cost:
At least $34 per month (depending on the size of your developer donation to use Checker Plus)
Superhuman cost:
$30 per month
As you can see, it would take seven Gmail add-ons at a total cost of more than $34 per month to build something that's kind of like Superhuman. But realistically, the result would be more Franken-human than Superhuman — it would be inelegant, the multiple add-ons could slow your system down, and they may not even work nicely together!
Superhuman also has superpowers these apps can't offer. Not only do you get all those features in one add-on (at a lower price), but Superhuman's command palette allows you to move through your inbox and perform all the above tasks (and more!) using only your keyboard. The result is the fastest email experience on Earth.
Turn your inbox into your most effective productivity tool
Keyboard shortcuts, AI triage, automated follow ups, scheduled sends
Get Started with Superhuman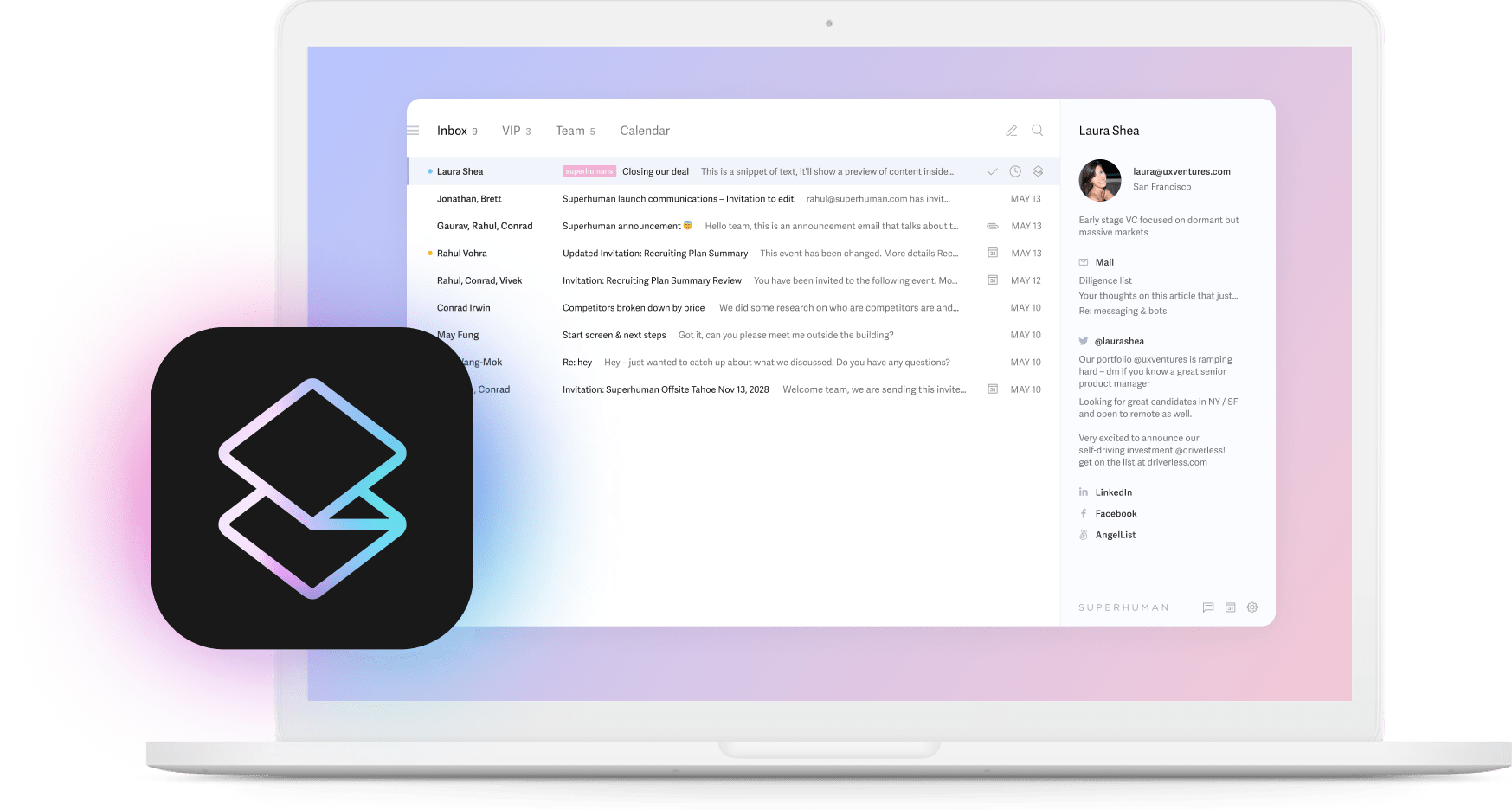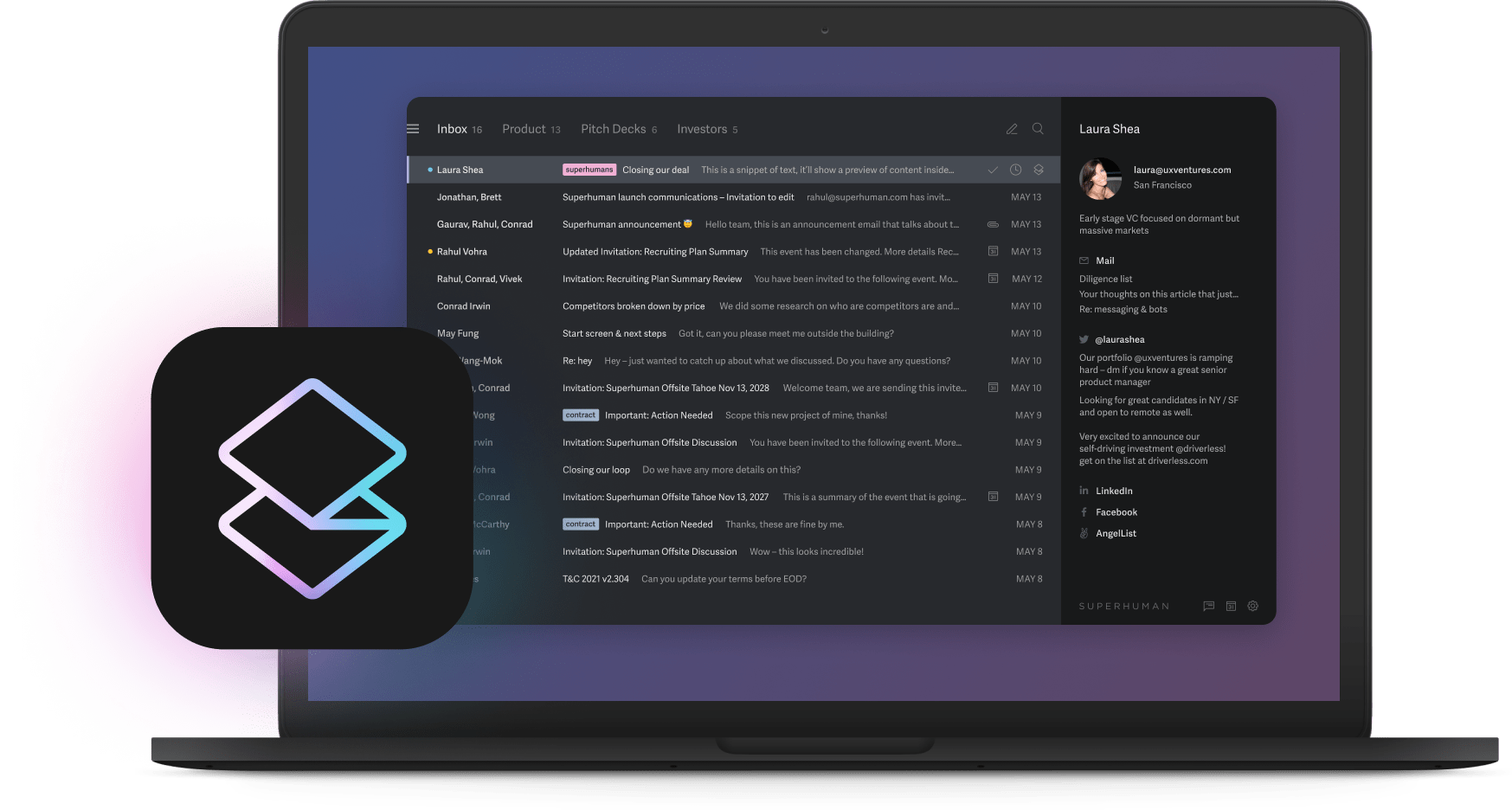 Ready to streamline your Gmail add-ons and get the only solution you really need? Get started with Superhuman today.