How Superhuman helps Brex increase responsiveness by 3X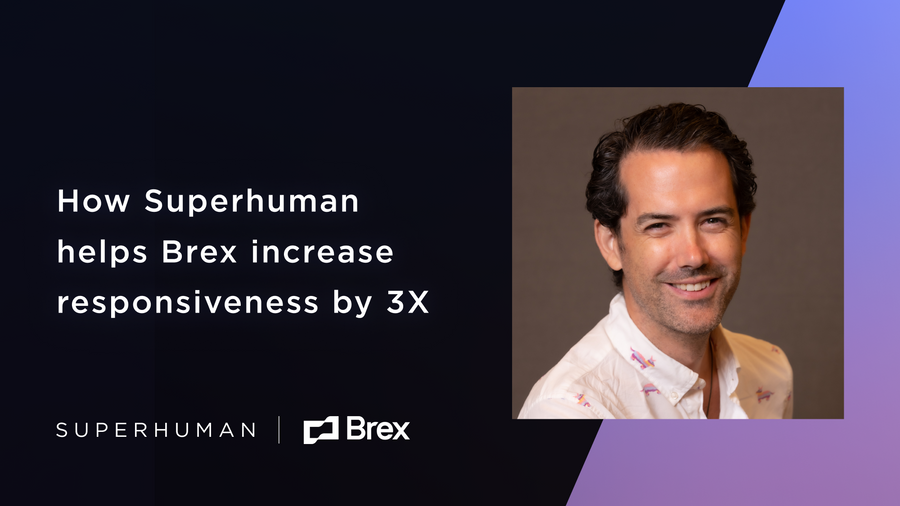 Brex is a revolutionary fintech company that empowers employees anywhere to make better financial decisions. With thousands of users around the globe, providing a world class customer experience is a core part of the Brex mission. Ben Terrill, Sr. Director of Customer Success, and his team is focused on delivering that experience.  
The team's success is measured on customer satisfaction, which means coordinating responses as a team and quickly getting back to customers is critical. But the sheer amount of emails they receive and the limitations of traditional email tools made this a daunting task.
"Our challenge is dealing with email volume. We have a lot of different tools available to us for internal communication, but for external communication, email is our customers' preferred channel. But email tools are really antiquated," says Ben.
"There's a lot of stuff going on. It's hard to maintain focus. And things get lost," he adds.
Then came Superhuman — the fastest email experience ever made — transforming the way Ben and his team handle emails. Ben and his team turned to Superhuman in hopes of improving their performance and increasing responsiveness.
"There's nothing more daunting than logging into work in the morning and seeing a hundred emails in your inbox. With Superhuman, we're able to respond to three times as many customer emails as before, which means my team is more efficient, we're able to get back to our customers more quickly, and they're able to get more value from Brex," Ben reports.
Brex by the numbers:
3x increase in volume of emails responded to since joining Superhuman
Active users replied to messages 3.5 hours faster with Superhuman
Together, Brex users save 183 hrs/week with Superhuman
Getting started with Superhuman

Prior to Superhuman, Ben's team was using the web view of Google Workspace. When Ben first started using Superhuman, there was an adoption period that forced a mindset shift around email. After all, old habits die hard.
But after a few weeks of use, including getting accustomed to shortcuts and achieving the thrill of Inbox Zero, he realized the true potential of Superhuman. It simplified the entire email management process and made it much more efficient.
"Superhuman encourages a much more focused workflow, so I can work through my inbox with things like snoozes and splits and keyboard shortcuts, which ultimately means I have a clear inbox. And for me, a clear inbox leads to a clear mind," says Ben.
"There's a moment where you realize, wow, email could be so much better than it was. And Superhuman has really empowered that. So that's allowed me to be a bit of an advocate at Brex for my team to also let them see the power of a much more simplified and thoughtful way to handle email," he adds.
How the Brex team does email with Superhuman

Ben credits a few features in Superhuman with helping his team manage email load, and respond to customers faster:
1. Send Later
Send Later enables them to time their emails to reach customers when they are online, improving customer engagement.
"This really allows us to make sure emails are arriving in our customers' inbox when they're online. We are a global company and we have a global team, so making sure that things arrive when we think customers are going to see them is really, really valuable," says Ben.
2. Reply Indicators
Reply indicators help Ben's team stay on top of their tasks, ensuring no customer email goes unanswered.
"We love the reply indicator," says Ben. This allows our team to relax because they know a colleague's working on a response as quickly as possible, and then they can move on to the next thing.
3. Follow-up Reminders
Ben's team uses Remind Me to set reminders on emails as they're sending. If they don't hear back, Superhuman reminds them to follow up. No need for a separate to-do list.
"I think everybody wants to hit Inbox Zero. And reminders allow us to do that, but not lose track of important emails as they come back.  And of course, as everyone knows, sometimes people don't get back to you. And reminders allow us to kind of stay on top of that," explains Ben.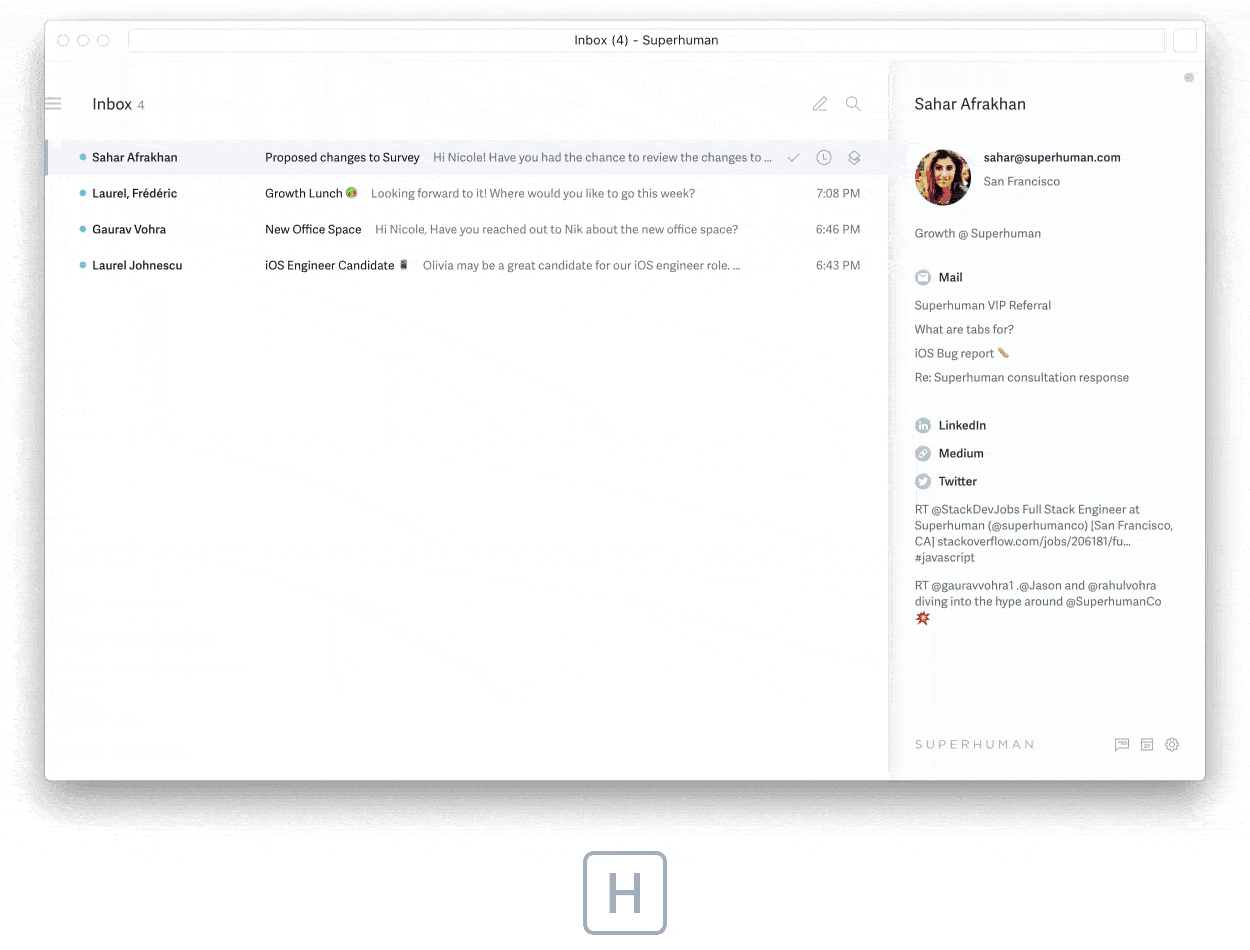 4. Inbox Zero
Finally, achieving Inbox Zero at the end of the day leaves them feeling satisfied and ready to take on the next day with renewed energy.
"If you can end the day with your inbox at zero, you can sleep soundly at night and come into work refreshed the next day. And that's a really, kind of a joyful moment for our team," shares Ben.
Changing Brex's relationship with email

With Superhuman, Ben's team has managed to create a habit-building system that integrates email response into their daily workflow. The team doesn't miss any emails, follows up on customer queries promptly, and focuses on the critical tasks rather than sorting through clutter.
"We've actually found Superhuman to be really habit building. Now my team responds to emails as part of their daily workflow and activities, and they're able to stay on top of things much more acutely," explains Ben.
"Superhuman brings order back to email and makes it useful again. My team doesn't miss emails anymore, and they're actually able to focus on the things that matter," he adds.
According to Ben, Superhuman has become an essential tool in the Brex team's tech stack. It's more than just an email client; it's a productivity booster and an efficiency enhancer.
"On my team, it means we don't miss things. It means that if a customer requires a follow up or a prompt or something later on, they're able to get to it. It means that if a customer's not responsive, we're able to follow that through to completion, and it means they're able to take out the noise and focus on the signal in their day-to-day communications."
For Ben, supporting his team in serving their customers is ultimately about equipping them with tools that supercharge their productivity and give them an edge — and bring more joy to their work day.
"I think any good leader cares about the happiness and sanity of their team. I want my team to have the best tools available to them. Things that allow their job to be easier and more simplified in this ever-complicated environment. Superhuman for email is the best tool for the job."
Join Brex and other high growth companies who use Superhuman to their advantage. Cut down on your team's time spent on email and focus on what matters most. Get started today.