Intentional Productivity: James Beshara on reducing mental clutter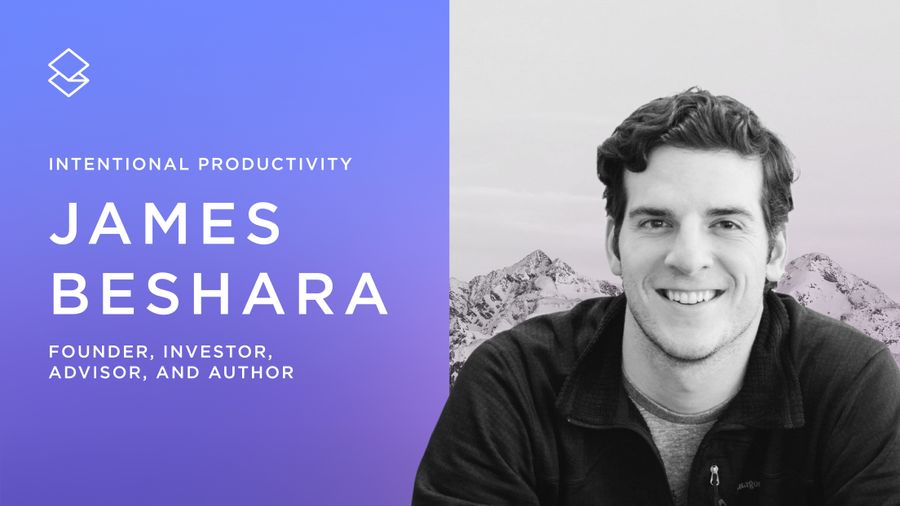 In an increasingly remote world, we're still redefining our reality. Many changes have been positive, like learning new technology to help us stay connected both professionally and personally — and even learning to thrive with asynchronous models of collaboration.
One of the biggest shifts is how we approach productivity. With so much going on and the pressure to be online 24/7, new methods that focus on decluttering the mind, and simplifying our lives are gaining traction.
Enter: James Beshara, founder, investor, advisor, author, and podcaster based in Los Angeles, California. James runs Magic Mind, takes his daughter to school, gets to Inbox Zero every single day — and still manages to get some surfing in each morning.
For our Intentional Productivity series, we're sharing James' tips for maximizing productivity while staying happy, avoiding stress, and leaving some room for yourself!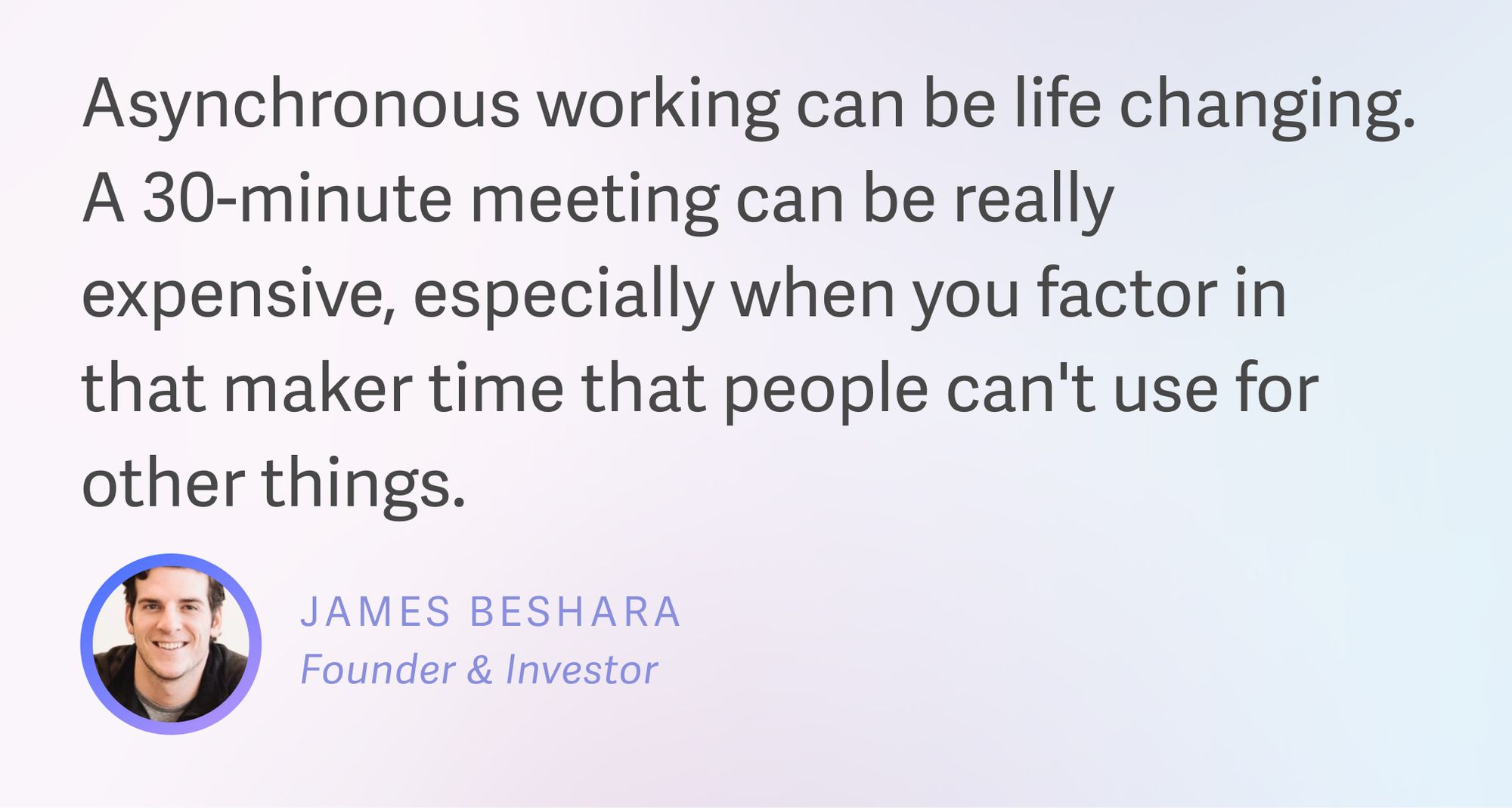 What mindset shifts are you taking with you into 2022?
I've spent a lot of the last year experimenting with the evolution of the new default digital interaction: asynchronous communication for both my investments and the companies I run. It's been a quantum leap in productivity, and the experiment has led to a default asynchronous working style.
Instead of running 30 minute meetings, where I can't get into flow 30 minutes beforehand, and where it takes another 20-30 minutes afterward to get back into flow, I've switched to 5-8 minute Looms with thoughtful back and forth (versus reactive back and forth). It allows for both higher quality and more efficient communication for 90% of interactions.
What are you intentionally letting go of in 2022?
There are a million new tools — too many, I'd say. It can get overwhelming. Once in a while you might try something that's life changing. But there's something really powerful in the reductionist approach of having fewer tools that your entire team is familiar with. Having too many separate tools for different functions can stretch your mind uncomfortably in thinking there are dark corners of task lists, or unread threads somewhere out there that you've forgotten about.
I think a lot of productivity actually has to do with what you choose not to do. The same goes for any tools you choose to use, whether it's productivity related or not.
At Magic Mind for example, we don't use Slack. In my experience, Slack creates a default that "everybody's at the water cooler" at the ready to engage with a conversation. Instead, we use iMessage/SMS for the simple reason that, socially speaking, it feels like you're "knocking on someone's office door" when you text their personal number. It's got to be important to do that — and to interrupt someone's flow, it really should be.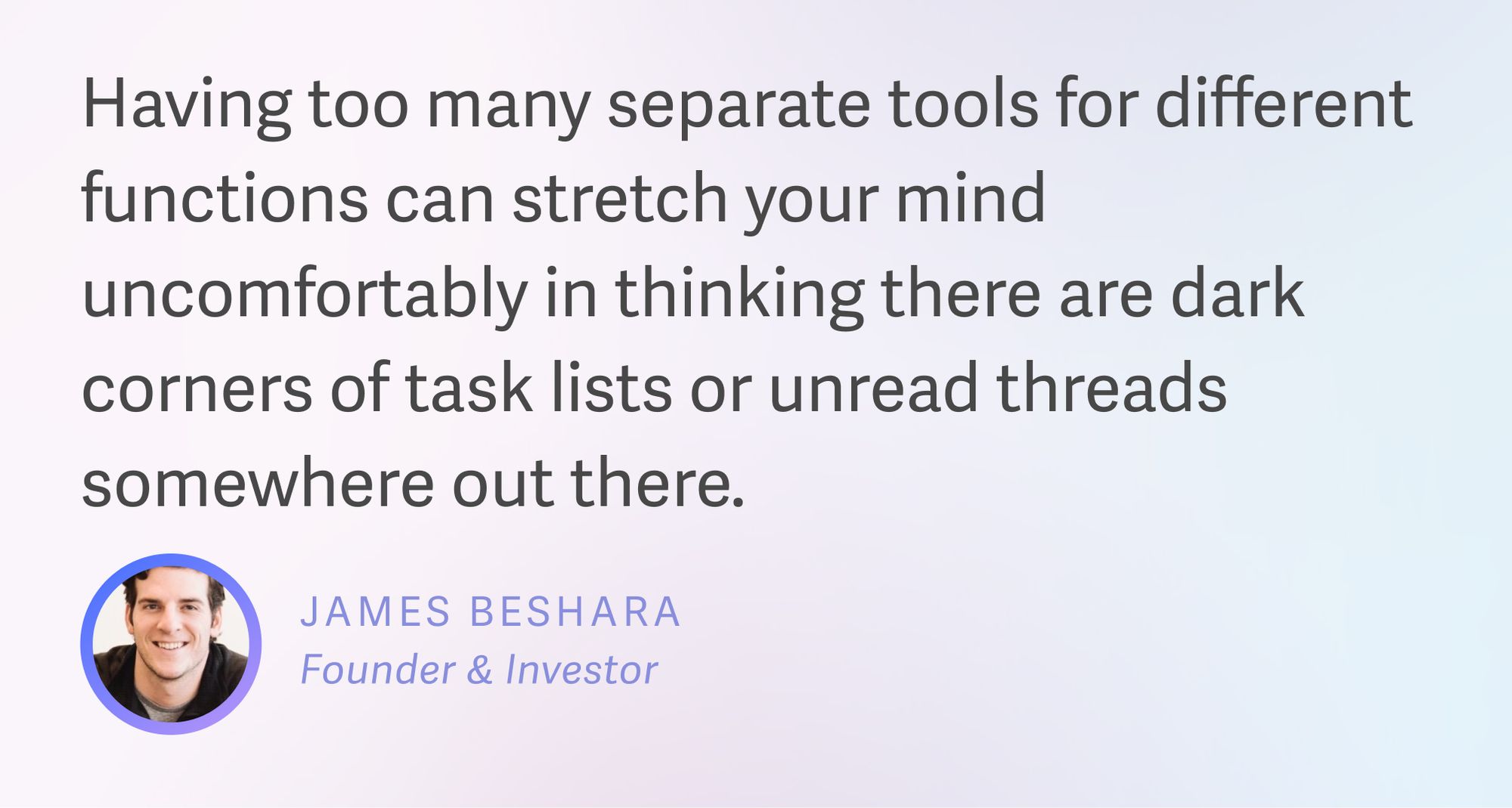 What routines have you found helpful to kick-off a productive and fulfilling day?
I used to be an absolute night owl, but one of the most productive practices I've incorporated into my life is to wake up every morning at the same time. It's been phenomenal for setting a great rhythm for the entire day, and every year it gets a bit earlier. I currently wake up around 5:30 AM, take a Magic Mind, do about 90 minutes of spiritual study (most typically the philosophy of Vedanta), and 2-3 minutes of gratitude journaling during that quiet time, right before using dictation on my iPhone with Superhuman to get to Inbox Zero by 7:30 AM. And then I take my oldest daughter to school.
By 8:30 AM, I'm back home, and already have a strange sense of completing the most important things I need to do. From there, I often go surfing until 10 or 10:30 AM, and then knock out deep work until getting back into my inbox for asynchronous communication or meetings that are necessary in the afternoon.
For my calendar, one of the things I learned to do is block off "maker time" when things can't be scheduled. This goes back to the idea of intentionally choosing what not to do. I really try to avoid having any meetings before noon or 1 PM. There's actually a great post by Paul Graham about this concept. I try to bunch up meetings to give myself enough opportunity to get into flow. And on Wednesdays and Fridays, I don't schedule any meetings at all. It makes Tuesday night feel like I'm an 8th grader on a Friday night!
Can you share a few of your favorite tools, tips, and techniques for reducing distractions, increasing mindfulness, and staying focused?
Adopting an asynchronous working style has been life changing for me, particularly for collaborating with people in different time zones. I've actually written a whole essay about asynchronous working. A 30-minute meeting can be really expensive, especially when you factor in that maker time that people can't use for other things.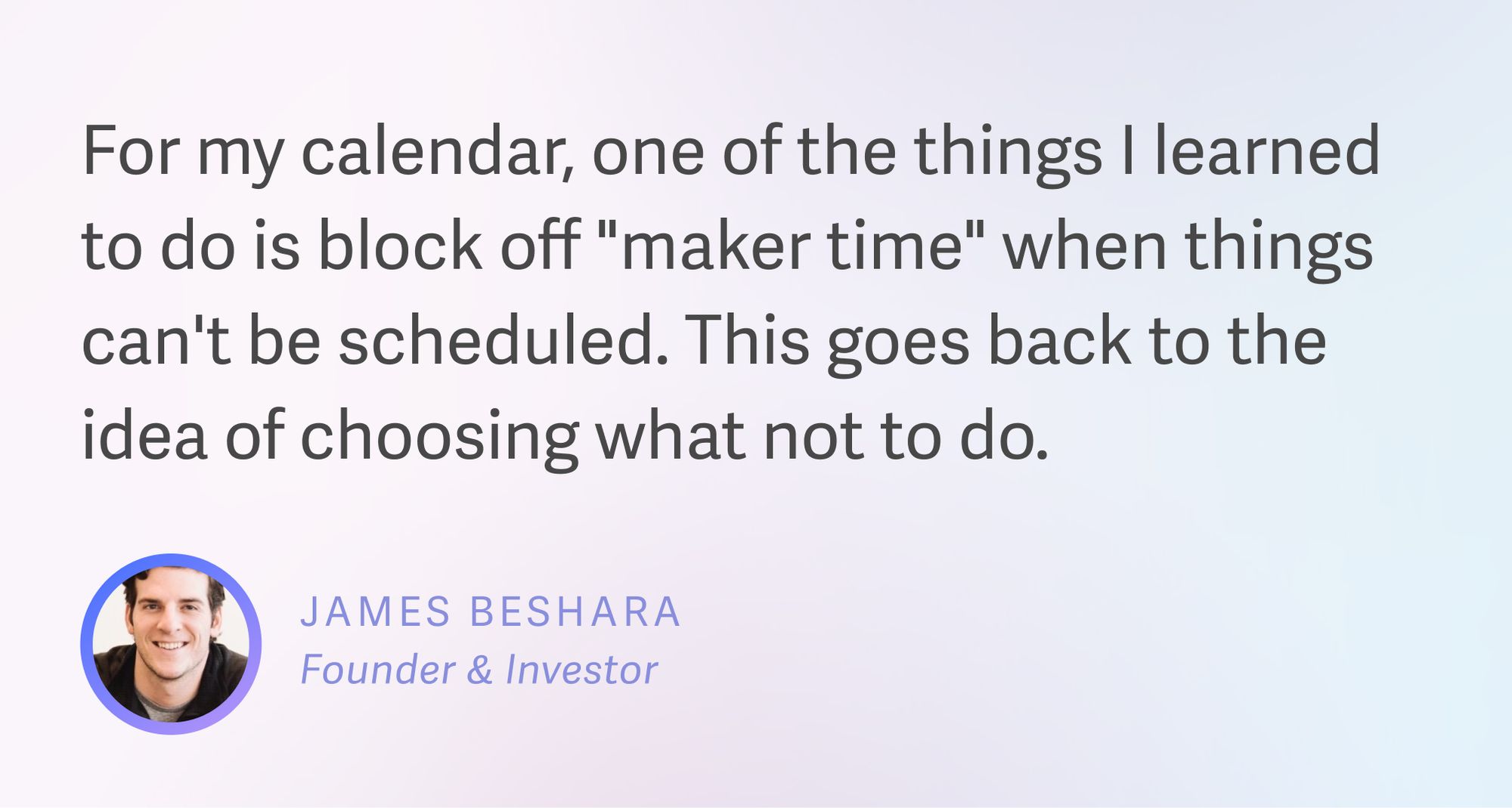 At night, I'll make a physical list of things I'm going to do tomorrow, with one big task that I need to get done. After I've got it out of my head and on paper, I feel my mind can rest better before I go to bed. There's some good research around reduction in anxiety in putting pen to paper like this.
I also have my digital to-do list. I use reminders throughout the day — from my Apple Watch or phone I can use Siri to get something onto my list. This then becomes the physical version of my to-do list later in the evening.
For my email, I use Superhuman, which can sort out VIP emails that need a response and also has a Remind Me function so you can get to things later.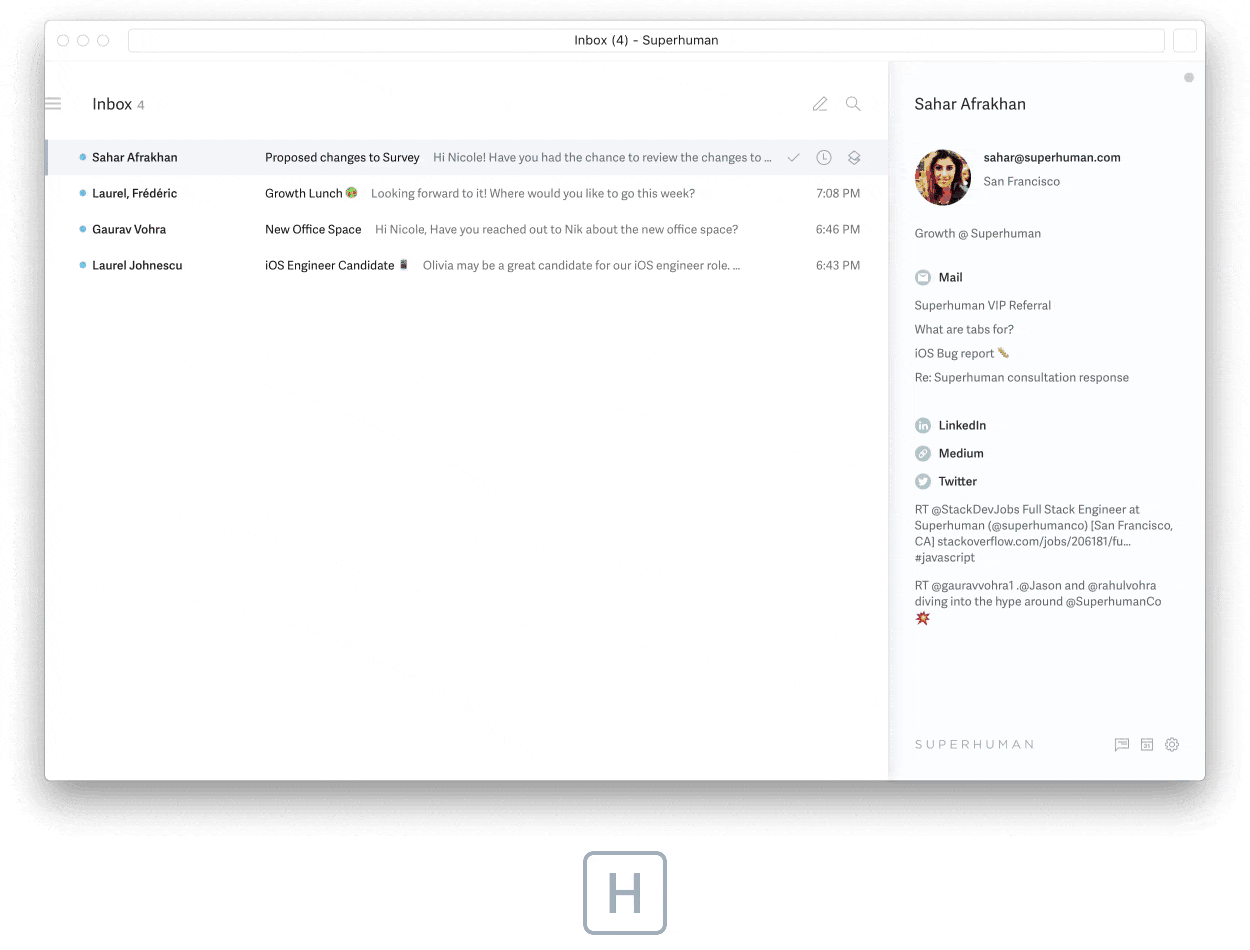 Do you recommend any safeguards for managing communication overload?
Removing Slack from my workflow has been phenomenal for less chatter and more focused work. I don't mind email, especially as I began to adopt the dictation feature on my iPhone to reply comprehensively and quickly to emails.
In my role, replying to emails can unblock a person or team's work, so I'm always happy to jump in and support the people I work with with quick responses.
What have you learned so far about your ideal conditions for staying in flow?
The easiest thing I can recommend is taking a shot of Magic Mind each morning. The natural compounds like bacopa monnieri in the drink help reduce impulsivity while increasing energy and blood flow to the brain. Magic Mind, plus the Magic Mode Spotify playlist with my noise-canceling AirPods Pro headphones equates to a magic morning of productivity!
That time of day and those three products/services — and either my iPad, MacBook, or my iPhone — and I can get nearly anything done anywhere around the world.
James' top 5 productivity resources
James' top 3 tools for intentional productivity
James doesn't overcrowd his routine with too many tools. He only uses the ones that streamline his workflow and make his life easier, like:
Loom for asynchronous communication
Superhuman for managing email
A digital calendar to block off "maker time", and old-fashioned pen and paper to keep track of daily to-dos
ps. Inspired by James' morning email routine? Try it for yourself!
Turn your inbox into your most effective productivity tool
Keyboard shortcuts, AI triage, automated follow ups, scheduled sends
Get Started with Superhuman