The great resignation: what people value in the age of remote work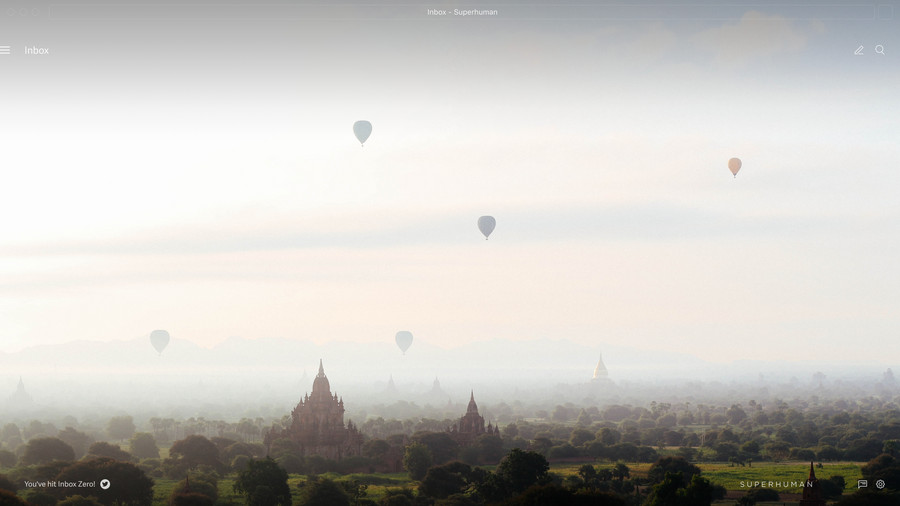 First came the switch to remote work, accelerated by the COVID-19 pandemic.
Then came the great resignation, as millions of people quit their jobs — creating a staggering 10.4 million job openings in September 2021.
For employers, these factors present a major challenge: if you're hiring, it's harder than ever to land top talent. Not only that, but you must manage and motivate in 2 vastly different environments: at home, and in the office.
How can leaders meet these challenges, retain existing talent, and attract high-caliber candidates?
For our 2021 Workplace Wellness Report, we surveyed more than 1,000 knowledge workers to understand their beliefs, values, pain points, and motivations — against the backdrop of the most seismic changes the working world has seen in decades.
Here's what we discovered…
Remote vs. office: personal choice is the biggest productivity boost
The grass is not always greener. The majority of knowledge workers say they are most productive in their current environment.
A whopping 81% of remote workers say they are most productive working from home, while 66% of office workers say they're most effective in an office setting.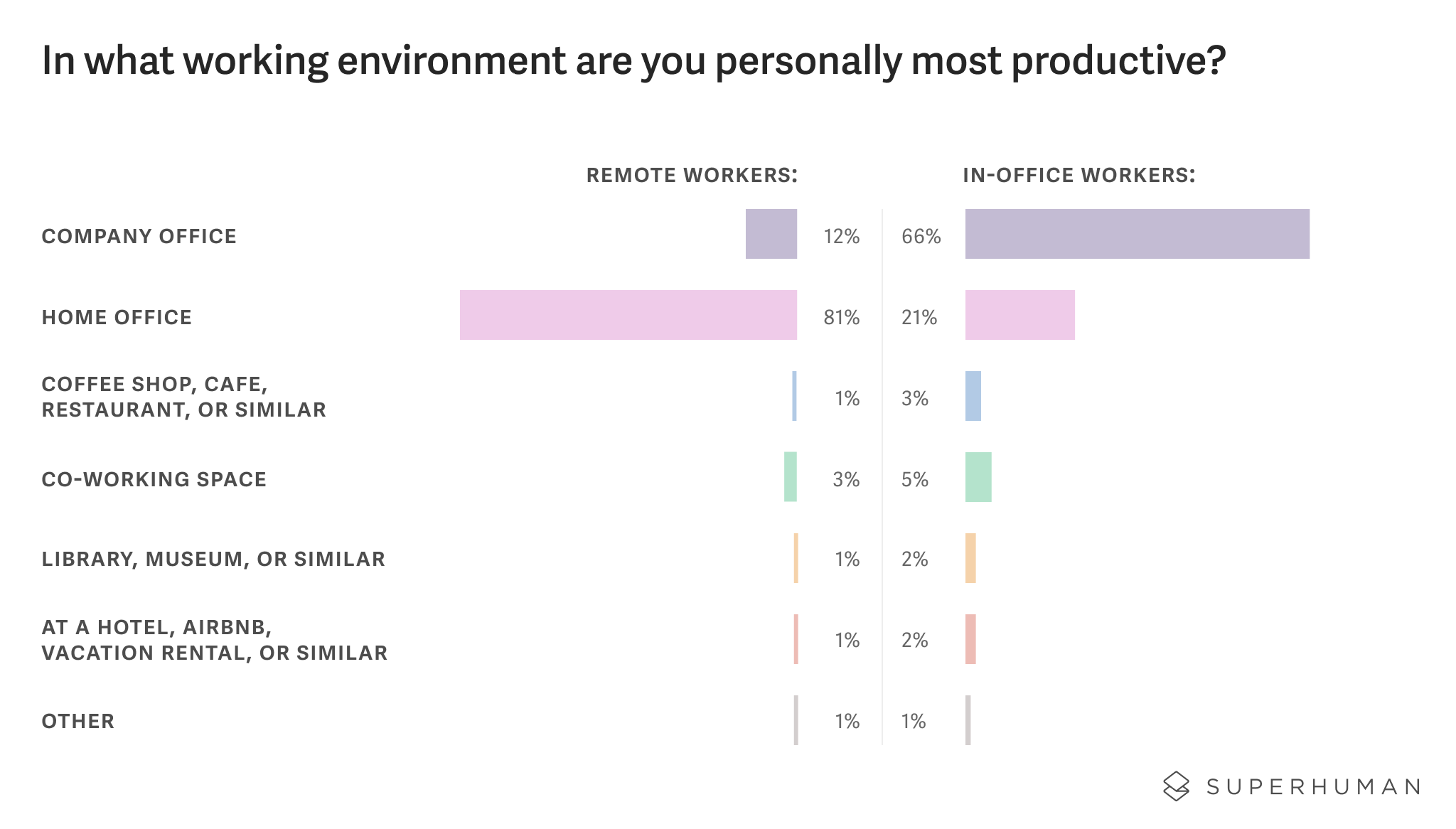 Not only that, but knowledge workers rate their productivity very highly. In fact, more than 90% of remote and office workers describe themselves as having above-average levels of productivity! (This says just as much about our need to feel competent as it does about our ideal work environments…)
To amplify your workforce's productivity, the biggest motivators are similar for both remote and office workers. Increased compensation is top of the wishlist — no surprise there! — but well over one-third also want flexible hours and the option to work remotely.
The message for leaders is clear: to help employees feel the most fulfilled and productive, give them the choice to work remotely, at the office, or both.
The leading sources of distractions at work: meetings and email
Fears that at-home distractions would disrupt our productivity have not come to pass. Only 24% of remote workers say they are distracted by their home work environment. Compare this to office workers, 39% of whom find their colleagues distracting!
Across both categories, people are struggling to find focus time between syncs with co-workers and replying to messages. The biggest distractions are meetings (as ranked by 31% of remote and 21% of office workers) and email (27% and 25% for remote and office workers respectively).
This echoes the findings of our previous study: email and other work communications exceed all other distractions.

Flexible working is crucial to retaining talent
Knowledge workers want increased flexibility around where, when, and how they work. In one of the hottest job markets in decades, they're emboldened to ask for it — or walk if they aren't given the choice.
Working patterns that once seemed fringe are suddenly within reach for all knowledge workers: like the digital nomad lifestyle and the 4-day work week — successfully trialled in Iceland. In fact, 30% of all knowledge workers say they are most productive outside of standard business hours.
The trend shows no sign of abating, particularly ​​among younger workers, who have spent a significant period of their working lives in a virtual office.
For employers, offering flexibility is now a key strategy for retaining talent. 72% of knowledge workers say that a 4-day work week would make them twice as likely to stay with their company, rising to 82% for those under the age of 35.
Furthermore, a significant proportion of knowledge workers say that being forced to work a 9-to-5 lowers their job satisfaction: 45% of remote workers and 39% of office workers.
In fact, 30% of all knowledge workers would take a 20% pay cut if it allowed them to work whatever schedule they want!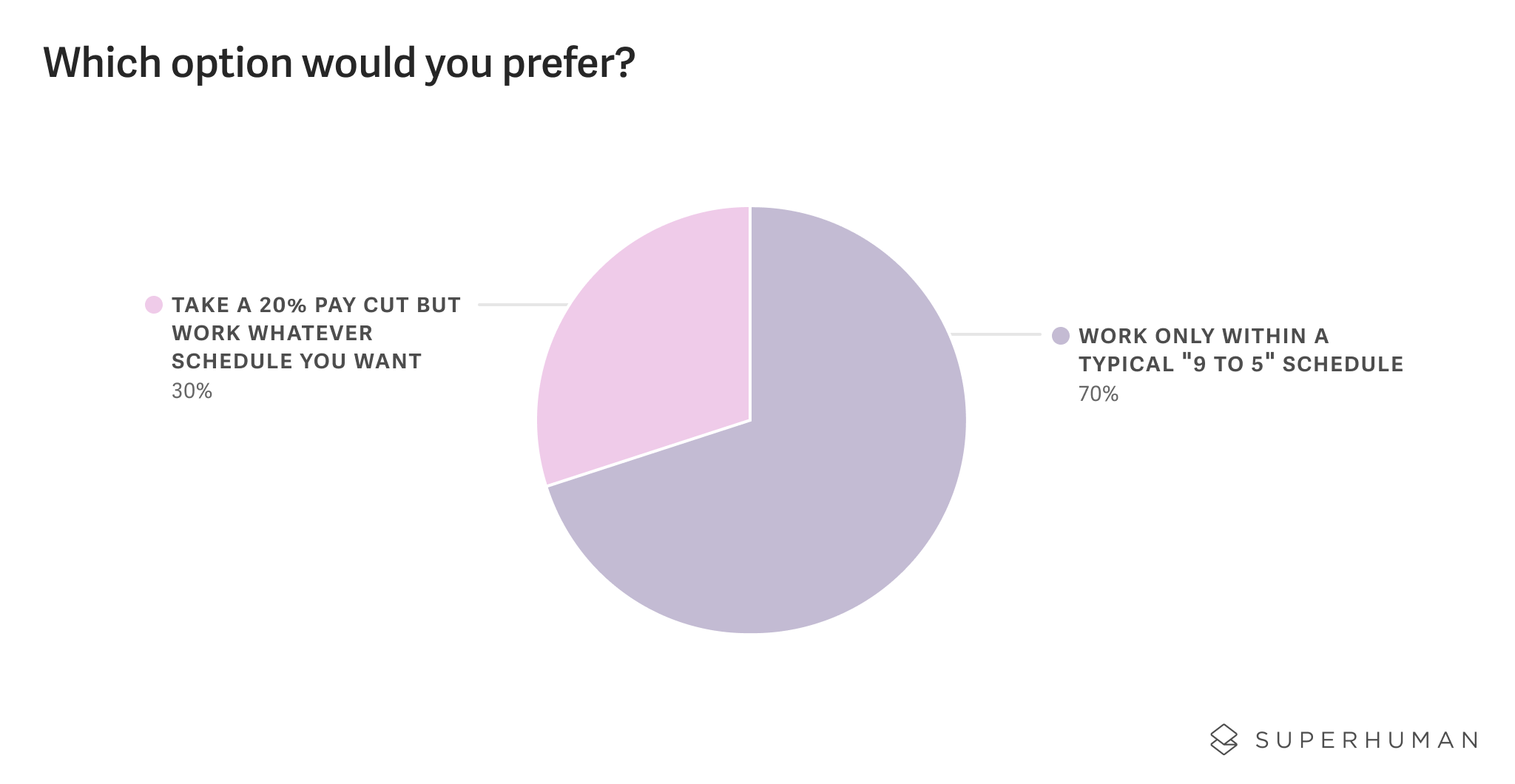 If you're hiring, flexibility is the ace up your sleeve. Offering employees preferred working hours, or a 4-day work week, can be massive differentiators — especially for companies with smaller brands or less money to spend on salaries.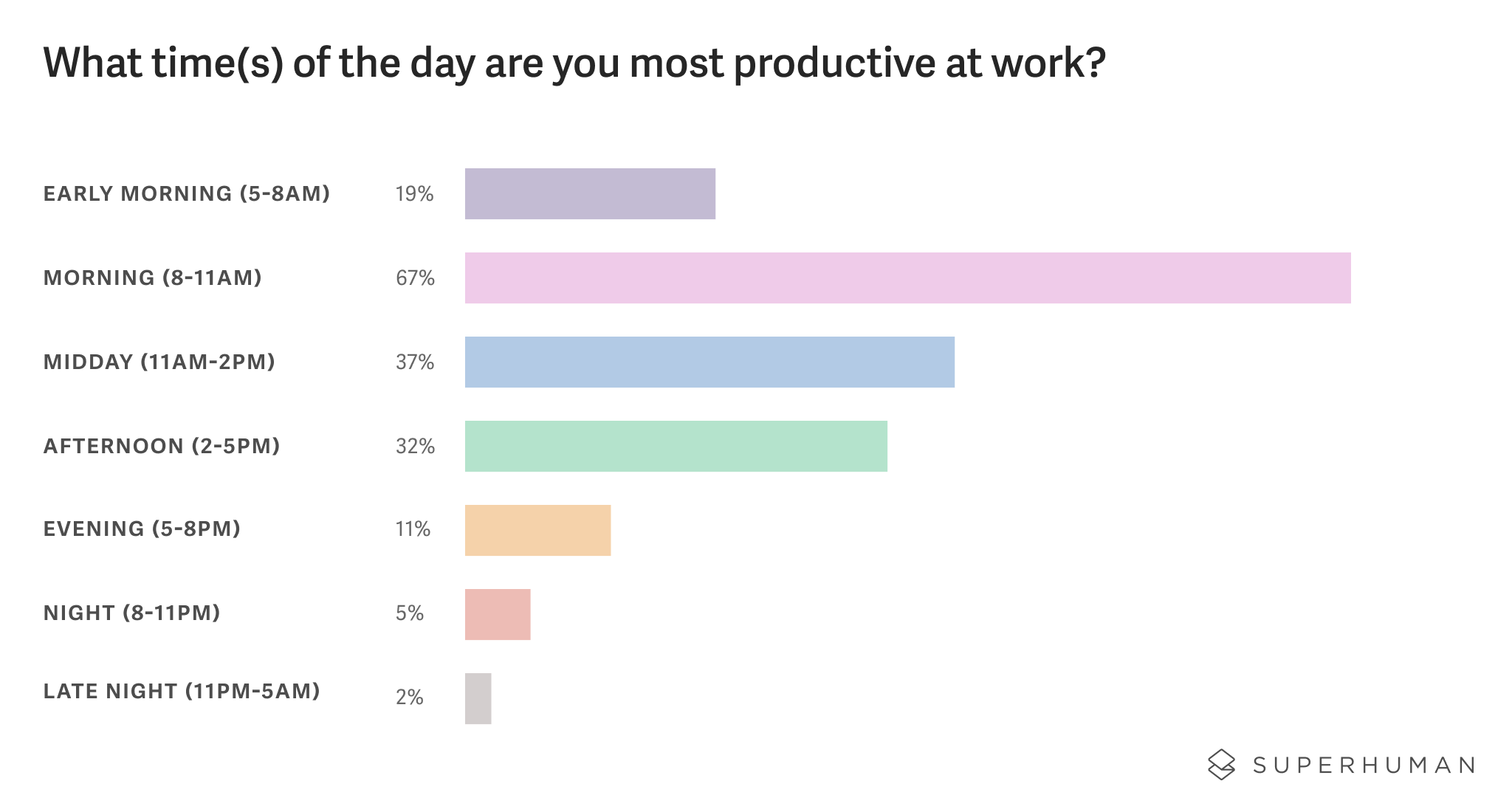 This turbulent period has given employees the chance to find their preferred hours, and many have found that the standard 9-to-5 just doesn't work for them.
Eradicating presenteeism — both remotely and in the office
Presenteeism — the pressure to be always available, and performatively "present" — is antithetical to productivity. But whether remote or in the office, people are feeling the pressure to work long hours and be seen online.
58% of office workers say they are expected to be seen online throughout the day. And distance only intensifies presenteeism: a massive 74% of remote workers feel the need to be ultra-responsive, and keep their Slack status green!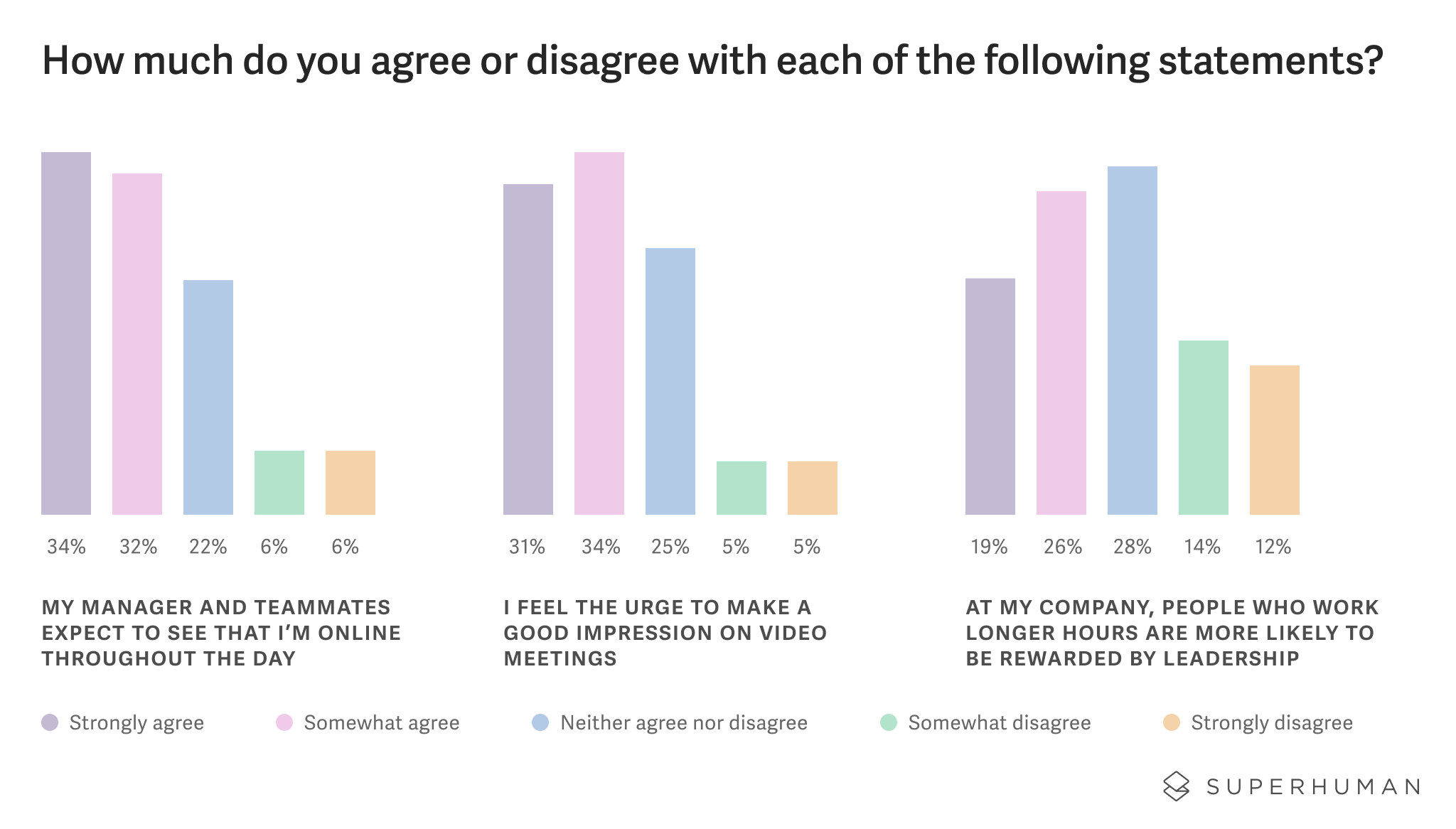 This era of remote work has forced big conversations around the kind of behaviors that we expect and reward. But unfortunately, knowledge workers believe that presenteeism and work output are equally rewarded. 43% of remote workers and 48% of office workers say that those who work longer hours are more likely to be rewarded by leadership.
How can leaders alleviate presenteeism and help their teams focus? By standardizing communication norms and workplace expectations.
Employees need communication norms
44% of knowledge workers state that their company has no norms and standards around workplace communication.
This probably explains why 35% feel they are expected to respond to messages from their manager immediately — and more than half feel the need to respond to colleagues and other managers within 30 minutes.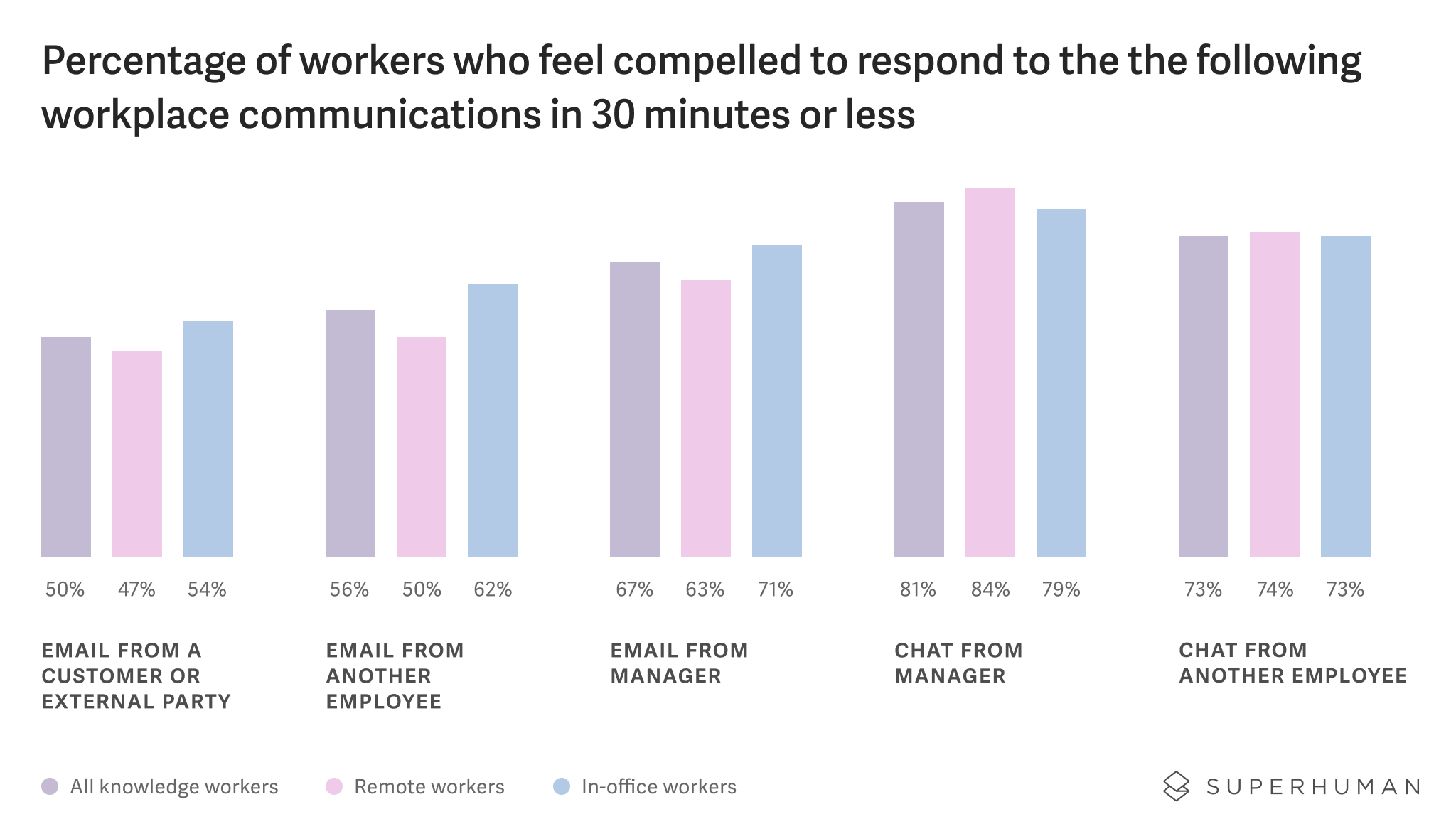 These constant interruptions have a high cost to employee happiness, productivity, and quality of work. No wonder so many crave guidance from their employers. To employees, these frameworks would be even more valuable than tangible perks: 80% of knowledge workers would prefer effective communication over a fancy offsite at a 5-star hotel!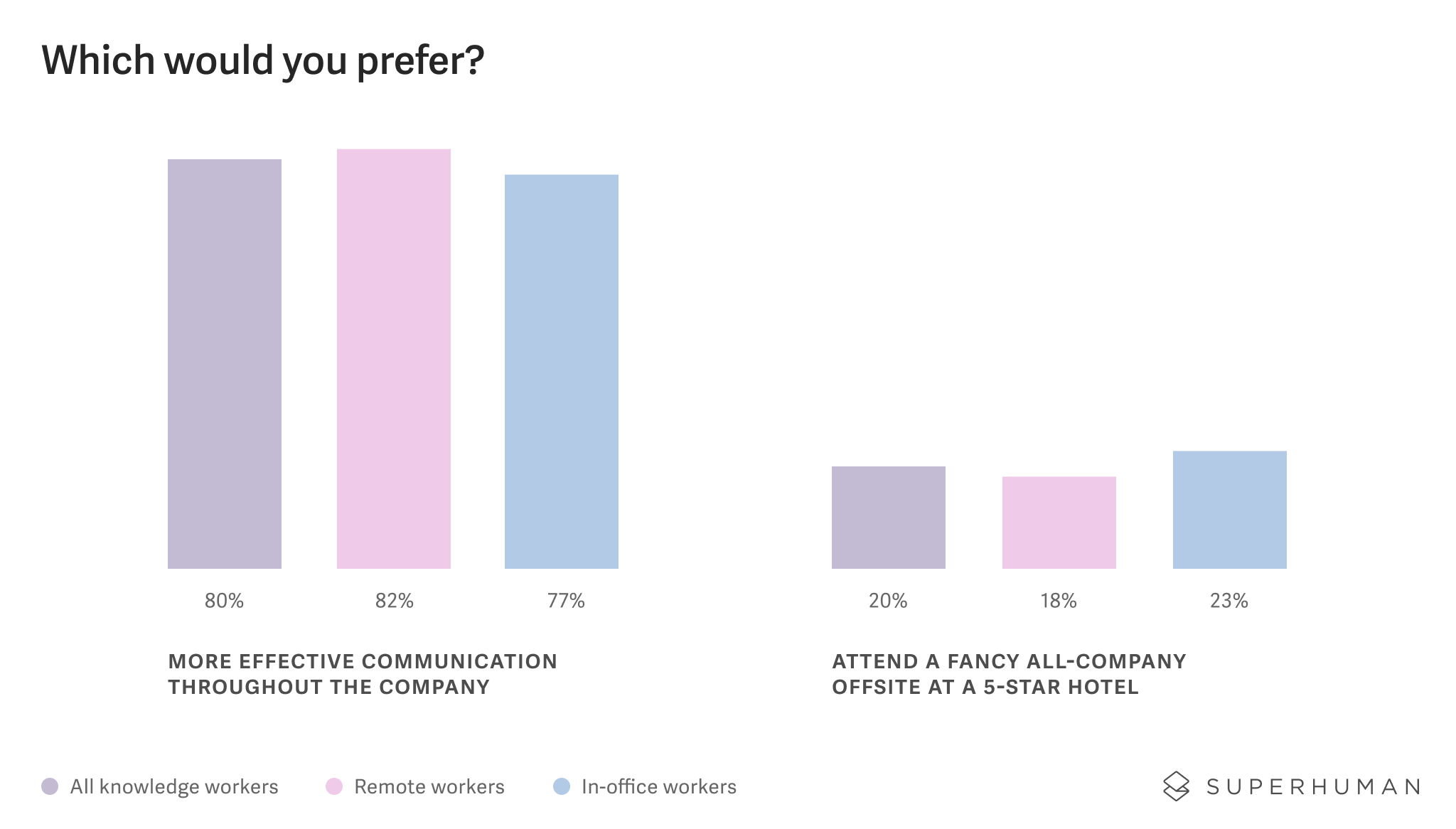 Employers must aim higher to support mental health
Communication norms reduce friction, lower stress, and improve employee mental health. Many of us have struggled with the psychological impact of the pandemic, so this has never been more urgent than now.
Your team also expects it. The majority of knowledge workers — 69% of those who are remote and 61% of those in an office — believe that employee mental health is the shared responsibility of employees and their employer.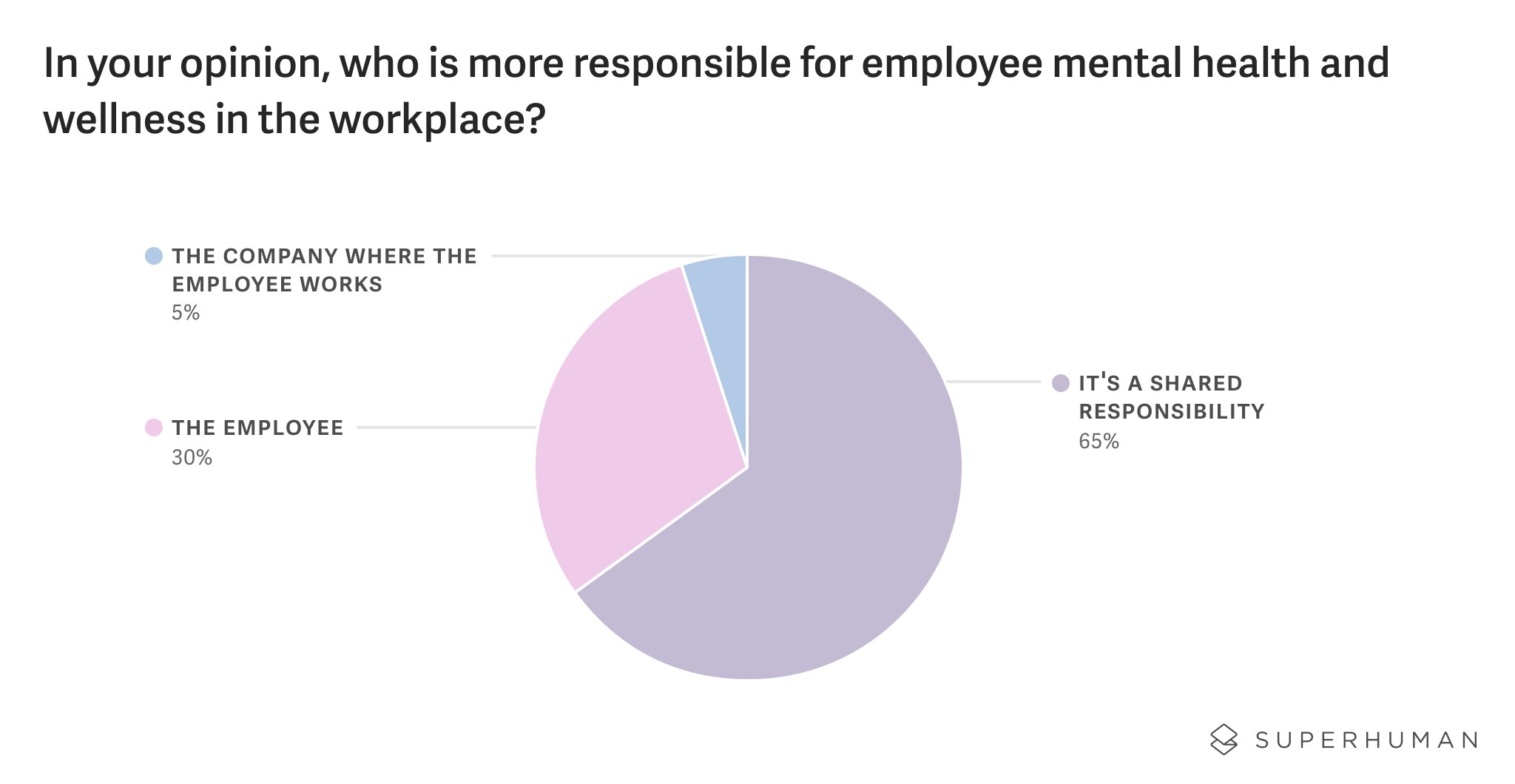 Fortunately, most knowledge workers report high levels of mental well-being. 79% describe their mental health as above average, and almost half (46%) state that their work life positively impacts their mental health.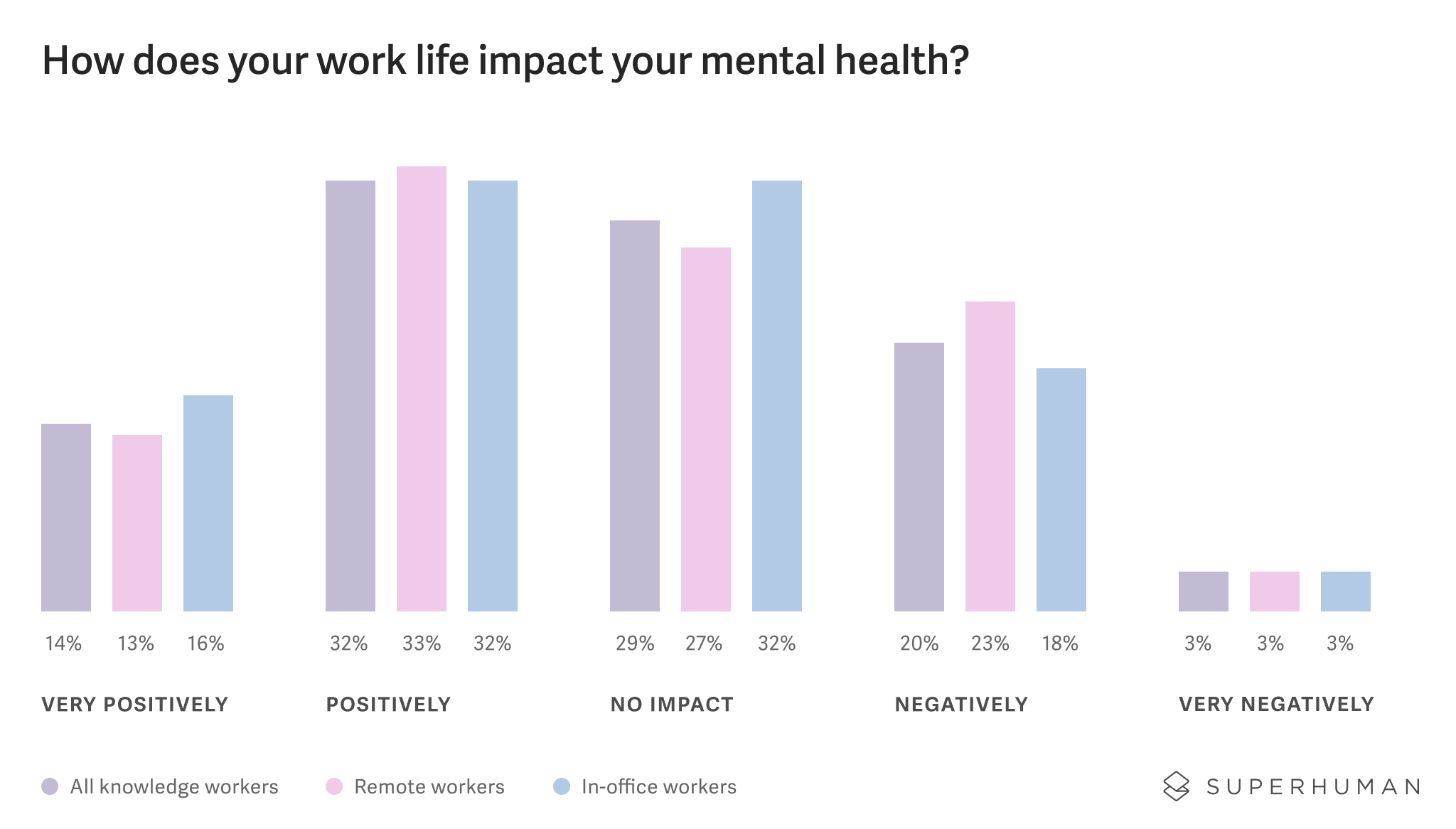 But a different picture emerges by gender… fewer remote women report that their work positively impacts mental health: 44% of women, compared to 50% of men.
The gender gap widens at the office, where 42% of women and 55% of men believe their work positively impacts their mental health. Prioritizing mental health is just as important for equity as it is for happiness and productivity, and it is an important consideration for potential recruits.
Productivity and mental health are intertwined
Companies that make a concerted effort to invest in mental health will improve retention and find it easier to hire.
They'll also notice the impact on their bottom line: employees who are most supported are doing the best work of their lives!
Knowledge workers who say their employer provides substantial mental health resources were 65% more likely to rate their productivity as "Excellent" than those enjoying only partial or non-existent resources.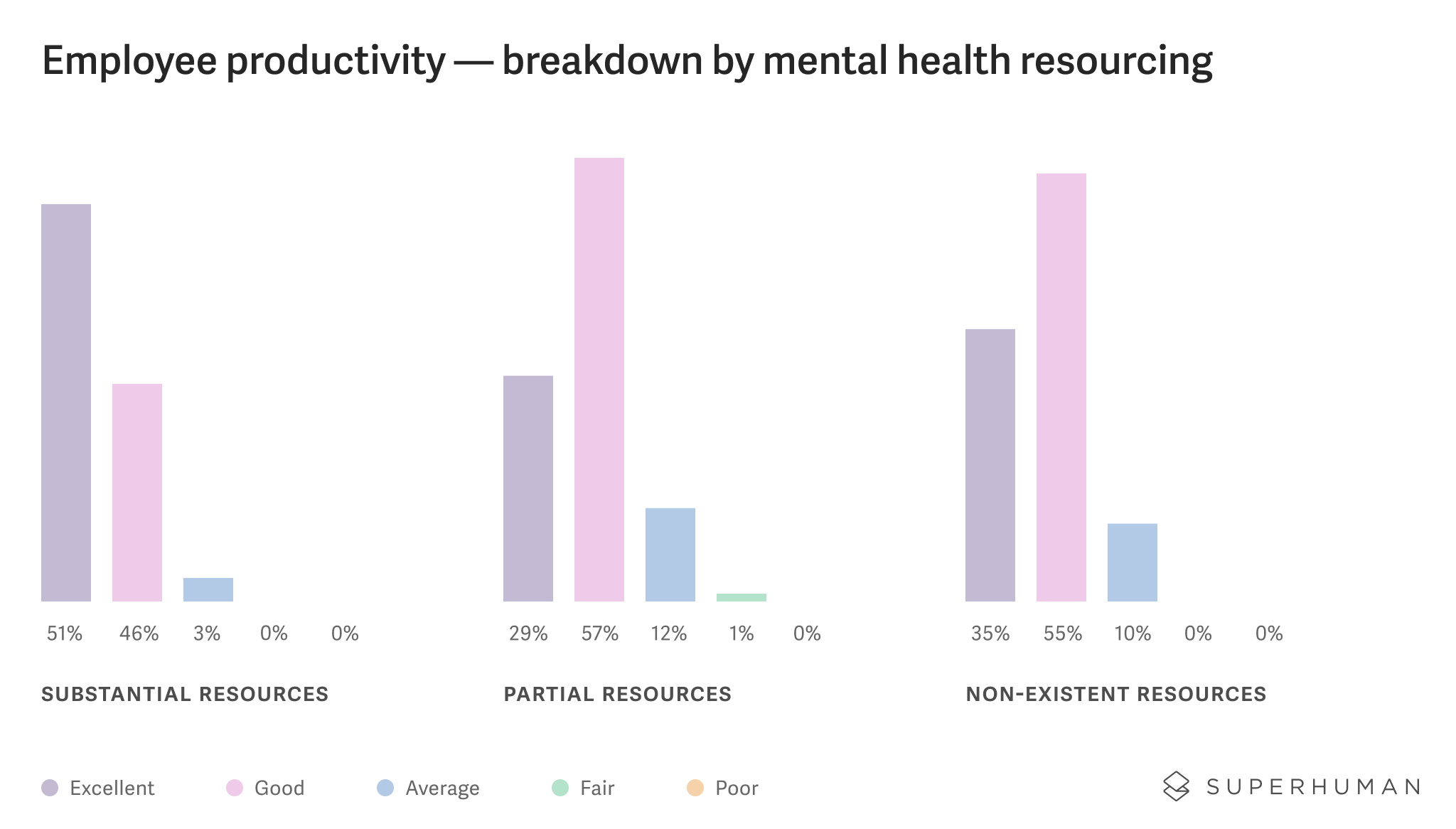 Well-supported employees are not just more productive, they are also happier. Two-thirds (66%) of knowledge workers who say their employer provides substantial mental health resources report that their work impacts their job positively.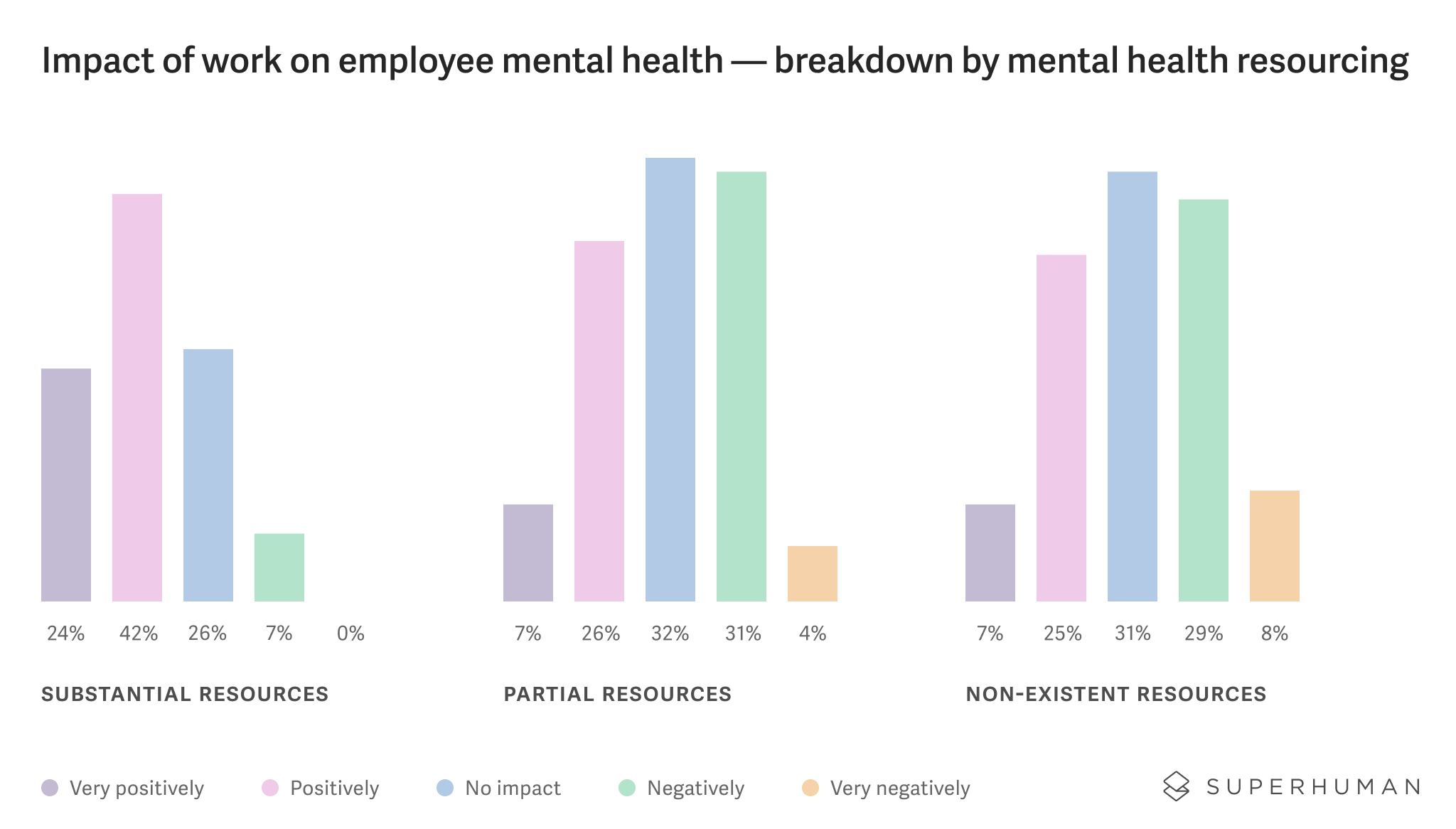 And yet, 21% of knowledge workers say their employer is not currently taking any actions to help improve their mental health and wellness at work. Interestingly, office employees (25%) were much more likely to report this than remote workers (16%).
Employers must offer values as well as perks
What do the ideal resources look like? A combination of benefits and company values.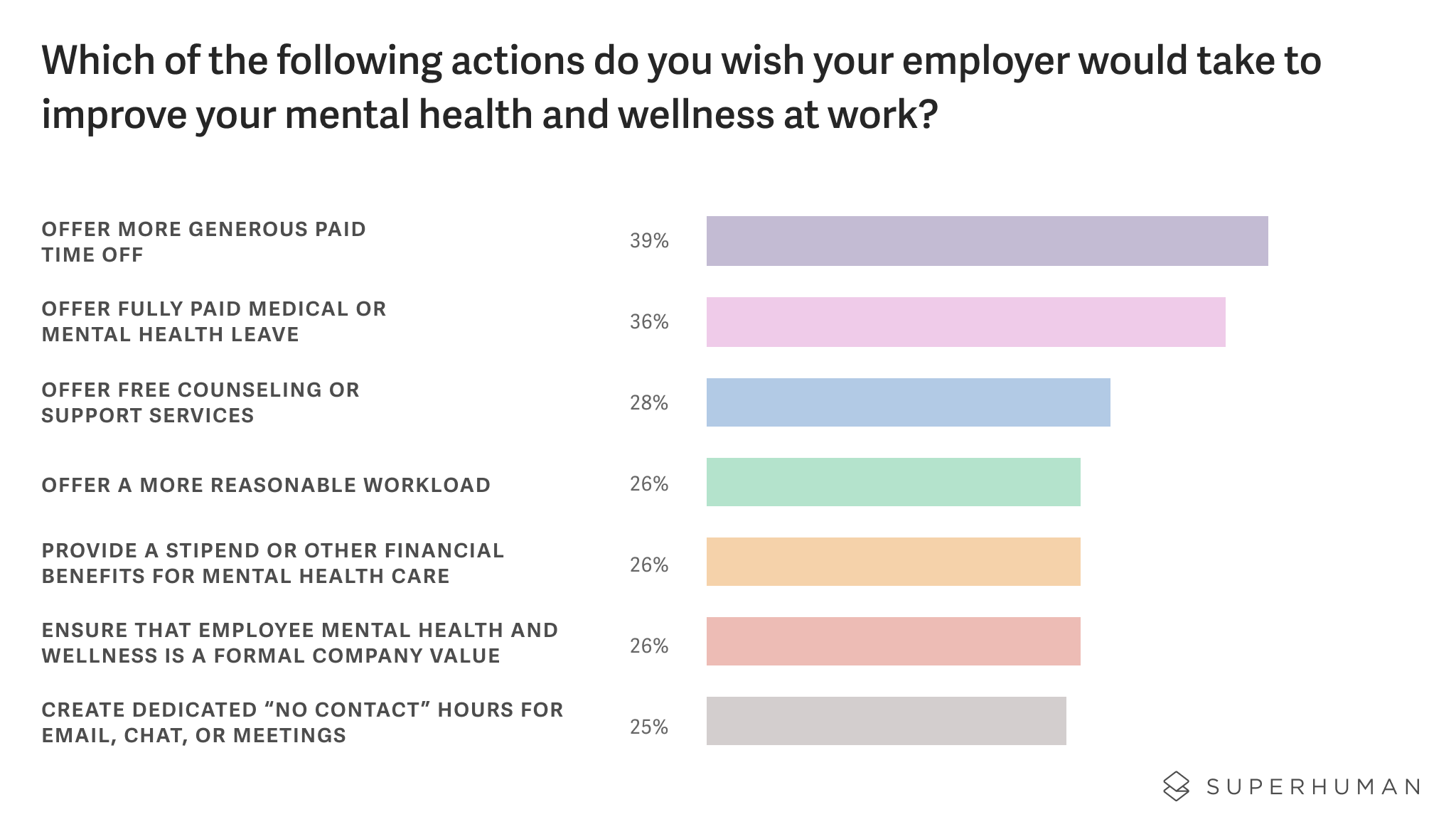 55% of knowledge workers say their employer should offer more paid time off, or fully paid medical or mental health leave, to improve mental health in the workplace. But more than a quarter of knowledge workers want more than these benefits: they want employee mental health and wellness formalized as company values.
Our study has revealed a strategy to attract and retain amazing employees: mental health support, clear communication norms, the ability to work remotely long-term, and the flexibility to work outside of traditional schedules. With these, you can massively impact productivity and job satisfaction, as well as motivate your team to reach their full potential — whether they work at home, in the office, or anywhere else in the world.
Survey Methodology
In October 2021, in partnership with the team at Ground Control Research, we surveyed more than 1,000 knowledge workers — half of whom work in an office, and half of whom work remotely.