Need a habit tracker? Here are 8 top picks
Exercise more, eat better, tidy up — like New Year's Resolutions, new habits can be challenging to adopt, especially if you've struggled with consistency in the past.
You're not alone though… we've all been there. Changing undesired behaviors can feel like a rollercoaster of ups and downs that don't always end in success.
But you're here right now… and we're so glad you are! You're one step closer to exerting more self control, feeling accomplished, and finding your personal flow. And that's something to celebrate.  
Read on to learn more about how to track habits successfully regardless of your past successes (or failures). We'll also introduce you to the 12 best habit tracker apps and methods that will fit seamlessly into your daily routine, and help you level up your life.
What is a habit tracker?
A habit tracker is a simple method that tracks your daily habits and keeps you accountable.
Habit trackers come in multiple forms. Whether an old-fashioned notebook, bullet journal, or digital app, their purpose is to help you track your progress and remain consistent and dedicated to achieving your goals.  
Why most people need a habit tracker
Have you ever made a New Year's Resolution, only to find yourself neglecting it weeks later?
Regardless of how sure and excited we are when making resolutions, weeks later we might find ourselves wishing we had done more to stay motivated.
Adopting new habits is tough. But, a little diligence managing and tracking them can help you make sure they stick around once motivation starts to wane. you The key is consistency: habits must be repetitive to become a routine part of your daily life.
And science seems to agree. Research published in the British Journal of Medical Practice  proves that through associative learning, consistent repetition of a simple action can lead to habit formation.
The research also suggests that once actions become habits, they're likely to persist even if interest and motivation wanes.
That's good news, but how do actions become habits? Enter habit tracking.
Habit tracking helps us break out of our routine unwanted behaviors and develop more desirable ones. But simply writing down what you want and hoping for success might not be enough.
As humans, we like immediate satisfaction, but not all habits produce expected results right away. For example, if you're trying to exercise more and get fit, you might not see immediate results. In fact, you might go through a period of muscle soreness, which could derail your progress because you're not achieving expected results.
Tracking new actions provides immediate gratification and gives you a sense of accomplishment in the short term, which you need to maintain momentum for the long term. This short-term motivation will help you stay the course, remain mindful, and feel accountable.
And here's another benefit: you can reclaim some time and headspace, and get rewarded with more time to focus on what fills your heart and soul!
Relinquishing your habits to a system that does some of the heavy lifting removes the stress of wondering how to stay motivated (whew!) and allows you to focus more on the things that truly matter. When your head is clear, you'll have more drive to accomplish life and business-altering practices such as time-tracking, deep work, and creative brainstorming. You'll feel more empowered and more in control of your day and your life.
Tracking habits can also help you find your personal flow. Lamenting over whether you have the willpower to create new habits robs your time and energy. When you surrender to a system that does some of the work for you, you'll feel lighter and more able to achieve your flow state.
Plus, habit tracking can be a source of motivation! It's like the satisfaction of crossing things off your to-do list. By tracking your habits, you give yourself little wins every time you follow through.
You got this: how to set yourself up for success
How do you set yourself up for success when turning new actions into habits?
First, determine which actions you want to incorporate into your daily life. It could be something as simple as digging out of your email inbox or drinking water throughout the day — or a little more complex such as starting a new relationship with healthier foods.
Below are some examples to inspire you:
Eat fewer processed foods


Tidy up your office


Exercise more


Maintain a clean house


Get more fresh air


Start a hobby


Call friends and family more


Read more books


Go on hikes


Save money


Exercise more self-care

Start small and track a few new actions until you feel ready to take on more. No need to overwhelm the process by tracking every new action right away. It's easy to get excited when starting any new endeavor, but avoid overwhelming yourself too early in the process.
Track only those actions that are most important to you. Add one at a time as you get the hang of it and achieve your habit goals.
Remember that habit tracking will be nothing more than a short-term sprint unless you are strategic about the process and prepare for success. And success means starting small and building over time.
Try James Clear's "2-minute" rule
Let's talk about James Clear's "2-minute" rule, which focuses on starting small and building habits over time. You'll break down your habits to 2 minutes of action a day.
Scale down your habits to actions you can perform in 2 minutes or less. This way, you're showing up every day in a small way, and the process doesn't feel overwhelming. Then, track the new habits and scale them weekly and monthly until habit building becomes a common practice. Clear talks about his system in more detail in his book, Atomic Habits.
Let's say you want to exercise more and get fit. Instead of committing to 30 minutes of exercise each day, start with a 2-minute cardio routine or a few pushups. Stay consistent for 1–2 weeks. Once you've mastered this, scale up to spend more time on the action and set weekly and monthly goals. You'll feel more confident as you scale because you'll be entering the process with a few wins.
If at first, you don't succeed…
While we can go on and on about achieving success with habit tracking, we both know that things don't always go as planned.
If you get tripped up, you have a bad day or week, or your dog eats your to-do list, it's OK. Consider these gaffs as new opportunities to try again.
Notice what tripped you up the first time so you can rectify it the second time. Maybe you'll do better using an app instead of an analog method? Perhaps you should start with fewer habits (or just one) until you feel more empowered? Try to keep in mind that cementing your next great habit may just be a matter of finding the right tool or method that works for you.
James Clear suggests that you don't miss twice. He states:
"The first mistake is never the one that ruins you. It is the spiral of repeated mistakes that follows… Missing once is an accident. Missing twice is the start of a new habit."
Habit trackers help you level up and find your personal flow
You don't need an app to track your habits, but we highly recommend using one. It will be your guide as you progress, and help you stay motivated and on track. Apps are especially beneficial if you struggle with procrastination (both hands raised). And if you have trouble staying focused, you can combine habit tracking with concentration apps for better results.
One goal our community focuses on is a more streamlined email inbox. If you feel out of control and overwhelmed when you log into your email every morning, it might be time to create some new habits and behaviors.
Thankfully, it's not difficult, and Superhuman has you covered.
Superhuman can help you get through email fast and furiously, and empower you with the tools to change your relationship with your inbox. Feel more freedom as you eliminate email clutter and learn how to fly through your emails in record time.
With features such as Split Inbox, Instant Intro, and Snippets, the app rewards you with email speed and power, making you feel like, well, a Superhuman!
Turn your inbox into your most effective productivity tool
Keyboard shortcuts, AI triage, automated follow ups, scheduled sends
Get Started with Superhuman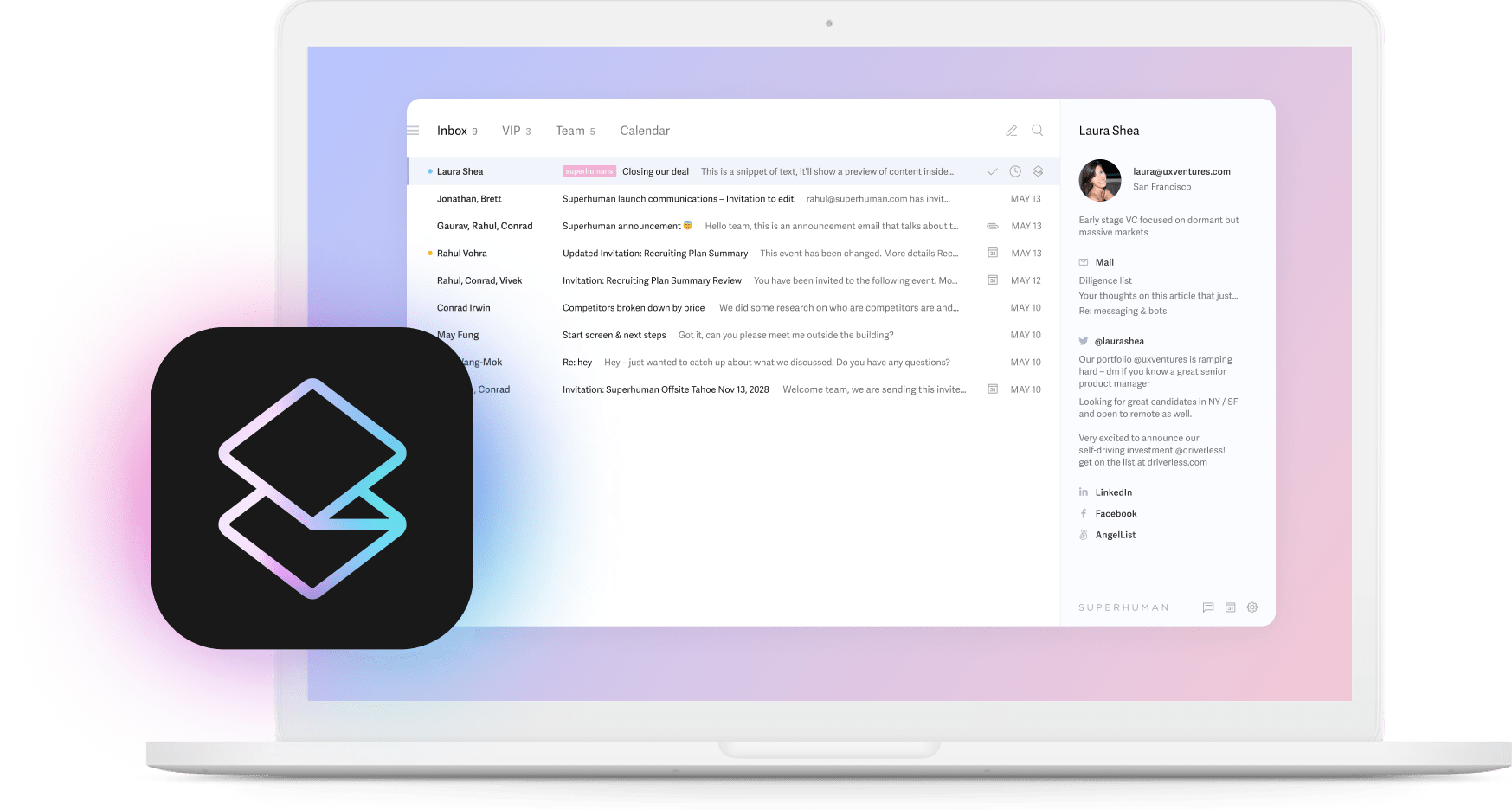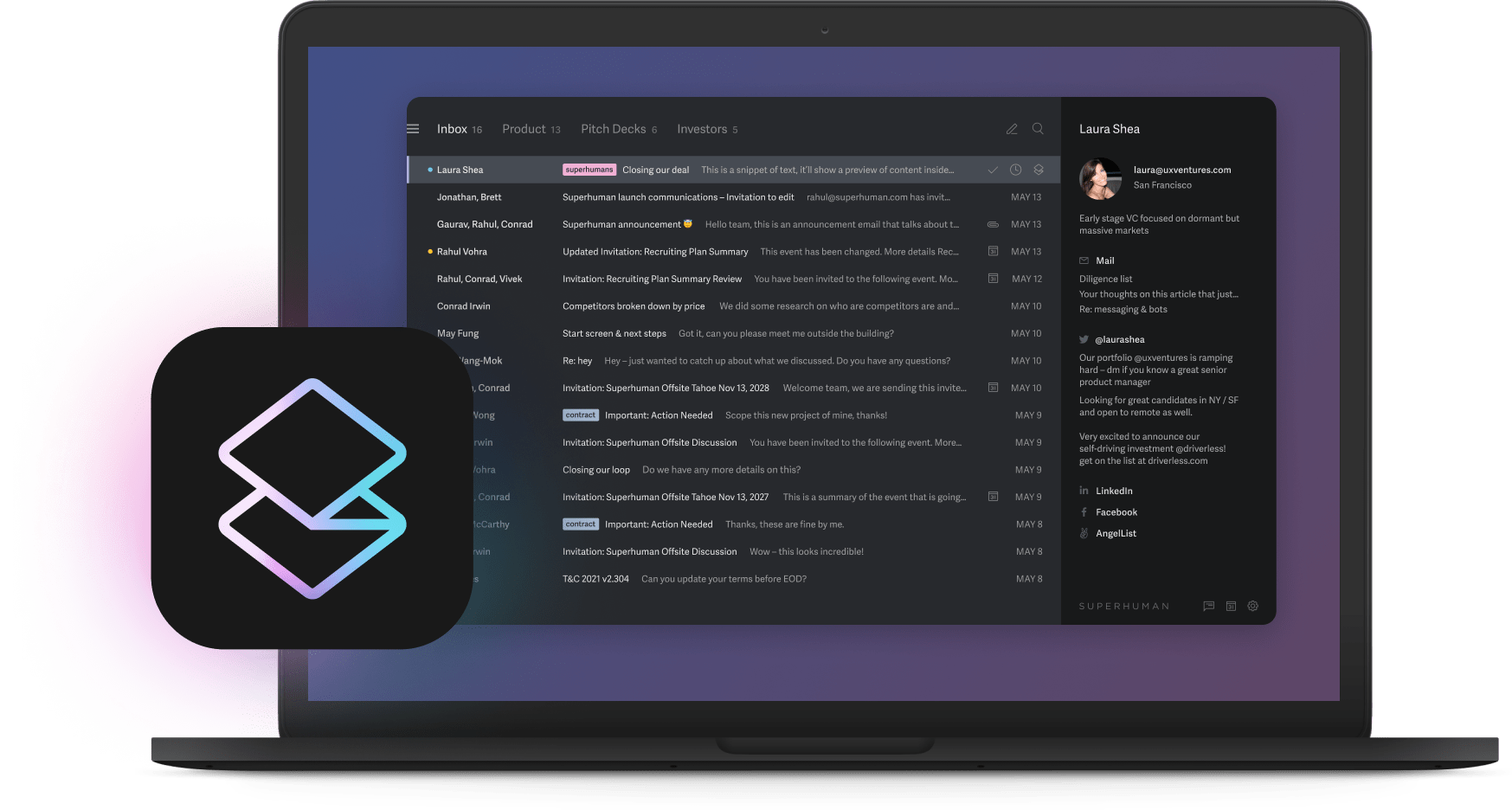 Let's talk about 7 more habit tracker ideas to help you level up and find your flow. The other apps on our list are designed to help you to turn actions into habits while receiving some assistance and accountability to motivate you.
Even the best habit tracking apps aren't for everyone. If you often find yourself reaching for a pen and paper to capture your ideas, bullet journaling might be for you.
What it does: The Bullet Journal (aka BuJo) organizes information into modules or collections for an easy and streamlined journaling experience.
How it fits into habit tracking: Your Bullet Journal habit tracker can be a fun and visual experience. It allows you to be creative and craft a habit-tracking style that works for you. It helps you set monthly goals and intentions, tracking your progress along the way.
Why we love it: The system uses rapid logging to alleviate some of the shortcomings of handwriting. It's a sophisticated and streamlined habit-tracking system for those who still get creatively inspired using pen and paper.
What it does: Habitify is a simple habit tracker that helps you stay accountable and master your goals. Habitify is a minimalist app that doesn't include the bells and whistles other apps do, but it's still highly effective. The app syncs with multiple platforms: web, Android, macOS, iOS, and watchOS.
How it fits into habit tracking: Set up habit reminders and keep track of your wins and losses. Monitor your progress to recognize when you're the most productive and adjust your tracking schedule to get the most out of your habits.
Why we love it: We like how Habitify makes habit tracking easy. Using Siri shortcuts, one tap marks your habits as done. Also, group habits into categories (areas) to declutter and organize new habits as you add them to the app.
What it does: Streaks is an app that empowers Apple product users to track habits successfully by maintaining habit streaks, hence its name. An Apple design award winner, Streaks is available on iPhone, Apple Watch, iPad, and Mac.
How it fits into habit tracking: Track daily, weekly, and monthly habits and set recurring due dates. You can also get data on your habit streaks to monitor your progress, adjust according to your performance, and celebrate your wins along the way. Streaks isn't just for creating new habits, either — a streak can be days you go without engaging in a bad habit you're trying to quit.
Why we love it: We like how Streaks integrates with Apple's Health Kit. Set habits based on your Apple Watch or iPhone data, such as your walking steps or hours of sleep. It also brings your habit tracker to your home screen, somewhere you're more likely to see your progress daily and hold yourself accountable for staying on track.
What it does: Productive is an app that not only provides basic habit-tracking functionality, but assists users with managing the behaviors associated with forming new habits. Productive is available on iOS and Android.
How it fits into habit tracking: Like other habit-tracking apps, Productive helps you set goals, track your progress, and build habit streaks. In addition, the app offers helpful content that caters to your personal goals and provides guidance to help you stay on track.
Why we love it: Productive provides a lot of built-in templates and examples to cater to the user who wants guidance with the process. A standout feature is challenges with built-in activities to help you get acclimated to tracking behaviors. You'll start small and adopt more habits as you succeed. Challenges also allow you to achieve small wins, which keeps you motivated. The app also offers daily content to help you succeed.
What it does: Habitica wants to "gamify your life". The habit and productivity app is available on iOS and Android, and uses an RPG-style gamification approach (in-game rewards, punishments, quests, and monster battles) to help you achieve your goals.
How it fits into habit tracking: Habitica will motivate you to track your healthy habits until you achieve your goals. Join a tight community of "Habiticans" and enjoy in-game rewards (and punishments) to help you stay accountable and on track.
Why we love it: We're especially drawn to Habitica's video game-inspired design and functionality, which makes habit tracking enjoyable and motivational.
Side-note: no surprise that we love a game-inspired app! Superhuman is built using principles of game design to make email organization fast and fun!
What it does: Momentum is a feature-heavy app focused on keeping you motivated and moving forward with momentum. Momentum is only available on iOS.
How it fits into habit tracking: The app allows you to set weekly targets, reminders, and notifications and take notes for daily journaling. Momentum is based on Jerry Seinfeld's productivity method: complete tasks every day and create a visual chain. As the chain grows, you won't want to break it. The technique is simple but effective: as you achieve small wins, your chain grows along with your momentum.
Why we love it: The app is super efficient: check off your habits and review your progress without even opening the app or unlocking your phone. Going on vacation? No problem. Momentum has a "skip functionality" feature that allows you to skip habits without breaking your chain.
What it does: StickK is a goal-setting app that functions a little differently than similar apps in the space. Developed by Yale University behavioral economists, the app motivates you to achieve your goals by creating a commitment contract with yourself.
How it fits into habit tracking: Use the commitment contract to help you stay accountable to turn your actions into good habits. You can even assign a friend or family member to review your progress and motivate you.
Why we love it: StickK is a unique concept and a good option if you've tried other habit-tracking tools, but you haven't found your motivation sweet spot. And for some extra added fun, you can even bet money on yourself!
What it does: Coach.me bills itself as a "home for ambitious people". By combining free habit tracking tools with a premium version that includes personal habit coaching, it creates extra accountability to help you stay on track.
How it fits into habit tracking: Coach.me is great for anyone who has trouble staying on track themselves. A personal coach provides an extra layer of accountability and guidance, plus personalizes the entire process.
Why we love it: The customization Coach.me provides is a great feature. You can use it as a basic habit tracker or choose a more premium coaching plan, but the important thing is you get to design the experience that will help you achieve your goals.
What it does: Habitshare turns habit tracking into a social experience, allowing you to track your goals and share your progress with friends for extra accountability and motivation.
How it fits into habit tracking: Habitshare not only allows you to track your own progress, but encourages check-ins with friends so you can see each other's progress and help encourage and motivate one another.
Why we love it: Not only will Habitshare help you reach your goals, but it has a built-in way for friends to help you celebrate reaching new milestones.
What it does: Habitbull is one of the most feature-rich habit trackers on this list, offering data-driven tracking, syncing between multiple devices, a personal dashboard that records your progress with graphs and other visual aids, and more.
How it fits into habit tracking: Habitbull goes beyond a simple habit list and offers options that make your habits as trackable as possible. Set reminders, share your habit information via the cloud, or export your data in CSV format.
Why we love it: Having robust and comprehensive data creates better accountability (and seeing a graph trending in the right direction is super motivating!). We also love that an Android widget allows you to add Habitbull data to your home screen, making it accessible at a glance.
What it does: Loop is an open-source habit tracking app modeled after the "rings" on Apple's Health kit — for each habit you work toward, you work on closing the loop.
How it fits into habit tracking: Loop is incredibly simple, yet beautiful. Each positive habit you choose to work toward is displayed next to a loop that gets closer to closing every time you put in work toward your goal.
Why we love it: Loop is completely free, allowing you to track unlimited habits. No matter what you want to work on, Loop offers a beautiful and simple way to visualize and work toward your goals.
How to choose the right habit tracker
We provided several habit tracker apps to help you with your search. What makes a good one?
It's flexible and easy to use.


Easy to integrate with your current toolkit (compatible with your devices and works alongside your other apps such as Google Calendar).


It fits your lifestyle and doesn't feel like a hindrance to achieving your goals.


It works (many have free trials).


It keeps you accountable with triggers that work for you.


It's actively supported and undergoing consistent upgrades/improvements.

How do you choose among our app recommendations? Here's some advice.
The Bullet Journal is a good option for the person who likes the analog approach and keeping a physical journal to track habits.
Habitica is perfect for the person who wants to win and have some fun, while Momentum can help those who are more visual reward themselves with a view of their accomplishments.
StickK is for you if you need more accountability than a typical habit tracker provides. Create a commitment contract with yourself, or get your friends and family involved.
Try Streaks if you're tracking health habits and want to sync with Apple's Health app. Or consider Productive if you want more hand-holding and assistance while tracking habits. On the flip side, Habitify is ideal if you like simplicity and don't need all of the bells and whistles.
Don't give up on the process if a habit tracker doesn't work for you. The app might not cater to your workflow and style. Each app will cater to a different type of person, so try another app or method until you find the right fit.
Develop better email habits with Superhuman
If email is the habit you need to change, Superhuman can help you declutter your inbox and regain control of your time and business.
Cut your time spent on email in half and finally reach Inbox Zero. With Superhuman, you'll enjoy the fastest email experience in the world. Join Superhuman today and start forming new email habits to help you get more done and level up your life and business.
Regain your focus and win back time with Superhuman Mail
Keyboard shortcuts, AI triage, Reminders, Scheduled sends, Beautiful design
Get Superhuman for Email