How to read faster: 8 best speed reading apps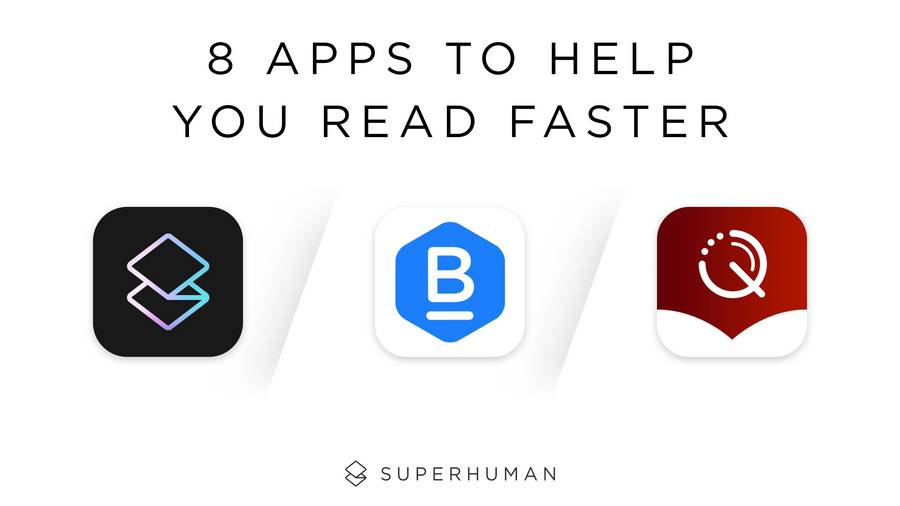 Ever tried completing a task without reading a single line of text? You probably won't get far.
Whether it's scanning through your email or studying technical documentation, reading is a critical part of working life.
For this reason, reading at high speed is actually very important. The faster you can absorb information, the more efficiently you can get things done and embrace new ideas.
There are now dozens of apps designed to help you read faster, covering every platform and content type. Keep scrolling to discover how these apps work, and which options really can help you read at speed.
How speed reading unlocks better productivity
According to estimates, the normal reading speed for an average adult is 200-250 words per minute (WPM rate).
If you are reading for leisure, there is nothing wrong with this pace. But in business, time is your most valuable resource. You simply can't afford to spend half an hour scanning through your inbox in the morning.
In addition, reading is a key part of self-improvement. It's no coincidence that Warren Buffet, Bill Gates, and Elon Musk have all stated that they put aside time every day for reading books.
Unless you happen to be a billionaire, you might not be able to run quite the same schedule. But by increasing your reading speed, you still have the chance to learn more skills and explore new concepts.
What is speed reading?
As kids, we learn to read by slowly moving our eyes across the page, from one word to the next. At the same time, we read the words aloud.
As time goes by, we become more fluent. But traces of those original reading habits still remain.
Rather than zooming along each line, our eyes tend to pick out words and phrases individually. At the end of each line, we subconsciously pause for a moment to find the next one or end up re-reading sections by mistake.
All the while, we use subvocalization: that's when you read "aloud" inside your own head. Research suggests that this is important for deep comprehension, but it may slow you down when reading less important text.
Speed reading involves a set of techniques that minimize the amount of time wasted by engaging in bad reading habits.
Some big names have promoted speed reading over the years, and experienced speed readers claim to be able to read at a 1,500+ WPM rate. That's 6 times faster than the average reader!
Scientists are highly skeptical about such claims. But even so, many people say they have benefitted from learning speed reading techniques.
If you don't fancy training for years to find out whether it works for you, technology offers an easier entry point.
How do speed reading apps work?
Most apps that are designed to help you read faster are based on Rapid Serial Visualization Presentation (RSVP).
This popular framework for speed reading is based on the idea that reading speed is restricted by eye movement. By reducing the amount of movement required, RSVP cuts down on the amount of time wasted on scanning and regression (re-reading sections).
Some apps in this niche provide different visual aids. For example, Bee Line Reader changes the color of the text so it's easier to spot the next line.
Whichever solution you choose, it will almost certainly take a little while for your brain to adjust to the new reading style. Many apps provide video tutorials for this reason.
Of course, you might be wondering whether any of these apps actually work.
While many say they can double or triple your reading speed, science suggests that anything over 500 WPM isn't reading at all. It's skimming.
Skimming is a form of reading where your eyes skip through the material, picking out keywords along the way. Your reading comprehension takes a massive hit, but you get the general gist.
Often used by students who are trying to cram before an exam, skimming can be very useful in a business context.
For instance, many emails do not include any deep insights — they are just simple communications. Rather than studying every word, people tend to use F-shape scanning to quickly glance through the message.  
Similarly, you can use skimming to become better educated in a limited time frame before a big meeting.
In terms of actual speed reading, science tells us that there is always a trade-off between haste and accuracy. Many people can learn to read faster, but only by so much. Beyond this point, comprehension starts to dip.
In spite of this, some people swear by speed reading. Tim Ferriss is one high-profile exponent of the technique. And if you want to give it a try, getting your hands on a good speed reading app is definitely worthwhile.
The 8 best speed reading apps
If you'd like to try speed reading yourself, it's best to find a dedicated app. Here are some unique speed reading tools for every purpose and platform:
Spreeder: best cross-platform app
Combine an RSVP reader and speed reading trainer. You get Spreeder, a long leading light in this field.
The built-in reader is fully customizable, and you have four reading modes to choose from. For instance, Spreeder can deliver text one word at a time — known as flashing — or guide your eyes through a standard paragraph with highlighting. On a desktop, these features can be controlled with keyboard shortcuts.
Available on mobile and desktop devices, the app lets you upload content to your personal cloud library in 46 different file and ebook formats. Premium subscribers have access to 20,000 free ebooks, too.
Spreeder also offers 24 training drills and progress tracking. So you can improve your speed reading skills or expand your vocabulary. It's not the cheapest option, but definitely one of the most comprehensive.
Platforms: Available on iOS, Android, and online
Price: Free to download; upgrade via monthly subscription
Outread: best for news
If you struggle to keep up with all the latest news, Outread should be on your shortlist.
Designed specifically for iPhone, iPad, and Mac – this beautiful app lets you choose between flashing and highlighting views. Everything about the reading interface can be customized, from the size of the font to the background color.
Along with books and digital content, Outread helps you to speed read any web page. Integrations with Instapaper, Pocket, and Pinboard allow you to import content easily. Outreach also has a built-in scanner feature, which lets you import physical documents into the app's reader.
When you're not actively reading, Outreach offers a selection of exercises to improve your speed reading skill.
Platforms: iOS and Mac only
Pricing: Free, upgrade via in-app purchase
Readme!: best for ebooks (including BeeLine Reader and Spritz)
Combining two standalone tools, Readme! provides an excellent speed reading experience on mobile and desktop devices.
The first of the integrated tools is BeeLine Reader. We will go into more detail later, but this product changes the color of the text to help your eyes find the next line.
The other product included in Readme! is called Spritz. This app was a pioneer of the RSVP style of speed reading.
You can use either technology while reading with Readme! — and both work well to speed things up. The focus of this app is ebooks, with cross-platform syncing and an interface that mimics a real hardback. That design feels a little dated, but it doesn't detract from the reading experience.
Other notable features include support for Word and TXT documents, and the option to use the Dyslexie Font, which was developed for folks with reading disabilities.
Platforms Available on iOS, Android, and web
Pricing: Free to download, in-app upgrade
Readsy: best web tool (powered by Spritz)
Another app that utilizes Spritz technology is Readsy. This free web-based tool is perhaps the easiest way to try speed reading.
In comparison to some of the other options on this list, Readsy is quite basic. You simply grab the URL of any web page, paste it in, and choose your reading speed.
Any content on your chosen page is then immediately delivered via the RSVP method. Readsy also provides a field where you can paste in content, and the option to upload a PDF or text file.
Aside from reading speed, you don't really have any customization options with Readsy. But in this case, simplicity is part of the attraction.
Platforms: Web only
Pricing: Free
We like Outread on iOS for news. But the best all-around speed reading app designed specifically for Apple devices has to be QuickReader.
The first thing you notice about this premium app is the design. QuickReader has an interface that is clean, minimal, and easy to navigate.
RSVP flashing is the main speed reading mode here, and you can set the speed to anywhere between 40 and 10,000 WPM. Everything else about this app can be customized, too — from margins to color schemes. And if you prefer taking a break from the fast lane, it works well as a regular EPUB reader app.
As a bonus, the main QuickReader app provides access to two million ebooks and a selection of speed reading exercises.
Platforms: iOS and Mac only
Pricing: One-time purchase
Reedy: best Android app
If you want something that has been made with Android devices in mind, Reedy would be our recommendation.
This is actually a general-purpose reader. However, it provides a good RSVP flashing mode. The app delivers words at your chosen speed, but it intelligently slows down to help you process punctuation and complex words.
Reedy also has a focus mode, which puts the beginning of each word in the center of the display, and a standard reading mode.
Each of the 3 reading modes can be customized with a few different options. This is a good thing because the default styles are a little dry.
Along with locally stored ebooks, Reedy can present content from Pocket, Feedly, Evernote, and any web page. This makes it one of the most versatile apps on this list.
Platforms: Android (Google Play, Amazon, Huawei) and Chrome
Pricing: Free to download, in-app upgrade
SwiftRead: best Chrome extension
For all you Chrome (and Edge) users out there, SwiftRead is a great option for speed reading on desktop devices.
This extension lets you deploy RSVP flashing on any web page with a click. Along with the usual word-by-word presentation, SwiftRead highlights a key letter in each word to guide your eye.
The free version works well, but upgrading to SwiftRead Pro unlocks premium fonts and customizable color schemes. Better still, the premium version can handle PDFs and ebooks. You can even adjust how long the extension should pause for you to take in punctuation and longer words.
Platforms: Chrome and Microsoft Edge desktop browsers
Pricing: Free to use, PRO version requires paid upgrade (lifetime or monthly subscription)
BeeLine Reader: best alternative speed reading tool
Although BeeLine Reader is now a feature in many other apps, it was once only available as a standalone Chrome extension.
That extension is still available today, and it provides a subtle form of speed reading assistance.
Whereas most apps today utilize RSVP, BeeLine Reader does not change the text format. Instead, it changes the color.
By applying a subtle gradient through each sentence, the extension makes it easier for your eyes to navigate through multiple lines of text. Aside from helping you to read faster, this technology is said to reduce eye fatigue during long reading sessions.
Pricing: Free for two weeks, then a monthly subscription
Platforms: Chrome, Firefox (Desktop), and Safari (iOS)
What features do you need in your speedreading app?
As we have seen, there are many different apps that can help you read faster. But which one is right for you? Verdict: it depends on which features you value most.
Follow this cheatsheet and you should come up with a clear answer:
RSVP or other system. Most apps use RSVP flashing, but the likes of Spreeder and Outread also provide highlighting as a visual cue, while BeeLine offers color gradients for guidance.
Adjustable WPM. All the apps on our list allow you to change the WPM rate.  But other products may be missing this feature. It's a really important option, so make sure to check.
Customizable fonts/colors. If you're going to move a significant chunk of your reading to a single app, you need to get on well with the interface. Customization settings allow you to create the perfect reading environment.
Compatibility with different file formats. The majority of speed reading apps are designed either for web content or EPUB ebooks. If you want to explore other formats, you will need to choose an app like Spreeder or SwiftRead.
Training and tracking features. To become an effective speed reader, you need to practice. Some apps provide exercises to help you improve, as well as tracking stats to show just how fast you're reading.
Read faster, inbox faster
Whether you want to keep up with industry news or get through documents faster, improving your reading speed has many potential benefits.
But speed reading is not the only way to massively improve your productivity.
Email is an quintessential part of communication. However, getting 100s or 1000s of emails every week leaves little time for anything else.
Superhuman helps you focus on your most important emails, using AI Triage to highlight the messages that need your attention. Our platform also delivers vital info about every contact and helps you avert disaster thanks to the Undo Send button.
Superhuman will save you 3+ hours. Every week. That's enough for a healthy amount of speed reading.