The state of your inbox in 2021: email burnout and browsing in bed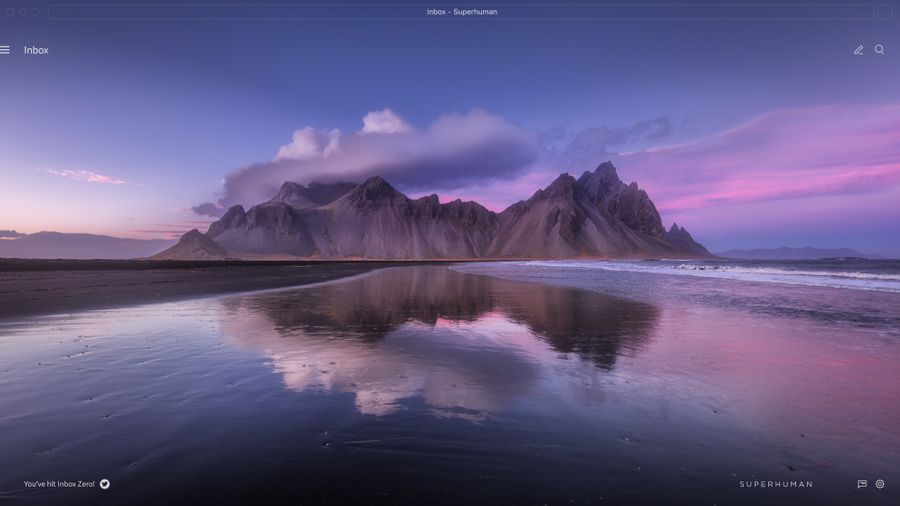 Wake up. Fumble for phone. Scroll through inbox.  
Sound familiar?
At Superhuman, we're building the fastest email experience in the world. Our customers get through their inbox twice as fast as before, and many see Inbox Zero for the first time in years.
Since the pandemic began, work communication has changed radically. The switch to remote has transformed our habits forever.
How should we adapt? What is the impact on morale and productivity? And what role will technology play?
To learn more, we worked with a research firm to survey US workers who work from home (and who do not use Superhuman). Here's what we discovered...
The dawn of new distractions
In March 2020, tens of millions of office workers went home. We forged new routines — bracing ourselves to focus in spaces that we shared with roommates, family, and pets.
But they weren't our biggest distractions.
For 30% of remote workers, the biggest distractions are incoming messages and overflowing inboxes. The home environment is the main distraction for 18%, with social media close behind at 17%.
The data is clear: work communications distract us the most.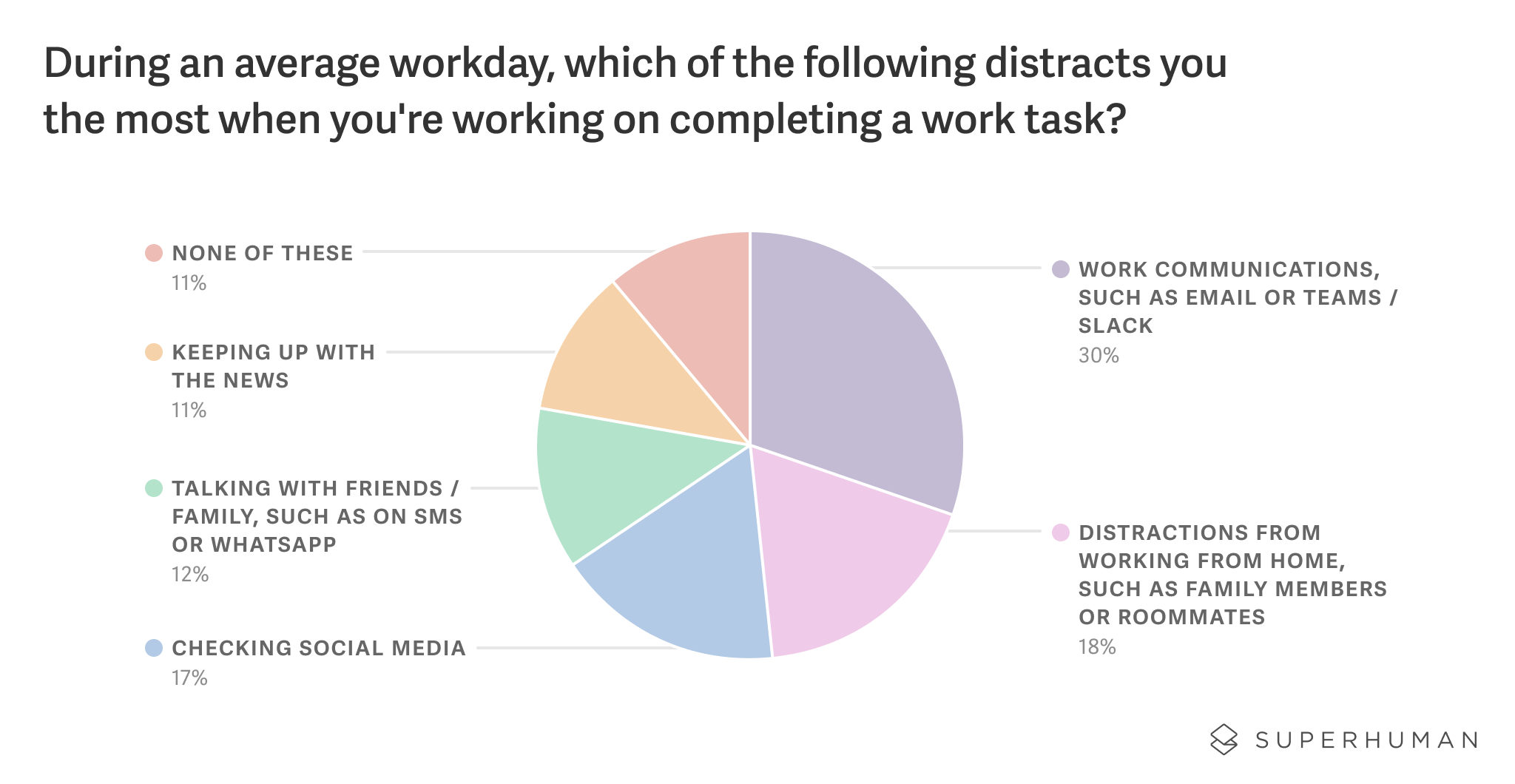 Notifications are especially bothersome to Boomers: 43% cite them as a top distraction (compared to 27% of Millennials and 28% of Gen Xers).  
When asked what they needed a break from most, video calls topped remote workers' wish lists — but email and messages aren't far behind. Though almost half of remote workers (44%) dream of a work day without video calls, nearly a third (31%) want a break from email. The remainder (25%) crave a notification-free day.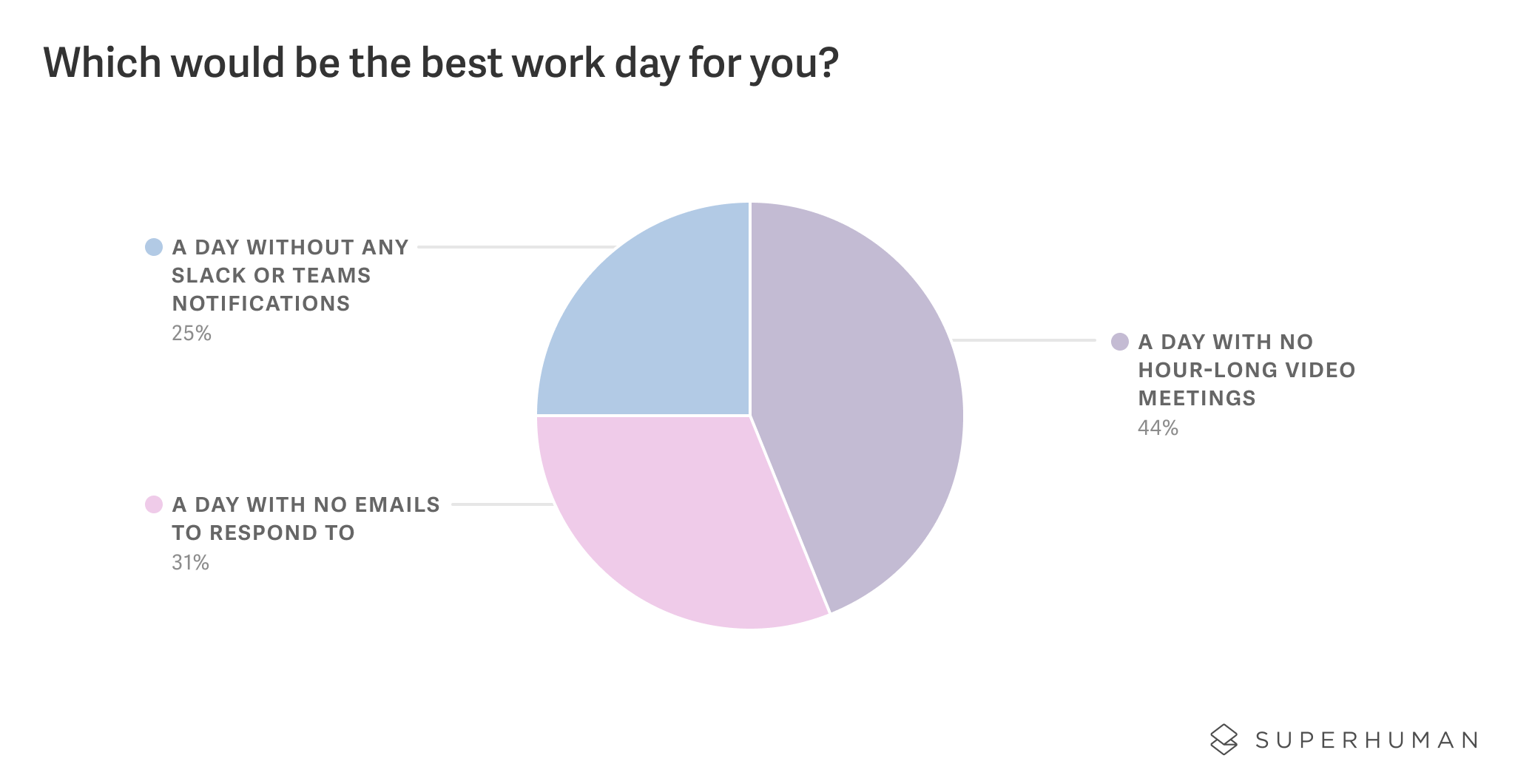 Indeed, nearly 2 in 3 remote workers would rather commute again if they could be unburdened from escalating emails and notifications.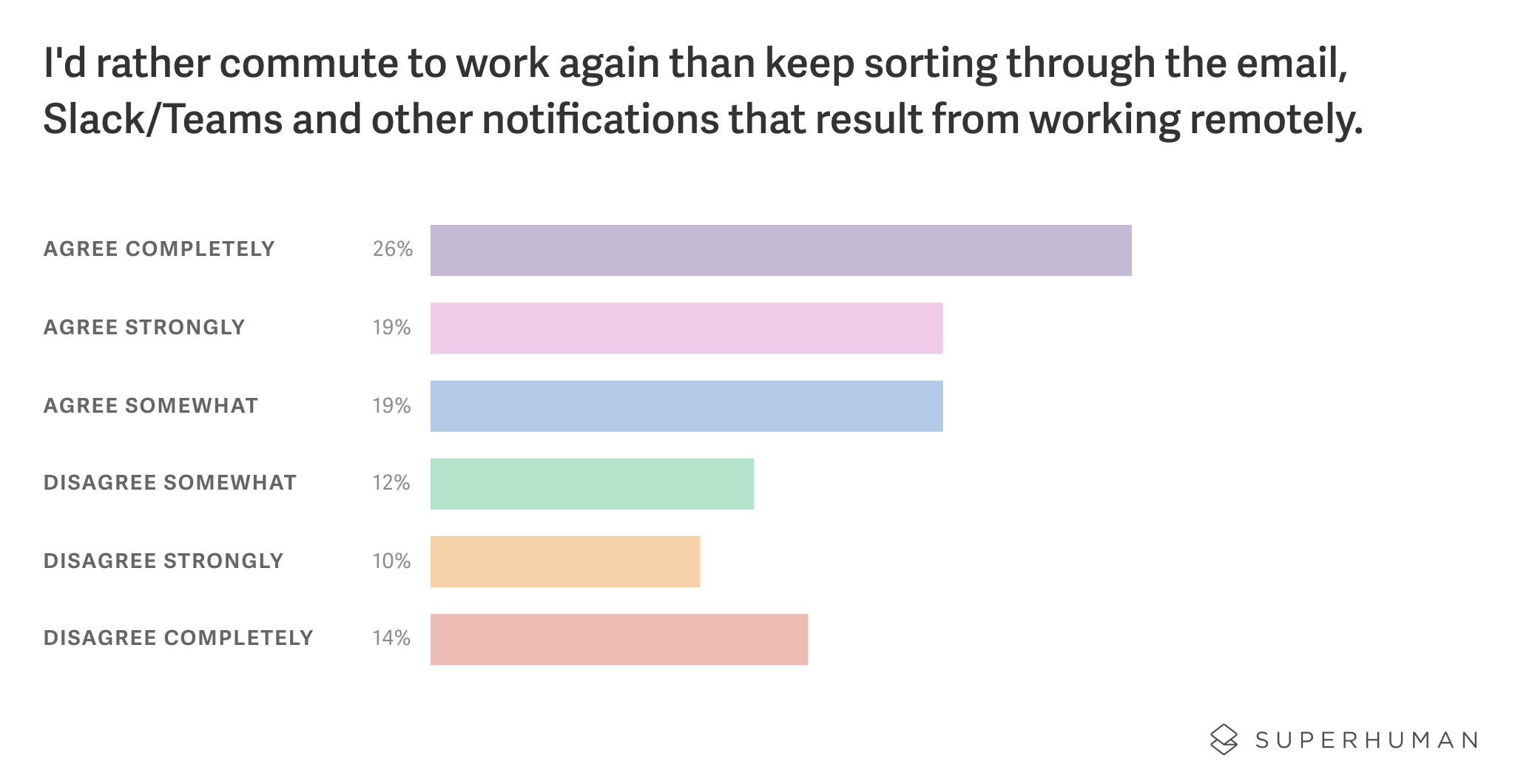 Caught in the responsiveness cycle

Why has the switch to remote left us overwhelmed by email, Teams, and Slack?
Because of the responsiveness cycle.
We all want to be available, to support our teams, and to not miss opportunities.
So we overcompensate for the lack of in-person connection — firing off endless messages and responding without delay. More than 3 in 5 remote workers say they're more likely to reply immediately to an email from their boss or team (63%) than to a text or DM from friends or family (37%).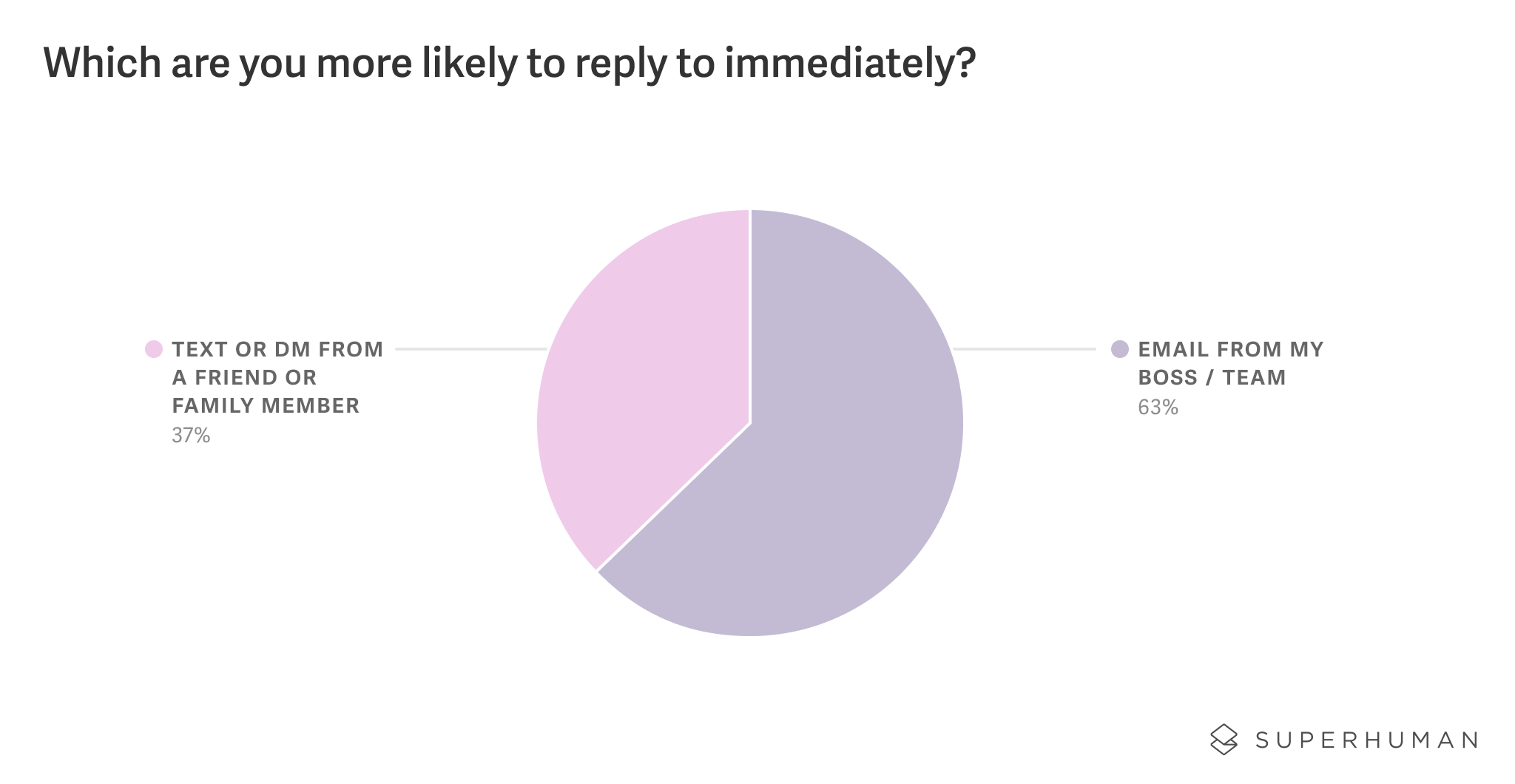 The responsiveness cycle is even more intense for women. Nearly 2 in 3 women (64%) say they have to deal with a notification in 5 minutes or less — significantly more than the 56% of men who say the same. While 30% of women respond to a notification within a minute, fewer than a quarter of men (24%) do so.
Why is this happening? 7 out of 10 women think the pandemic will slow their career progression — they may feel the need to respond quickly and prove commitment. This worry may also explain women's lower job satisfaction: women are 75% more likely than men to say they enjoy work less now than pre-pandemic.
The responsiveness cycle begins mere seconds after waking up. 77% of remote workers frequently check on work before their morning routine. 46% do it all the time.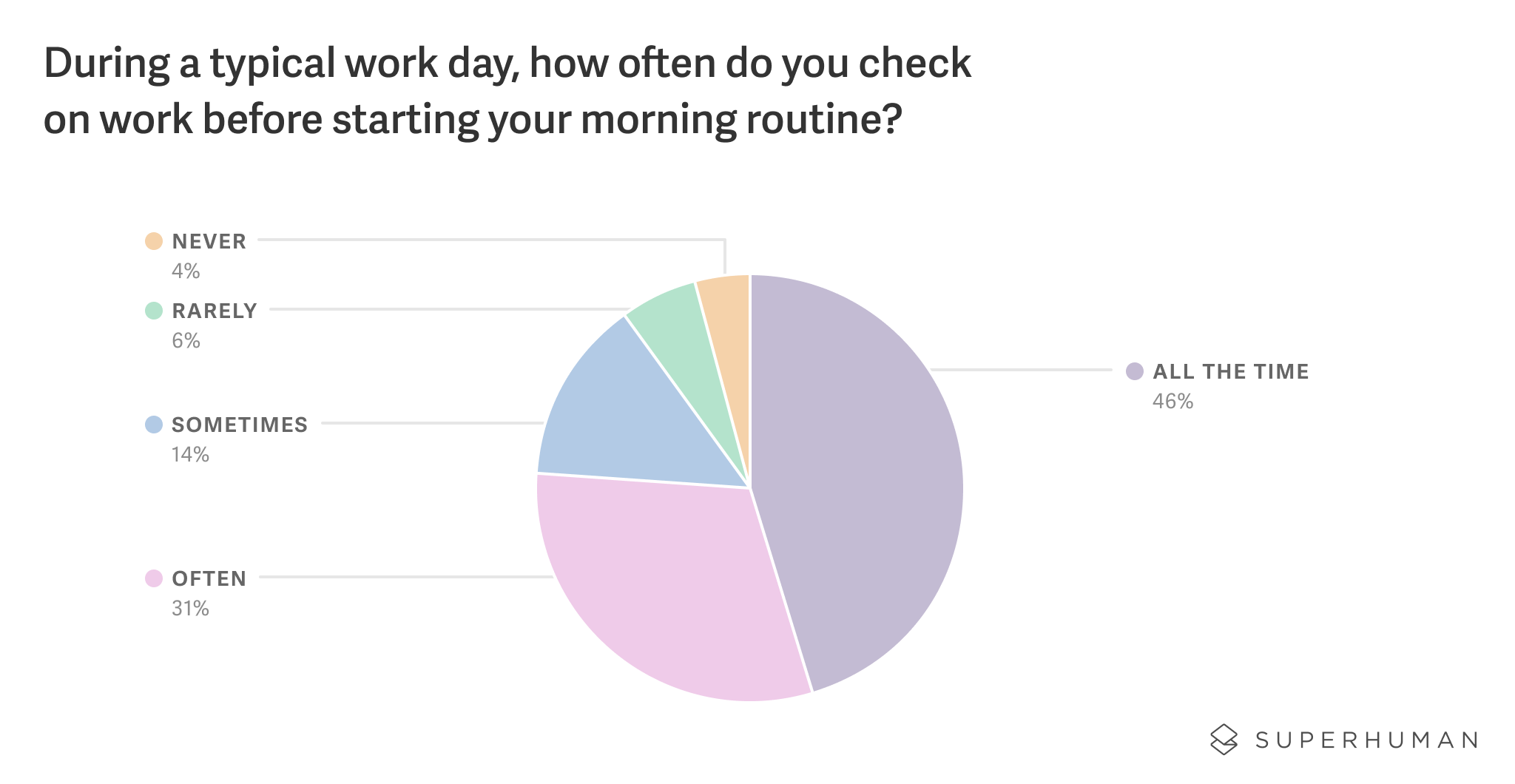 The younger we are, the more likely we are to spend mornings in the glow of the small screen.
Nearly 1 in 3 remote workers aged 40 and younger (31%) are on their work email within less than a minute of waking up. For the over-40s, this drops to less than 1 in 5 (19%).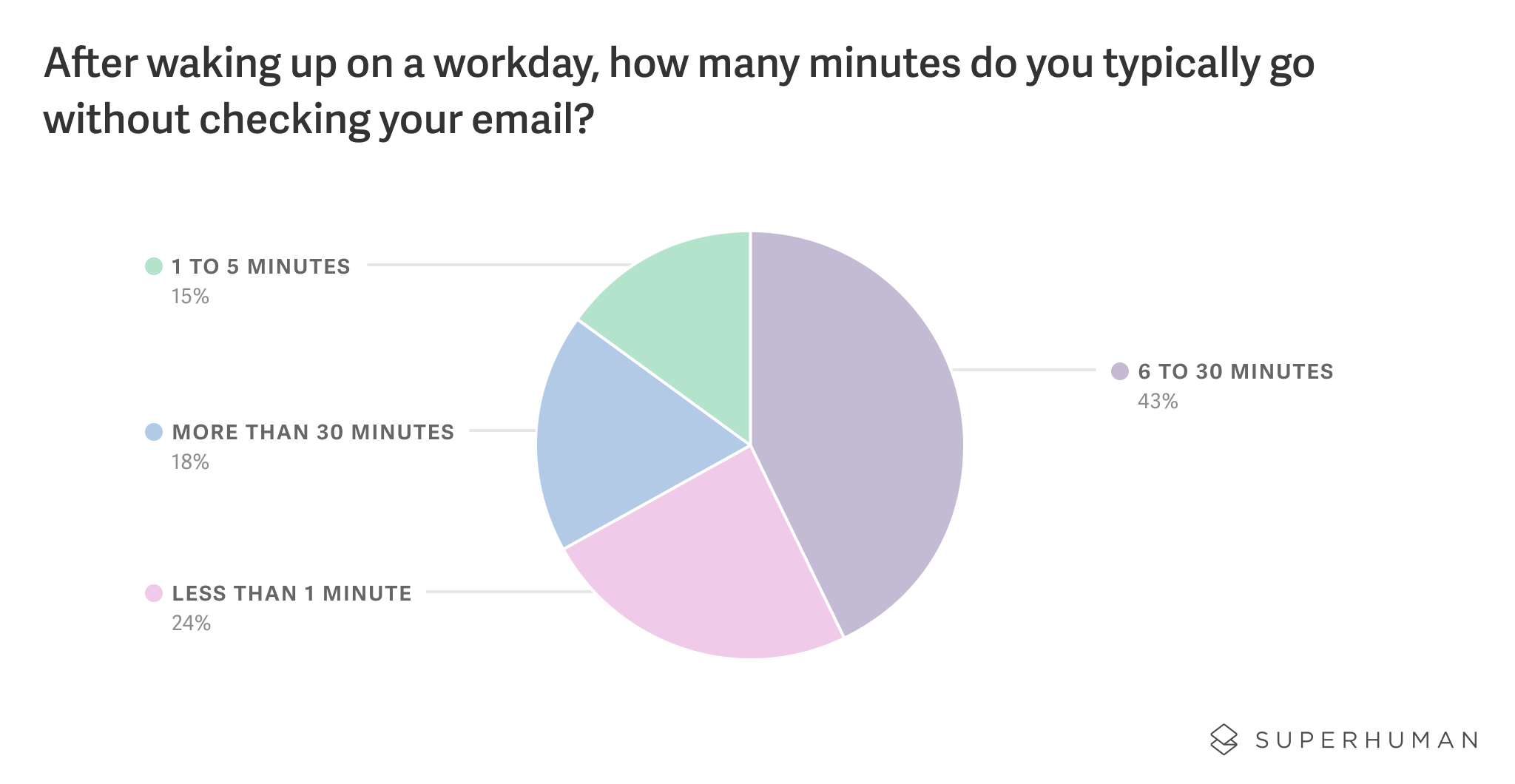 The email tidal wave
Overflowing inboxes even drive us to re-evaluate our careers.
A whopping 22% of remote workers want to leave their current job because of the volume of email they receive. Only video calls are a bigger pain point — for 29%, this is the technology issue that most makes them want to quit.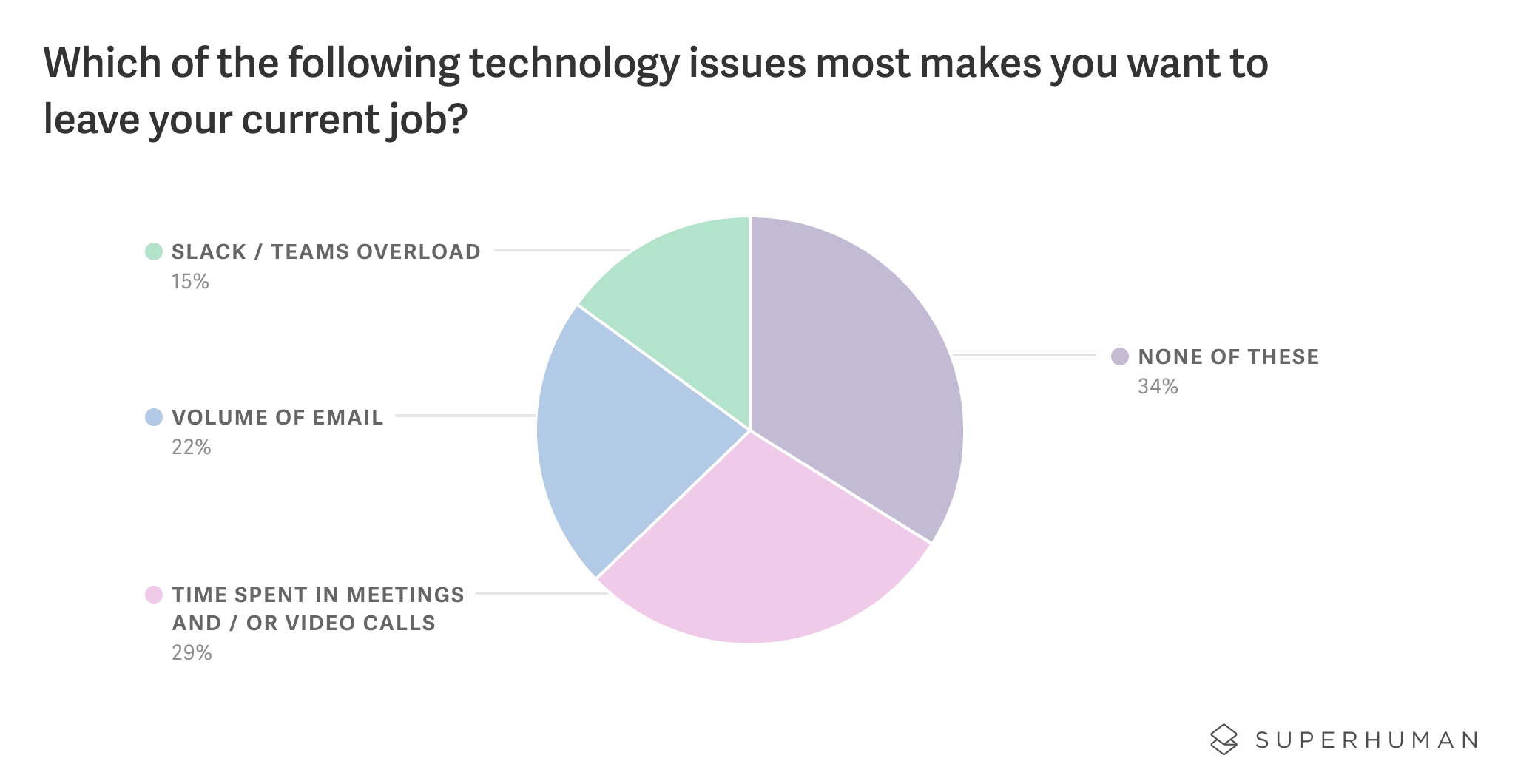 Working from home has created a tidal wave of inbound communication — and it looms even larger if you take time off.
Almost half of remote workers would prefer to scrub their bathroom than clear an inbox with 10 days of unread messages!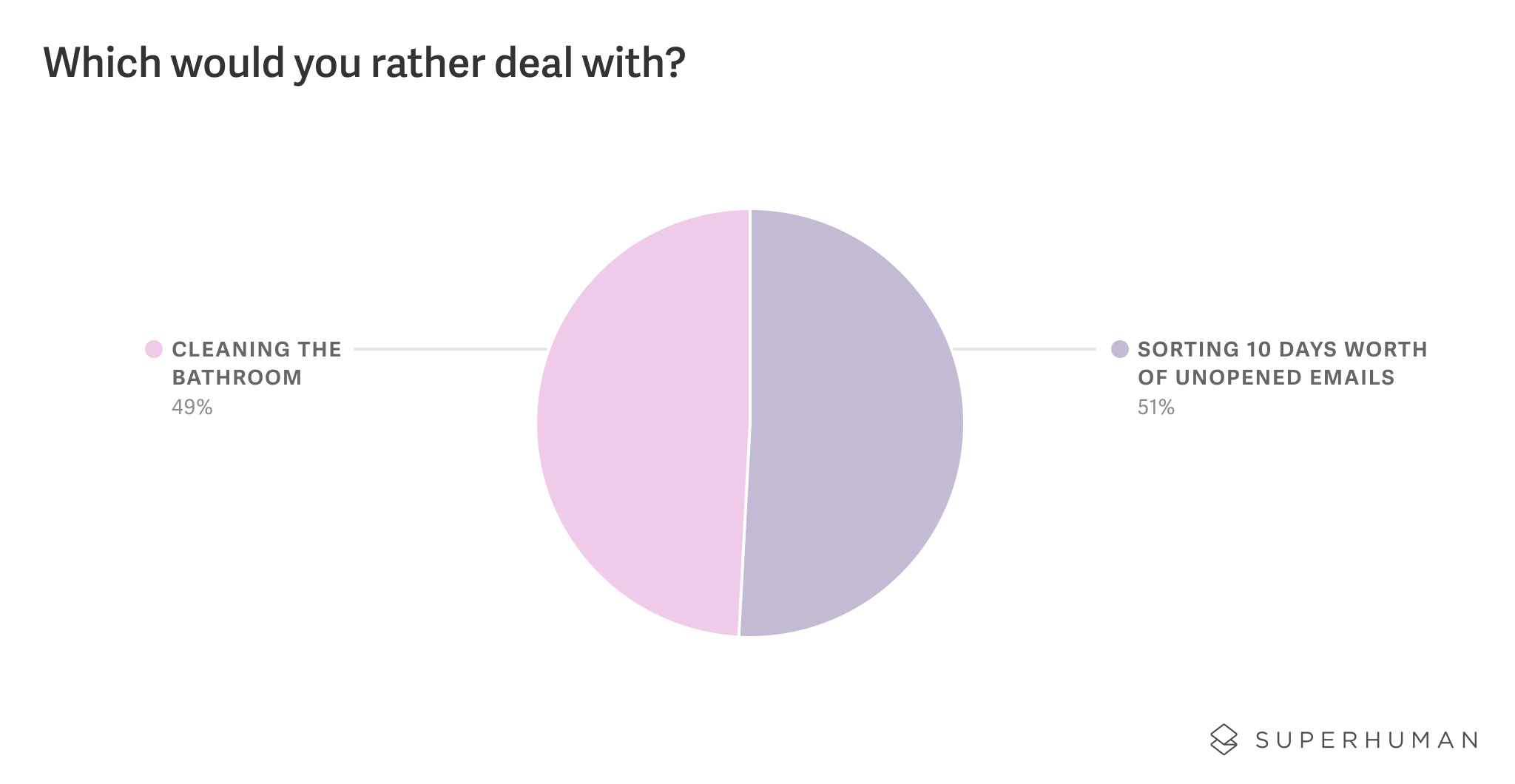 Chasing Inbox Zero in the remote era
An overwhelming 96% of remote workers say it's important to achieve Inbox Zero — the clean slate when every email has been archived, delegated, or answered.
But while Inbox Zero is increasingly important, many struggle to get there. Two-fifths of remote workers never reach Inbox Zero.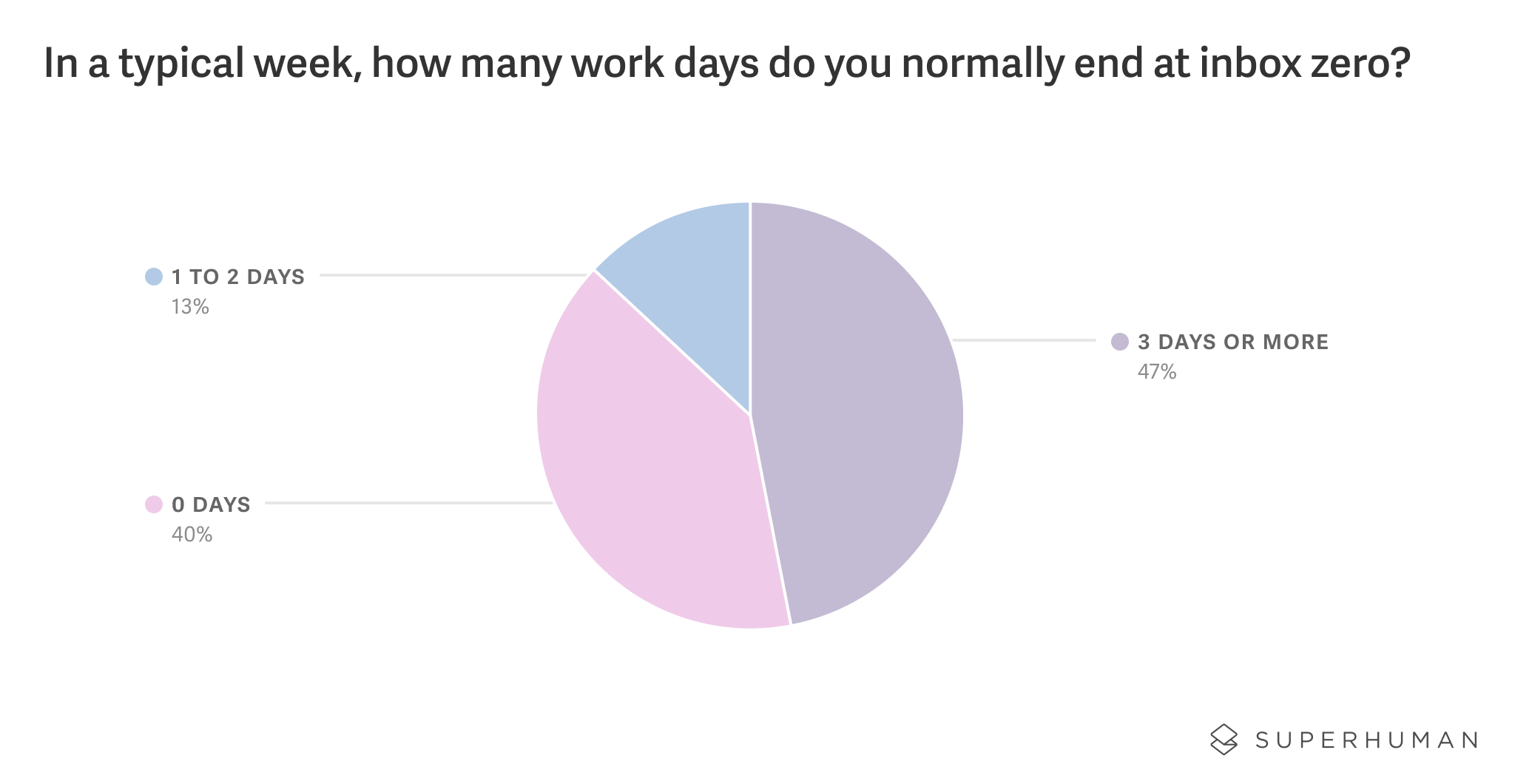 Learn how Superhuman can help you hit Inbox Zero.
Building a more productive future
Our study makes it clear: working from home carries a heavy cost. We're distracted, inundated by email, and struggling to enjoy our work.
So how can we meet the challenges of remote work, while improving our happiness and productivity?
Companies increasingly offer stipends for home office setup. But adjusting to the rigors of WFH is a long game — and it requires a holistic approach.
Policies like daily breaks (36%) and devoted self-care time (36%) top the wish lists of remote workers. And employers, take note: more than a quarter (26%) of remote workers say they'd be more productive with a monthly budget for productivity apps or software.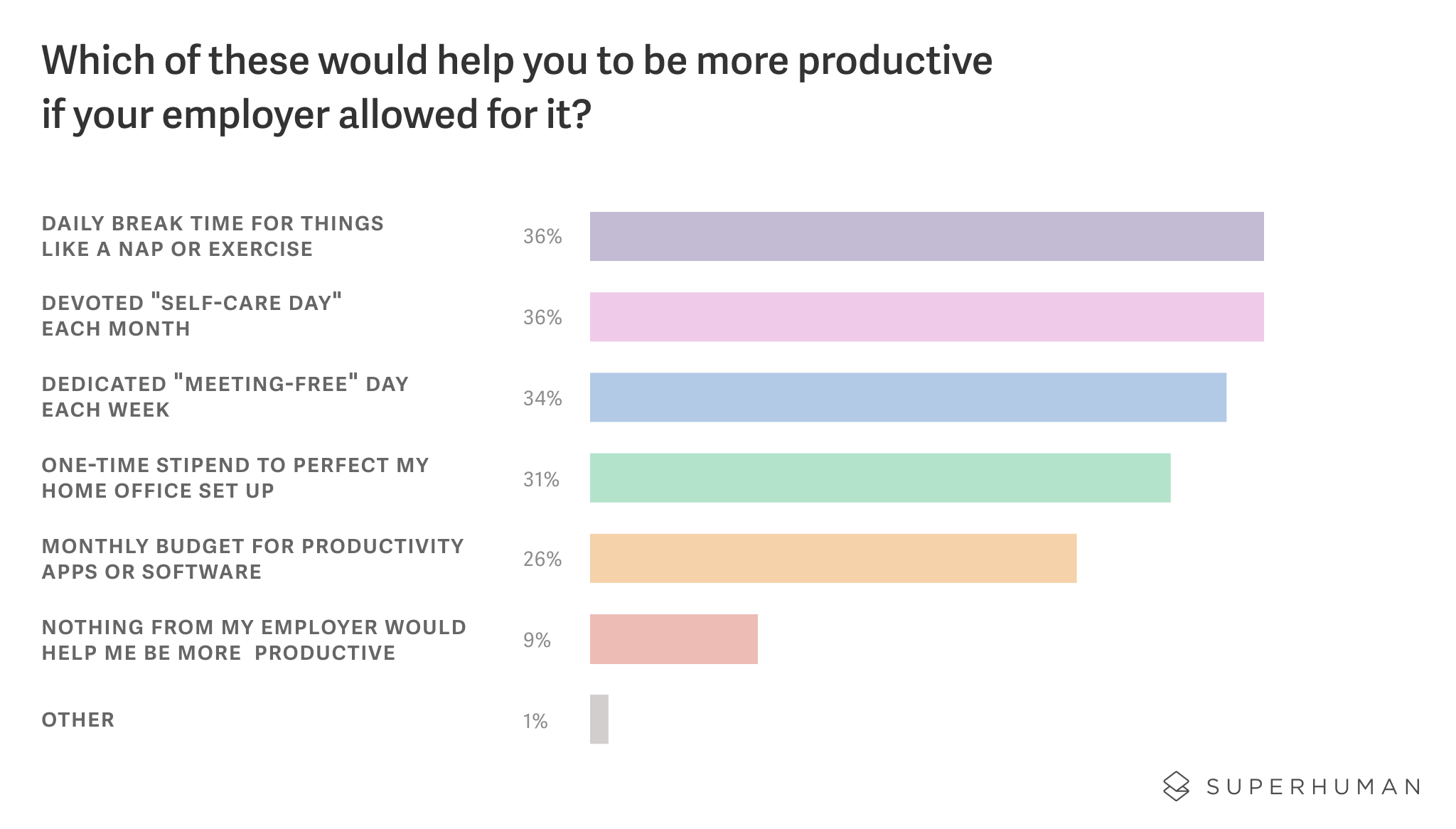 The rush toward productivity tools is already accelerating. More than two-thirds of remote workers have either paid for productivity tools or habit tracker apps out of their own pocket, or plan to do so (67%).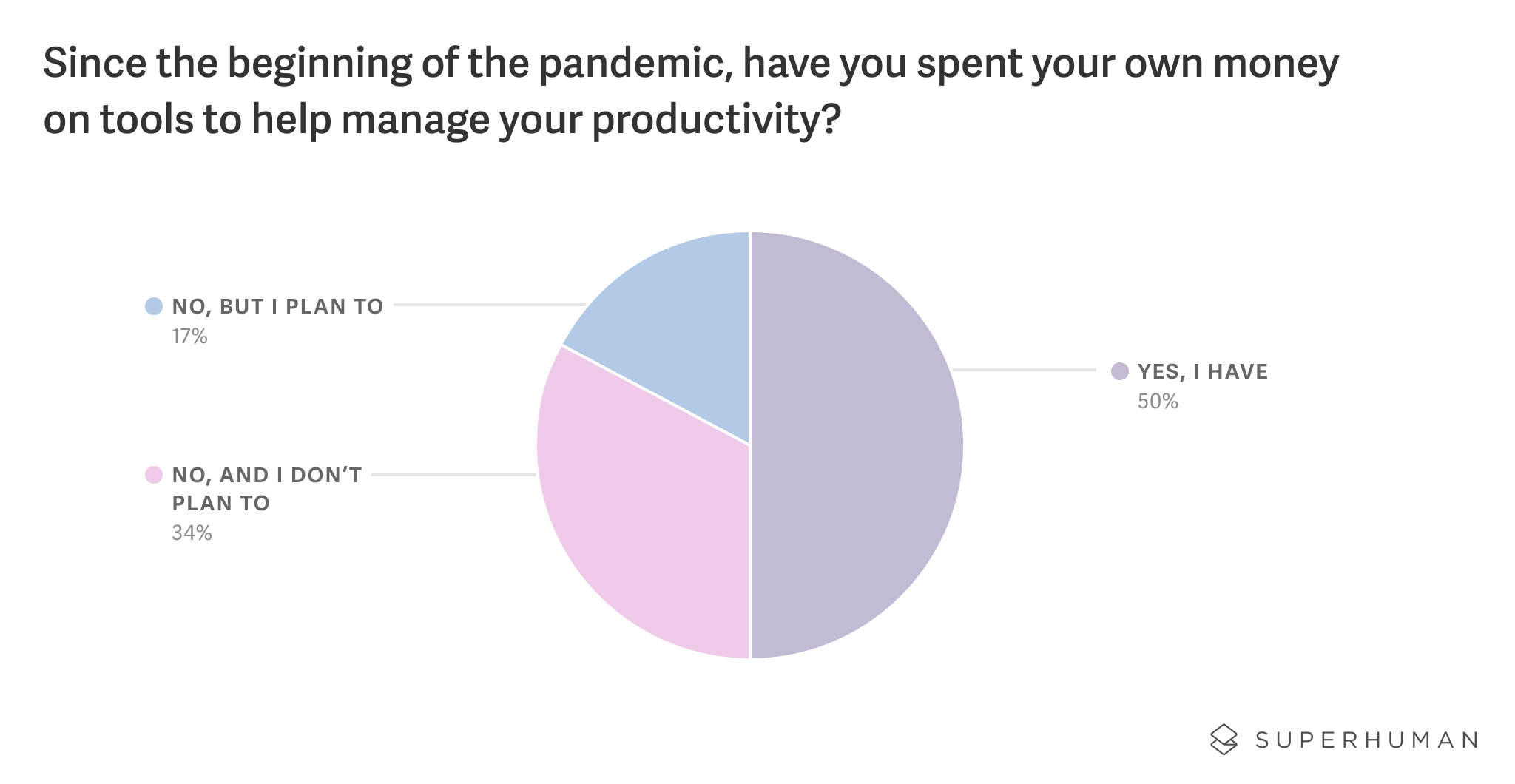 But do productivity tools make a difference?
Remote workers overwhelmingly say yes! 80% of those who spent money on productivity tools say their relationship with their job changed for the better during the pandemic (compared to 73% of remote workers overall).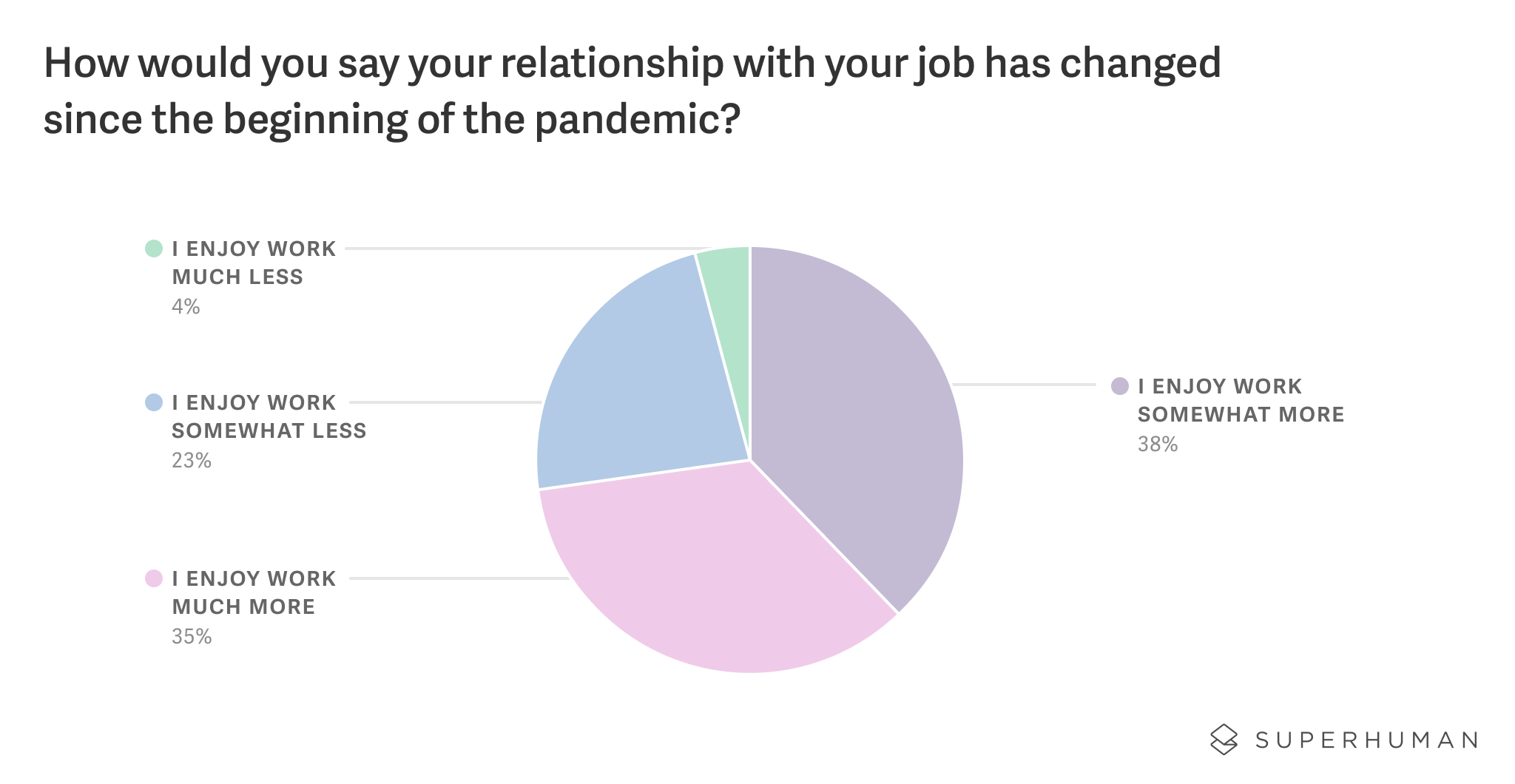 Communication tools have radically changed since email was invented 50 years ago. Rapid advances in technology have created new challenges, and the pandemic has laid them bare.
For meaningful innovation, there can be only one metric. We must measure technology by the happiness it generates.
METHODOLOGY
The data above was drawn from an online survey of 1,000 US-based remote workers who work from home and do not use Superhuman. The survey was conducted in February of 2021 by a professional research firm. The data was weighted to ensure an accurate and reliable representation of the US population.