Email productivity apps: the science of getting more done in your inbox
Sifting through your inbox can feel like running on a hamster wheel.
You're working — triaging unread messages, writing out variations of the same response to common questions, circling back on follow-ups "per your last email"... But you aren't necessarily making any forward progress. Or checking anything substantive off that pesky to-do list.
A cluttered inbox can be a nagging time-suck, or worse, lead to missed opportunities. Because the constant notifications and interruptions add up — one study showed that it takes an average of more than 23 minutes to refocus on a task after a disruption.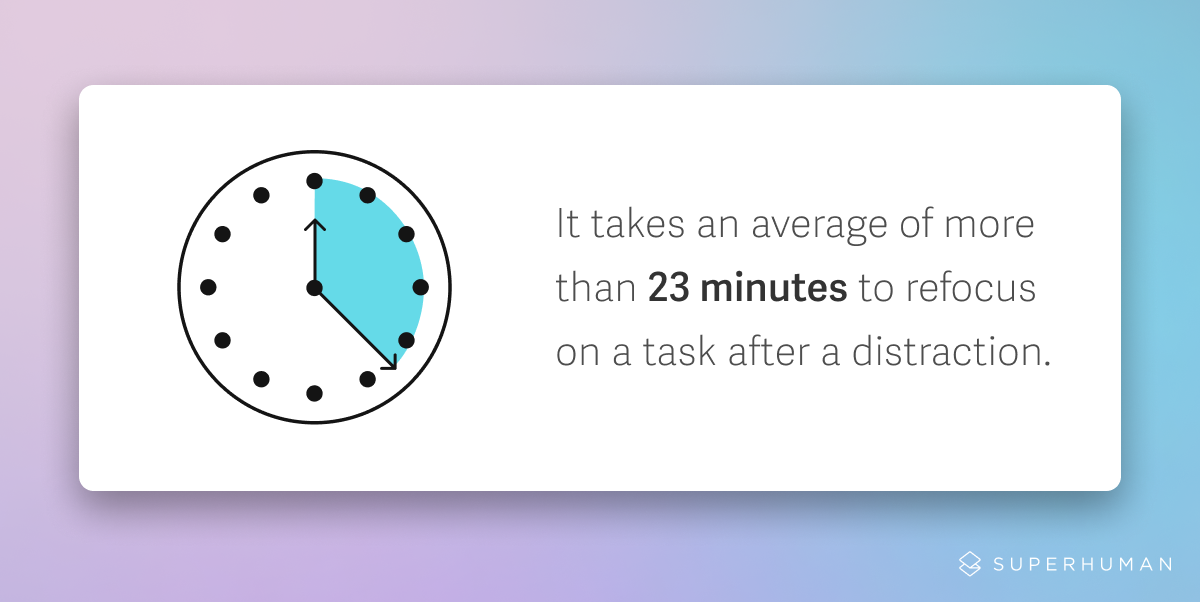 Enter email productivity apps. With the right tools, you can blaze through your inbox with focus, confidence, and purpose.
How email productivity apps can help you get more done
Email productivity tools help you minimize distractions and manage your correspondence efficiently. Think of them as ways to turbocharge your Gmail, Microsoft Outlook, or other email account. They reinvent the interface to prioritize what's most important — helping you save time, and maybe even usher you toward Inbox Zero.
Here are some of the ways email apps can help streamline your experience:
Automatically triage your email — highlighting your most important messages.


Teach you keyboard shortcuts that help you process your email much faster.


Weave social media insights into your email contacts to give you a better sense of who you're messaging.


Know whether recipients have read your messages, and schedule follow-ups for messages that go unanswered.


Unsubscribe to newsletters you don't read.


Block messages and entire domains you don't want to see.


Sync with other apps for a seamless experience where you can chat, manage workflows, store files, and update your calendar without constant tab-switching.


Use analytics to track your email habits.

There are tons of productivity apps that bolster your inbox experience. But you need platforms tailored to how you email. Since it's helpful to have a few in your arsenal, consider this your toolkit...
Superhuman: the email productivity app that will save you the most time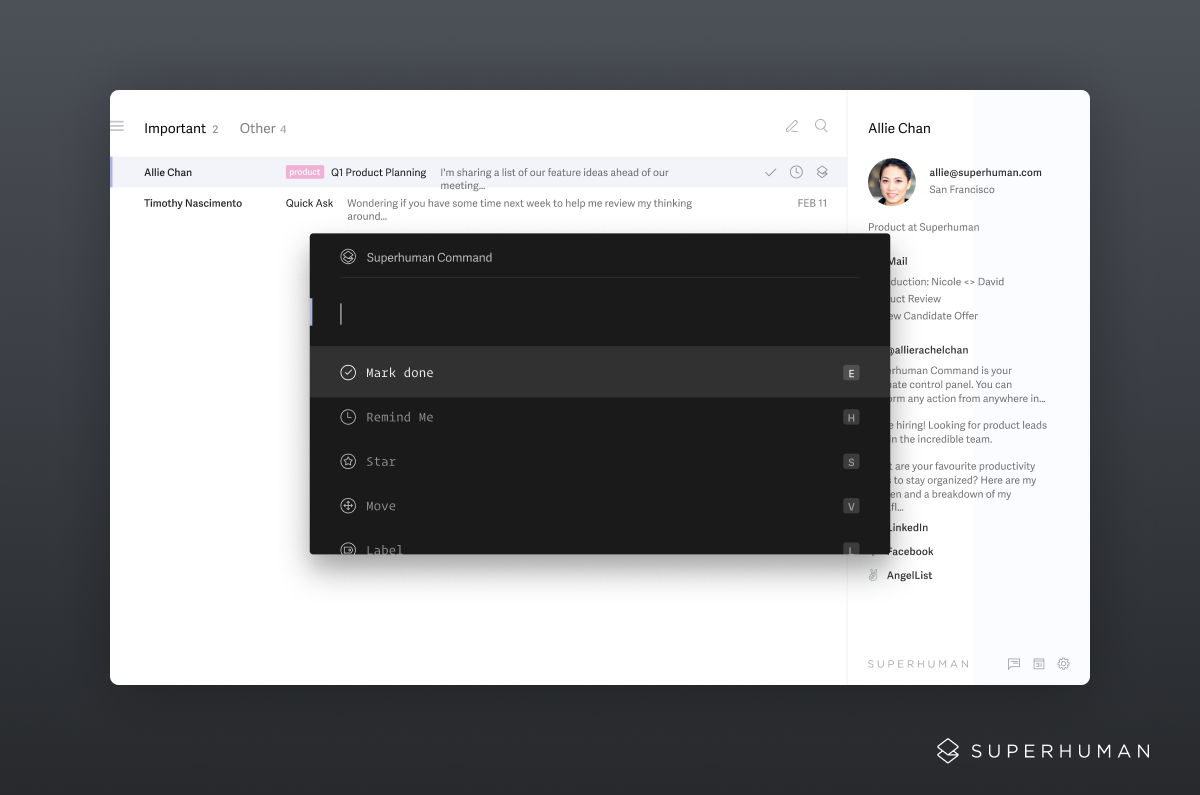 Superhuman is a powerful email productivity tool that saves you on average three hours per week on email, helping you barrel through any task on your Get Things Done list.
The platform comes jam-packed with features that help you respond to important messages within seconds. For instance, the Split Inbox feature groups email into categories to boost your focus. This helps cultivate a state of flow while minimizing disruptive task-switching.
This email experience also employs AI that detects and highlights your most important email, allowing you to quickly get to the messages you care about most — making it a great app for workflow automation and triaging your inbox.
Get started with Superhuman
You will move fastest in Superhuman by using keyboard shortcuts that allow you to write introductions, or even create customizable templates to use and reuse, in seconds. And with Superhuman's command palette, they're really easy to learn.
If you want to send well-crafted messages at the perfect moment, Superhuman weaves insights from social media into your workflow. This allows you to personalize messages without spending too much time researching your contacts.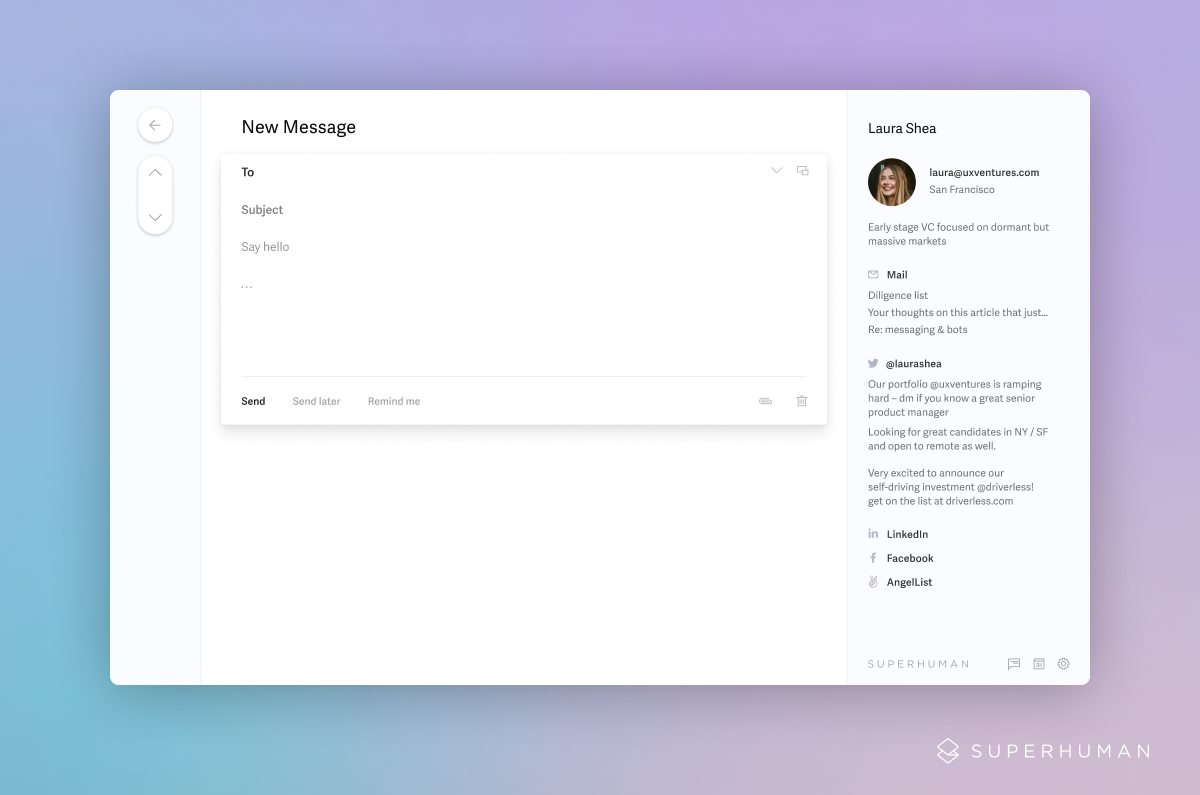 You can use Superhuman's Undo Send feature to catch misspellings after you hit send! You can use read receipts to see whether sendees read your message. You can schedule follow-ups if a certain amount of time goes by before you hear back. You can even temporarily snooze conversations that are distracting.
Don't take it from us… Jeremy Caplan, a director at CUNY's journalism school, describes Superhuman as "like getting a flashlight that's a little brighter, a pen that's a bit slicker, or a knife that's a bit sharper".
The best email productivity app to track analytics
EmailAnalytics: great for monitoring how you use email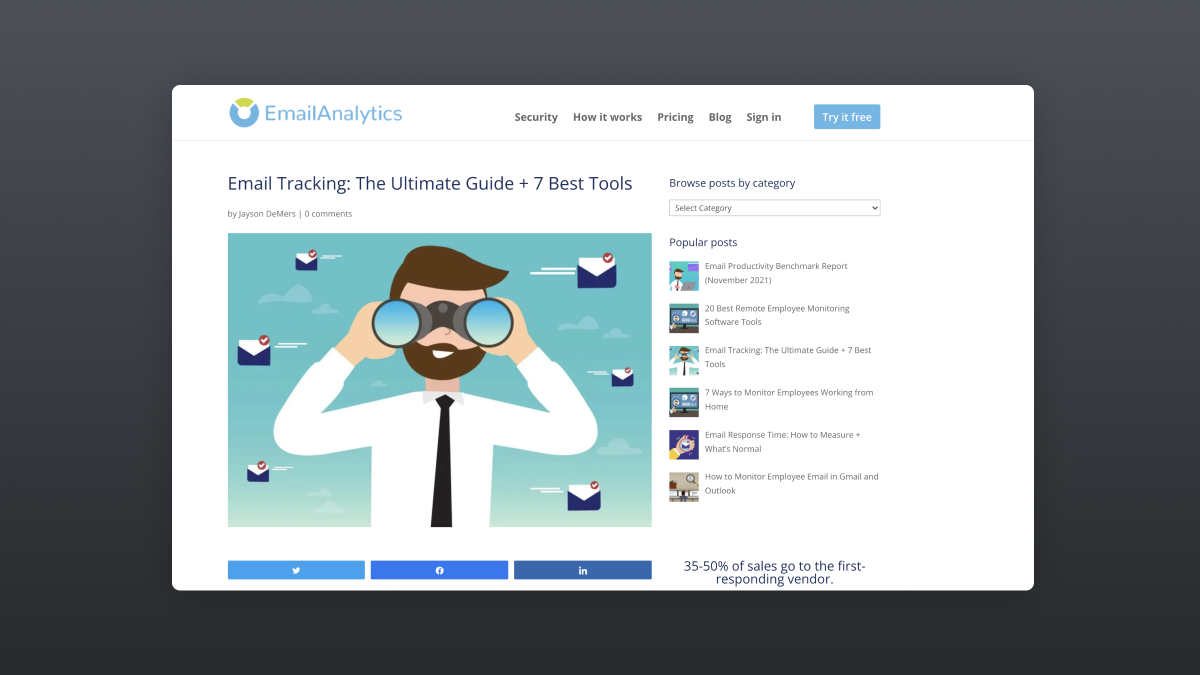 You can't change what you don't measure. Knowing the data behind your email habits is an important step toward building a more productive email routine.
EmailAnalytics uses a slew of metrics to help you identify how to use email more efficiently. The email tracking platform shows which contacts you're spending the most time writing to, and identifies your busiest windows of the day.
It also shows how much email you deal with each day, and even calculates your average response time (though, rest assured, it doesn't take into account off-work hours). EmailAnalytics is great for sales teams who want to get in touch with more clients in less time. Or for anyone keen on a data-driven approach to improving their email management.
The best productivity apps for organizing your schedule
Email productivity apps will help you streamline your inbox to help you focus on what's most important. But if you want to save even more time for your most substantive work, you'll need a bigger productivity toolkit!
Let's start with apps that streamline your calendar...
Doodle: great for scheduling meetings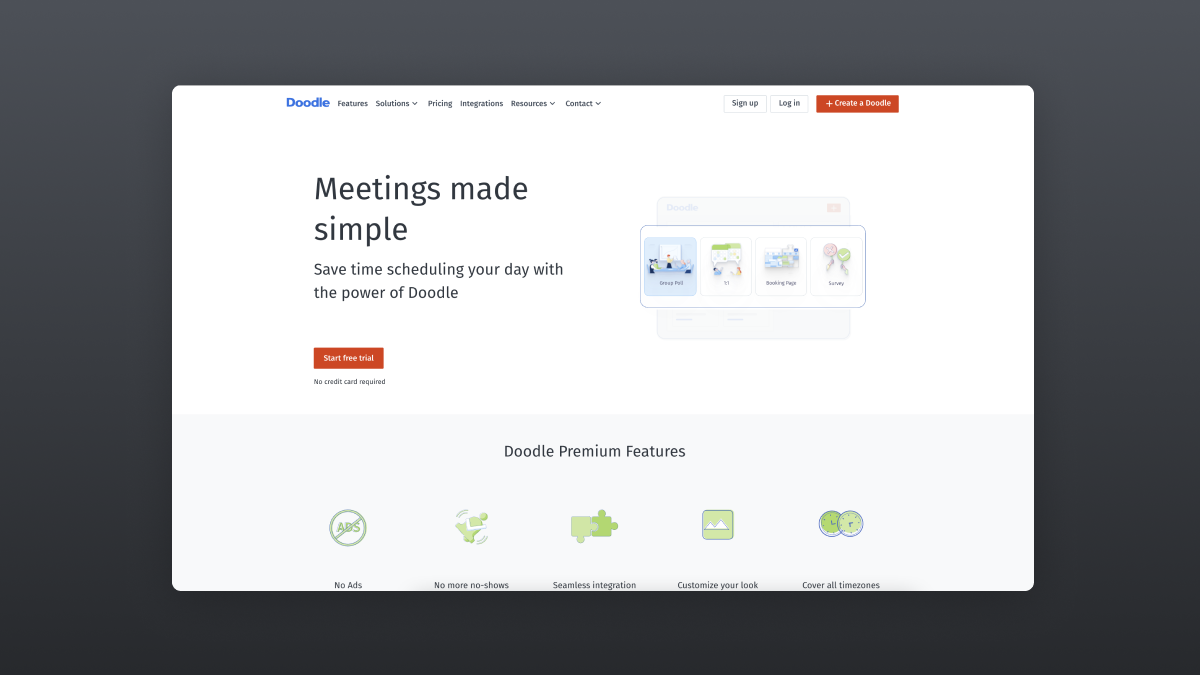 We've all ventured down the rabbit hole of trying (and failing) to find a meeting time that works for a large group. This tool takes care of scheduling conflicts by sending out a poll of availability to let team members choose the times that work best.
Doodle integrates with calendars on both Google and Outlook and checks availability across time zones. It also sets deadlines for picking appointment slots, and then sets reminders when a meeting approaches. It has plugins for Slack, Zoom, and other third-party apps, making it easy to use regardless of how you're communicating with colleagues.
Clockwise: great for optimizing calendars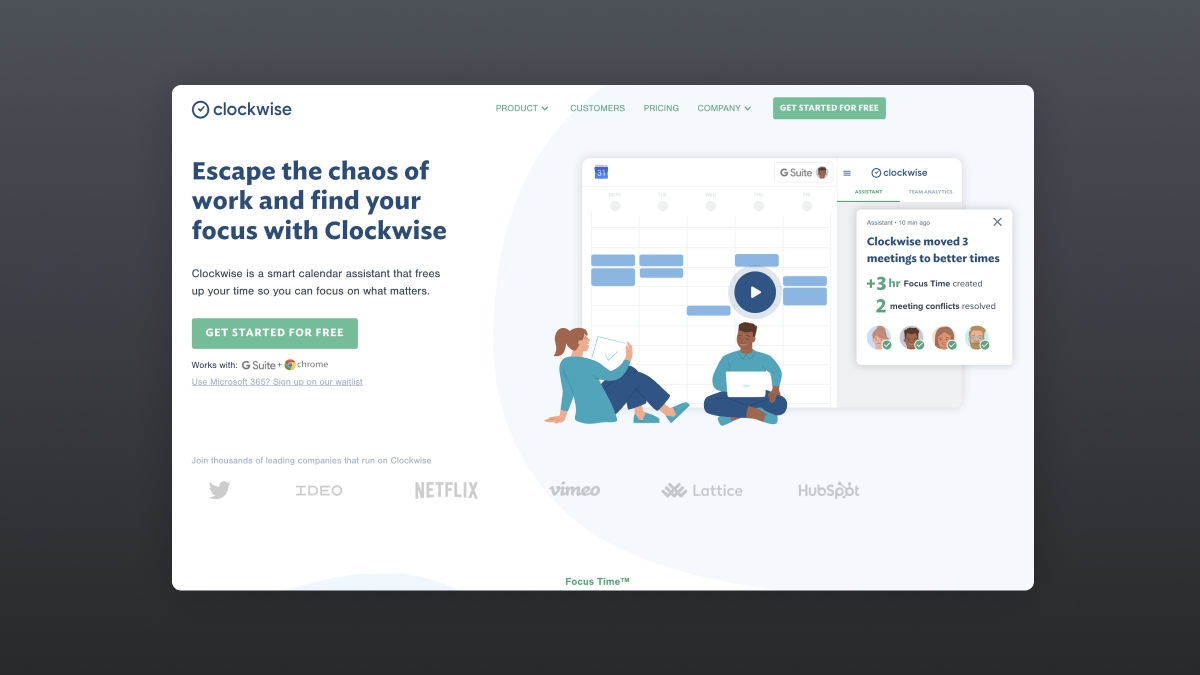 Meetings can have bad timing... like right when you've reached a focused state of deep work on an important task!
Clockwise is a smart calendar assistant that aims to fix that. It moves around your schedule to carve out uninterrupted blocks of time, while designing your days according to when you work best.
Clockwise will automatically set the least disruptive time for team meetings, resolve scheduling conflicts for you, and, yes, even ensure you're always giving yourself enough time for lunch.
Get started with Superhuman
The best productivity apps for project management
Once you've optimized your inbox, and then your calendar, you need to make sure all that information has somewhere to flow, allowing you to achieve your productive potential. Here are some tools — all of which are compatible with both Android and iOS — to help you manage all your tasks.
TickTick: the most flexible to-do list app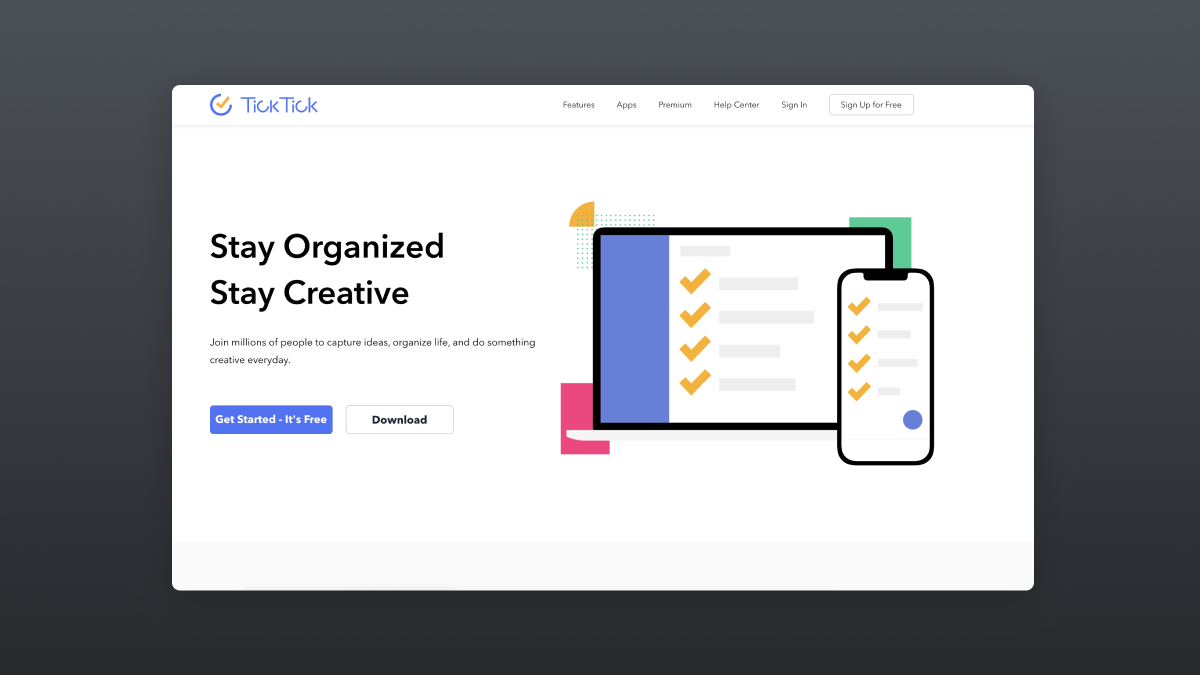 TickTick is a to-do list app that organizes all life's missions, whether personal or work-related, into one place.
It has adjustable calendar views that let you manage the schedules for different spheres of your life, and a Smart Lists feature that lets you create custom filters that only show you the most important tasks.
Another handy feature is TickTick's natural language support — you can type out "turn in report at 11 on Tuesday", and the app will automatically set a task with the corresponding deadline, without you ever setting a formal reminder.
If you're sick of having different platforms for different kinds of tasks, TickTick blends everything together into one list so that personal and professional tasks never interfere with each other.
Click-Up: the best one-stop-shop for project management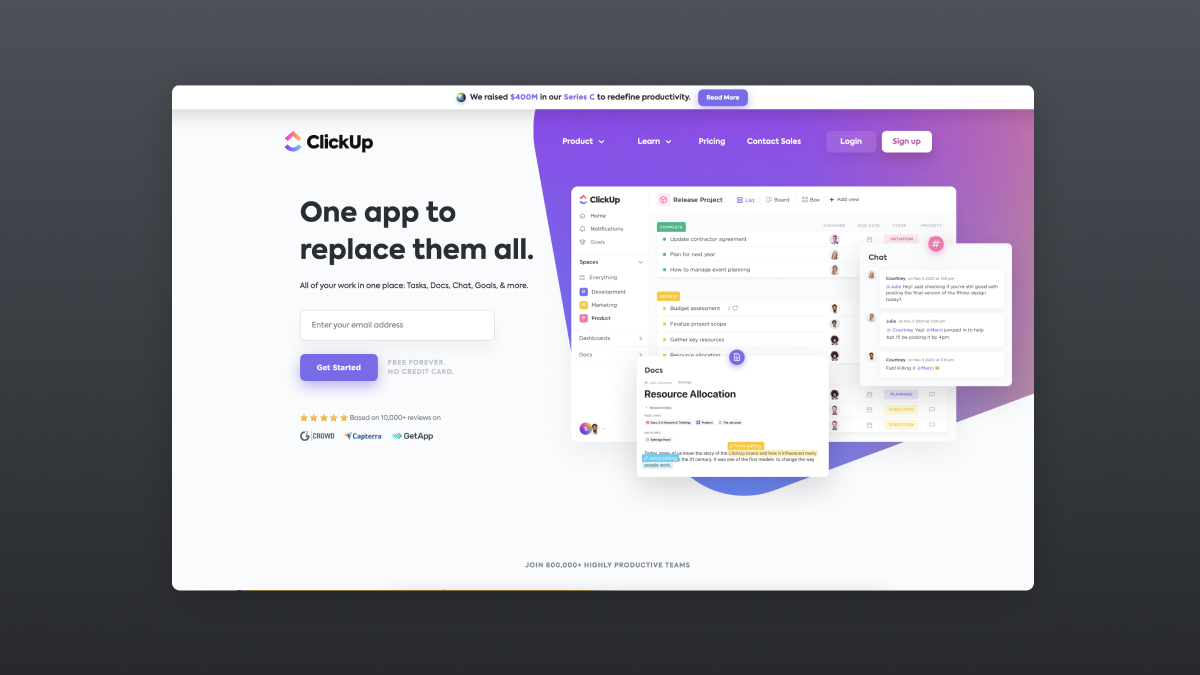 Most of us use multiple platforms (Google Docs, Slack, Asana…) to communicate with team members. ClickUp is an all-in-one project management tool that puts tasks, docs, chats, and objectives in the same place.
The app has an intuitive task manager that helps you easily delegate projects and tinker with a project's schedule, as well as a collaborative docs feature made for easy editing and sharing. It also lets you automatically import workflows from other tools, like Excel or Todoist.
Zapier: Great for integrating your apps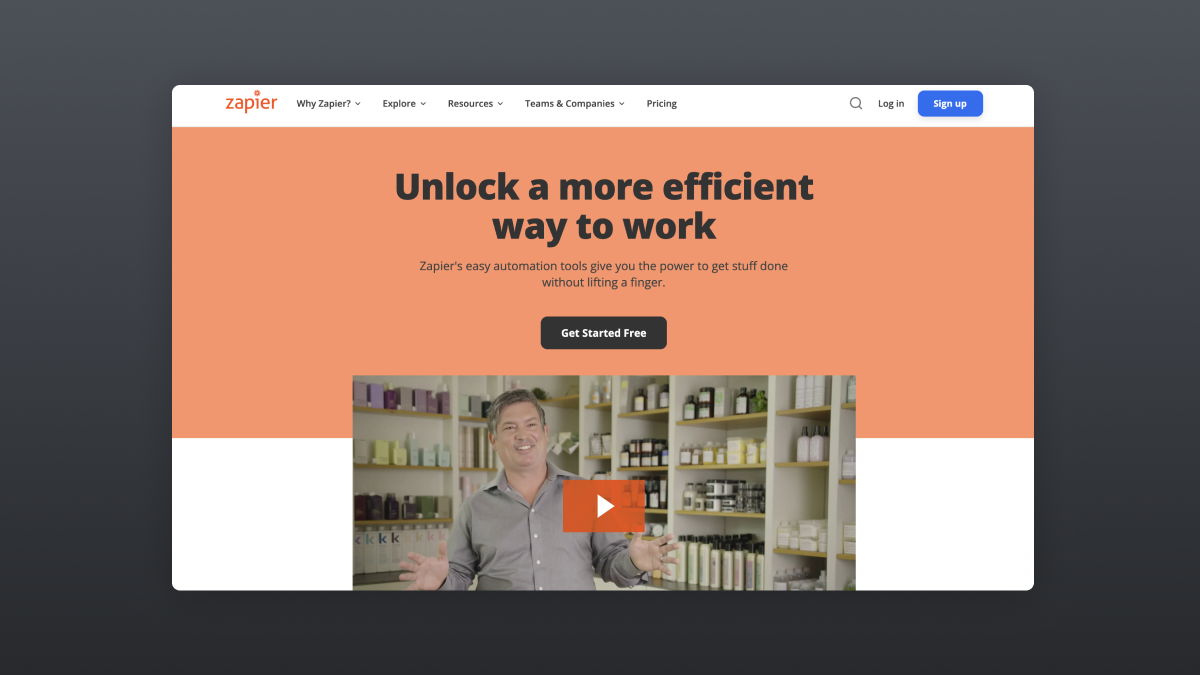 While ClickUp aims to replace most productivity tools, you may prefer relying on separate platforms for separate use cases.
Zapier helps string all your disparate apps together. It automates workflows by sharing information across all the tools you use. For instance, you can get a Slack alert every time someone sends you an email attachment. Or add information about a project from an email into Asana or Todoist.
Zapier works across more than 3,000 apps to ensure all the tools you use work in tune with one another, instead of in their own silos.
The best inbox extensions to boost your email productivity
The tools in this section are plugins instead of native apps. Think of them as powerful add-ons to your internet browser that bolster your inbox efficiency — especially when paired with other email productivity tools.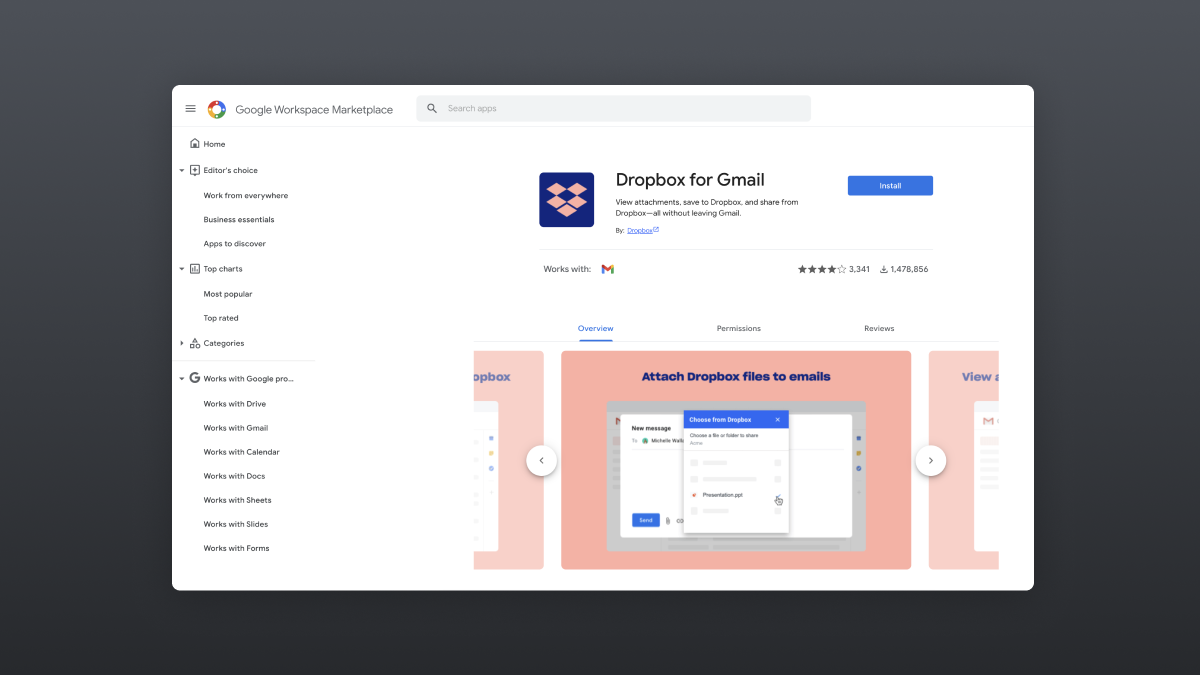 Those familiar with Dropbox know how helpful the file-sharing tool can be for easily storing and distributing downloads of all sizes — whether they're videos, slideshows, audio clips, or whatever else.
For Gmail mail client users, the only cumbersome thing about Dropbox was leaving the Google Workspace to use it.
Now you can get an extension that lets you save and share files without leaving your email. The plugin also lets you use Dropbox straight from your Gmail account when attaching files to share.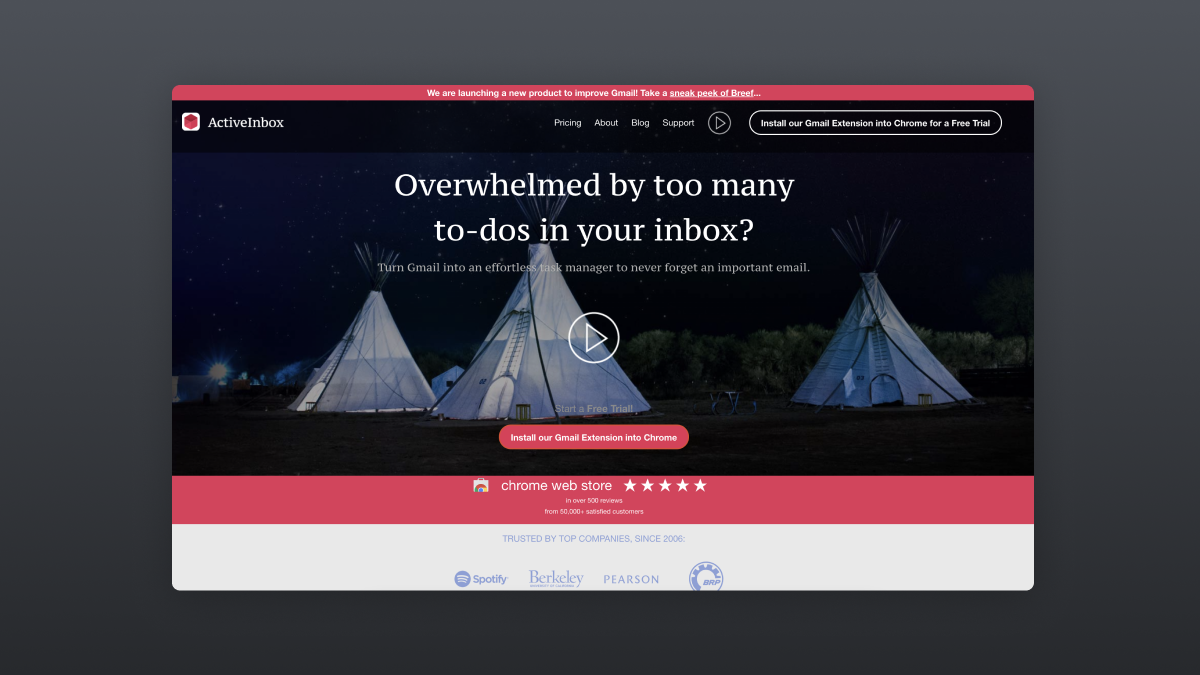 ActiveInbox is a Google Chrome extension that repurposes email templates into to-do list items, which you can check off once completed. It's great for dealing with tasks later, without forgetting about them entirely. Because — be honest — are you ever going to read that unread message camping out in your inbox longer than a week?
With this tool, you can set a deadline for messages and add subtasks to them. This way, you don't have to re-read an entire email to remember what you need to turn in. ActiveInbox also has drag-and-drop capabilities that let you prioritize your most important messages.
Crystal: great for personality insights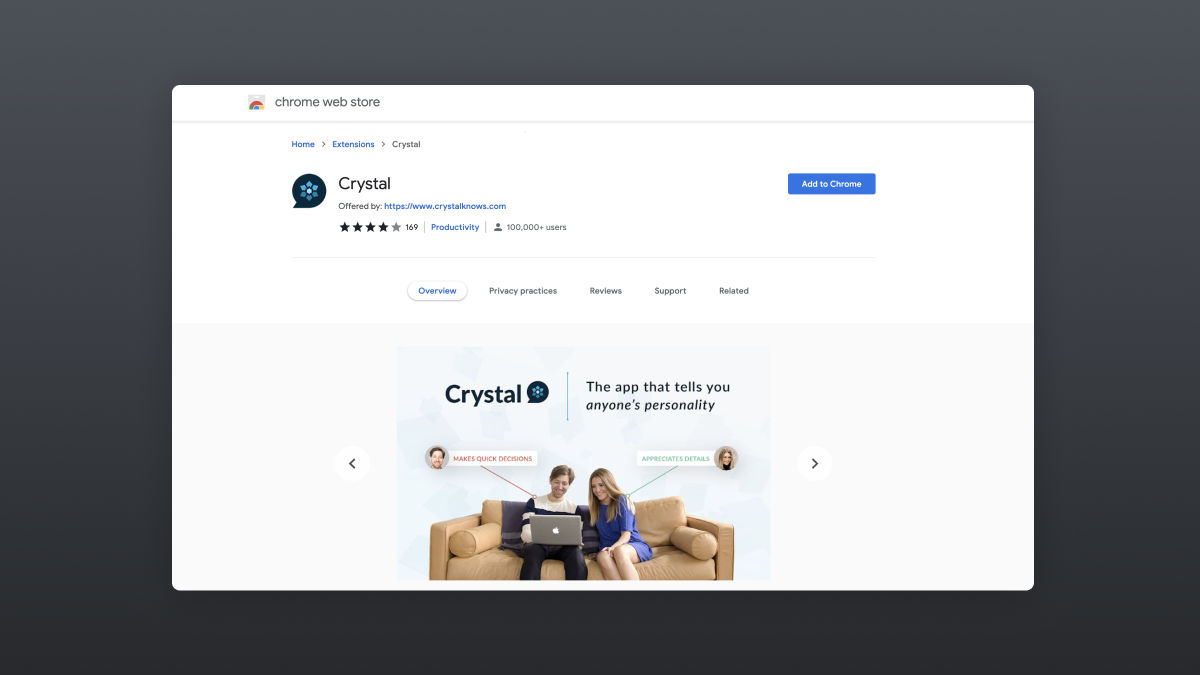 Crystal is a browser plugin that combs the web for personality insights. If you're emailing someone for the first time, this tool gathers public information and gives you a report that helps you better craft messaging that aligns with their sensibility. For instance, it helps discern whether someone is more informal and chatty, or more blunt and business-like.
If you're reaching out to a potential client, Crystal can show you whether they make quick decisions or are more deliberate and detail-driven. The insights aren't always exact, and you can't rely on the tool to write email for you. But it can save you valuable time usually spent roaming the web for personality insights.
Get started with Superhuman
See if Superhuman is the perfect email productivity app for you
A well-stocked productivity toolkit can streamline all the busywork of your email experience — scheduling, task management, file-sharing, and everything in between — to keep you focused on the substance of your job.
Superhuman is designed to do just that, and helps you zoom through your inbox in half the time. Get started with Superhuman now and see how much time you can win back.