28 best productivity extensions for Google Chrome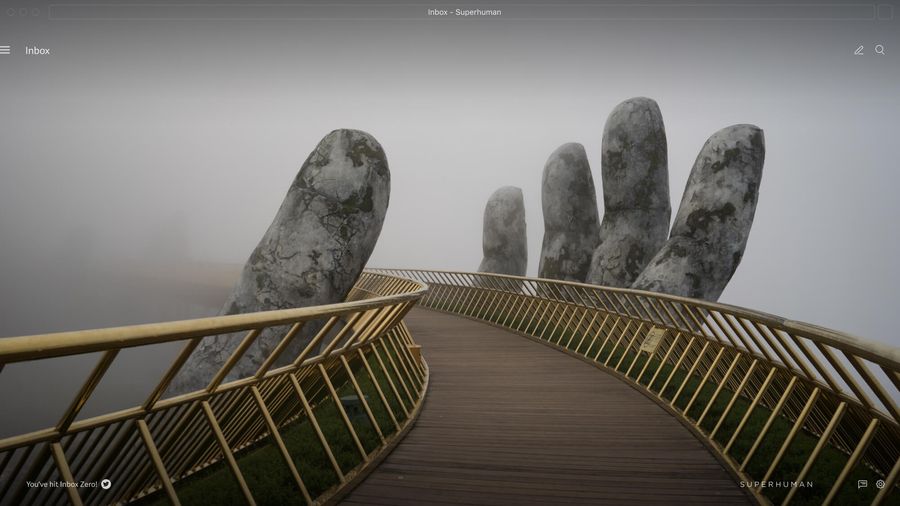 As knowledge workers, we're almost constantly online. A 2018 Nielson study showed that the average adult is looking at a screen for at least 11 hours a day, much of which is at work. And screen time increased 50-70% on average during the COVID-19 pandemic, so that number is likely now much higher.
A survey by Aetna International revealed that three out of every four office workers say that screen time restrictions at work would benefit their wellbeing. But in the age of remote work, is that practical — or even possible? Another solution is to help knowledge workers reduce their screen time by boosting their productivity — helping them get their work done faster so they can take time away from their devices.
Google Chrome is one of the most-used internet browsers, with an estimated 2.65 billion users worldwide. It's also hugely customizable — an extensive library of add-ons and extensions is available to add features to help boost your productivity in a wide variety of ways. As knowledge workers fight to be as productive as possible amid distractions, rising screen time, and other challenges, having the right tools can make or break your success. Here are 28 of the best productivity extensions for Chrome.
Best Chrome extension for email
Superhuman
Many knowledge workers spend three hours per day on email.
Superhuman is  the fastest email experience in the world, helping you get through your inbox faster so you can get back to more important tasks. With advanced features and functionality like keyboard shortcuts, AI triage, scheduled sends, reminders, automated follow-ups, Snippets, Instant Intro, and more, Superhuman turns your inbox from a one-size-fits-all email client to a productivity powerhouse. Plus, it's designed to be beautiful.
Superhuman is more than just a Chrome extension — it's also available as a native email client and an iOS app for both Gmail and Outlook users.
Top features:
Superhuman Command


AI triage and Split Inbox


Scheduled sends, automated follow-ups, and reminders

Turn your inbox into your most effective productivity tool
Keyboard shortcuts, AI triage, automated follow ups, scheduled sends
Get Started with Superhuman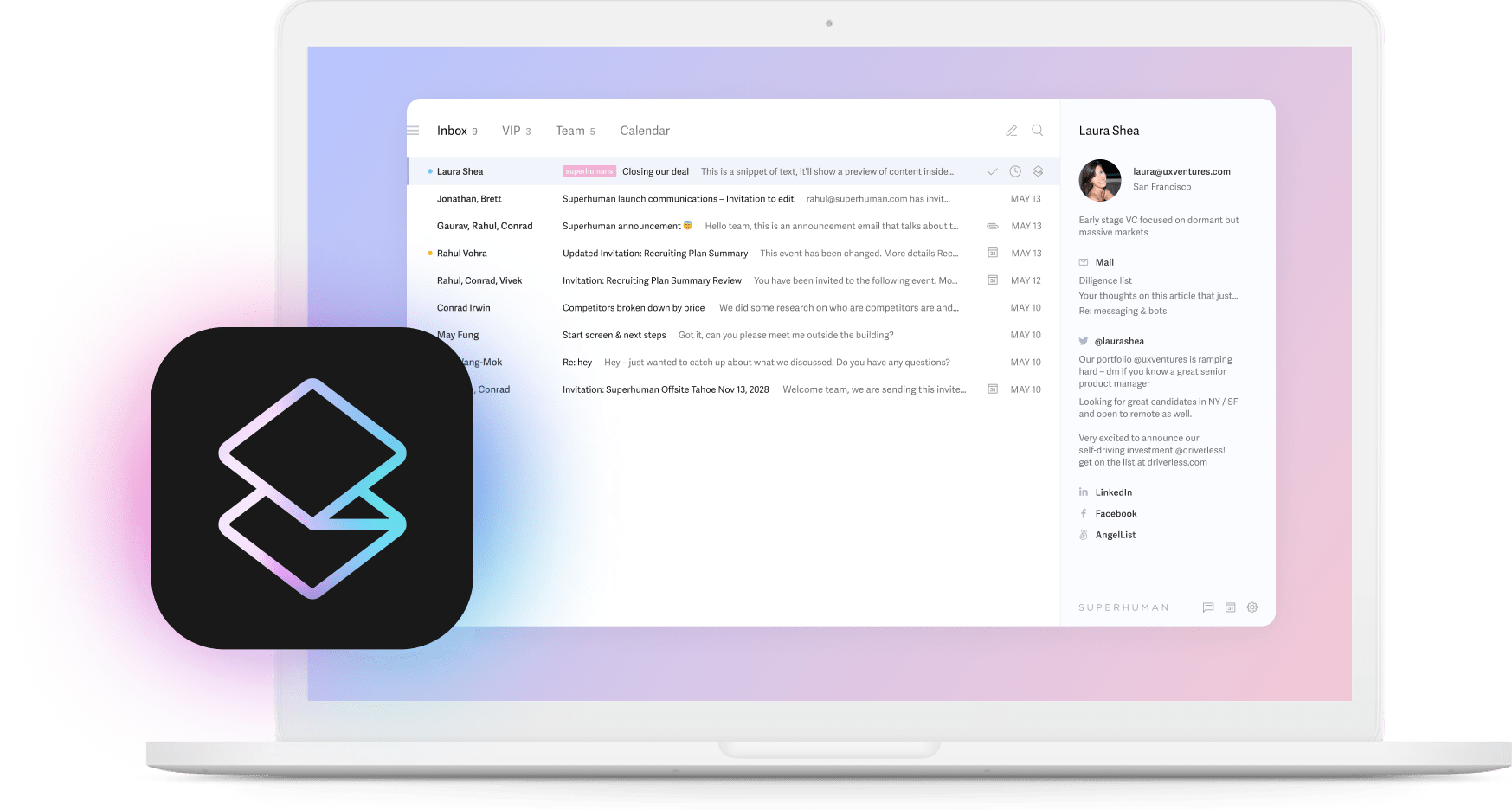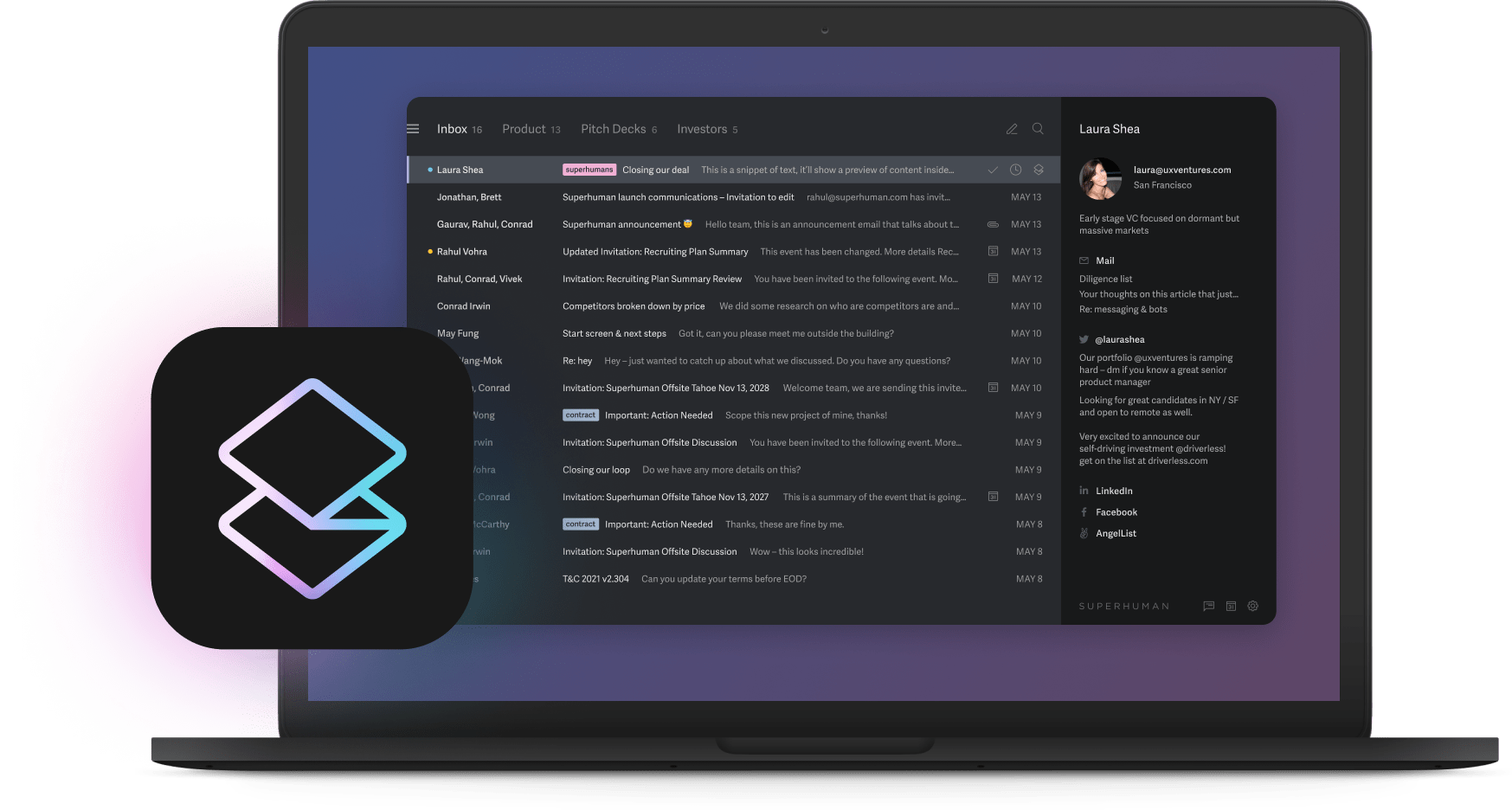 Grammarly
Is there anything worse than writing a memo, whitepaper, email, or other document, and realizing too late you made a typo or grammatical error? Grammarly can help avoid those awkward situations by checking your spelling, grammar, and construction in real-time as you write. A Google Docs integration means you can use the extension seamlessly with a wide variety of documents.
And if you do accidentally hit send on an email without checking Grammarly first, you can Undo Send with Superhuman.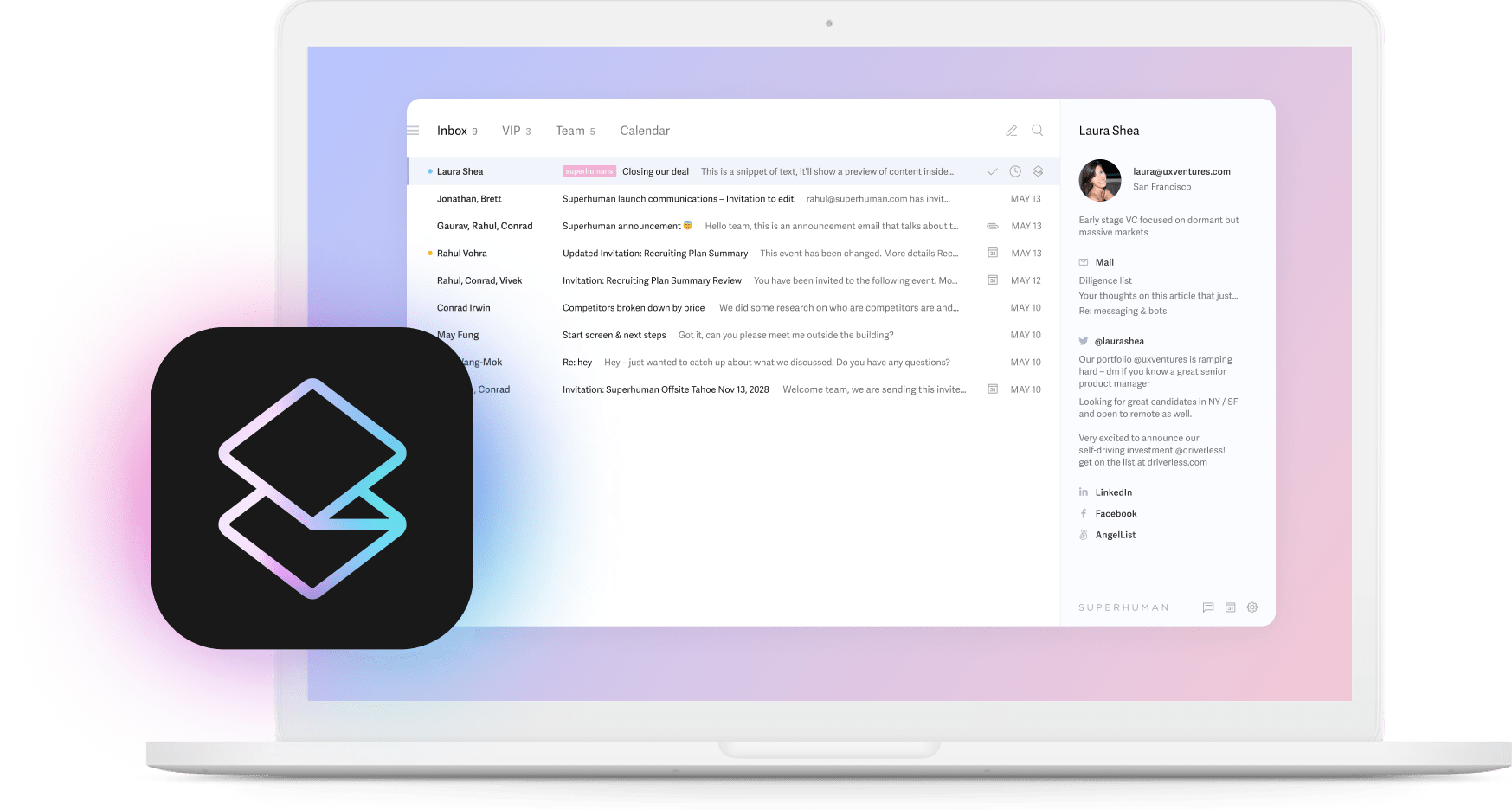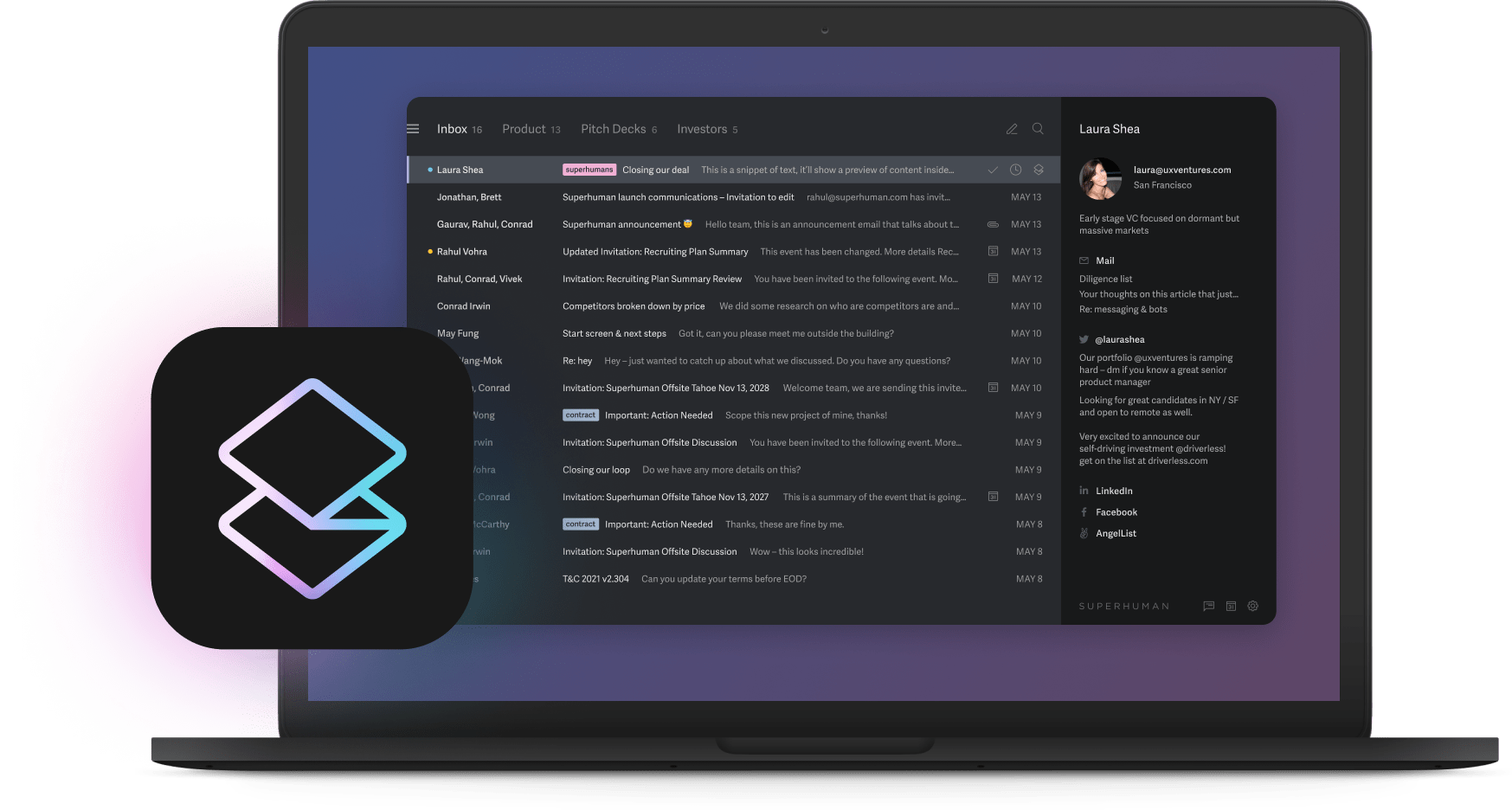 Top features:
Real-time checks for spelling, grammar, construction, and more


Plagiarism checker

Best Google Chrome extensions for project management
Kanbanchi
Those looking for a task manager extension for Chrome were left scrambling when the popular Trello extension was suddenly decommissioned from the Chrome Web Store last year. Luckily, for those who need a visual way to handle managing your tasks and projects, there's Kanbanchi.
Kanbanchi includes Kanban boards, Gantt Charts, and time tracking functionality, but what really sets it apart as a super useful tool is its seamless integration with G Suite tools.
Top features:
Visual project planning


G Suite integrations

Todoist
For anyone looking for a simple but functional task manager, the Todoist extension for Chrome may be a fit. It allows for organizing and delegating tasks with just one click, right from your Chrome browser. You can also color-code your projects, add due dates, delegate tasks, and prioritize projects.
Top features:
Turn email messages into tasks with a single click


Collaborate with teammates

ClickUp
ClickUp is one of the more powerful productivity tools available as a browser extension. It combines some of the most popular and widely-used task management features into one web app, eliminating the need to jump between different apps for different tasks.
With ClickUp you can create tasks, track your time, capture and annotate screenshots, save notes, and turn email messages into to-do list items.
Top features:
Combines multiple task management features in one extension


Note-taking and annotation abilities built in

Best Chrome extensions for avoiding distractions
Noisli
Remember working in a busy office, where coworkers chatting and phones ringing faded into the background to create a sort of white-noise effect that helped you zero in on your own tasks? For many of us, office background noise has been replaced by family members and pets as we work from home. But you can still get the calming, focusing effects of background noise for your workspace with Noisli.
Noisli offers a variety of different types of background noises (many of them nature-themed, which science shows can help boost productivity!). What's even better is that you can use just one background track, mix and match them to create a custom noise environment, or get some peace and quiet with Noisli's built-in sound blocker.
Top features:
Mix and match white-noise sounds


Block out background noise

StayFocusd
We all know how difficult it is to avoid distractions (like social media) when your work takes place online. StayFocusd helps you save time and avoid procrastination by helping you block websites that you identify as time-wasters during specific periods of time.
Just tell the extension which sites you want to avoid and when. You can even set certain parameters, like a daily time limit for scrolling your LinkedIn feed before StayFocusd blocks the site. It works on both desktop and mobile devices, so if you find yourself reaching for your phone throughout the day for a distraction from work, this might be the extension for you.
Top features:
Block time-wasting sites


Set parameters and time limits for distracting web pages

Todobook
If you find yourself absentmindedly landing on Facebook and other social media sites throughout the day, losing time to mindless scrolling, Todobook is the Chrome plugin for you. It turns your Facebook newsfeed into a to-do list, so as soon as you land on the site, you're reminded of what you need to accomplish. It also works with other common time-wasting sites like Reddit, Youtube, Twitter, and even LinkedIn.
Top features:
Turn time-wasting sites into to-do lists
Customize to work during certain time windows

Strict Workflow
Strict Workflow is similar to some of the other productivity extensions on this list. It helps you block distracting websites and limit the tabs you have open at any given time, which can help you focus on work until it's time to take a break.
But what sets Strict Workflow apart is that it also incorporates the Pomodoro technique. Default settings will block blacklisted sites for 25 minutes, then allow you to access them during a five-minute break. You can customize the work and break time durations, which sites you can access, and more.
Top features:
Pomodoro timer built in


Customizable features

Adblock Plus
There's no way around it: ads are distracting, but they're all over the internet. Even worse, they can slow your browser down, costing you even more potentially productive time. Adblock Plus is a straightforward Chrome extension that does exactly what it promises: removes ads when you don't want them.
Top features:
Blocks pop-ups


Customizable for banner and video ads

Best Google Chrome extensions for collaboration
Markup Hero
If you've ever needed to teach a workflow or process to a colleague, you know how frustrating it can be to describe each step without visuals. That's where Markup Hero comes in — it allows you to capture screenshots and screen recordings, save scrolling screenshots, annotate them, store them in the cloud, organize them into albums, and share them. One of the best features is that your Markups are never flattened, so you can go back and edit them at any time.
Top features:
Saves scrolling screenshots


Never flattens your Markups

Bubbles
With remote, distributed teams on the rise, sometimes collaborating with teammates in real-time just can't be done due to time differences. You can still capture the spirit of collaboration with Bubbles, an extension that allows you to record yourself or your screen, send the video to colleagues, and then create a thread of both text- and video-based responses.
Top features:
Captures the spirit of team collaboration in an asynchronous platform


Automatic transcription for videos

Scribe
Scribe may be the best Chrome extension that exists for knowledge sharing among teams. It captures what you're doing on your screen and then automatically creates a step-by-step guide (with screenshots) that can be used for a process map, software documentation, user tutorial, SOP, and more.
Top features:
One-click process recording


Automatically generates step-by-step guide with screenshots

Lastpass
In the digital age, having a password manager is no longer optional. You need one that can generate secure passwords, store them, and use two-factor authentication to protect them. That's Lastpass, a password manager with a Chrome extension that's popular because of its advanced security and straightforward features.
Plus, Lastpass is great for working with teams, as it makes it easy to share passwords (without letting the recipient view the password, if needed).
Top features:
Secure password generation and storage


Easy, seamless password sharing

Best Chrome extensions for research and notetaking
Diigo
If you do any sort of online research, Diigo will likely be a useful extension for you. It allows you to save pages, links, and anything else you need in your web browser. You can also add bookmarks, create "stickies" for easier access, add citation and annotations, and share your research with groups or on social channels. One of the most useful features Diigo offers is the Outliner, which lets you organize clipped items into an outline format by dragging and dropping them in a window you can access from your Chrome toolbar.
Top features:
Outliner for organizing research


Easy share features

Evernote Web Clipper
If you already use Evernote, you know how handy it is for collecting and organizing different resources and notes. The Evernote Web Clipper Chrome extension makes it easy to save information you find on the web to your existing Evernote notebook with just a couple of clicks. You can save a full page, part of a page, a screenshot, a quote, and more.
Top features:
Easy, one-click organization for notes you find on the web


Options for saving full pages or just specific information from them

Papier
While being able to organize, color-code, highlight, and mark up notes is useful for many people, there are some who enjoy simple, no-frills note taking. If you use your computer's built-in notes app, you always run the risk of losing information if your battery dies or your computer restarts for any reason. Instead, use Papier, a straightforward note-taking app where everything you write gets saved automatically.
Top features:
No frills


Automatic backup

Best Google Chrome extensions for reading
Mercury Reader
Today, many web pages include the information you're there to read, plus a lot of clutter you don't want or need: ads, banners, sidebars, all of which get in the way of a productive browsing experience. These can distract you away from the content, so why not just remove them? That's what Mercury Reader does. It's a straightforward Chrome extension that removes all that extra clutter from web pages, so you can focus on the content you're there to see.
Top features:
Reload any page with clutter removed


Light and dark themes available

Pocket
When you're online for work, it's not unusual to come across an interesting page or article that you want to read. But rather than take a distracting break from work to read it, you can save it for later with Pocket. Pocket tucks away those links, then syncs across all your devices, so when you find yourself with some spare time to catch up on reading (say, when you're waiting for a dentist appointment), you can access Pocket to circle back to an article.
Top features:
Saves articles to read later


Downloads articles to read offline

Best Chrome extensions for time tracking
Clockify
You may feel like you're productive during work time, but do you have data to back that up? Clockify automatically tracks your time spent doing different tasks and visiting different websites and apps, then arranges all that information into easy-to-read graphs and charts. If you aren't sure where there's room for improvement in your daily productivity, Clockify's Chrome extension will help you find it.
Top features:
Automated time tracking


Visual representation of data related to how you spend your time

Toggl
Toggl is another great Chrome extension for tracking your time while you work, and especially useful if you want to see your tracked time represented in a colorful, easy-to-read way. The Toggle Chrome extension adds a timer to any web page, web app, or online tool, which you can toggle on or off as needed. It also detects when you're idle and shuts off automatically, so you don't accidentally track time when you're away from your computer.
Top features:
Colorful, easy-to-read visual representations of tracked time


Automatic idle detection

RescueTime
If you're looking for a time tracker that has built-in time management tools, RescueTime might be the extension for you. It takes all the manual effort out of time tracking, automatically detecting and tracking when you're working within a browser window.
But an especially cool feature that comes with RescueTime is how it assigns a productivity score to certain websites. You can then keep track of your own score to see how much time you're spending working, versus visiting websites that may hurt your productivity.
Top features:
Automated time tracking


Productivity scores for websites

Best Chrome extensions for organizing tabs and windows
Switch
If you're someone who tends to bounce between tabs, windows, projects, tasks, and more, you need Switch. It arranges everything you need to access into a sidebar, where you can toggle between different accounts (without the clumsiness of logging in and out), different tasks, different projects, and different browser tabs and windows.
Top features:
Instantly switch between work and personal accounts without logging out or in


Organize all your tabs, windows, and projects in one area where they can be accessed with one click

The Great Suspender
If you tend to have tons of tabs open at any given time, not only do you risk being distracted by all the noise in your browser window, but you're likely slowing your computer down. The Great Suspender helps with both of these challenges by suspending (not closing) unused tabs into the background. You can access them from a toolbar shortcut at any time, or you can suspend new tabs to get them out of the way while you work.
Top features:
Improves computer speed and performance


Helps focus by removing unneeded tabs from view

OneTab
OneTab is another lifesaver for those who tend to have dozens of open tabs, especially if some are for work or specific projects, and others are for unrelated needs. OneTab organizes all your tabs into (you guessed it) one tab, and you can put together multiple tabs of tabs for different projects, tasks, and needs.
Top features:
Organize all your tabs for each project or task into one place


Reduce strain on your computer and browser

Best Google Chrome extensions for making productivity more fun
Momentum
Momentum exists to offer a little bit of guidance and inspiration as you work.
Every time you open a new tab page, you'll be greeted by a personalized dashboard where you can see inspirational quotes, your to-do list, focus questions, and more fun features to help you stay on track.
Top features:
Combines productivity with inspiration


Visible every time you open a new tab

Productivity Owl
Productivity Owl is one of the stricter productivity extensions on this list, but it does bring some fun to the equation. With this extension, you can indicate any sites that are blocked or allowed, as well as how much work you need to get done before you take a break. Then, if you click away from your work, you'll be met with a stern owl giving you a countdown to get back to being productive. Sometimes, knowing someone is watching over your shoulder is all you need to stay on track for the entire workday.
Top features:
Earn break time by finishing your tasks


Don't disappoint the owl by getting off track

Forest
If you ever get the sudden urge to check social media, the news, or another distracting site while you should be working, Forest may be able to help. With this extension, you can plant a tiny virtual tree that grows for as long as you stay focused on one task. If you tab away, you'll lose your tree's progress. But over time, as you finish tasks without getting distracted, you'll build a whole forest, with each tree representing a productive work session.
Top features:
Gamifies productivity


Encourages working on one task without distractions