Save hours every week with Superhuman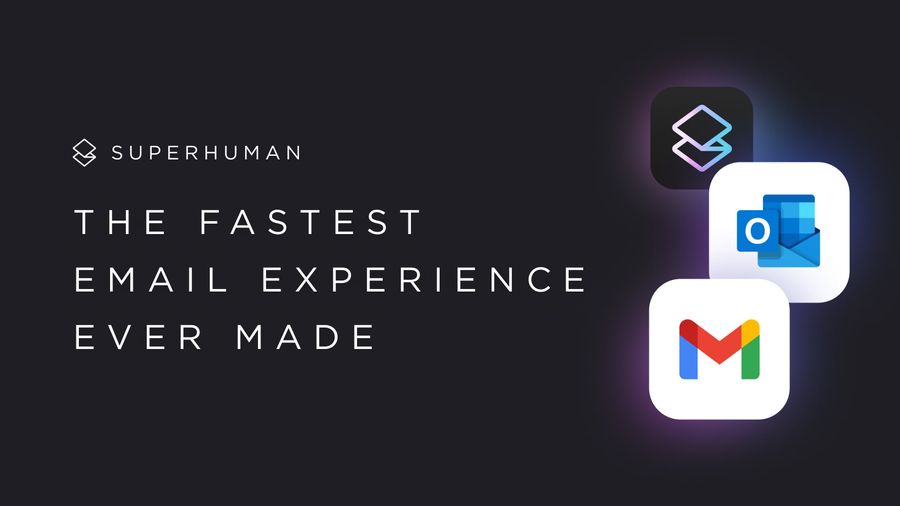 Superhuman is the fastest email experience ever made.
It's meticulously crafted for people who send a high volume of work email. It helps you move faster, save time, respond sooner, and eliminate email anxiety. And it's available for Gmail and Outlook.
So far, Superhuman customers have saved tens of millions of hours. And after 170 million messages sent, 1 billion messages triaged, and more than 1.8 billion shortcuts used, our mission remains the same: to help you be happier, more productive, and closer to achieving your potential.
Here's how Superhuman can save you hours every single week…
GET SUPERHUMAN
Getting through email twice as fast with Superhuman
With Superhuman, you can fly through your inbox with features like Split Inbox and Superhuman Command. You can reply to important messages faster with blazingly fast shortcuts and features like Instant Intro. You can instantly switch between Outlook and Gmail accounts without switching apps. And you can do all of this in a beautiful interface that has been relentlessly refined.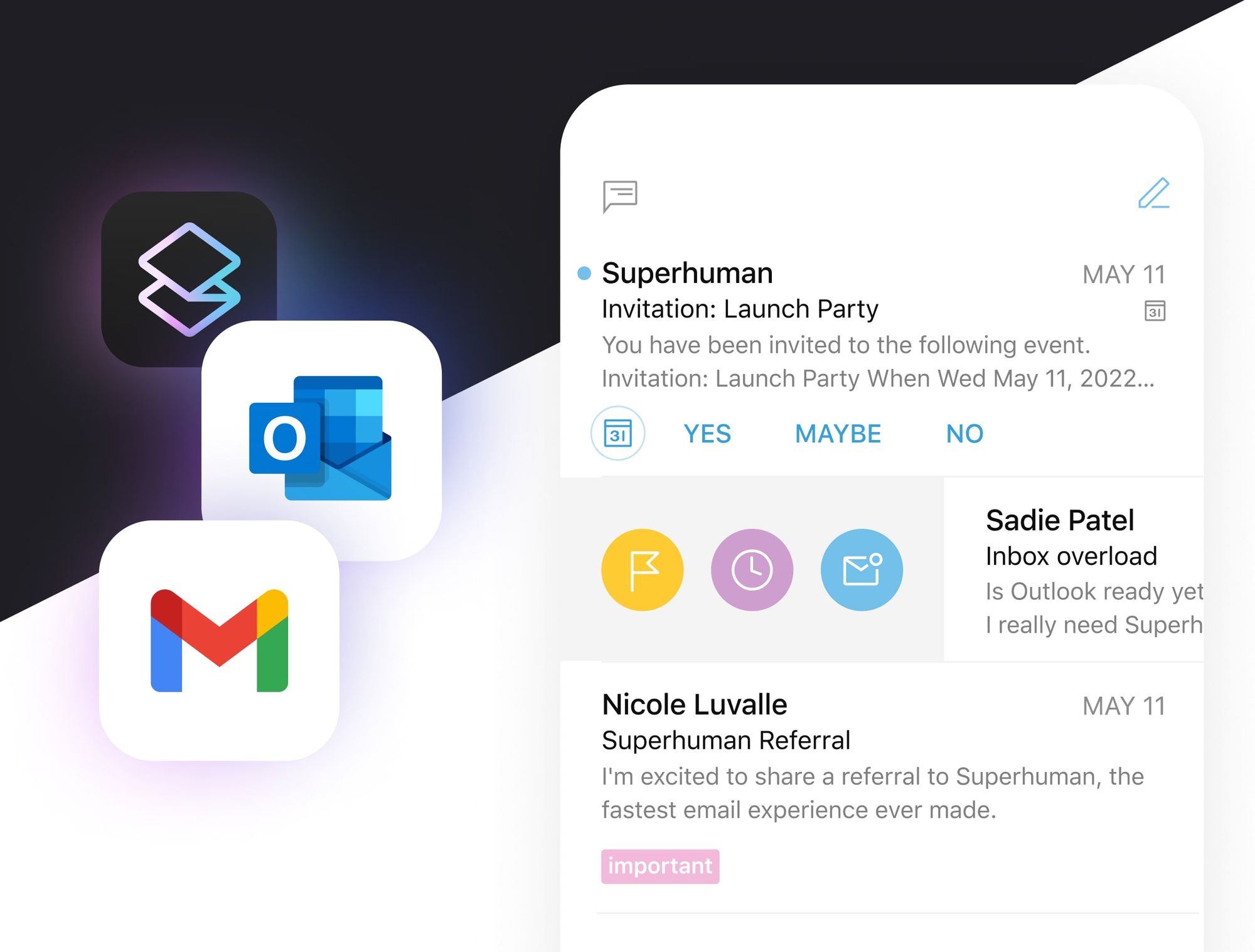 Available for Gmail and Outlook
In the beginning, we built Superhuman for Gmail. And that made sense: initially, we were building for startups, many of which use Gmail.
But support for Outlook has rapidly grown from a quiet murmur to our number one request. So we are delighted to bring Superhuman to the 345M professionals that use Office 365!
We set out to support and accelerate Outlook workflows. Do you flag messages, or move them to folders? You can do that in Superhuman for Outlook, but twice as fast as before.
Whether you and your team use Gmail or Outlook, you can now use Superhuman to get through your inbox twice as fast as before, reply to important messages faster, and get three hours back every single week.
I've been using @Superhuman for close to 1 month now. I've never been so motivated and excited to reply to and write emails. Good UX is such a powerful tool.

Well done @rahulvohra and team 🔥

— Rachel Weissman (@racheldweissman) March 2, 2022
@Superhuman is the best thing that has ever happened to my inbox. It's been a hot minute since I've interacted with a tool that I love this much.

Brb going to go shout their praises from the roof tops.

— Haden Marrs (@hadenjmarrs) July 15, 2021
I am notoriously bad with email. I tell people to email me multiple times in order to get a response.

I started using @superhuman 5 weeks ago and that has all changed.

I'm not saying I'm great at email now, but I'm much better. Here's a thread on why...

— Pedro Sostre (@psostre) December 22, 2021
Game-changing productivity tool for me in the last few months: @Superhuman

2.5 months in and I've saved hundreds of hours of miscellaneous email admin time.

— Ben Zettler (@benzettler) May 11, 2022
Superpowers you'll love
1. Fly through your inbox twice as fast as before
Split Inbox: Split out messages from your team, VIPs, and most used tools. Focus on what really matters.
Superhuman Command: Don't yet know a shortcut? Just open Command and enter what you want.
2. Reply to important messages faster
Shortcuts: Every action has a blazingly fast shortcut. It's all just a key press away.
Instant Intro: Say thank you, move to BCC, and start responding. All in an instant.
3. Get three hours back every single week
Snippets: Insert phrases, paragraphs, or whole emails. Save the time it takes to type.
Remind Me: Snooze messages until it's right for you. Move faster with an empty inbox.
4. Enjoy relentlessly refined design
Inbox Zero: Enjoy stunning imagery that inspires joy and awe. Savor the view.
Carbon: A gorgeous dark theme. Minimal and lightweight, with a premium finish.
5. Eliminate email anxiety
Undo Send: No more misspelled names, tragic typos, or emails you regret. Just hit Undo, and it will never have sent.
Block: Strangers still spam you everyday. Block specific senders, and even entire domains.
GET STARTED TODAY
Superhuman makes teams more productive
When we started Superhuman, we realized that if we could free people up from spending so much time on email, we could help them be happier and more productive. We could give them more time to truly focus, and to achieve their full potential.
Let's see what our customers have to say:

"Superhuman makes all my pain points go away and I'm able to be a more efficient communicator."
"Not only is it blazingly fast but I love the UX where I'm not switching between email, inbox, email. Search WORKS. Finally, you solve the Outlook pain point of no snooze and reminder feature. This is huge."
"Massively beautiful design, great search, shortcuts, and other useful features that make it feel like a modern experience."
"With Superhuman integrating O365, I can sift through work emails in a matter of seconds and get back to the work at hand.  It's an extremely valuable tool, and I can't imagine working without it."
"Superhuman's O365 integration is a game-changer for me.  It has finally allowed me to unify my email worlds in a single place."
"Superhuman is a game changer when it comes to responding quickly and efficiently to sales requests — and it is the only way I have ever reached inbox zero."
Ready to go?
Ready to email faster, reduce stress, and win back more time for what matters? To get going today, sign up here!
Regain your focus and win back time with Superhuman
Fly through your inbox twice as fast as before. Reply to important messages sooner. And get three hours back every single week.
Get Superhuman