7 Best Gmail Alternatives (Free & Paid)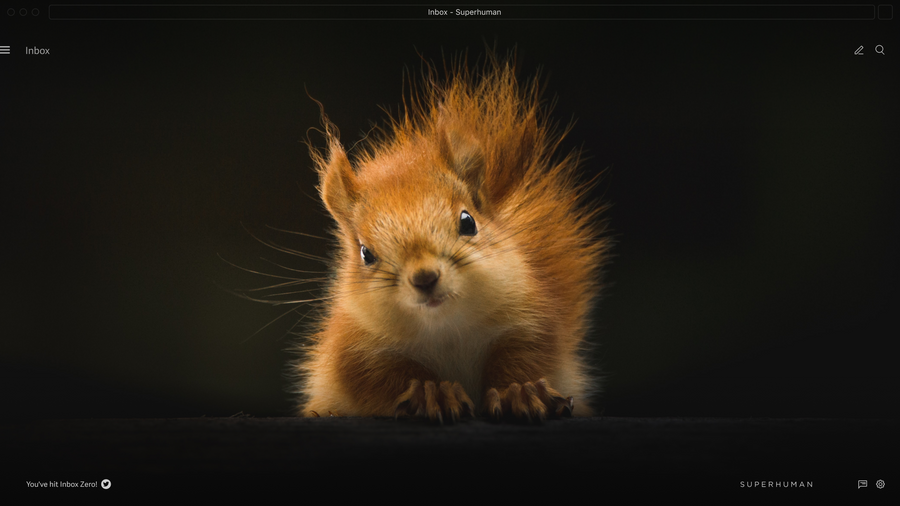 Gmail blocks 99% of spam, offers industry-leading email encryption, and powerful features like Smart Compose, Meet, and Chat. All of which makes Gmail one of the most popular email providers.
But is it the right tool for you?
Here are 7 of the best alternatives to Gmail:
Superhuman
Outlook
Tutanota
Zoho Mail
Mailfence
Proton Mail
GMX
Some are Gmail clients. Others are web email clients. Some alternatives are free. Others are paid. But each Gmail alternative is best suited for a specific type of user (or use case).
Let's dive right in.
Why is Gmail so Popular?
With 1.8 billion active users, Gmail is the most popular email client.
Since 2004, Gmail has dominated the email market with its simple registration process, generous 15 GB of storage space, and seamless integration with the Google ecosystem (Meet, Chat, Calendar, etc).
Not to mention its popular email triaging feature Priority Inbox:
Gmail offers a webmail client and apps for Mac, Windows, iOS and Android. With POP and iMAP support, you can use Gmail with most 3rd party email clients. Plus, you can customize your inbox experience with Gmail add-ons.
All this combined makes Gmail the most powerful and accessible email client ever made. Did I mention Gmail is free?
Is There a Better Alternative to Gmail?
Absolutely. Gmail may be one of the most popular email services. But, it's far from perfect.
Some of its most common flaws include:
Slow, clunky, and crowded interface: Ever used the word "annoying" to describe your Gmail experience? You're not the only one.
Limited support: If you're a Google Workspace user, you'll quickly realize how difficult it is to get the right support from Google. When you most need it.
Privacy concerns: With Gmail, mining user data, extracting personal info, and advertising is a given. Google reads your email more than you do.
Gmail is free. But free is expensive.
The good news: You don't have to settle. There's a better email management software that's right for you. One that's faster, more powerful, or more secure. Or all of the above.
If Gmail isn't cutting it for you anymore (or you're exploring options) here are 10 of the best Gmail alternatives:
7 Best Alternatives to Gmail (Free & Paid)
1. Superhuman: Gmail Alternative for Email Power Users
What if you could Inbox Zero in ~15 minutes every day? What if you could get 3 hours back every single week?
Enter Superhuman – the fastest email experience ever made.
Built for people and teams who get high volumes of email. Superhuman is blazingly fast, delightful, and stress-free. Fly through your inbox twice as fast, eliminate distractions, and end email anxiety (once and for all).
We spend hours every day on email. Superhuman has a clean, minimal, and user-friendly interface. Which makes hitting Inbox Zero easy and fun:
The kicker: Superhuman doesn't serve you ads. We'll never sell your data either.
Superhuman has 100+ features so you can get through your inbox FAST.
Here are a few of them:
1. Split Inbox
We all get too much email. The urgent buries the important.  We don't reply to our team or VIPs. We miss notifications from tools like Google Docs, Asana, etc.
As a result, we lose opportunities, block our teams, and hurt our reputation.
The solution? Split Inbox by Superhuman.
This triaging feature splits your inbox into different streams: emails from VIPs, team updates, newsletters, and anything else:
Even if your inbox is overflowing, you'll respond faster to what matters most. 😀
2. Keyboard Shortcuts
With Superhuman, you can navigate your inbox and take any action without ever touching your mouse or trackpad. Reply, archive, snooze an email, create an event, and much more! Quickly and easily. All with keyboard shortcuts.
Don't worry about not knowing all these keyboard shortcuts. Superhuman offers an intuitive command palette (aka Superhuman Command) so you can quickly find any shortcut.
Hit ⌘+K (or Ctrl+K on Windows) to open Superhuman Command:
Enter a few characters to find what you want. Like "sn" to Snooze, "rm" for Remind Me, or "ev" for Create an Event.
Next to each command, you'll see a keyboard shortcut. So you can do it faster next time!
3. Faster Unsubscribe
Gmail's spam filters are great. But sometimes junk or marketing emails still slip through. Unsubscribing from these emails (in Gmail) is slow and painful.
With Superhuman, unsubscribing from junk or spam takes a single shortcut. Literally.
Unsubscribe, block senders, or even entire domains! Hit ⌘+U (Ctrl+U on Windows) or swipe down on mobile:
The best part: You can automatically delete all their previous emails!
But that's not all. With Superhuman, you can:
Search faster: Searches take 30 milliseconds, not 3 seconds.
Work offline: Search, reply, archive, and more — all without internet connectivity!
Send later: Send emails at the right time (even across time zones!)
Instant intro: Thank the introducer, move them to BCC, and reply. With a single shortcut
Automate typing: Blaze past your typing limit with Snippets. AI autocorrect fixes your spelling quickly and seamlessly. So you never miss a typo again!
Remind me: Can't deal with an email now? Hit remind me. Can't deal with an email on your phone? Hit remind me "on desktop".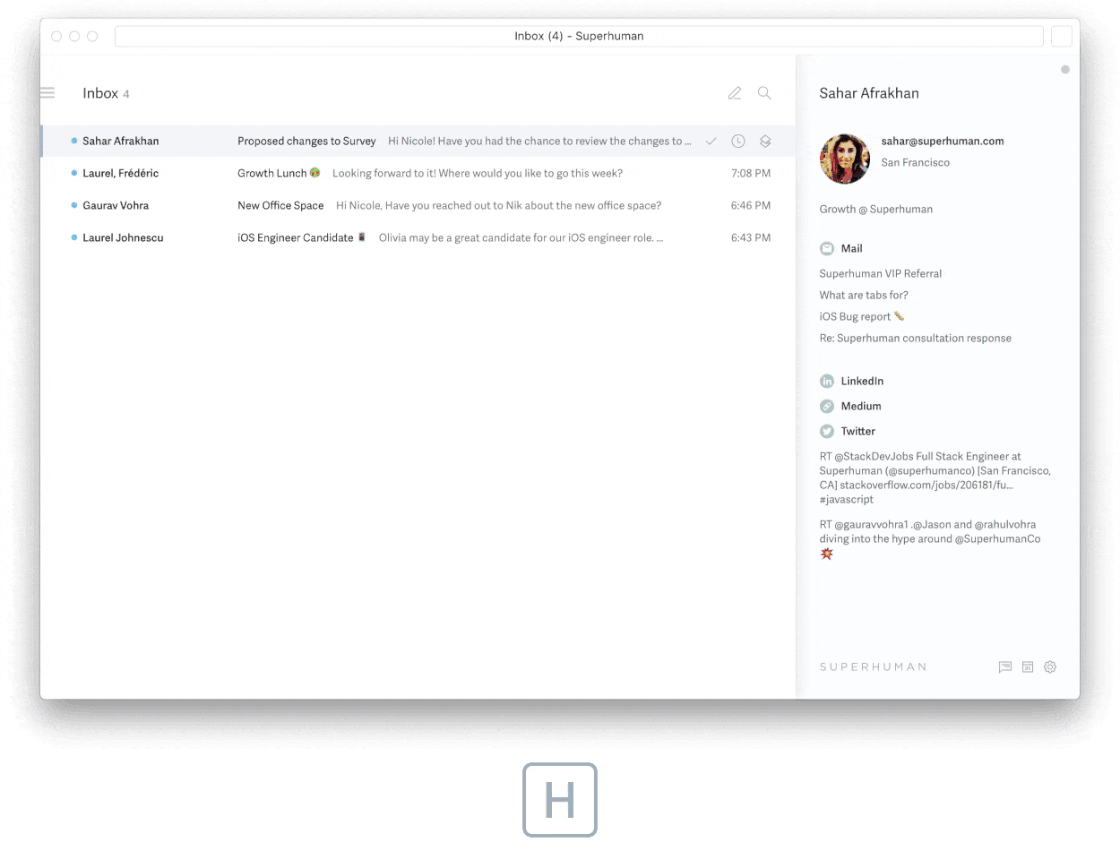 Plus, with Superhuman AI you can write entire emails (in your voice and tone), summarize long threads, and type 30-50% faster with real-time autocorrect.
Here's how it works:
Fun fact: Every action you take on Superhuman is faster than 100ms. It's the threshold at which actions feel instantaneous! ⚡
If you're a business, Superhuman can save your team an extra month. Every year.
Teams that use Superhuman:
Reply 2x faster than before
Save 3+ hours per week
Respond to 3x more emails
With Superhuman for Enterprise, you'll get a dedicated account team and 24/7 priority support from our delight team. Whenever you need it.
Superhuman currently offers MacOS, Windows, and iOS apps. You can also use our web email client on Chrome. (Plus, Superhuman is coming soon on Android!)
The best part: If you're a Gmail or Microsoft user, Superhuman already works with your existing accounts. No need to switch email providers!
Recommended for:
Founders, busy C-level execs and high-performing teams looking to improve their email productivity. If you're someone who gets 150+ emails daily, we made Superhuman just for you.
Pricing:
Individuals: $25/month (billed yearly)
Teams: $25/month/user for 5 users (billed yearly)
If you're a bigger team, talk to sales for a deeper discount. 😉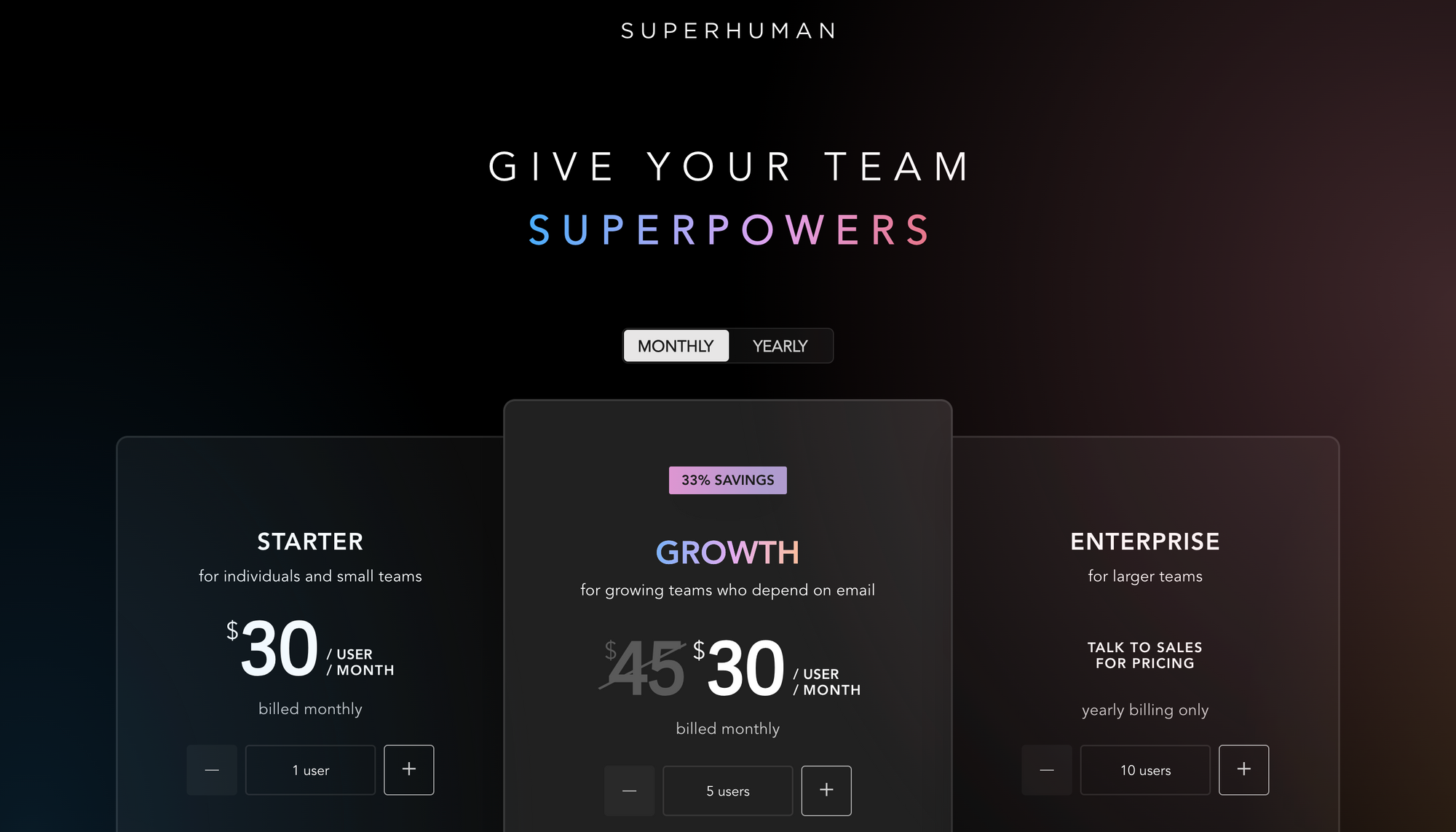 Superhuman is definitely the most expensive email client on this list.
But ask yourself:
What's 30 hours of time saved each month worth to you?
How much is an extra month worth for your business?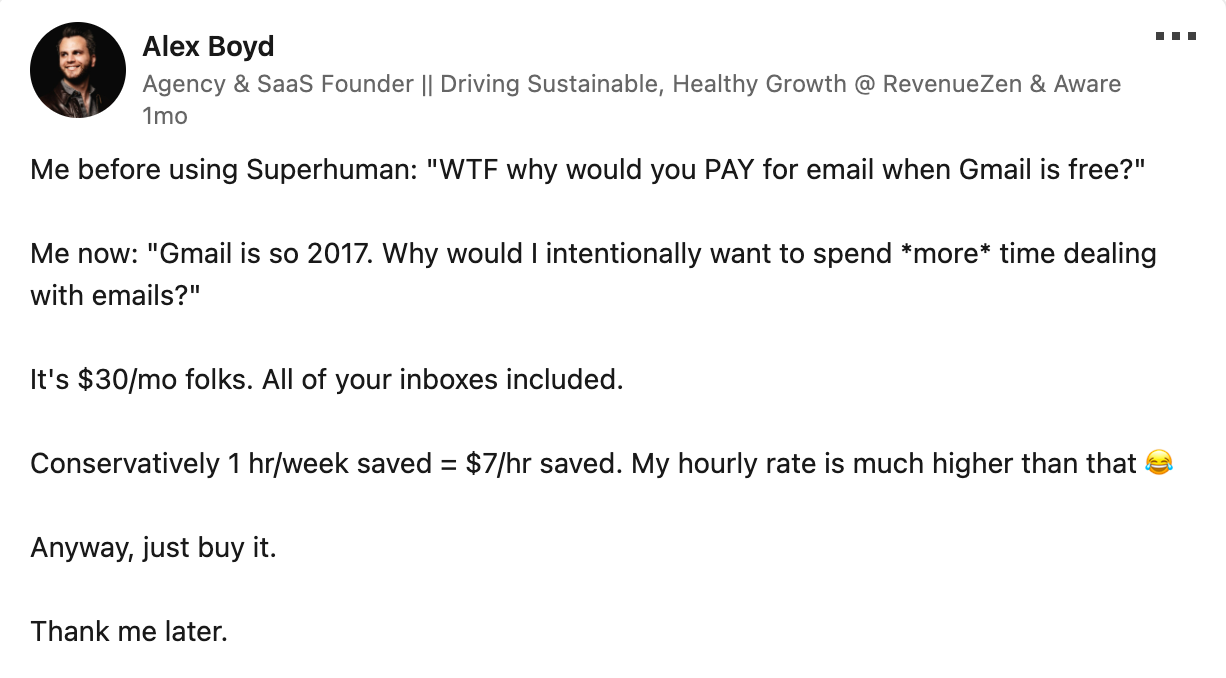 Optional Reading: Gmail vs. Superhuman: Apples to Oranges
Regain your focus and win back time with Superhuman Mail
Keyboard shortcuts, AI triage, Reminders, Scheduled sends, Beautiful design
Get Superhuman for Email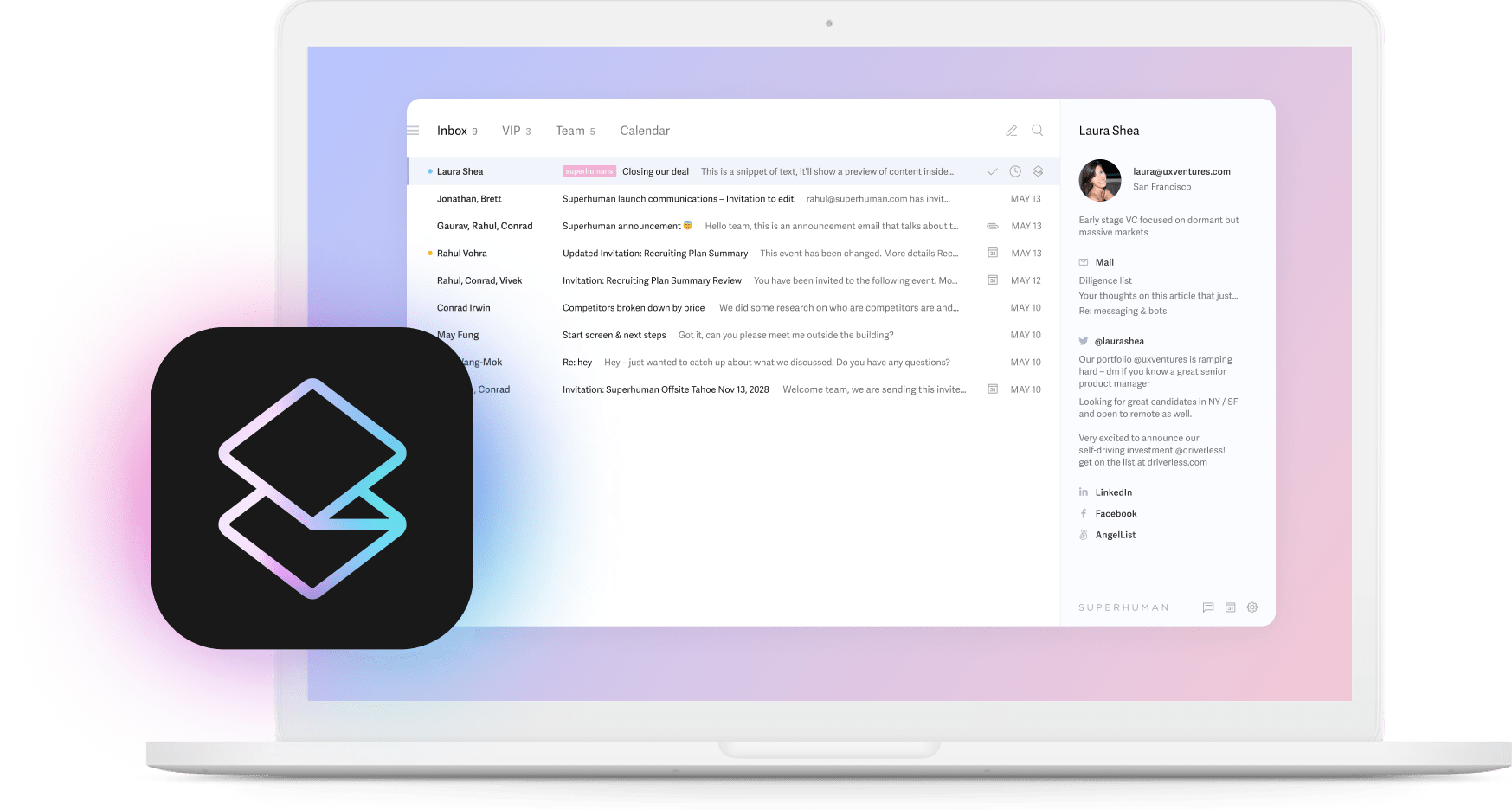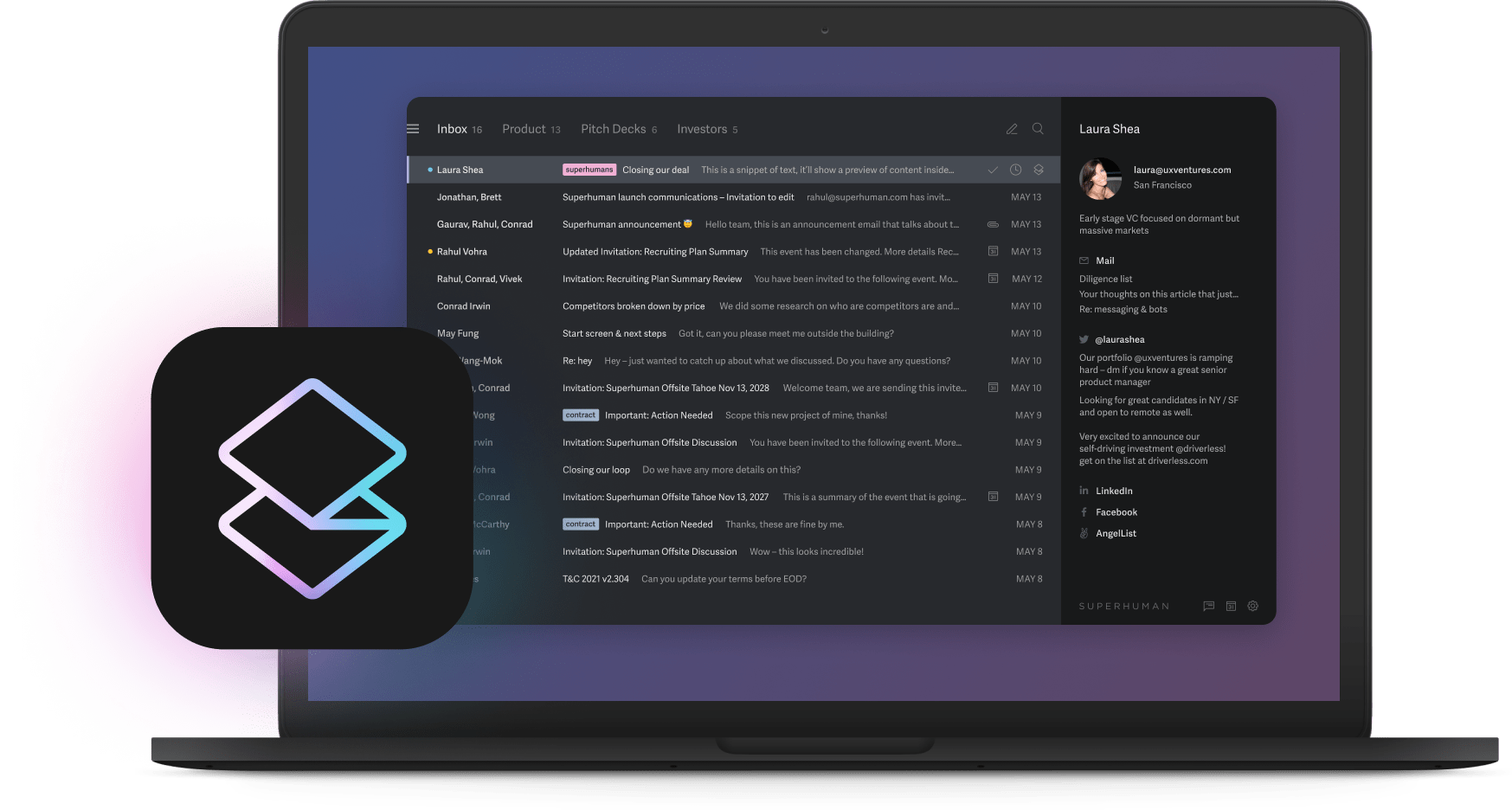 2. Outlook.com: Gmail Alternative for Microsoft Lovers
Love Microsoft products? Outlook may be the Gmail alternative for you.
Outlook is the second-most popular email service. It comes bundled with all Windows products. Which is why it's the default email client in most schools, companies, and organisations.
You can access Outlook via webmail. Or by downloading the Windows, Apple, or Android apps. Outlook offers free no-frills email and calendar just like Gmail. If you're switching from Gmail, Outlook will feel very familiar.
Here's what Outlook looks like on Mac:
Like Gmail, Outlook offers secure SMTP and support for POP and IMAP protocols. The free plan offers 15GB of mailbox storage and 34MB attachment limit. Plus, a seamless integration with OneDrive in case you need to send large attachments.

Key features of Outlook:
Free email and calendar
15GB free mailbox storage
POP, IMAP, and SMTP support
Focused Inbox (similar to Gmail Priority Inbox)
Web versions of Office apps (Powerpoint, Excel, etc)
Integration with OneDrive (+ 5GB free storage)
Outlook's best features are reserved for Microsoft power users: An ad-free email experience. Deep integration with Microsoft Office. Plus, Outlook for Windows and Mac.
But Outlook is slow. Buttons are often unresponsive. Emails get lost when viewed on a browser. Plus, Outlook is unnecessarily complicated and isn't user-friendly. If you value speed, look elsewhere. Check out these Outlook alternatives instead.
Recommended for:
If you're a Microsoft power user or just want a basic email and calendar, Outlook is for you.
Pricing:
Outlook is free for personal use. You get basic email and calendar.
Want ad-free email, custom domain names, and desktop versions of Office apps? You'll need to upgrade. Fortunately, Outlook is one of the most affordable options on this list.
With Microsoft 365, you get all Microsoft products for one price:
365 Family: $99.99/year (for up to 6 people)
365 Personal: $69.99/year (for one person)
Business pricing is on a per user basis:
SIDENOTE: Superhuman is available for Microsoft Outlook. So you get the best of both worlds. The Microsoft ecosystem you know and love. Plus, blazing fast email with Superhuman. ⚡
3. Tutanota: Gmail Alternative for Encrypted Email
Looking for an accessible, open-source email service? You might fall in love with Tutanota.
Founded in 2011, Tutanota was the first email client to offer end-to-end email encryption, offering a layer of security that didn't exist elsewhere (at the time).
Fun fact: "Tutanota" literally translates to "secure message" in Latin.
All encrypted emails are stored on Tutanotas own servers in highly-secure data centers in Germany. With Europe's strict data protection laws and GDPR, Tutanota will make anyone looking for a privacy-focused email tool happy.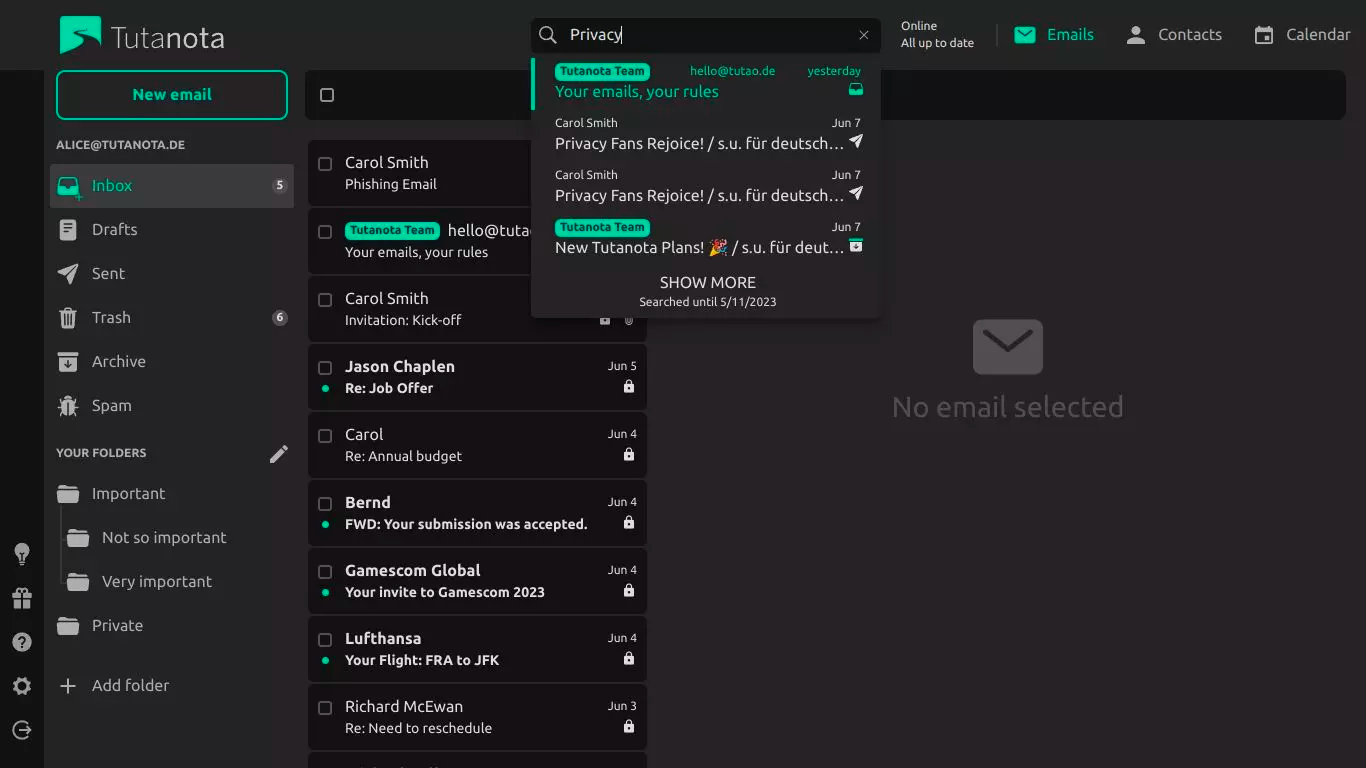 The kicker? Tutanota's entire source code is available online for anyone to inspect. Which proves that it's a transparent and extra-secure email service.
Key features:
End-to-end encrypted email
Zero-knowledge calendar
GDPR-compliant with built-in encryption
Full-text search of encrypted data executed locally
Green email service (powered by renewable energy)
Tutanota is accessible compared to most open source platforms. If offers secure desktop clients for Windows, Mac, and Linux. Plus, you can use Tutanota on Android, iOS, and your browser.
Recommended for:
Anyone looking for a greater level of privacy and encryption than Gmail offers.
Pricing:
The free plan gives you fully-encrypted email with 1 GB storage and calendar.
You'll need to buy a paid personal plan for features like:
Full offline support
Unlimited inbox rules and auto-reply
Unlimited search on encrypted data
Smart mailbox filtering
Custom domains & catch-all
Unlimited encrypted calendars
Tutonota also offers business plans:
4. Zoho Mail: Gmail alternative for budget-conscious users
Zoho Mail is an easy-to-use email app that does it all. At an affordable price.
From a features standpoint, Zoho Mail is no frills. It offers all the standard functionality we've all come to expect from most free email accounts, plus a clean interface, a suite of organisational tools, 24/10 support, and easy integration with Zoho's business tools, like Zoho CRM.
That's part of what makes it a great choice for small businesses, especially those looking for a more affordable solution than some of the more premium email clients on this list.
The other feature that makes Zoho an appealing choice is the ability to set up your own domain email — but note that you'll only be able to access custom email addresses through Zoho's web app or dedicated mobile apps. Accessing your custom domain email address via third-party clients requires upgrading to a premium plan.
5. Mailfence: Gmail alternative with PGP Encryption
If you're looking for one of the most secure email services that exists today, Mailfence might catch your eye.
Most of the email clients on this list don't offer PGP encryption, but Mailfence does — along with using an SSL certificate that doesn't involve a single American certification authority anywhere on the chain.
Which means this Belgium-based email client can truly offer a private email with end-to-end encryption under the purview of European data privacy law.
Plus, Mailfence promises no ads, spam, or trackers, ever.
6. ProtonMail: Gmail Alternative with Zero-knowledge Encryption
Want to be anonymous on the internet? ProtonMail uses zero-access end-to-end PGP encryption based on the zero-knowledge encryption standard.
Its servers are located in Switzerland and are subject to Swiss privacy laws, some of the most stringent in the world. That means confidence that only you, the user, have access to your own secured data. Plus, ProtonMail was developed by scientists at MIT and CERN, built to take advantage of the latest advances in data science and security.
Proton's free plan does not offer a custom domain name, so it would not support professional email in most cases. The free plan also only offers 500 MB of storage, caps your daily messages to 150, and only allows three folders or labels. More features and storage are available through paid plans, which come with monthly or annual fees. The highest tier (Visionary plan for 30 euros per month or 288 per year) bundles with Proton's custom VPN, adding more bang for your buck.
The kicker: ProtonMail accepts anonymous payments via Bitcoin or Monero (one of the most anonymous cryptocurrency on the market).
7. GMX: Gmail Alternative for Max Email Storage
Global Mail Exchange (or GMX) has been around longer than Gmail (since 1997) and offers similar integrated apps like a synced calendar and cloud-based address book.
GMX lets users register up to 10 email addresses, and each of these has 65 GB of storage included. That's equivalent to half a million emails — far more than is standard with a typical free email service (for example, compare this to Gmail's 15 GB free storage limit).
GMX also lets users display all their different email accounts in one central mailbox and supports email attachments up to 50 MB (compared to the standard 20 or 25 MB limit). What it doesn't offer, however, is two-factor authentication (2FA), which helps improve your online security. Another big drawback for security- and design-minded users is that GMX processes users' IP addresses in order to serve them targeted ads.
Which Gmail Alternative is Right for You?
Short answer: it depends.
If you're looking for a new email provider, it's because Gmail no longer meets your needs. When evaluating the Gmail alternative that's right for you, ask yourself:
Do you need a basic email? Or would you benefit from advanced features like follow-up reminders, customizable templates, and split inboxes?
Do you send large attachments or need a lot of cloud storage? What will it cost to upgrade to a higher plan?
Is your email slowing you down, and do you want to improve your productivity? Would a faster, more intuitive email client help you shave hours off your week?
If you need an email experience that's feature packed, blazingly fast, and delightful to use, try Superhuman.
Turn your inbox into your most effective productivity tool
Keyboard shortcuts, AI triage, automated follow ups, scheduled sends
Get Started with Superhuman