8 Best Outlook Alternatives (Free & Paid)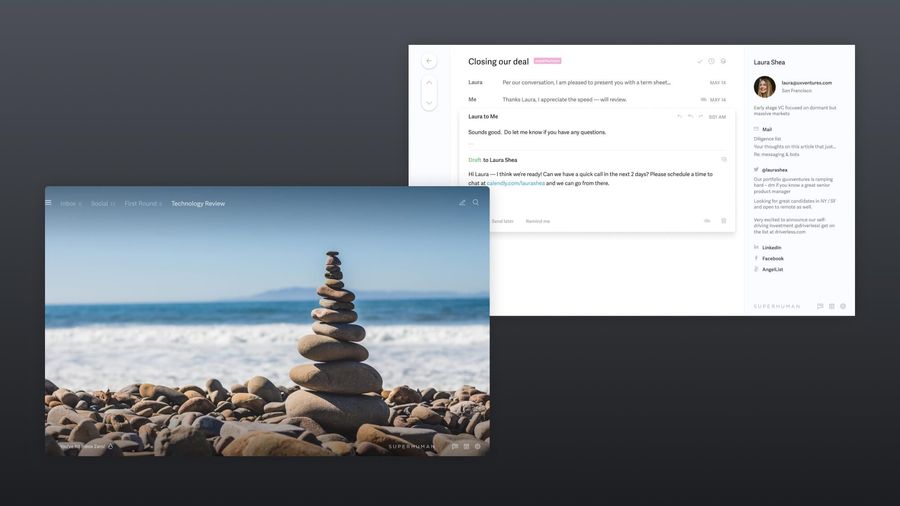 Microsoft Outlook has been one of the most popular email clients. It's safe, feature-rich, and gets the job done.
But is it the right tool for you?
In this post, we'll cover eight popular Outlook alternatives to help you decide.
8 Best Alternatives to Outlook:
Superhuman
Gmail (or Google Workspace)
eM Client
ProtonMail
Front
Spark
Thunderbird
Spike
Some are email clients. Others are webmail. Some alternatives are free. Others are paid. But each Outlook alternative is best for a specific type of user (and use case).
Let's dive right in:
Is Outlook Still the Best Email Client?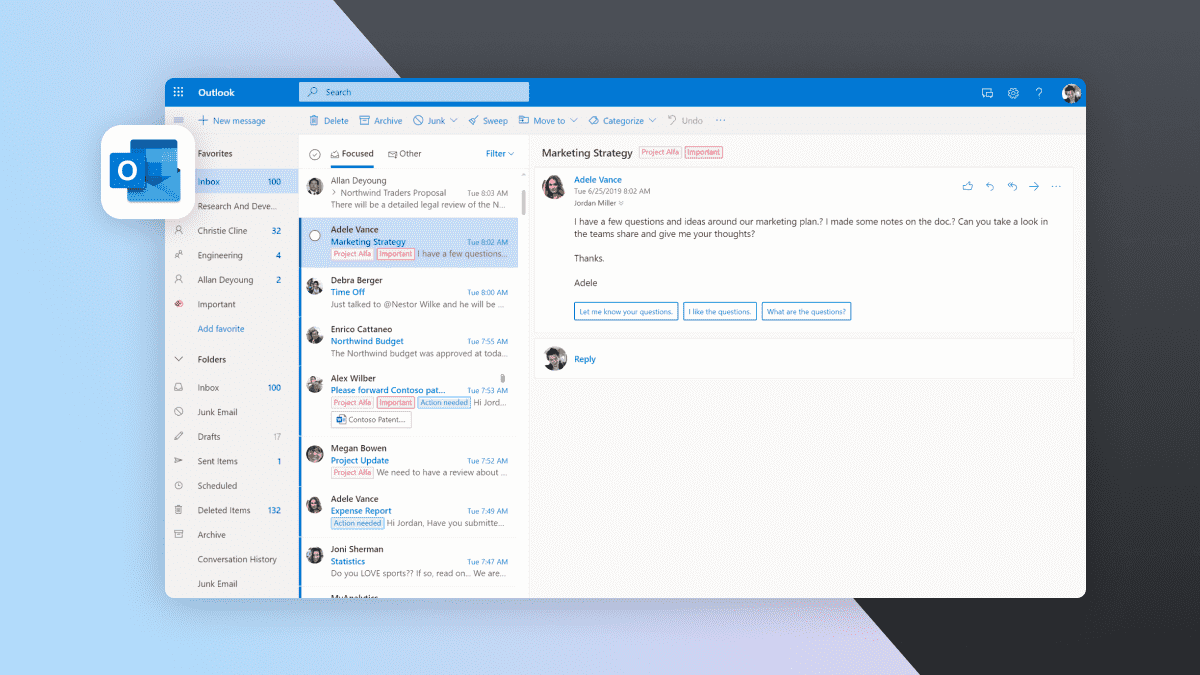 After Apple Mail and Gmail, Outlook is the most popular email client.
Outlook comes bundled with all Windows products and Microsoft 365 plans. Which is why it's used (by default) at most schools, businesses, and enterprises.
You can access Outlook on Web. Or via apps for Windows, Apple, or Android: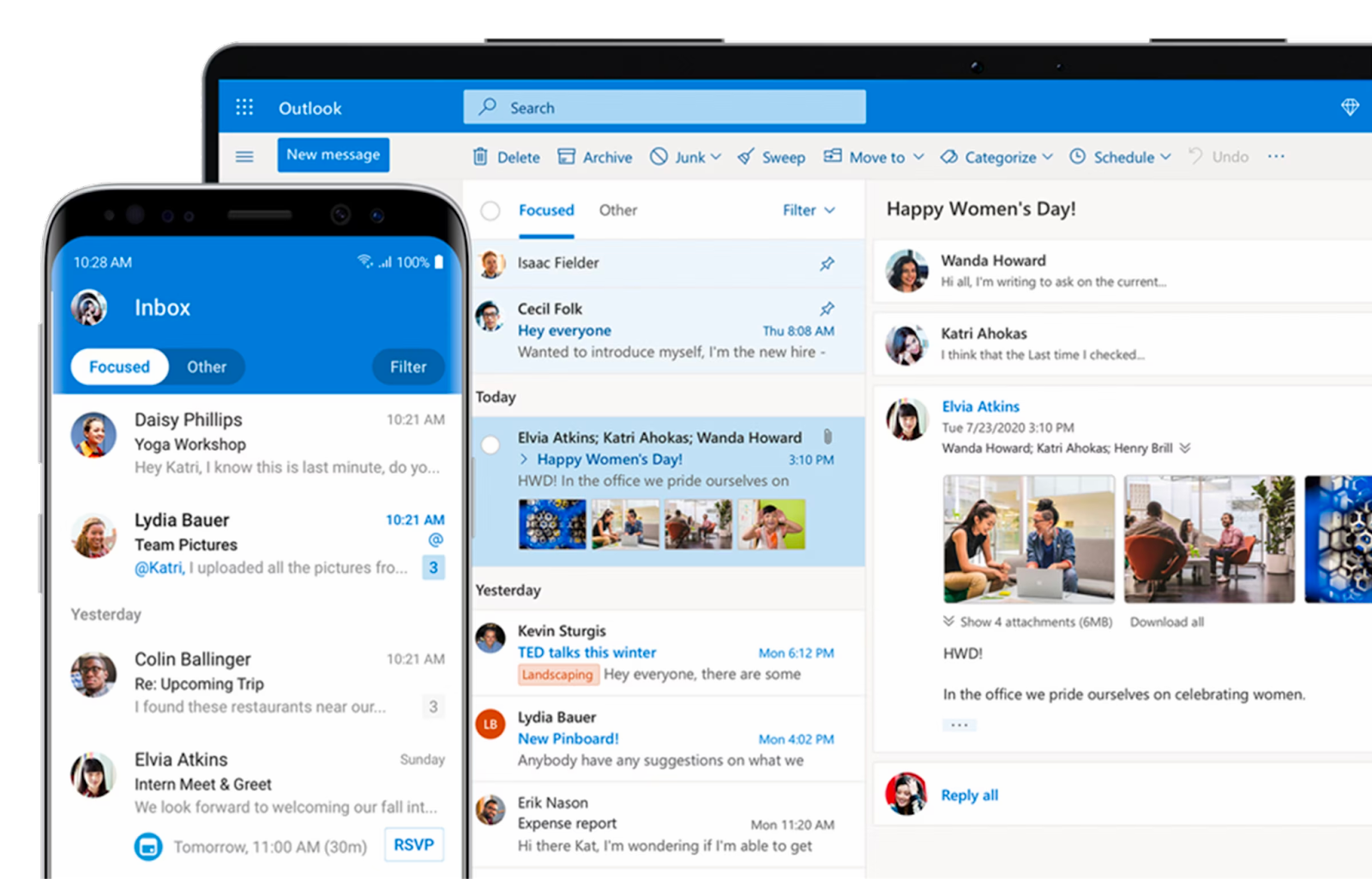 Outlook offers secure SMTP and support for POP and IMAP protocols. The free plan offers 15GB of mailbox storage and a 34MB attachment limit. Plus, a seamless integration with OneDrive in case you need to send large attachments.
Key features of Outlook:
Free email and calendar
15GB free mailbox storage
POP, IMAP, and SMTP support
Web Office apps (Powerpoint, Excel, etc.)
Focused Inbox (like Gmail Priority Inbox)
Integration with OneDrive (+ 5GB free storage)
Outlook's best features are reserved for Microsoft 365 customers. Ad-free email. Deep integration with Microsoft Office. Plus, Outlook apps for Windows and Mac.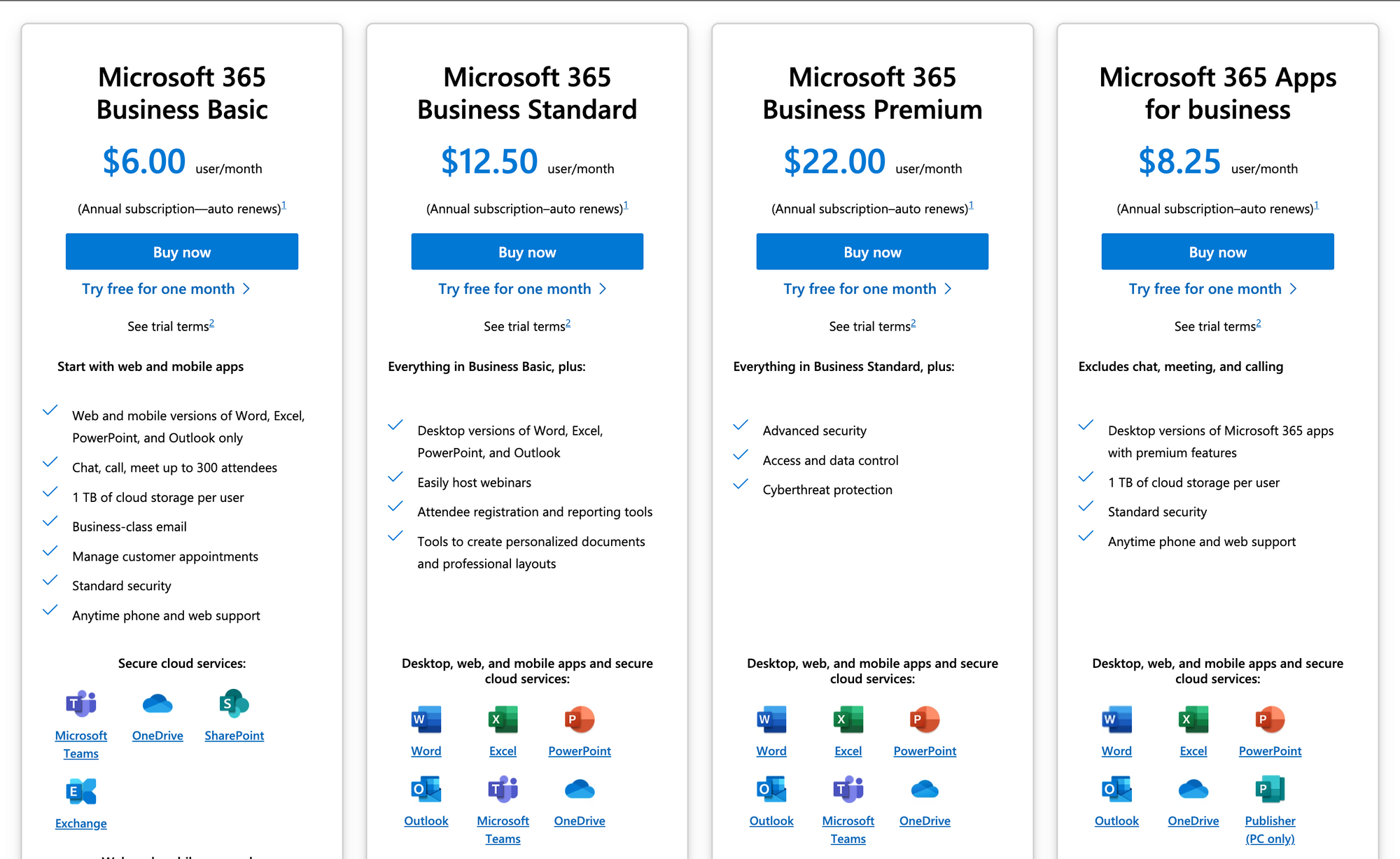 But Outlook's popularity has waned over the years. Increasing reports of slow performance, frustrating search, and a buggy user experience have halted Outlook's growth. Plus, it's complexity, organization issues, and sync errors has frustrated users.
Despite it's features, Outlook has aged poorly. Many users no longer believe Outlook is the best email client.
Is There a Good Alternative to Outlook?
Absolutely. Outlook may be one of the most popular email services.
But it's far from perfect.
For starters, Microsoft Outlook is slow and buggy. Buttons are often unresponsive. The user interface is disorganized, complicated, and far from user-friendly.
Outlook for Web is free. But it isn't intuitive. Emails even disappear when viewed online.
For example, here's Outlook on my Desktop: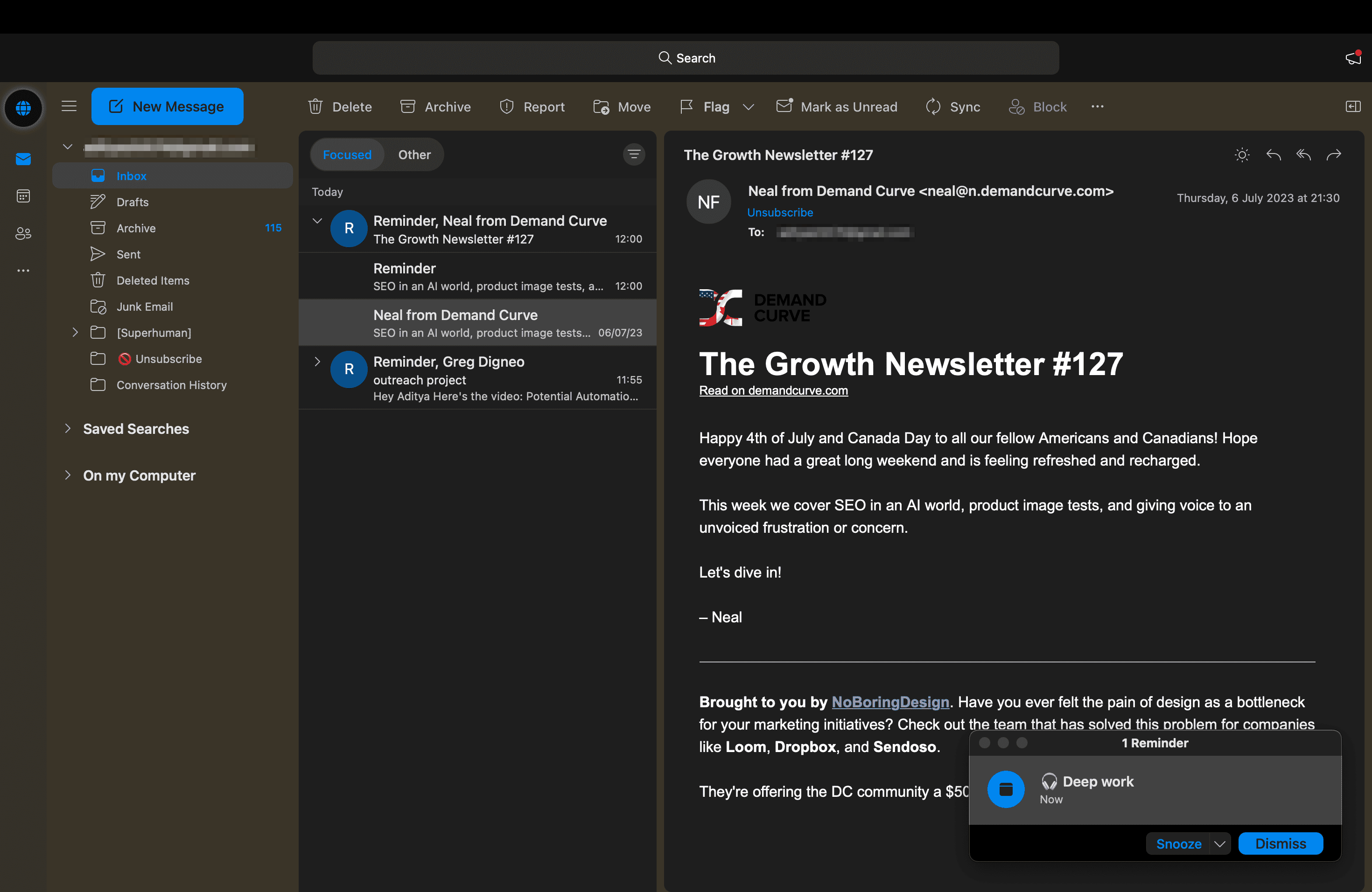 Here's Outlook on my web browser: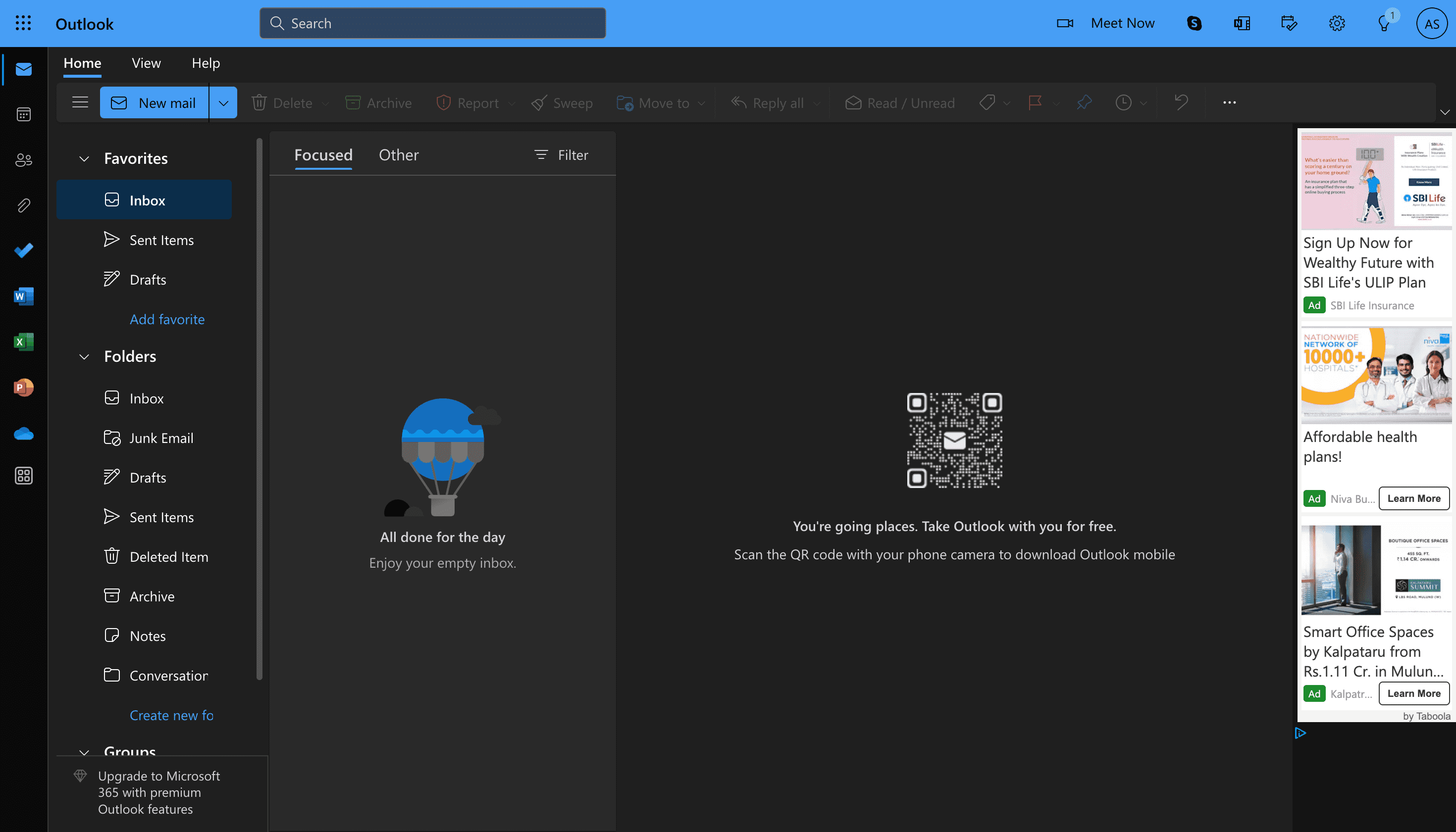 Notice anything unusual? My emails disappeared. And I can't find them. Also, the ads on the right? We're (personally) not a fan.
Outlook for Web is different from Outlook for Desktop. An inconsistent experience across platforms can be jarring for some. Which is why people switch to webmail clients instead.
Here are the most common user complaints:
Unreliable: Unexpected bugs and frequent crashes are the norm on Outlook. Especially if you get massive amounts of email, Outlook simply can't manage high-volume inboxes and often freezes instead. This applies to Outlook for web, mobile, and desktop.
Complicated: Outlook offers many features, but most of them are unreliable (or don't work). They do end up making Outlook slow, clunky, and cluttered. Outdated design and lack of a user-friendly UI/UX only worsen the problem.
Poor Support: Microsoft support is hard to find, difficult to contact, and unhelpful. Plus, there is no escalation process. If you're considering Microsoft 365 for your business, this might be helpful to know.
Bottom line: If you value speed, simplicity, and reliability, Outlook isn't for you.
"All you have to do is use this program for a week, and you'll be ready to take a hammer to your computer. If you're considering Outlook and 1) value your sanity, 2) value your relationships, and 3) want to use email productively, stop before it's too late!" – Outlook user review.
The good news: You don't have to settle. There's an email management tool that's right for you. It's faster, more reliable, or more powerful. Ideally, all of the above.
Ready to switch?
8 Best Alternatives to Outlook (Free & Paid)
1. Superhuman: Outlook Alternative for Email Power Users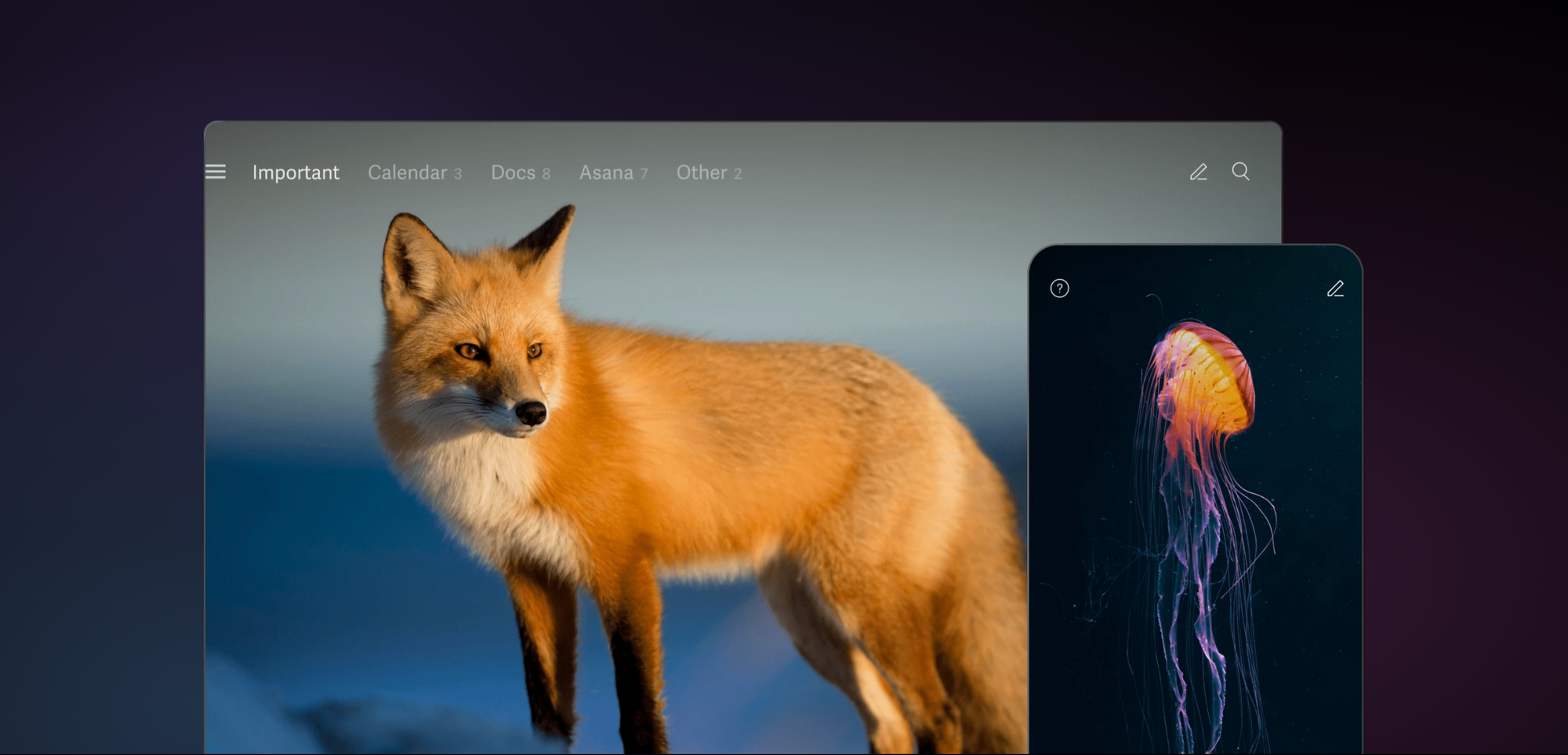 What if you could Inbox Zero in ~15 minutes every day? What if you could get 3 hours back every single week? What if your team could reply twice as fast?
Enter Superhuman – the fastest email experience ever made.
Built for people and teams who get high volumes of email. Superhuman is blazingly fast, delightful, and stress-free. Fly through your inbox twice as fast, eliminate distractions, and end email anxiety (once and for all).
Most of us spend hours each week on email. Superhuman has a clean, minimal, and user-friendly interface. So hitting Inbox Zero is fun and easy:
The average Superhuman user spends 3 hours less every week on email. Plus, they reply 2x as fast vs non-Superhuman users.
If you get massive amounts of email, Outlook will slow down, freeze, or crash. Superhuman is (and will stay) lightning fast.
The kicker: Superhuman is entirely ad-free. And we work with your existing Outlook account.
Superhuman has 100+ features so that you can get through your inbox FAST.
Here are a few of them:
1. Split Inbox
We all get too many emails. The urgent buries the important.  We don't reply to our team or VIPs. We miss notifications from tools like Google Docs, Asana, etc.
As a result, we lose opportunities, block our teams, and hurt our reputation.
The solution: Split Inbox by Superhuman.
This triaging feature divides your inbox into multiple streams: emails from VIPs, team updates, newsletters, and anything else:
Even if your inbox is overflowing, you'll respond faster to what matters most. 😀
2. Superhuman Command
In Superhuman, you can navigate your inbox and take any action without touching your mouse. Reply, archive, snooze emails, create events, and everything else.
All with Superhuman Command.
Hit Cmd+K (or Ctrl+K on Windows) to open our command palette:
You'll see keyboard shortcuts next to every command. So you can do it even faster next time!
With Superhuman Command, you can do anything from anywhere. It's fast, intuitive, and works on mobile too!
Pull down and to the right (or tap with two fingers) to find what you need:
3. Blazing Fast Search
Outlook search is painfully slow and inaccurate. Sometimes it just doesn't work.
At Superhuman, we've built the fastest email experience ever made. Every action you take is faster than 100ms. Which is why everything feels FAST! ⚡
Unlike Outlook, Superhuman search is instant, accurate, and works offline:
On Superhuman, searches take just 30 milliseconds! Not 3+ minutes.
We've made search faster and more accurate with:
Attachment search: Download files without opening emails.
Sidebar help: Be precise without remembering syntax.
Search offline: Find anything and everything. No internet required!
The kicker: Superhuman shows all your recent search queries. Even those from your desktop! So you don't need to search for the same things again.

To search, Hit " / " on the desktop or pull down on mobile.
Fun fact: Loading an email on Superhuman takes just ~16ms. That's faster than any action you take on Outlook. Superhuman is faster than any native email app available today.  
But that's not all! With Superhuman, you can:
Manage Calendars: Create events, schedule meetings, and organize your day. All with the beautifully designed calendar in Superhuman. No need to switch apps (or tabs).
Work offline: Search, reply, archive, and more — no Internet required!
Automate typing: Blaze past your typing limit with Snippets. Real-time autocorrect fixes spelling seamlessly. You'll never notice a typo again.
Send later: Schedule emails to go out at the right time (in any time zone!)
Remind me: Can't deal with an email now? Tap, remind me. Can't deal with an email on your phone? Hit remind me "on desktop":
Lastly, with Superhuman AI, you can write entire emails, summarize long email threads, and type upto 50% faster with real-time autocorrect.
The kicker? Superhuman AI can write emails in your tone and voice. 🤯
Here's a quick demo:
SIDENOTE: Are you forced to use Outlook? Your company may have an active Microsoft 365 subscription. Or you love the Microsoft ecosystem and find it hard to leave Outlook.
Superhuman works with Outlook! No need to spend hours trying to switch email providers. Sign in with Microsoft. And you're done! It's that simple.
If you're a business, Superhuman will save your team one month. Every year.
Ben, Sr. Director of Customer Experience used Superhuman at Brex to help his team respond to customers 3x faster. 🤯
Teams that use Superhuman:
Reply 2x faster than before
Save 3+ hours per week
Respond to 3x more emails
Plus, you get rich social insights from Linkedin, Twitter, etc, at your fingertips! Learn about potential leads, possible candidates, or curious investors. Instantly.
So you can write the perfect sales email:
And follow up at the right time with read statuses:
With Superhuman for Enterprise, you'll get concierge onboarding, a dedicated account team, and SOC 2 compliance. Plus, 24/7 VIP technical support from our Delight Team. Whenever you need it.
Recommended for:
Founders, busy C-level execs and high-performing teams looking to improve their email productivity. If you're someone who gets 150+ emails daily, we made Superhuman just for you.
Pricing:
Individuals: $25/month (billed yearly)
Teams: $25/month/user for five users (billed yearly)
For larger teams, talk to sales for custom pricing. 😉
Superhuman is the most expensive email client on this list.  
But ask yourself:
What's 30 hours saved every month worth to you?
What is an extra month worth to your business?
What if you could reply to crucial emails faster?
Here's what our customers say:
"I think any good leader cares about the happiness and sanity of their team. I want my team to have the best tools available to them. Things that allow their job to be easier and simplified in this ever-complicated environment. Superhuman is the best tool for the job." – Ben Terrill, Sr. Director of Customer Success, Brex
"Not only is it blazingly fast, but I love the UX where I'm not switching between email, inbox, email. Search WORKS. Finally, you solve the Outlook pain point of the no snooze and reminder feature. This is huge."
"Massively beautiful design, great search, shortcuts, and other useful features make it feel like a modern experience."
"Superhuman makes all my pain points disappear, and I can be a more efficient communicator."
"With Superhuman integrating O365, I can sift through work emails and return to work in seconds. It's an extremely valuable tool, and I can't imagine working without it."
"Superhuman O365 integration is a game-changer for me.  It has finally allowed me to unify my email worlds in a single place."
"Superhuman is a game changer when responding quickly and efficiently to sales requests — and it is the only way I have ever reached inbox zero."
Superhuman currently offers MacOS, Windows, iOS, and Android apps. You can also use Superhuman for Web on Chrome.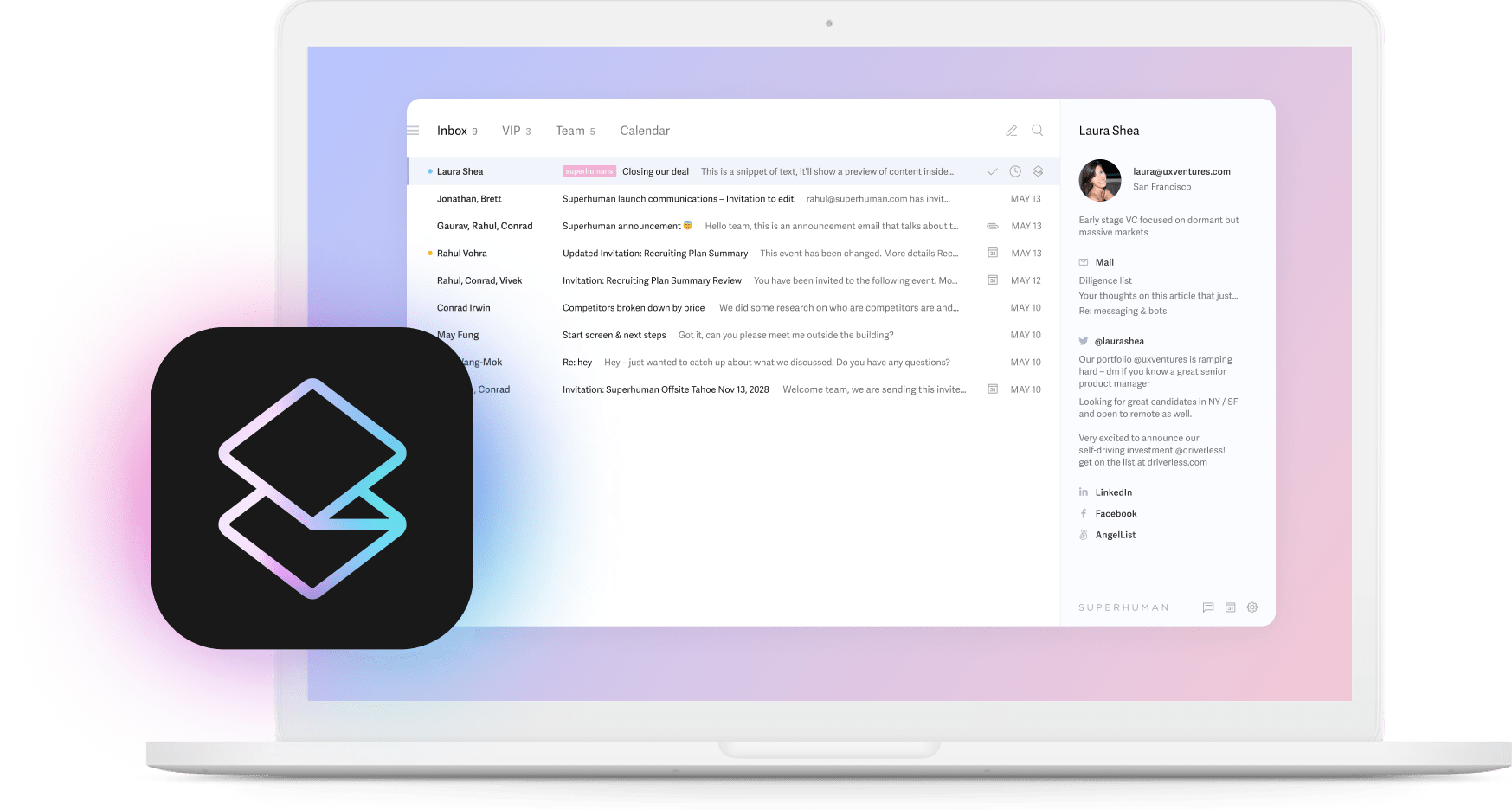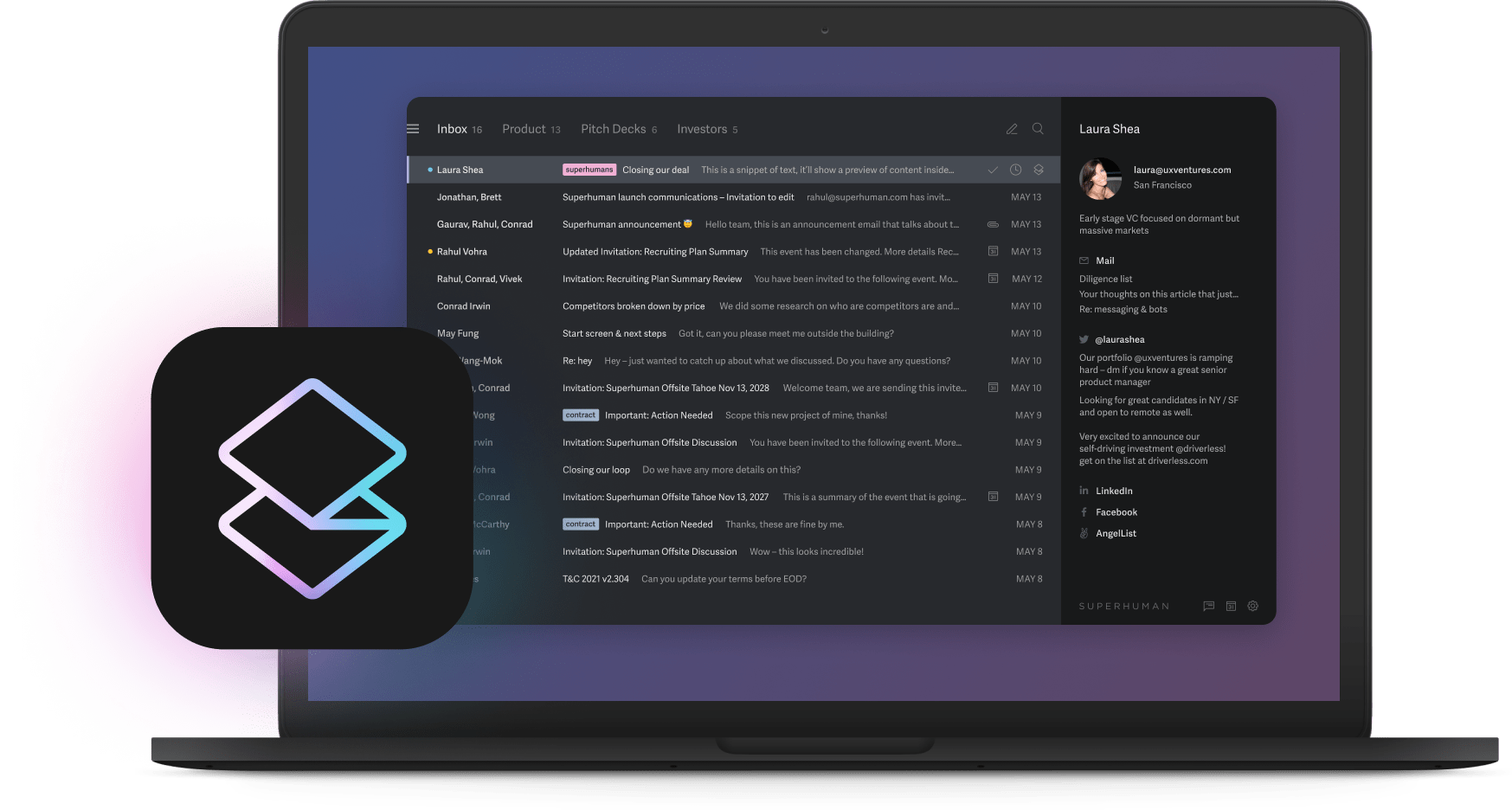 2. Gmail (or Google Workspace)
Gmail is Google's email service catering to personal and business users. Gmail is free and offers essential features like tasks, categories, spam filters, snooze emails, and priority inbox.  Gmail also offers add-ons like Google Calendar, Chat, Meet, Docs, Drive, Sheets, and Slides.
Unlike Outlook, Google Calendar is easy to use and just works.
Google Workspace (Formerly G Suite) is a fee-based business suite for business users. It offers all of Google's free features. Plus, a website builder, ad-free email, extra storage, 99.9% guaranteed uptime, team collaboration, file sharing, custom domains, advanced security, etc.
What users like best:
Users who work with Google Docs and Google Drive use Gmail because it works seamlessly with Google's ecosystem. They also like how Google integrates with many apps.
Top features:
Desktop email client (Windows, macOS, Linux)
Mobile apps (iOS, Android)
Conduct video meetings (limited for free users)
Manage files with Google Drive
Enhanced security
Advanced search features
Integrated calendar
Google Workspace (professional service that includes team collaboration, file sharing, advanced security, Google Voice, and more)
Using Gmail as an email client and managing multiple email accounts (linking non-Gmail accounts) will be problematic.
Gmail can be limiting for users who want advanced functionality to help them work faster and more efficiently. You can use Gmail add-ons, but they can end up making Gmail clunky.
Which is why we created Superhuman. It supports Gmail and Outlook accounts to help you speed up your email management and become more productive.
Optional Reading: Gmail vs. Superhuman: Apples to Oranges
3. eM Client
eM Client is similar to Gmail and Outlook, offering a built-in calendar, chat function, contact management, notes, and more. It's available for Windows and Mac; however, there's a significant disadvantage if you like to email on the go: there needs to be a mobile application. eM Client has a free version, although it's limited. It includes two email addresses and a support forum.
eM Client is among the few email clients supporting PGP encryption (Pretty Good Privacy). This encryption program increases email security and privacy for digital signatures, files, and messages.
What users like best:
Users like eM Client's simplicity and ability to integrate and synchronize easily with applications such as Dropbox, One Drive, Zoom, and Google Workspace.
Top features:
Desktop email client (no mobile apps offered)
Simple, clean interface
Chat feature
Calendar and tasks
Contact management
Email snoozing and scheduling
PGP encryption
Numerous integrations with third-party tools
Plays well with Yahoo, AOL, Gmail, Microsoft Exchange Server, iCloud, etc.
4. ProtonMail
Want to be anonymous on the internet? ProtonMail uses zero-access end-to-end PGP encryption based on the zero-knowledge encryption standard.
Its servers are located in Switzerland and are subject to Swiss privacy laws, some of the most stringent in the world. That means confidence that only you, the user, can access your secured data. MIT and CERN scientists built ProtonMail to take advantage of the latest data science and security advances.
Proton's free plan does not offer a custom domain name, so it would not support professional email in most cases. The free plan only provides 500 MB of storage, caps your daily messages to 150, and allows three folders or labels.
More features and storage are available through paid plans with monthly or annual fees. The highest tier (Visionary plan for €30/month or €288/year) bundles Proton's custom VPN, giving you more bang for your buck.
The kicker: ProtonMail accepts anonymous payments via Bitcoin or Monero (one of the most anonymous cryptocurrencies on the market).
What users like best:
Proton users like the software because of its advanced security and privacy features.
Top features:
Mobile apps (iOS and Android)
End-to-end encryption
Zero-access encryption
Self-destructing emails
Additional apps available on the paid plans (ProtonCalendar, ProtonDrive, ProtonVPN)
5. Front
Front is a customer service and email messaging application with similar features to Outlook but focuses more on team communication and collaboration via messaging. It also offers robust analytics and 360-degree customer data to track performance and customer satisfaction.  
Front refers to itself as a customer communication platform as it helps you connect your social channels (social media, Slack, WhatsApp, live chat, etc.) to your team inbox. Hence, all of your communication happens in one place. It's also a ticketing system and team collaboration tool all in one.
What users like best:
Users like how much easier it is to collaborate with team members with a shared inbox, assignments, and 360-degree visibility on all team and customer data and messaging.
Top features:
Desktop email client (Windows, macOS)
Mobile application (iOS, Android)
Automated workflows
Shared team inboxes
Chat feature
@ mentions and notifications
Email assignments
Numerous integrations with third-party tools
Contact management
Analytics
Sidenote: At it's core, Front was built for shared inboxes. If you don't work within a single inbox across your team, Front isn't the right fit for you.
Optional Reading: 7 Best Front Alternatives
6. Spark
Like Front, Spark is geared towards team collaboration with a heavy focus on shared inboxes. But it's not a customer ticketing system.
Spark offers email reminders, scheduling, tasks, and snoozing. It also provides templated responses and automated email categorization and prioritization. Spark is cross-platform. Which means you can use Spark on Windows, MacOS, iOS, Android, and Apple Watch.
Among its most-popular features is the ability to collaborate on shared email drafts and delegate emails to team members. Which is absent on Outlook.
Spark offers a limited free plan, but enhanced collaboration features such as shared inboxes, shared drafts (more than two collaborators), and team roles are only available on Spark's premium plans.
What users like best:
Users give Spark high marks for its clean design, shared email drafts, and automated email categorization.
Top features:
Smart Inbox automatically sorts and organizes email
Desktop email client (macOS only)
Mobile application (iOS, Android)
Snooze emails
Shake to undo
Chat feature
7. Mozilla Thunderbird
Mozilla Thunderbird is a free, open-source email client. It offers features like Thunderbird Look & Feel (customize the look and feel), Smart Folders (combine folders), Large Files Management (share large files), Mail Account Setup Wizard (simplifies IMAP, SMTP, and SSL/TLS setup), Tabbed Email (emails open in tabs like Firefox), and more.
Thunderbird offers basic functionality without the ability to integrate with popular project management and productivity apps like Trello or Asana. But it provides add-ons and extensions as some features like the calendar are only available when you download an extension.
Thunderbird is open source, and — as you'd expect of a free application — it doesn't have the most design-forward interface. You'll also need to download extensions or leave the application for certain features. Like a calendar, sending meeting invites, etc.
What users like best:
Users like Thunderbird is free and offers a user-friendly interface.
Top features:
Desktop email client (Windows, MacOS, Linux)
No mobile applications (Android is in the works)
Free to download and use
Customizable look and feel
Address book
Tabbed email
Phishing protection
Quick Filter toolbar
Add-ons manager
8. Spike
Spike is an email client, unlike others. While it offers similar features to Outlook, its interface differs from what you might be used to.
Spike caters to users who prefer a chat-focused visual experience and value collaboration and simplicity. It converts your emails into chat bubbles and brings all your messages, communication, tasks, and calls into the exact location for ease of use and accessibility.
Spike offers features such as Intelligent Priority Inbox (prioritizes messages), real-time chat and video calls, note sharing, live collaboration, tasks, and reminders.
Learning an entirely new email concept can be intrusive and time-consuming for some. There is a slight learning curve to using Spike; users have mentioned it takes some time to get used to.
What users like best:
Spike turns emails into natural chat conversations.
Top features:
Desktop email client (Windows, macOS)
Mobile application (iOS, Android)
Chat-like interface
Custom templates
Audio and video chats
Instant messaging
Intelligent Priority Inbox
Notes, tasks, and reminders
5 More Alternatives to Microsoft Outlook
Here are a few honorable mentions. Each with its own unique features:
Zimbra: Zimbra is a free, open-source alternative to Thunderbird. It also offers an Outlook connector.
Zoho Mail: Zoho Mail is an email solution for personal and business users. Zoho also offers a full-scale suite of products in addition to email.
Shift: Shift allows you to shift between your Gmail, Microsoft email, Slack, and Facebook Messenger, all within a unified inbox.
Mailbird: Mailbird is an email client that lets you manage all your email accounts from one unified interface. It integrates with numerous productivity apps such as Asana, Grammarly, and Slack. Mailbird is only available on Windows for now. Mac and iOS versions are under development.
Helpwise: Helpwise is a shared inbox that brings all your team inboxes (Gmail, Microsoft365, WhatsApp, Twitter, Instagram, Facebook) together in one interface.
Which Outlook Alternative is Right for You?
Short answer: it depends.
Outlook no longer meets your needs. This is why you're looking for a new email provider.
Every email client on this list offers similar features. But their areas of focus might differ. Some offer live chat, while others offer powerful encryption.
When evaluating the Outlook alternative that's right for you, ask yourself:
Is Outlook slowing you down? Would a faster, intuitive, reliable email client boost your email productivity?
Will a basic email suffice? Or do you get vast amounts of email and could benefit from split inboxes, reminders, and keyboard shortcuts?
Which features do you value most in your email client? More isn't always better,  especially if they're unreliable or make your experience clunky.
With Superhuman, your team will save one month each year. Built for teams using Gmail and Outlook, Superhuman is feature-packed, blazing fast, and delightful. Try Superhuman today!
Questions? Ping us on Twitter. 🙂