8 Outlook alternatives to upgrade your inbox
Microsoft Outlook has been one of the most widely used email clients in the email space for many years. It's safe, feature-rich, and it gets the job done.
But so does your trusty iPhone 6, which might be ready for a much-needed upgrade!
Outlook users are increasingly realizing that there are multiple alternatives to the platform. They're reevaluating what they love (and hate) about Outlook, and many are searching for an upgrade or another solution altogether.
If that's you, you're in the right place. We'll dive into eight Microsoft Outlook alternatives (plus five honorable mentions!) and discuss a single productivity experience that enhances your Outlook inbox to create a faster, sleeker, and more efficient email management solution.
Why you might be considering an Outlook alternative
Just because a software application has been widely used for years doesn't mean it's meeting all your needs. It might be time for an upgrade, especially if you're struggling with typical team workflow issues such as inefficiency, lack of communication, and loss of productivity.
Here are some common user complaints about Outlook:
Feature overload: Outlook has a lot of features, but that's not a huge selling point to many users. It offers way more features than users actually want or need, making it clunky and lacking simplicity. Plus, having numerous features doesn't serve users if they're not always reliable (another user gripe).


Questions about reliability: Ongoing errors and unexpected crashes have become the norm and make it challenging to work in a consistently productive environment.


Complexity: Users have complained about Outlook's lack of task management features and complex processes that hinder productivity and smooth workflows.


Value for money: The standalone license is $139.95, which covers only one PC or Mac. If you want to use Outlook for teams, it comes as a part of Microsoft 365 which costs between $5 and $20/month per user.
Considering an Outlook alternative that isn't Apple Mail or Yahoo? We've got eight tools to discuss. We'll dive into each and reveal their most powerful features to help you make a decision that's right for you and your team.
Superhuman: the best Outlook alternative for improved productivity and speed

Maybe your team relies on Outlook, or they're hesitant to onboard and learn a new solution, especially if it won't have much of a positive impact. But you want a more streamlined tool that improves productivity and allows your team to work faster.
If that's you, we recommend Superhuman.
Superhuman turns your inbox into a productivity machine and it's available for Outlook (or Gmail). Your team will get work done twice as fast as before — flying through their email with zen-like simplicity to reach Inbox Zero.
What users like best:
With its most popular features such as AI, Split Inbox, Remind Me, Calendar, and its minimalistic aesthetic and stunning visuals, Superhuman gives time back to its customers and makes email management fun, easy, and rewarding.
Top features:
Split Inbox: Fly through your most important tasks with Split Inbox. Categorize your messages by type, and quickly triage high volumes of email.


AI: Put Superhuman to work while you sleep. Superhuman harnesses the power of AI to automate email triage and prioritize your most important conversations.


Remind Me: Move through your email fast with the ability to snooze messages until the time is right.


Calendar: Create events, schedule meetings, and organize your day, all within Superhuman's user interface.


Snippets: Regain hours each week by creating templates of your most used phrases, attachments, and even whole emails. Insert your custom snippets into emails with one tap. Reply to important messages faster.


Instant Intro: With one keystroke, move an introductory email sender to BCC and start responding.


Undo Send: Eliminate email anxiety with Superhuman's Undo Send feature. You can also block senders and domains.


Inbox Zero: Get to Inbox Zero fast and enjoy stunning and awe-inspiring imagery every time you get there.


Carbon: You'll love Carbon, a gorgeous, minimalist dark theme.


Mobile app: Take Superhuman with you on the go.


Safe and secure: Superhuman is SOC 2 compliant, a recognized standard for data security developed by the American Institute of Certified Public Accountants. All of your data is private and encrypted.


Superhuman Command: Enjoy a quick-access command center for all of Superhuman's keyboard shortcuts.


And more!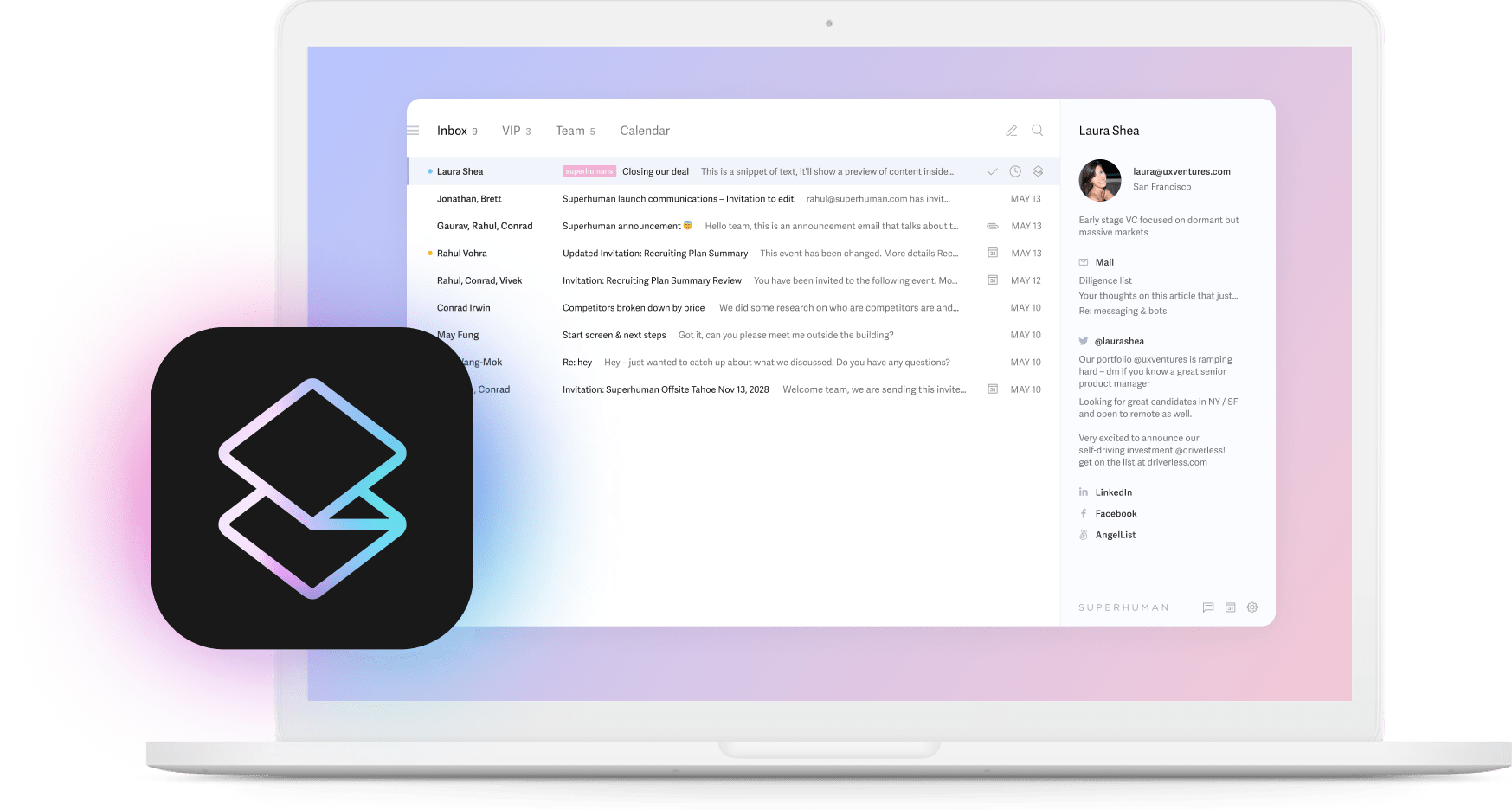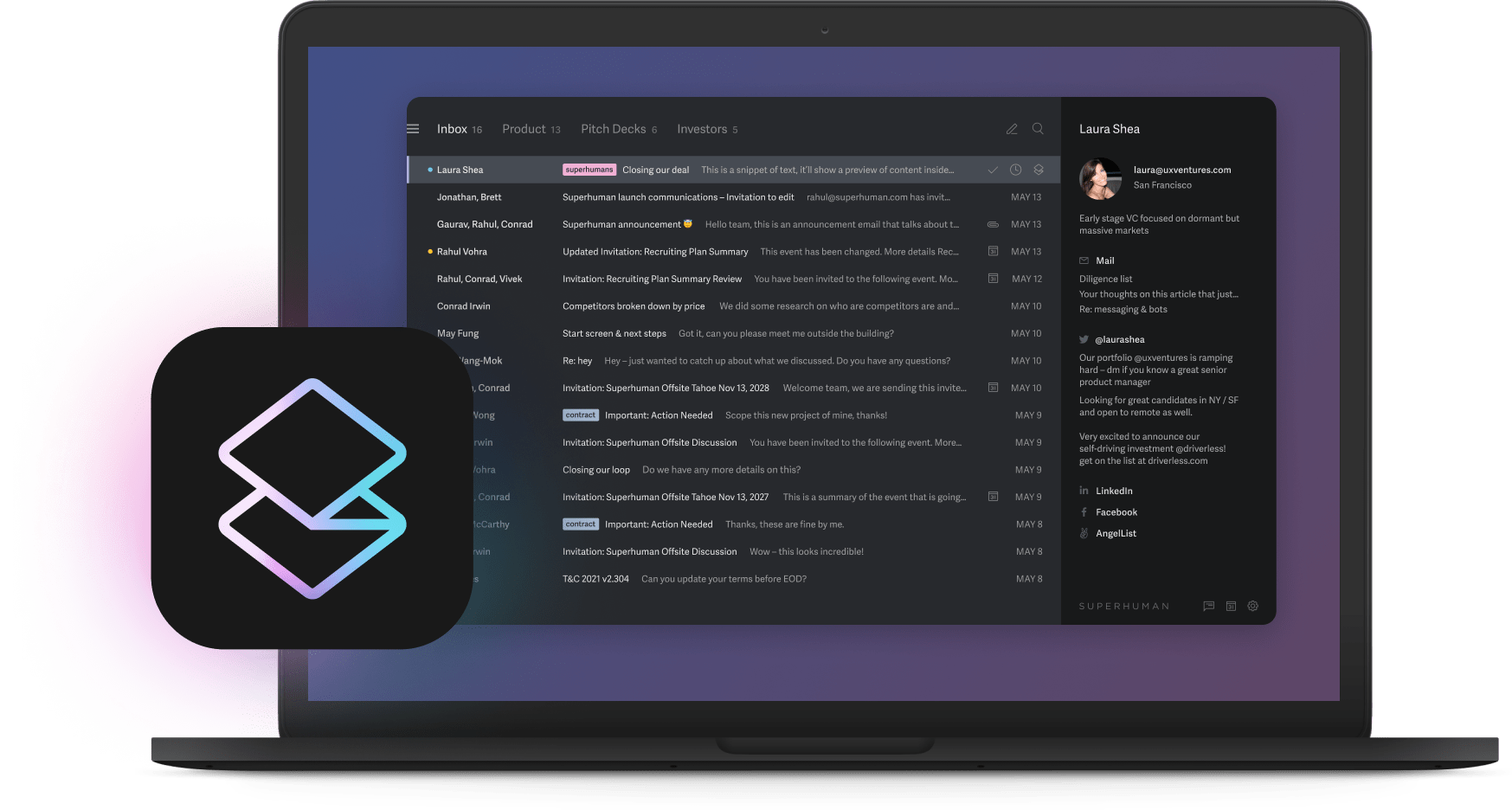 Gmail/Google Workspace
Gmail is Google's email service that caters to personal and business users. Gmail is the free personal email version that includes most basic email functions such as tasks, categories, filters, spam filtering, scheduling sends, and contact management. Gmail also offers addons such as Google Chat, Meet and Rooms, Google Calendar, Docs, Drive, Sheets and Slides.
Google Workspace (Formerly G Suite) is a fee-based business suite for business users. It includes all of Google's free version features plus addons such as a website builder, zero ads, additional storage, 99.9% guaranteed uptime, team collaboration, file sharing, custom domains, advanced security, and more.
What users like best:
Users who like working with Google Docs and Google Drive typically use Gmail because it works seamlessly with Google's ecosystem. They also like how Google integrates with many apps.
Top features:
Desktop email client (Windows, macOS, Linux)


Mobile apps (iOS, Android)


Using as an email client and managing multiple email accounts (connecting non-Gmail accounts) will be somewhat problematic


Conduct video meetings (limited for free users)


Manage files with Google Drive


Enhanced security


Advanced search features


Integrated calendar


Google Workspace (professional service that includes team collaboration, file sharing, advanced security, Google Voice, and more)
Gmail will be limiting for users who want advanced functionality to help them work faster and more efficiently. You can use Gmail addons, but they can make the application clunky.
This is why we created Superhuman. It integrates with your Gmail account to speed up your email management and make you more productive.
eM Client
eM Client is similar to Gmail and Outlook as it offers a built-in calendar, chat function, contact management, notes, and more. It's available for Windows and Mac; however, there's a big disadvantage if you like to email on the go: there's no mobile application. eM Client has a free version, although it's limited. It includes two email addresses and a support forum.
eMClient also is one of the few email clients that support PGP encryption (Pretty Good Privacy). This encryption program increases email security and privacy for email digital signatures, files, and messages.  
What users like best:
Users like eM Client's simplicity and ability to integrate and synchronize easily with applications such as Dropbox, One Drive, Zoom, Google Workspace, and more.
Top features:
Desktop email client (no mobile apps offered)


Simple, clean interface


PGP encryption


Email snoozing and scheduling


Numerous integrations with third-party tools


Chat feature


Calendar and tasks


Contact management
ProtonMail
If security is your top concern, ProtonMail might be a good option for you. ProtonMail doesn't allow you to connect multiple email accounts like Gmail and Outlook because it's not an email client. ProtonMail is an email provider that focuses on user security and privacy. It protects user data according to strict Swiss privacy laws as it hosts its servers in Switzerland.
ProtonMail uses end-to-end and zero-access encryption to encrypt users' data fully. The application doesn't even have access to your password, and it can't decrypt your emails. Proton even offers self-destructing messages, which means you can schedule when you want your message to "destruct" in your recipient's inbox (the message will disappear).
ProtonMail doesn't integrate with third-party solutions unless you use another app like Zapier to connect the tools. It also doesn't have a desktop application, although it is currently under development.
The parent company Proton offers additional applications if you want more features, such as ProtonCalendar, ProtonDrive, and ProtonVPN. Proton requires a paid subscription to access these apps.
What users like best:
Proton users like the software because of its advanced security and privacy features.
Top features:
Mobile apps (iOS, Android)


End-to-end encryption


Zero-access encryption


Self-destructing emails


Additional apps available on the paid plans (ProtonCalendar, ProtonDrive, ProtonVPN)
Front
Front is a customer service and email messaging application with similar features to Outlook but focuses more on team communication and collaboration via messaging. It also offers robust analytics and 360-degree customer data to track performance and customer satisfaction.  
Front refers to itself as a customer communication platform as it helps you connect your social channels (social media, Slack, WhatsApp, live chat, etc.) to your team inbox. Hence, all of your communication happens in one place. It's also a ticketing system and team collaboration tool all in one.
What users like best:
Users like how much easier it is to collaborate with team members with shared inbox, assignments, and 360-degree visibility on all team and customer data and messaging.
Top features:
Desktop email client (Windows, macOS)


Mobile application (iOS, Android)


Automated workflows


Shared team inboxes


Chat feature


@ mentions and notifications


Email assignments


Numerous integrations with third-party tools


Contact management


Analytics
Spark
If you're looking for an email app focused on team collaboration, Spark is one to research. Spark only works with Mac as it isn't currently available on Windows (it's under development). It does offer a mobile application for iOS and Android.
Like Front, Spark is another application focused on team collaboration but is not a customer ticketing system. It is similar to Outlook in that it offers email reminders, scheduling, tasks, and snoozing. It also provides templated responses and automated email categorization and prioritization. Among its well-liked features is the ability to collaborate on shared email drafts and delegate emails to team members.
Spark offers a limited free plan, but enhanced collaboration features such as shared inboxes, shared drafts (more than two collaborators), and team roles are only available on Spark's premium plans.
What users like best:
Users give Spark high marks for its clean design, shared email drafts, and automated email categorization.
Top features:
Desktop email client (macOS only)


Mobile application (iOS, Android)


Automated email categorization


Snooze emails


Shake to undo


Chat feature
Thunderbird
Thunderbird is a free, open-source email client. It offers features such as Thunderbird Look & Feel (customize the look and feel), Smart Folders (combine folders), Large Files Management (share large files), Mail Account Setup Wizard (simplifies IMAP, SMTP, and SSL/TLS setup), Tabbed Email (emails open in tabs like Firefox), and more.
Thunderbird offers basic functionality without the ability to integrate with popular project management and productivity apps such as Trello or Asana. But it provides add-ons and extensions as some features like the calendar are only available when you download an extension.
Thunderbird is open source, and — as you'd expect of a free application — it doesn't have the most design-forward interface. You'll also need to download extensions or leave the application (calendar, send meeting invites) for certain features.
What users like best:
Users like that Thunderbird is free and that it has a user-friendly interface.
Top features:
Desktop email client (Windows, macOS, Linux)


No mobile applications (Android is in development)


Free to download and use


Customizable look and feel


Address book


Tabbed email


Phishing protection


Quick filter toolbar


Add-ons manager
Spike
Spike is an email client unlike many others. While it offers features similar to Outlook, its interface differs from what you might be used to.
Spike caters to users who prefer a chat-focused visual experience and value collaboration and simplicity. It converts your emails into chat bubbles and brings all your messages, communication, tasks, and calls into the same location for ease of use and accessibility. Spike offers features such as Intelligent Priority Inbox (prioritizes messages), real-time chat and video calls, note sharing, live collaboration, tasks, and reminders.
For some, learning an entirely new email concept can be intrusive and time-consuming. And there will be a slight learning curve to using Spike as users have mentioned that it takes some time to get used to.
What users like best:
Spike turns emails into natural chat conversations.
Top features:
Desktop email client (Windows, macOS)


Mobile application (iOS, Android)


Chat-like interface


Custom templates


Audio and video chats


Instant messaging


Intelligent Priority Inbox


Notes, tasks, and reminders
5 additional Outlook alternatives (honorable mentions)
Here are some other Outlook alternatives to consider with their most notable features.
Zimbra: Zimbra is another free open source alternative to Thunderbird, offering a cloud-hosted version.


Zoho Mail: Zoho Mail is an email solution for personal and business users. Zoho also offers a full-scale suite of products in addition to email.


Shift: Shift allows you to shift between your Gmail, Microsoft email, Slack, and Facebook Messenger, all within a unified inbox.


Mailbird: Mailbird is an email client that lets you manage all of your email accounts from one unified interface, and it integrates with numerous productivity apps such as Asana, Grammarly, and Slack. Mailbird is only supported on Windows, but Mac and iOS versions are under development.


Helpwise: Helpwise is a shared inbox that brings all your team inboxes (Gmail, Microsoft365, WhatsApp, Twitter, Instagram, Facebook) together in one interface.
How to choose the right Outlook alternative
What factors should you consider when choosing the best email client for your team? How do you decide between solutions?
When choosing a new email solution, let's start with your goals and primary focus.
What is most important to you?
Each email application will include similar features, but their focus area might differ. Focus on your ultimate goal and research each application with that in mind.
If you want a new email concept that focuses more on live chat and communication, research Spike.
If you want to improve your team's efficiency and speed, but you want an email client that works with Gmail or Outlook, then Superhuman is a good choice.
Here are some other factors to consider when choosing an Outlook alternative:
Price vs. value: Thunderbird might be free, but if you don't want to invest the time in keeping open source software maintained and you're not very technical, a fee-based email application will save you more money in the long run.


Support: Some free email clients do not offer support outside a forum that may or may not be monitored regularly.


Features: Be more concerned with the features you use than the number of features an email application offers. More is not always better, especially if you will need clunky add-ons to get the functionality you want.


Reviews: Peruse the software's reviews and what users consider the pros and cons.


Integrations: Look for integrations that support your team's tech stack.


Happiness: At the end of the day, your email client shouldn't make you feel stressed or overwhelmed. The best tools can even make you significantly happier, boost efficiency, and help your team achieve flow.
Is Superhuman the right Outlook alternative for you? Try it and find out
Superhuman is not just another email client. It's an experience that focuses on productivity and speed, and gives you back time in your day so you can focus on what really matters.
Superhuman gives you complete control over your inbox so that you can fly through it twice as fast as before. Day-to-day email management becomes a breeze with features such as AI triage, Split Inbox, Remind Me, Calendar, and many more.
Superhuman also works with your Gmail or Outlook, so you do not have to deal with the hassle of starting from scratch and adopting a completely new solution.
In addition, its beautiful and minimalistic interface and stunning visuals bring a zen-like experience to every email inbox.
Superhuman is ideal if you want to improve productivity, speed up email management, and declutter your inbox blazingly fast. Try Superhuman today.