What's a web email client?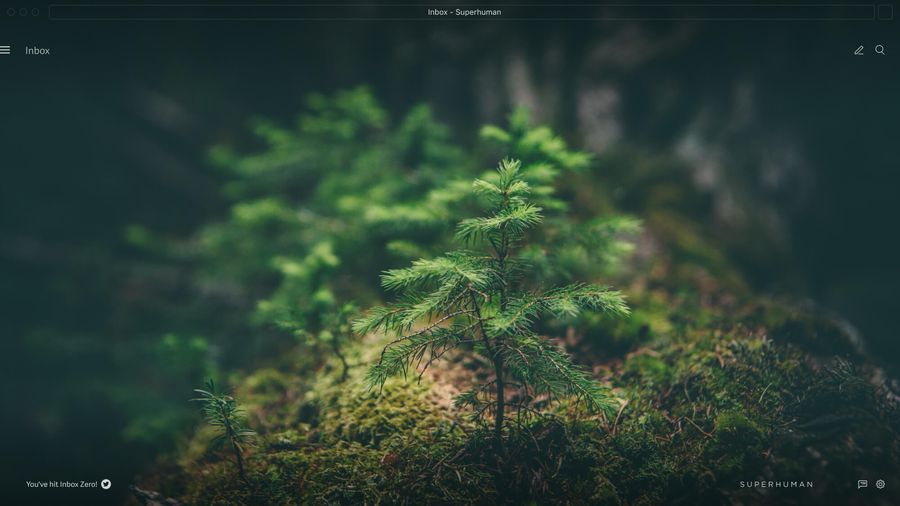 The average person receives more than 100 work emails per day — and that's just work email.
In the digital age — and as remote and asynchronous work have become more of the norm — email has become an absolutely ubiquitous part of our communication landscape. But while we're sorting through hundreds of messages each day, not many of us are thinking about how we access our email — and whether we're using the best platform for our needs.
Email clients come in different forms, from native software to webmail. In this article, we're going to focus specifically on web email clients — what they are, the pros and cons of using one, and some options for the best web email clients available today.
What is a web email client?
A web email client is an email system that can be accessed online from your web browser, rather than from a piece of software that's installed on your device.
For a web email client, all messages, contacts, and other information are accessible online. This means web email can be accessed from anywhere with an internet connection, and doesn't require a connection to a specific server.
Many web email clients are free to use (including some of the most popular, like Gmail, Microsoft Outlook, and Yahoo Mail).
Webmail vs desktop email client
The most common alternative to a web email client is a desktop client, which is a piece of software that you download and install on your device (such as a Mac) to access your email. Desktop email clients can access your messages from online servers, similar to web email clients, but they can also use local servers for added security.
A web email client is sometimes called webmail, but it can't just be called an email client — some email clients are desktop-only. And many email clients allow you to access webmail accounts using IMAP, POP3, and SMTP protocols. One example of this is if you access a Gmail account using the email app on an iPhone. In this case, the iPhone email app (the email client) uses IMAP (Internet Message Access Protocol) to deliver messages from your Gmail account (webmail) to your device inbox.
In this article, we're going to focus specifically on webmail. While you may access it from a web browser or an email client, it doesn't change the core functionality of a web email client, which lives online.
What are the pros and cons of using a web email client?
Pros of using a web email client
Since a web email client is hosted online, updates happen frequently and automatically. You're likely to always be using the latest version without having to manually update.


A web email client allows you to access your inbox from anywhere there's internet. That means that you can access your email account across multiple computers and other internet-enabled devices.


Because all the information from a web email client is hosted in the cloud, it's automatically backed up. You don't need to worry about losing any messages, contacts, or other information in the event of a device failure.
Cons of using a web email client
Security experts will warn that you should never access webmail from a public computer or any other device you don't trust. Doing so can compromise the safety of your account. This means that web email clients are available from anywhere with internet, but only if you also have access to a safe, trusted device.


Storage space for a web email client can be limited, especially for free products. Since everything is stored in the cloud, you can often purchase additional storage if needed.


Free versions of web email clients are sometimes ad-supported, which can be annoying and distracting for some users.
How to choose the right web email client
When choosing an email provider, there's a lot to take into account. For web email clients in particular, there are certain considerations to keep in mind to ensure you're getting a flexible, powerful email service that will meet all your needs.
These are just a few things to consider — but keep in mind that depending on what you need from your email, your list may include different or more factors than just these.
Offline access
Does the provider offer you access to your email messages and other stored information even when you're offline? In today's world, we need access to email all the time — and from anywhere (and that's one of the pros of using a web email client!). If your email is only accessible when you have an internet connection, that can be pretty limiting.
Storage space
Another important thing to consider is how much storage space you get with your email account, and whether you can purchase additional storage if you need to. While web email clients often offer limited storage, cloud storage tends to be pretty affordable, so look for a provider that can give you the storage you need, either for free or at a competitive price.
Ability to manage multiple email addresses at once
One of the big benefits to using a desktop or app-based email client instead of a web client is the ability to connect multiple email accounts, sometimes even all from different providers. If you need to manage more than one email address, you'll want to look for a web email client that allows you to do that, either by combining multiple addresses in the same inbox, or allowing for easy switching between different inboxes.
Cost
The final thing to consider is the cost. Many web email clients are free, but those may not meet your needs. The more features you need, the more likely they are to come with a price tag attached. If you're on a budget, it can be a good idea to shop around for a client that meets your needs at the most affordable price.
7 of the best web email clients to choose from
These are 7 of the best email clients you can find on the web.
The inbox all-rounder: Gmail
There's a reason Gmail is the most-used web email client in the world (with more than a billion users around the globe!). It really sets the gold standard for free webmail, with all the basics in a streamlined interface where your inbox takes center stage — without a lot of toolbars or other clutter.
A free Gmail account comes with 15 GB of storage space, which is plenty for most users. And upgrading to a Basic plan doubles the storage to 30 GB. Gmail is accessible online (though in most cases, you need Google Chrome for that to work). And you can manage other email accounts from within Gmail's interface, as long as they use IMAP or POP.
Gmail integrates with all the other products in the Google Workspace, including Docs, Sheets, Slides, and more.
Best for email power users: Superhuman
Superhuman works with any existing Gmail account, but adds new features to take your email management to the next level. Most appealing to many users is the shortcut library, which allows you to navigate your inbox without ever using a mouse. This saves users so much time, they report getting through their email at least twice as fast as before.
Superhuman is packed with features meant to make you feel superhuman: AI triage, undo send, insights from social networks, follow-up reminders, scheduled messages, read statuses, and more. Plus, when you sign up for Superhuman, you get a personalized onboarding session to help you learn how to use it in the ways that most benefit you.
All of this is inside a platform that's designed to be beautiful. Email becomes something better than a chore with Superhuman — it becomes a delight.
And Superhuman isn't just a web client. You can use it in your browser, or install it on your desktop or mobile device. You can even use it offline.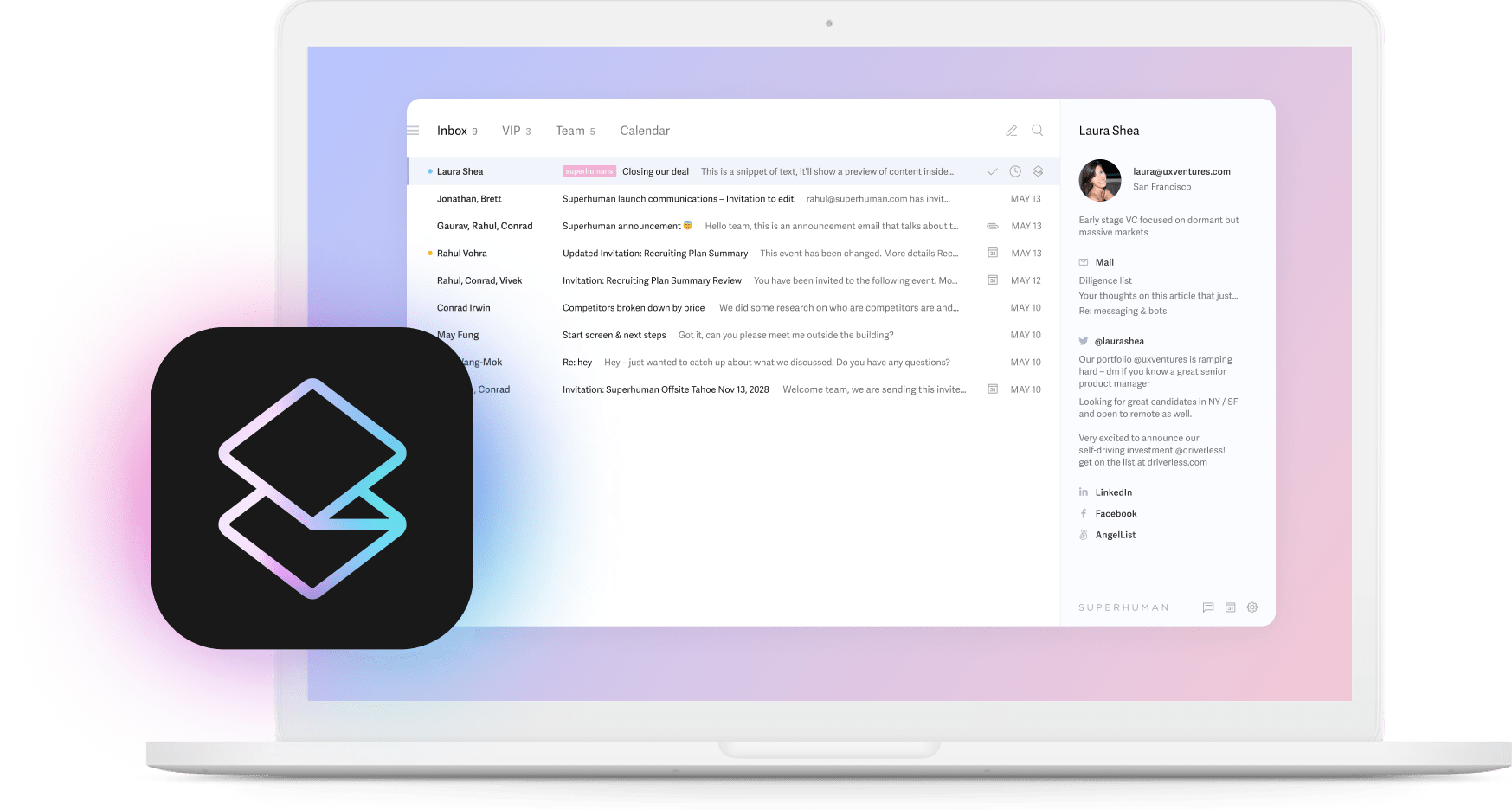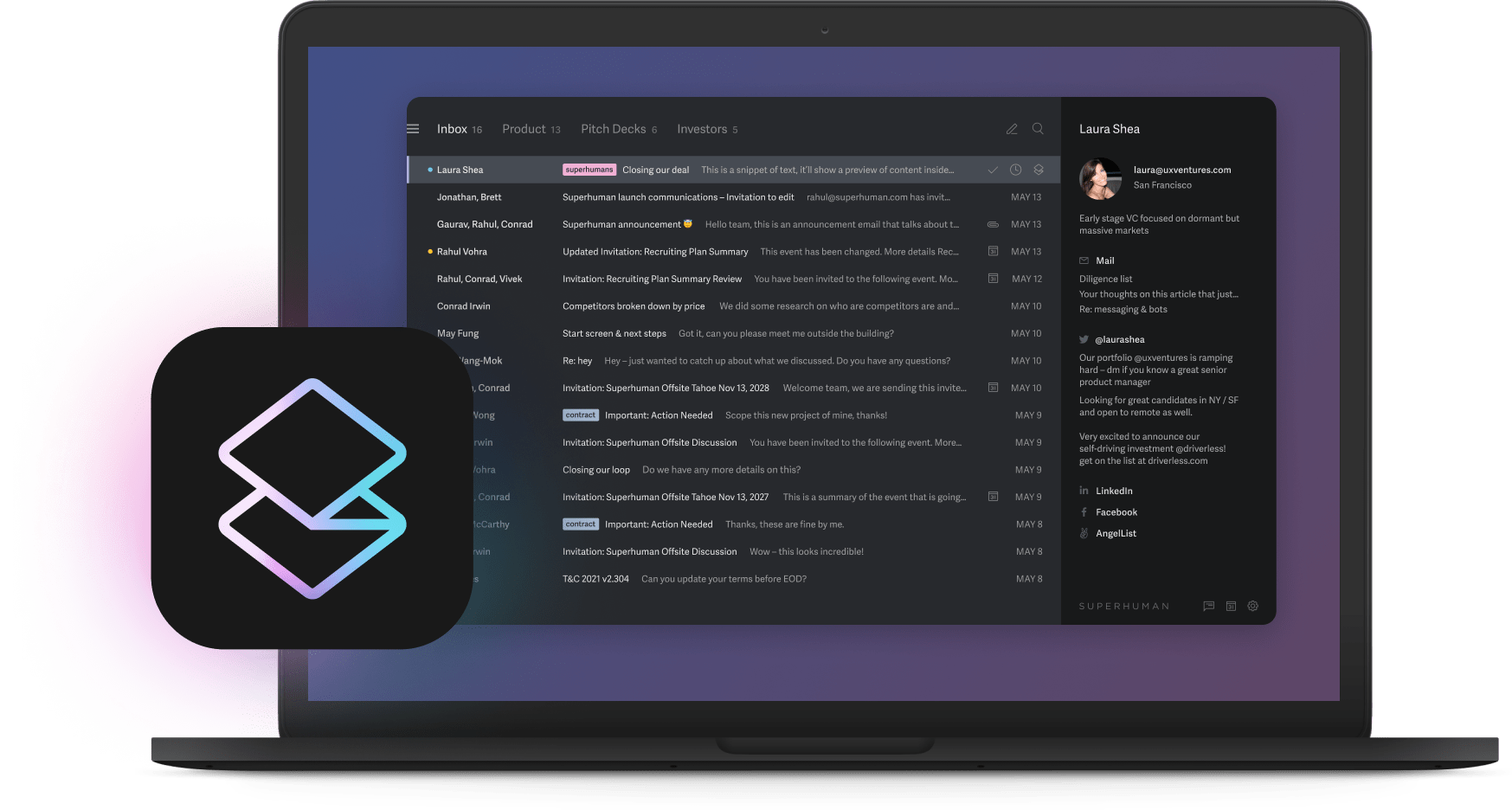 Best for Microsoft Office loyalists: Outlook
Most users are familiar with Outlook as a desktop client, but this very popular email service also offers a web app.
Outlook's webmail client features a very similar user interface to its desktop version, with a powerful and comprehensive set of common email features: a folder system for organizing your inbox, a toolbar with quick access to useful actions, automatic message sorting (including putting important messages into a Focused Inbox to help users avoid distractions), calendar integration, easy sharing with other Outlook.com and Windows users, and more.
Outlook also offers a ton of add-ons and integrations with everything from Skype to Evernote to PayPal, Yelp, Uber, and more.
Using Outlook with Office 365 gives you an ad-free inbox, 50 GB of mail storage, an additional one TB of drive storage, offline working, file recovery, phone and text-based support, the latest versions of Word, Excel, and Powerpoint, and more — all for $70 a year for a single user.
Best open-source: Zimbra
Zimbra is an open-source webmail provider, which means it's a lot more customizable than many other popular web email clients. What makes it even more popular is that it includes both the web client and an email server, making it a good all-in-one platform for users who don't want to provide their own mail servers.
Despite being open source, Zimbra has been well-maintained over the years. It includes all the features you expect from a modern email platform: folders, address book, a clean interface, and fast speeds. Zimbra also offers a desktop client, which is also open-source.
Best for customization: Roundcube
Roundcube is another open-source webmail solution, but one that's both easy and fun to customize to fit your needs. Its interface is modern, fast, and customizable using a drag-and-drop design feature, which means you can set up the exact user experience you want.
Roundcube comes with a lot of useful features we've come to expect from modern email clients: spell checking, canned responses, a templating system, translation into more than 70 languages, and more. Plus, it has a pluggable API that allows users to create their own extensions to add the features they need.
Strong contender for team collaboration: Horde
Horde is more than just a web email client — it's an entire groupware suite that's enterprise-ready, featuring web apps for email, calendar sharing and management, contacts, task management, and notetaking. Think of it like a project management software that has email built-in — it's a powerful tool for teams (especially large ones) that need to do a lot of things collaboratively.
For personal users, Horde can help you manage your entire online life, all from within a pretty slick and user-friendly UI that's fully customizable.
The one downside to Horde is that it doesn't provide a server, which means its webmail features aren't the primary draw. If you want to use it for email, you'll have to provide your own server.
Need an all-in-one alternative for team collaboration? Try Superhuman for Business.
Fastest email for teams
Best for file synchronization: Nextcloud
Nextcloud isn't an email client, per se — it's a file synchronization software (similar to Dropbox) that allows multiple users in different locations to manage and update files, even asynchronously. That makes Nextcloud perfect for teams who need a web email client, but also a single source of truth for files that multiple people need to access remotely.
In addition to its file synching features, Nextcloud includes a rich plugin system that allows you to add everything from chat to webmail. The foundation for the entire platform is a virtual drive that can be hosted in the cloud or on your own server.
Another great thing about Nextcloud is that its creators didn't try to reinvent the wheel — the foundation for this platform is Horde's open-source code, which means you can expect Nextcloud to work as a powerful and feature-rich web email client, even if your primary need is its file synching capabilities.
Choosing the right web email client is all about meeting your unique needs
If you're one of the 60% of webmail users who already use Gmail, and you just need your inbox to be better — faster, more beautiful, and more feature-rich — you need Superhuman.
Get started with Superhuman