7 Best Email Clients for Mac (in 2023)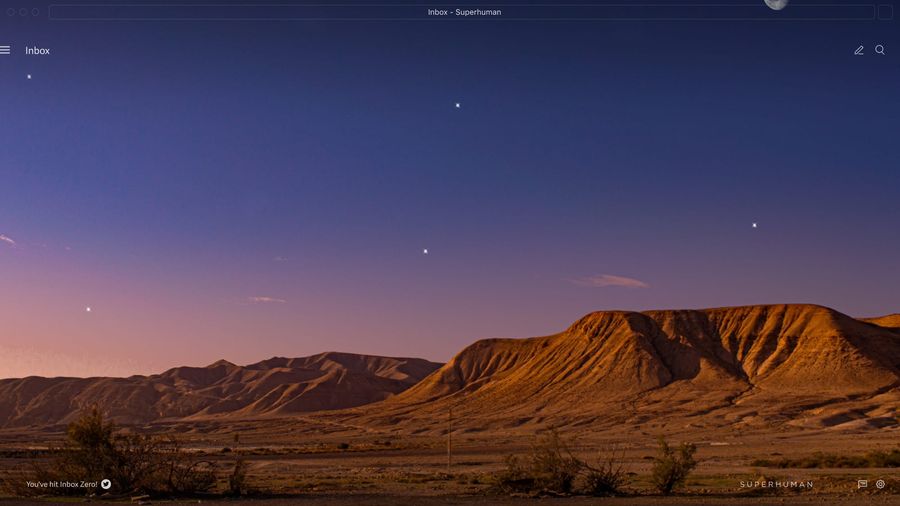 Looking for a new email client for your Mac?  Look no further.
7 Best Email Clients for Mac:
Superhuman
Apple Mail
Microsoft Outlook
Mozilla Thunderbird
Spark Mail
Airmail
HEY Email
Some are free Mac email clients. Others offer free trials. But each Mac email client is best suited  a specific user (or use case).
We'll compare different options so you can find the best email client for your Mac.
Let's dive in:
What is a Mac Email Client?
An email client is an application that runs natively on your Mac.
For example, Apple Mail. It's a free email client that's the default on iPhone, Mac, and iPad:
A webmail client, on the other hand, runs on your browser.
Gmail is the most popular webmail app. It's only accessible via Chrome, Safari, and other web browsers. Unless you download the native Gmail client.
Outlook for Web is another example:
Some email clients offer both webmail and desktop apps. Like Outlook or Superhuman:
Email clients and webmail have their pros and cons.
But desktop email clients offer a few distinct advantages:
Speed: Desktop email clients are faster than webmail apps because the IMAP protocol is efficient. It only transmits the minimal amount of data required to process email.
Organization: The biggest draw to email clients is the ability to filter, sort, flag, and file your email in a manner that suits you best. This functionality is limited on webmail.
Work offline: Accessing email without the internet is only possible on email clients. Offline mode can be valuable for business travelers working on flights or without WiFi.
Unified Inbox: Let's say you have a Gmail and a Yahoo! account. Many email clients let you manage both from the same interface without switching websites.
Backups: A desktop email client stores all your data locally. If your email provider suddenly goes offline, you can still access all your emails.
Customizable: A native email client is far more customizable than web email apps.
What Makes a Great macOS Email Client?
So what makes a Mac email client great? It's boils down to the same reasons why users prefer macOS over Windows.
Most Apple users buy Mac for a few reasons:
Style and Design
The average person spends three hours in their inbox daily. Is your email client delightful to use? Your environment (digital and physical) has a measurable impact on productivity.
Ease of use
Does your email client make you better at managing email? A great email client will balance features and ease of use.
Reliability
Does your email client help you deal with email quickly and effectively?
Security
Are your private emails stored without adequate security precautions or used to run targeted ads back at you? They shouldn't be.
Ecosystem
Does your email client work on the web or mobile? Can it integrate with third-party calendars or video conferencing tools? Email clients should work seamlessly with tools, not against them.
The right macOS email client will help you get through your inbox faster. So you'll spend less time in your inbox.
What are the Best Mac Email Clients?
Tools like Slack and Whatsapp have made communication quicker and easier. But email will still be a quintessential part of your work (and personal) life.
The right macOS email client will help you better manage your emails so you spend less time in your inbox.
7 Best Mac Email Clients
1. Superhuman: The Fastest Mac Email Client
Superhuman is the fastest email experience ever made.
Built for people and teams who get high volumes of email, Superhuman is an email client that's gorgeous, blazingly fast, and delightful to use. Built around Inbox Zero, an email management approach made to keep your inbox at or close to zero.
Superhuman has a clean, minimal, and user-friendly interface, designed to help you fly through your inbox and eliminate distractions.
Here's how it works:
Superhuman users save up to 4 hours each week. They also reply to emails 2x FAST.
Superhuman is built to work with  Gmail or Outlook, meaning you don't have to give up your email address or switch away from what you currently use.
With 100+ features, you'll get through your inbox twice as fast.
Here are a few of them:
1. Blazing Fast
At Superhuman, we set out to build the fastest email experience ever.
Every action you take is faster than 100ms. It's the threshold at which interactions feel instantaneous. ⚡
From compose to search. Everything is FAST:
Fun fact: Opening an email takes just ~16ms on Superhuman.
That's faster than any macOS email app available today.  Try it for yourself. 😉
Long story short: Superhuman was built for speed.
2. Keyboard Shortcuts
With Superhuman, you can navigate your inbox and take any action without ever touching your mouse or trackpad.
Reply, search, archive, snooze emails, and more. All with keyboard shortcuts.
Don't worry about not knowing all these keyboard shortcuts. Superhuman offers an intuitive command palette (aka Superhuman Command) to find any shortcut quickly.
Hit Cmd+K (or Ctrl+K on Windows) to open Superhuman Command:
Enter a few characters to find what you want. Like "sn" to Snooze, "rm" for Remind Me, or "ev" for Create an Event.
3. Split Inbox
We all get too many emails. We don't reply to our team on time. We overlook emails from VIPs. We miss notifications from tools like Calendar, etc.
As a result, we lose opportunities, block our teams, and hurt our reputation.
Not anymore! With Split Inbox,  you can focus on what matters:
With Split Inbox, you can:
Quickly get to the messages that matter most.
Experience fewer context switches and stay in flow longer.
Achieve Inbox Zero in specific splits.
Split Inbox is especially powerful if you have high-volume inboxes. For such inboxes, it's challenging to hit inbox zero in one go.
Split emails from your team. Or from VIPs. Or your most used tools — Trello, GitHub, Asana, Google Docs — you name it.
To create Team and VIP splits, hit Cmd+K → "Split Settings."
To split out a tool like Google Docs, hit Cmd+K → "Split" on any Google Docs email.
This triaging feature splits your inbox into different streams: VIP emails, team updates, newsletters, and everything else:
Even if your inbox is overflowing, you'll respond faster to what matters most. 😀
That's not all! With Superhuman, you can:
Automate typing: Insert emails, phrases, or even attachments with snippets.
See recent opens: With read statuses, you'll know who opened your email (and when).
Work offline Search, reply, archive, and more. No internet required!
Send later: Time your emails to go out at the right time (across time zones!)
Remind me: Can't deal with an email now? Hit Remind me. Can't deal with an email on your phone? Hit Remind me "on desktop":
Lastly, Superhuman AI will help you write entire emails, summarize long threads, and type 50% faster with real-time autocorrect.
The kicker? Superhuman AI can write emails in your tone and voice. 🤯
Here's a quick demo:
Bottom line: Superhuman was built for high-performing teams looking to improve their email productivity.
Superhuman is cross-platform. It's available on the iOS and Mac App Store. You can also get Superhuman for Windows, Android, or Chrome (webmail).
Pricing:
Individuals: $25/month (billed yearly)
Teams: $25/month/user for five users (billed yearly)
Talk to sales for a discount if you're a bigger team. 😉
Superhuman is the most expensive macOS email client on this list.
But how much is 30h saved every month worth to you?
Regain your focus and win back time with Superhuman Mail
Keyboard shortcuts, AI triage, Reminders, Scheduled sends, Beautiful design
Get Superhuman for Email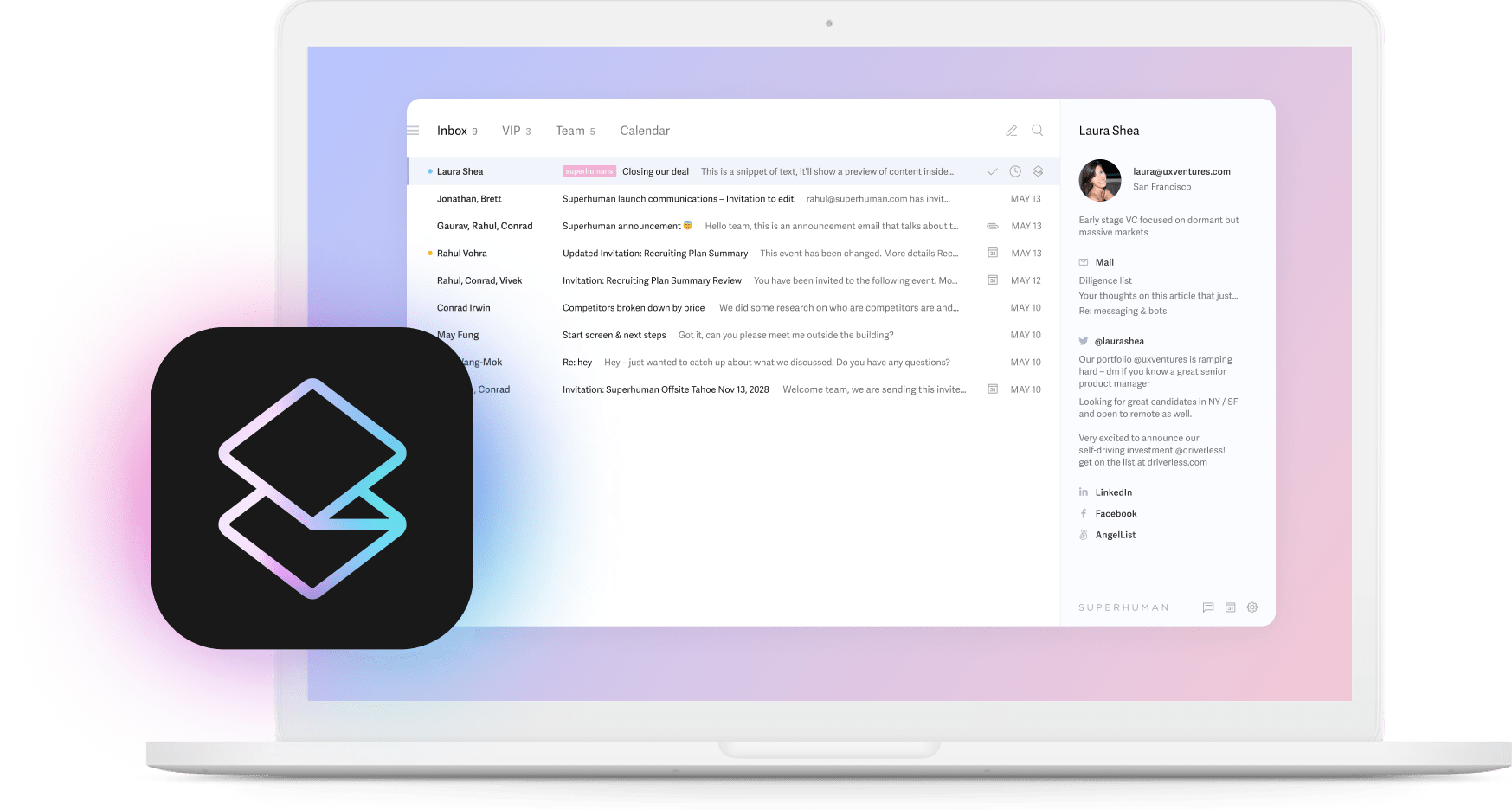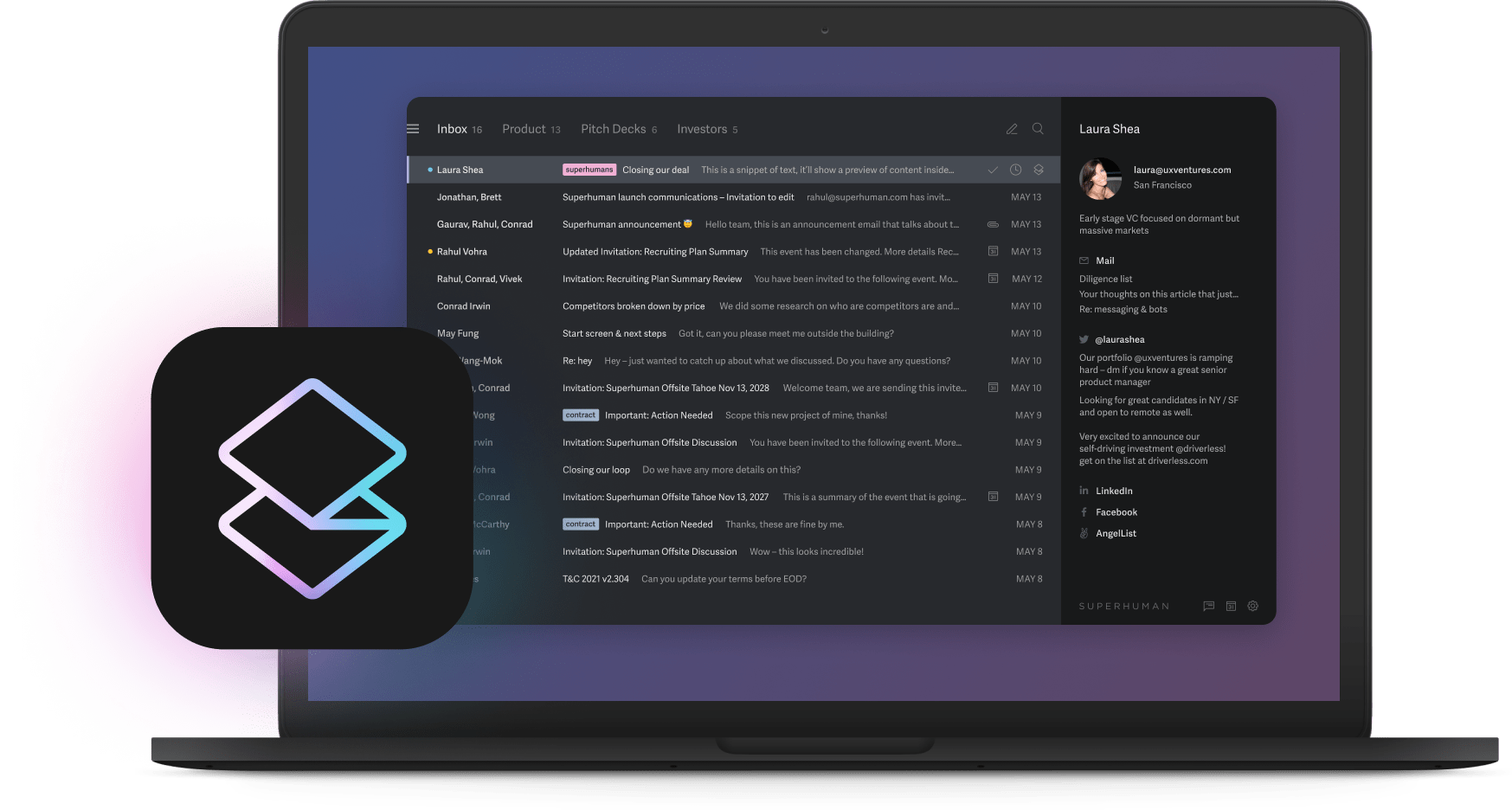 2. Apple Mail: Best Default Mac Email Client
With a 60% market share, Apple Mail is the most popular email client in the world today.
But this popularity is mainly due to Apple Mail being the default email client on all Apple devices. This includes iPhones, iPads, and Macs (three best-selling products)
Apple Mail has never been a particularly standout offering until now.
With the latest update, Apple has given Mail a much-needed facelift.
Apple Mail is simple and easy to use, offers undo send and supports PGP encryption. Plus, it's deeply embedded across the Apple ecosystem.
From spotlight search, handoff to custom macOS notifications, Mail is a no-brainer for anyone in the Apple ecosystem looking for a consistent email experience across their devices.
Apple Mail supports iCloud Mail. But you can add other email accounts (Exchange, AOL, Hotmail, etc.) to get all your emails in one place without leaving Apple Mail.
À la unified inbox:
Bottom line: Apple Mail is your best bet if you value simplicity and reliability.
Apple Mail has gotten better (especially in the last year). But it still needs advanced features, powerful search, and third-party app integrations.
Apple Mail likely won't cut it for you if you're a power user.
Top features:
Undo send: Made an error or sent an email by mistake? Undo it within 10 seconds.
Send Later: Scheduled emails to go out at a time or date of your choosing.
Remind me: Remind yourself of any email at a better time or date.
Follow-up: Get notified to follow up on specific emails if you haven't received a reply.
Missing recipients: Get alerted if you need to add recipients before sending an email.
Better search: Smarter search suggestions and corrections improve searching in Mail.
Focus Inbox: Get emails from specific senders when a Focus mode is enabled.
Pricing:
Apple Mail is free but only comes with 5GB of iCloud storage.
For more storage, you'll need an iCloud+ subscription:
Pricing varies by country. In the US, iCloud+ is priced at:
50GB: $0.99
200GB: $2.99
2TB: $9.99
Sidenote: All iCloud+ plans are billed monthly.
Here's a complete list of iCloud+ plans and pricing (by country and region).
3. Microsoft Outlook: Best Free Email Client for Mac
Love Microsoft products? Outlook is your macOS email client.
After iCloud and Gmail, Outlook is the third-most-popular email service. It's bundled with all Windows products, so it's the default email client at most organizations.
For personal use, Outlook offers a no-frills email and calendar. But it's free. If you're obliged to use it professionally, Outlook has a decent email client.
Here's what Outlook looks like on Mac:
Outlook supports secure SMTP, POP, POP3, STMP, and IMAP protocols. You can also use your existing Gmail, iCloud Mail, Yahoo! Mail, or Hotmail with Outlook.
The free plan offers 15GB of mailbox storage and a 34MB attachment limit. Plus, a OneDrive integration if you need to send large attachments.
If you use Microsoft 365 and need an email client that integrates seamlessly with Office apps, Outlook is the best choice.
Top Features:
Free email and calendar
15GB free mailbox storage
POP, IMAP, and SMTP support
Focused Inbox (like Gmail's Priority Inbox)
Web Office apps (Powerpoint, Excel, etc.)
OneDrive integration (+ 5GB free storage)
Sidenote: Outlook for Web is free. But not the Desktop. To get the Outlook macOS email client, you'll need a Microsoft 365 subscription.
Pricing:
Outlook's best features are reserved for Microsoft 365 customers. Ad-free email. Deep integration with all Office apps. Plus, the Outlook email app for MacOS.
The free version shows ads. Plus, Microsoft support for Outlook is nonexistent.
Optional Reading: 8 Outlook Alternatives (Free & Paid)
4. Mozilla Thunderbird: Best Mail App with End-to-End Encryption
Thunderbird is a free, open-source email client by Mozilla—the team behind Firefox.
It offers features like Thunderbird Look & Feel (customize the look and feel), Smart Folders, Large File Management, Mail Account Setup Wizard (simplifies IMAP, SMTP, and SSL/TLS setup), Tabbed Email (emails open in tabs like Firefox), and more.
Access all your messages, calendars, and contacts in one fast app. Filter and organize the way you like. Manage all accounts separately or in a unified inbox. Thunderbird simply makes your life simpler.
It's easy to log in (via Google, Yahoo!, etc.) and be up and running in a few minutes. Thunderbird will let you manage multiple email accounts in a single unified inbox.
Thunderbird is one of the few Mac email clients to offer OpenPGP end-to-end encryption.
User donations fund Thunderbird. This means they don't need to collect user data, sell ads or train their AI with your private emails.
The kicker: Thunderbird is free.
Thunderbird is popular in the developer community. It enjoys excellent support from former Outlook users looking for a privacy-focused Outlook alternative.
Top features:
End-to-end encryption
Desktop email client (Windows, MacOS, Linux)
Free to download and use
Customizable look and feel
Themes and add-ons
Address book
Tabbed email
Phishing protection
Quick Filter toolbar
Pricing:
Free.
Being open source, Thunderbird doesn't have the most design-forward interface. For specific features, you'll need to leave the app or download add-ons like schedule emails or open GCal.
Thunderbird doesn't offer iOS or Android apps. If a consistent email experience across platforms matters to you, look elsewhere.
5. Spark Mail: Best Mac App for Team Collaboration
Spark s an elegant and versatile email client for Mac. Notable features include scheduled emails, reminders, and tasks. Its "Smart Inbox" automatically categorizes and prioritizes email.
Spark integrates with third-party tools like Asana, Todoist, Evernote, etc.
Unlike Thunderbird, Spark is cross-platform. It's available on Windows, MacOS, iOS, Android, and Apple Watch. Plus, Spark works with any IMAP or POP3 email client.
In a nutshell, here's how Spark works:
Here's what the Spark inbox looks like on a Mac:
Spark is great for individuals. But it also has features for teams.
With features like shared draft collaboration, email delegation, in-line comments, and chat with colleagues, Spark is a solid choice for teams.
Plus, Spark has a command palette that works just like Superhuman. (You're welcome, guys.) 😉
Top features:
Smart Inbox: Groups notifications and newsletters separately.
Gatekeeper: Accept or block first-time email senders.
Priority sender: Highlight VIPs for quick identification.
Keyboard shortcuts: Navigate your inbox faster (like Superhuman).
Team collaboration: Shared inboxes, drafts, and assignments.
Pricing:
Spark email for Mac is free, but it's limited.
For enhanced collaboration tools like shared inboxes, shared drafts (2+ collaborators), and team roles are only available on Spark's premium plans:
The team plans might be overkill for some individual users. Spark may not be the right choice if you're looking for a simple, no frills single-player email client.
6. Airmail: Best Mac Email Client for Apple Users
Airmail is a fully featured and award-winning email client built.
It's easy to use, customizable and brings multiple email accounts (Gmail, Outlook, iCloud, etc.) together into a unified inbox.
Airmail was built from the ground up for iOS, macOS, and watchOS. Which means you get features like a today widget, dark mode, iCloud sync, etc.
All features exclusive to Apple.
Some feature highlights include snoozing or scheduling emails, a smart inbox (to filter newsletters and other distractions), and a privacy mode.
Airmail was built keeping Apple's design philosophy in mind. Plus, it's an Apple Design Award 2017 winner:
Unlike Apple Mail, Airmail offers more robust search functionality. Its AI composer will help you save time by quickly replying to emails.
Like Gmail (and Superhuman), Airmail offers keyboard shortcuts. Plus, with AppleScript support, you can automate sending emails.
Top features:
Unified Inbox: Manage multiple accounts (Gmail, iCloud Mail, etc) from one inbox.
Ecosystem: Airmail features align directly with the latest Mac and iOS releases.
Keyboard shortcuts and multi-touch gestures
Touch Bar support
Apple Watch app
AppleScript automation
Pricing:
Airmail isn't as polished as other email clients. But if you're looking for a Mac email app that plays well with the Apple ecosystem – Airmail is a great choice!
7. HEY Email: Best Email App
Regarding Mac email clients, HEY is the new kid on the block.
Created by Basecamp, HEY is a premium email service. Touted as a reinvention of email, HEY offers an exciting set of features and an opinionated take on what email should be.
Spy pixel blocking, email screener, paper trail, email feed, and a focus "Imbox" are the biggest highlights:
If you're curious, here's a full tour of HEY:
The kicker: You get your very own @hey.com email address.
Top features:
Screen first-time senders
Share emails via links
Built-in 'reply later' feature
Read receipt and spy pixel blocking
Email newsfeed to batch-read emails
Note: HEY isn't a full-fledged macOS email app. Which means it's missing key email features. Even HEY for iOS and Android are web apps.
Limited integrations, missing features, and a web experience might turn away email power users. If you don't mind using a web email app, HEY is still a decent email client.
You'll also have to give up your existing email addresses to use HEY. Or at the very leat, setup mail forwarding.
Pricing:
$99/year for personal usage
$12/user/month for companies
Con: Due to HEY's vertical integration, you can't use a @hey.com email address with other email clients. Plus, you can't use multiple email accounts on HEY.
Since HEY is webmail, customization is strictly limited.
Optional Reading: Superhuman vs. Hey: Which Email Client is Right for You?
MacOS Email Clients: How to Decide
We covered seven popular macOS email clients. So which email app is best?
Short answer: It depends.
Your use case will determine which Mac email client is right for you.
Review each email app's features. Read product reviews. Sign up for a free trial (if it's available). And make your decision!
If you need a Mac email client that's blazingly fast, feature-rich and delightful to use, try Superhuman.
Turn your inbox into your most effective productivity tool
Keyboard shortcuts, AI triage, automated follow ups, scheduled sends
Get Started with Superhuman