Superhuman vs Hey: which email client is right for you?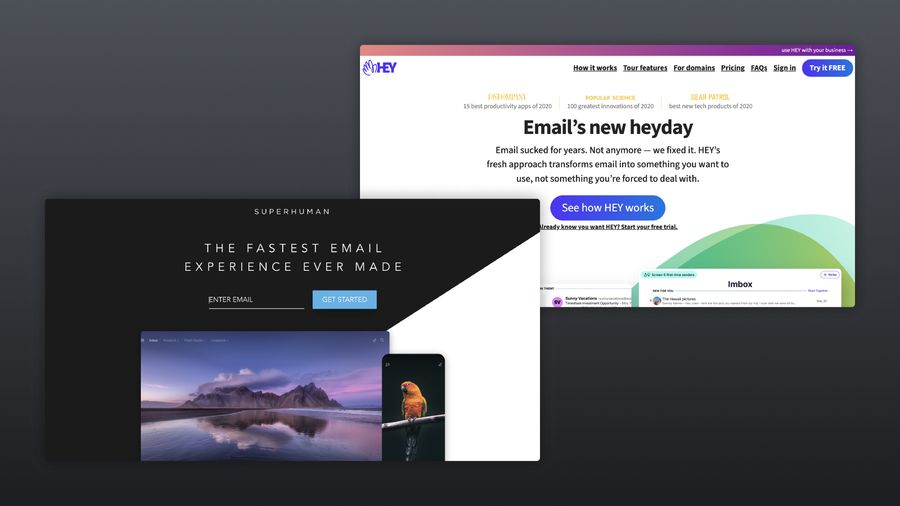 Gmail is the most popular email service in the world — used by an estimated 1.8 billion people daily. Gmail is designed to appeal to the widest possible audience, but when it comes to email power users — people who spend hours in their inbox every week — Gmail doesn't always do enough. That's where email clients like Superhuman and Hey come in.
If you're looking for the best email client to enhance your Gmail experience, then Superhuman and Hey (both popular options) are likely on your radar. They both offer features that go beyond the standard Gmail experience, turning a one-size-fits-all inbox into a customizable and flexible email tool. But how do you choose between them?
We'll compare everything you need to know to choose whether Superhuman or Hey is the right Gmail client for you: their top features, pros and cons, and the two very different ways they approach inbox management. By the end, you will have a better idea of which one is the more powerful Gmail enhancer — and the better value for you.
Superhuman vs Hey: top features
Superhuman and Hey are both email apps with design elements and features above and beyond the Gmail experience. They're both beloved by tech and startup professionals, and both come with a lot of hype to live up to! Here are some of the top features offered by each.
Superhuman's top features
Available: Web app, Apple App Store
Price: $30 per month
Learn more: Superhuman.com
Regain your focus and win back time with Superhuman Mail
Keyboard shortcuts, AI triage, Reminders, Scheduled sends, Beautiful design
Get Superhuman for Email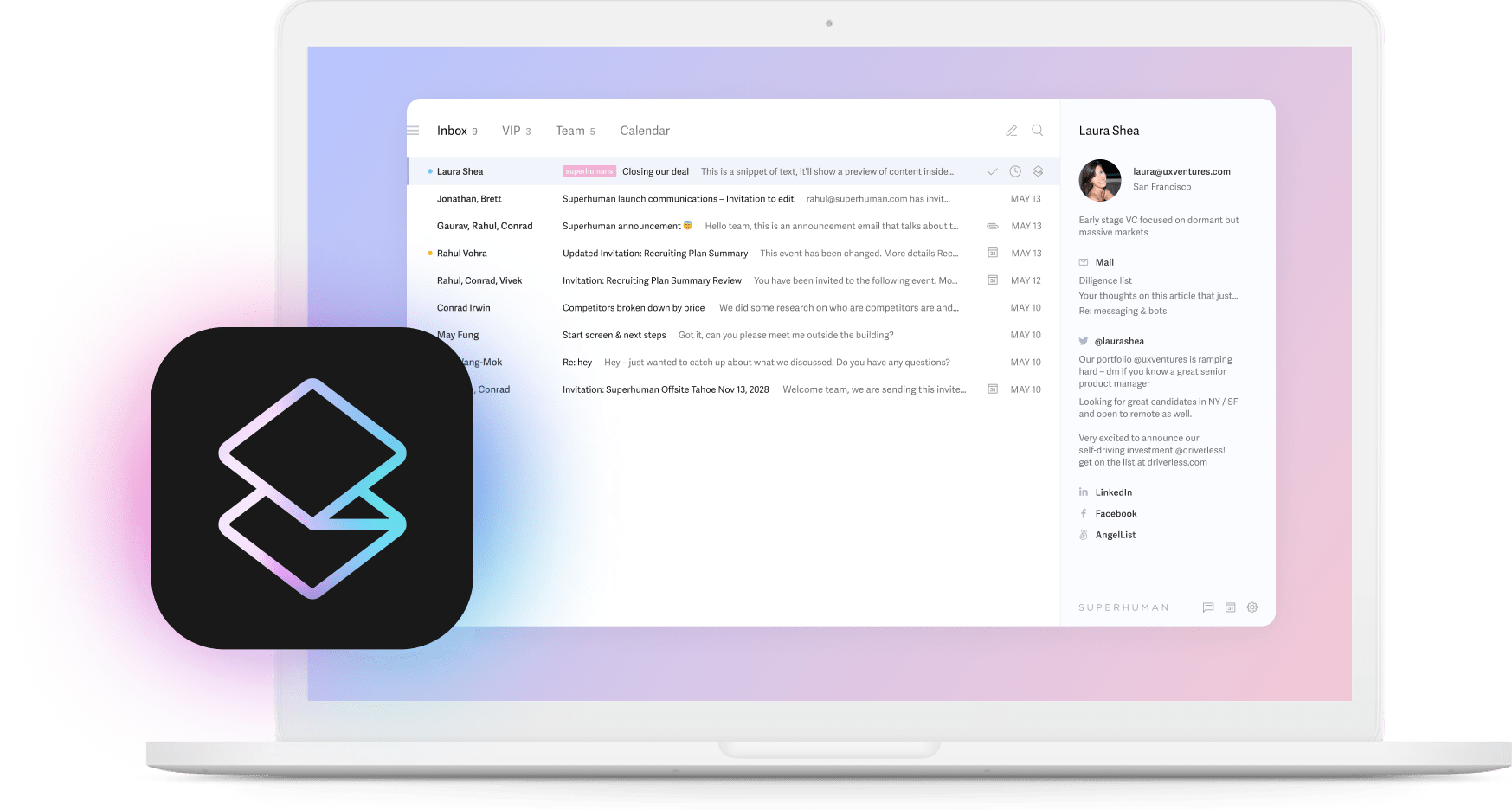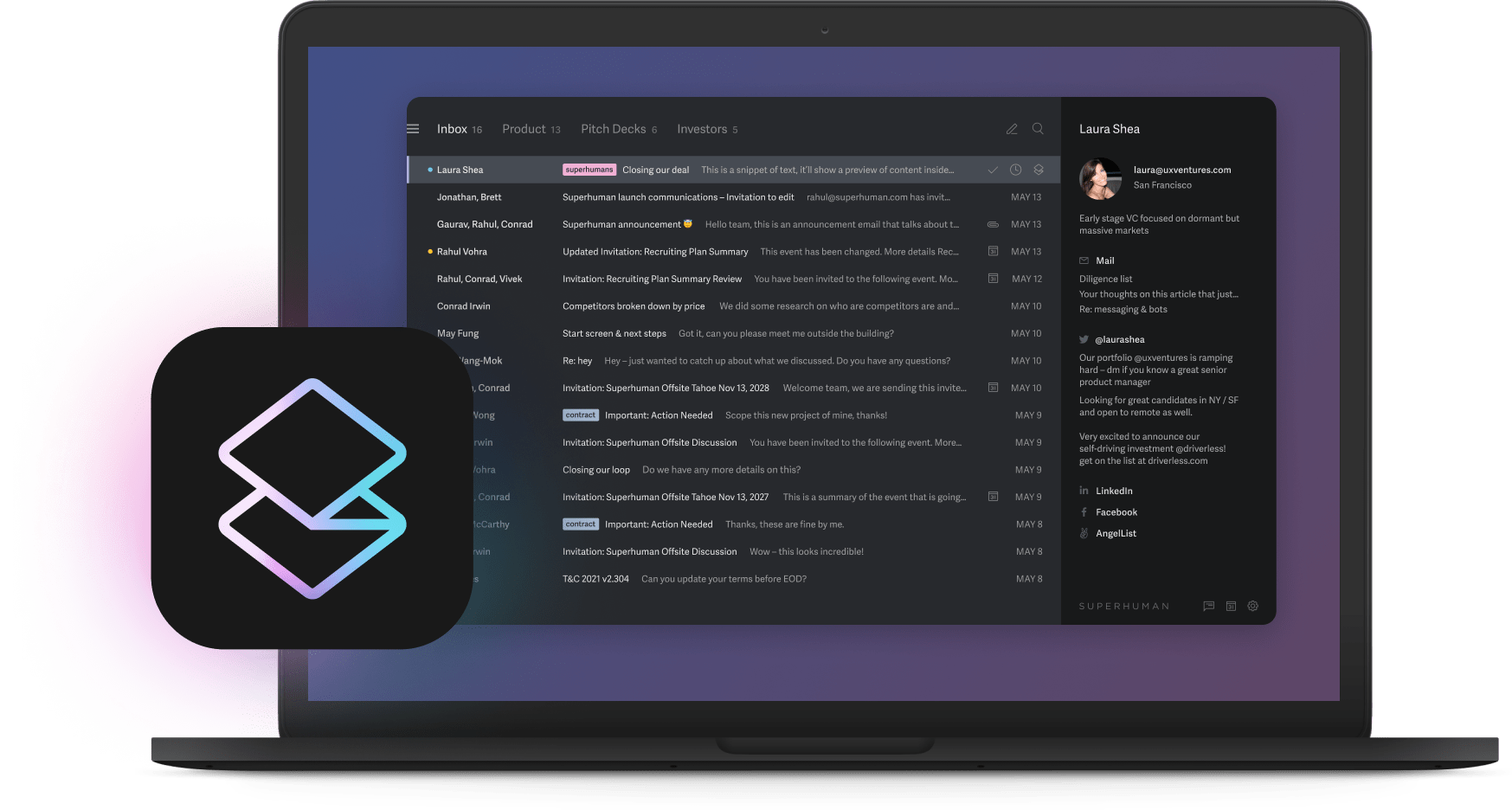 Created by Conrad Irwin, Rahul Vohra, and Vivek Sodera, Superhuman is packed with useful features that build on the foundation Gmail provides.
AI triage and Split Inbox. Superhuman allows customers to create inbox "splits", which sort your new email into categories (for example, one of Superhuman's default splits is Important • Other — separating email from humans from mailing list messages). Superhuman uses AI to automatically sort incoming messages into each split. You can customize your own splits — by VIP senders, messages from your team, and by project — so you always see your most important messages first, and are never distracted by unimportant email.
Scheduled sends, reminders, and follow-ups. Superhuman helps make sure communication never slips through the cracks by allowing customers to schedule their messages to send at specific times (including in different time zones), as well as set up automated reminders if they need to follow up or take another action later.
Snippets. By saving text as Snippets, and customizable templates, you can save time in their inbox by inserting templates or other frequently used text passages into a message with just a keyboard shortcut.
Unsubscribe. One of the features customers love most about Superhuman is how easy it is to instantly unsubscribe from unwanted email and to instantly block senders  — and even entire domains — to ensure spam never makes it to your inbox again.
Superhuman Command. Superhuman comes with a built-in command palette. By pressing Cmd+K, you can see a list of every keyboard shortcut Superhuman offers, or quickly find the shortcut you need by searching for features or actions. This makes it faster and easier to learn how to navigate Superhuman using only your keyboard, which saves you even more time.
Personalized onboarding. With Superhuman, customers can schedule a white-glove onboarding call where they learn features and keyboard shortcuts that will be most helpful to them and their needs. Or, if you don't have time for a 1:1 call, you can get started quickly with self-serve — instantly accessing the product.
The fastest email experience on Earth. Superhuman is built with the 100ms rule in mind — the idea that anything you do online should take no longer than 100ms, since that's the threshold for most actions to feel instantaneous. Superhuman actually aims to be even faster, with processes taking less than 50ms on average!
Form and function. Superhuman doesn't believe in form over function (or vice versa). While Superhuman is packed with features that make it super powerful for users, it's also designed to be beautiful.
Hey's top features
Available on: Web app, Apple App Store, Google Play Store
Price: $99 per year for a Hey email, or $12 per month for a customized domain
Learn more: Hey.com
Created by Heinemeier Hansson and Jason Fried, creators of Basecamp, Hey also offers a more powerful and customizable email experience.
The Screener. Hey's email "Screener" separates unread messages into different mailboxes based on importance. Messages Hey thinks you shouldn't miss go to the "Imbox" (important inbox), while things like newsletters go to the Feed (more on that below).
The Feed. Hey's AI message sorting puts newsletters and similar email into a scrollable feed (similar to social media). You don't have to open each message individually to see the content, which is nice. This is a cool feature for those who want to read every newsletter that lands in their inbox, but it's easy to get lost while scrolling through tons of messages.
Faster labeling. If you organize your inbox with labels, Hey has a workflow that allows for very fast labeling and sorting (Side note: make sure labeling is actually saving you time, rather than slowing you down).
Vanity email addresses. While the basic Hey plan comes with a Hey.com email address, Hey also offers customizable email addresses for a higher monthly charge of $12 per user per month.
Collaboration tools in your inbox. What sets Hey apart from other email clients is its team collaboration tools. It allows for renaming subject lines for your own reference, as well as adding notes to email threads for other team members to see. Hey makes it easy to create a paper trail of communication all within an email thread so it stays organized and easy to refer back to.
Superhuman vs Hey: pros and cons
While key features are an important consideration when choosing between email clients like Superhuman and Hey, it's also important to consider the benefits and drawbacks for your personal email workflow.
Superhuman pros and cons
Pros
Cons

Super robust set of features.

Superhuman's features are designed to make email a more powerful tool, and to help customers get through email faster so they can move on to other important tasks.



AI message sorting.

Superhuman's customizable Split Inbox makes sure you see important messages, while the rest can be easily ignored without cluttering up your inbox.



Command palette.

Superhuman makes it easy to navigate its UI using only keyboard shortcuts. Even before you learn all the shortcuts you need, pressing Cmd+K brings up the command palette, where you can search for the shortcut you need based on the action you're trying to take.



Personalized onboarding.

Whether you choose to get started quickly with self-serve, or you go for the white-glove approach and receive a custom coaching session to help you learn to use Superhuman to its maximum potential, you're in control of your onboarding experience and can create a custom plan to fit your own needs.



Blazingly fast.

The 100ms rule applies to every action with Superhuman, making it so fast that every task feels instantaneous.

Limited integrations.

If you rely on integration with tools like Salesforce and Hubspot, Superhuman doesn't support those — yet.



Price.

You're probably not used to spending money on email, which can make Superhuman's $30/month price tag feel strange. But think of it like this: how much time do you waste on email every week, and how much is that time worth?


Hey pros and cons
Pros
Cons

Packed with features.

Hey sets out to make your inbox more functional and its wide variety of features backs that up. It's a powerful tool that will make email better for many users.



Imbox.

The Imbox helps ensure you don't miss any important messages, while simultaneously cutting down on notifications and noise from other messages that don't need to be read as urgently.



Price.

Hey is considerably more affordable than some other email clients.

The Feed.

While Hey's Feed tab is a useful feature for keeping newsletters out of your main inbox, the way it's set up encourages mindless scrolling, which could lead to spending even more time on email.



Keyboard shortcuts are lacking.

Hey offers some hotkeys, but they aren't nearly as comprehensive as Superhuman's. Plus, without assisted onboarding or a command palette, they're harder to learn.



Limited options for onboarding.

Hey doesn't offer personalized onboarding like Superhuman does — self-serve is your only option.



Not as fast as Superhuman.

In fact, some Hey customers report that the app is noticeably slow to sync on startup.
Superhuman vs Hey: 2 different email philosophies
Superhuman and Hey are both email clients that offer a wide range of features to help improve their users' email experiences. Where they really diverge is in how they each approach email. Superhuman and Hey set out to accomplish two different things.
Superhuman wants to get you in and out of your inbox — without ever missing anything important, but without getting bogged down in unimportant messages, either. With Superhuman, you triage your email, take action on anything that needs it, archive messages as you go so you end at Inbox Zero, and then move on with your day (and other important work).
Then there's Hey. This platform sets out to make your inbox more functional and feature-rich, but it's designed for people who spend a lot of time in their inbox, and aren't trying to change that. Yes, Hey will help you see your most important messages first, but taking action isn't built into the UI. When you're done with messages, you don't remove them from your inbox. Inbox Zero is not the goal. As cofounder Jason Fried put it:
"You don't do anything with a thread you're done with. Just be done with it. It'll flow off Previously Seen over time. HEY is not about archiving or feeling the need to /deal/ with things once you're done with them. Just let it flow. Absolutely not inbox zero. We're totally against the notion."
If you want to minimize email's presence in your life (without sacrificing important communication), then Superhuman is the obvious choice. If you want to organize your inbox, complete with a Feed where you can hang out and scroll for hours, Hey is the email client for you.
The bottom line: Superhuman will ensure you never miss an important email, then help you move on to other tasks.